After numerous reports by women on social media of how they fell victim to groping and forced kisses during mass street partying to celebrate France's World Cup victory on Sunday, Paris police authorities have urged victims to file complaints.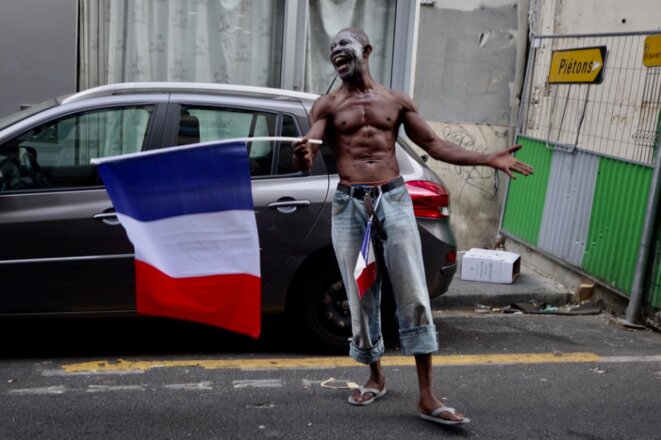 A man celebrates France's victory in the World Cup on Sunday in the Goutte d'Or neighbourhood of Paris. © Rachida El Azzouzi
After winning the football World Cup tournament in Russia, France's national football team arrived home on Monday, when rejoicing crowds turned out to applaud them riding a double-decker bus along the Champs-Elysées avenue in central Paris, before a reception at the presidential palace. Since France's victory over Croatia in the final on Sunday, streets across the country have been swamped in a flag-waving, car-horn blazing party of multi-coloured jubilation. But, warns Mediapart political commentator Hubert Huertas, while this temporary moment of collective joy is one to embrace, it heralds no change for the country's underlining social, political and economic problems.
The New Yorker's Adam Gopnik argues that 'the French team, now the finest in the world's most popular sport, is entirely dependent for its greatness on immigration, on the extraordinary things that only a cosmopolitan civilization can achieve'.
Mirroring scenes in towns and cities across the France, the Champs-Elysées avenue and other thoroughfares in central Paris were filled on Sunday evening by tens of thousands of jubilant and chanting supporters of the national football team after its victory over Croatia in the World Cup final in Moscow.
Exceptional security measures are in place around the French capital to deal with a potential terrorism threat as vast crowds are expected to turn out for Bastille Day celebrations on Saturday and at fan zone sites for watching the football World Cup final between France and Croatia on Sunday.
Sepp Blatter says both French president Nicolas Sarkozy and German president intervened, leading to World Cup being staged in Qatar.
Challenge by German goalkeeper that broke French defender's jaw but went unpunished still raises anger and emotion in France 32 years later.
Far-right leader says disturbances in France after Algeria's win show immigration policy had 'failed' and that dual-nationals refuse to 'assimilate'.
Algerians in France celebrated their team's achievement in reaching knockout stages; there were 74 arrests as some fans clashed with police.
French football bosses also sue Anara Atanes who sent expletive-ridden tweet over omission of Nasri from France's World Cup squad.
Celebrities promised pranks ranging from stripping off to presenting a TV show in English if France qualified for the World Cup - and they did.
France's national football team beat Ukraine in an unlikely turnaround in a two-match fight for a place in the 2014 World Cup finals in Brazil.
A 2-0 defeat in Kiev means France will need stunning performance in Tuesday's return leg in Paris to avoid missing first World Cup since 1994.