Related keywords
Bullecourt in northern France was scene of heaviest Australian losses in war in battle that became symbolic of incompetence of British generals.
Britain's royal family joined ceremonies to mark Battle of the Somme in northern France, the deadliest battle in British history.
Historian John Horne says that not only was this World War I offensive a failure, the French also saw it at the time as a 'colonial' campaign.
Almost 2,000 inscriptions left by WWI Allied troops have been found in an ancient chalk quarry sited close to the Somme battlefields.
The French authorities set up 'Military Campaign Brothels' in a bid to control sexually transmitted diseases that affected up to 30% of troops.
'Ring of Remembrance' has names of all 580,000 soldiers of all nationalities who died in Nord-Pas-de-Calais in northern France from 1914 to 1918.
Anna Coleman Ladd was director of the Red Cross mask-making studio in Paris where she moulded and painted unique artificial faces.
The French president joined in a Great War centenary ceremony that brought together European leaders and royal representatives in Belgium.
Presidents Francois Hollande and Joachim Gauck laid wreathes at Hartmannswillerkopf to mark centenary of Germany's declaration of war.
France invited all countries involved on the battlefields - including former enemies and colonies-  to join in Paris event as symbol of peace.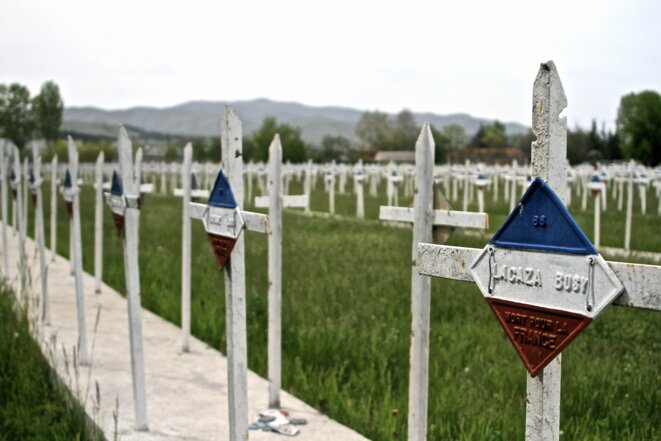 Le cimetière militaire français de Bitola. © Laurent Geslin
In World War I around 400,000 French soldiers, many of them from France's colonies, were deployed in the Balkans. As well as fighting, the troops built roads and bridges and even planted vineyards. But today few French people remember the Eastern Front, and fewer still go to visit the graves of their fellow countrymen who were killed in the fighting along the massive front line that extended over nearly 600km from Albania to Bulgaria. However, as Jean-Arnault Dérens, Laurent Geslin and Simon Rico report, Serbs, Greeks and Macedonians have never forgotten the war on their soil and its turbulent impact on their countries in the 20th century.
Officials from about 30 countries are meeting in Paris to plan four years of commemorative events for the 100th anniversary of World War I.
The British soldiers, killed in action during WWI, have been buried with full military honours after their remains were found in a field in 2009.