Related keywords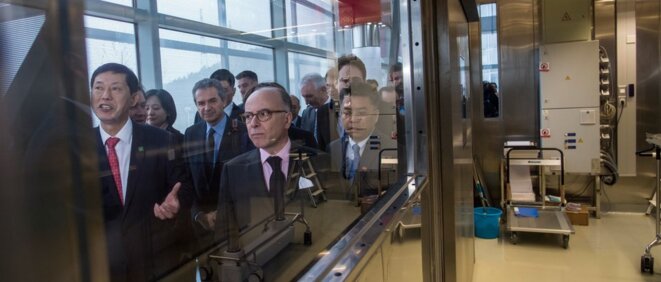 French prime minister Bernard Cazeneuve during the inauguration of the laboratory at Wuhan, February 23rd 2017. © AFP/Johannes Eisele
The maximum-level biosafety laboratory at the Wuhan Institute of Virology was the first of its kind to be built in China, and has been the centre of huge speculation since the start of the Covid-19 pandemic which originated in that city. The laboratory, which is equipped to handle Class 4 pathogens (P4) including dangerous viruses such as Ebola, was built with the help of French experts and under the guidance of French billionaire businessman Alain Mérieux, despite strong objections by health and defence officials in Paris. Since the laboratory's inauguration by prime minister Bernard Cazeneuve in 2017, however, France has had no supervisory role in the running of the facility and planned cooperation between French researchers and the laboratory has come to a grinding halt. Karl Laske and Jacques Massey report.
A total of 254 people of different nationalities have arrived in France on the second French evacuation flight from the Chinese city of Wuhan, the epicentre of  the deadly cooronavirus virus outbreak, with 36 people showing symptoms of infection, 16 of whom left for their respective countries while tests on the remainder finally proved negative.
Two people showing coronavirus symptoms who were among 180 French nationals who arrived back in France on Friday after being evacuated from the Chinese city of Wuhan, the centre of the deadly coronavirus outbreak, have been cleared of infection and rejoined the other evacuees at an isolation camp near Marseille. 
France will later this week begin airlifting its nationals from Wuhan, the locked-down Chinese city at the centre of a coronavirus outbreak where an estimated 500 French expatriates live, after reaching agreement for the evacuation with the Chinese authorities, health minister Agnès Buzyn has announced.