Keyword: Yanis Varoufakis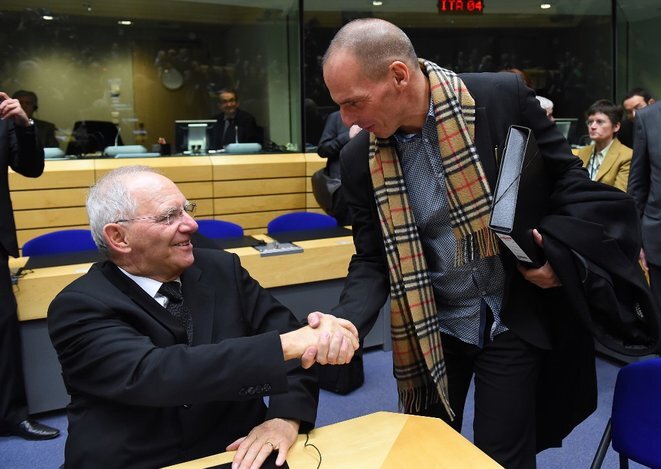 Former German finance minister Wolfgang Schaüble and his Greek counterpart Yanis Varoufakis in 2015. © AFP © AFP
Mediapart has obtained access to secret sound recordings made by former Greek finance minister Yanis Varoufakis of his negotiations with eurozone finance ministers and representatives of the IMF, ECB and the European Commission at the height of the Greek debt crisis in 2015. The 15 hours of recordings offer a sometimes disturbing insight into the tense, closed-door, informal talks aimed at deciding the fate of a nation that was being brought to its knees. Ludovic Lamant reports.
Yanis Varoufakis, the outspoken former Greek finance minister and co-founder of the leftwing DiEM25 (Democracy in Europe Movement), has complained he was 'manhandled' by a police officer at Paris-Charles-de-Gaulle airport, who he said used 'physical violence' during a passport check.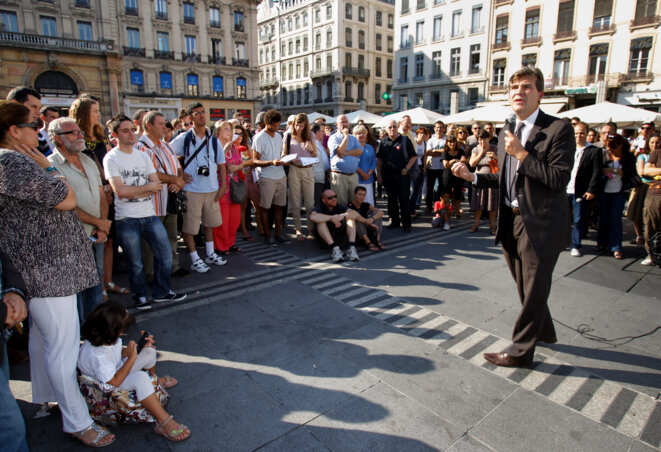 Heading for the Elysée? Arnaud Montebourg on the campaign trail back in 2011. © Reuters
He remains one of the most fascinating and colourful figures in French politics. Arnaud Montebourg was a high-profile figure in the government of President François Hollande, who as economy minister had a very public spat with a US business boss. In August 2014 he quit after disagreeing with the government's policies and went off to work in commerce. In the last 18 months Montebourg has kept a low public profile but has been assiduously meeting key figures and thinkers on the French Left. So is he, as many believe, discreetly preparing a bid for the French presidency in 2017? Lénaïg Bredoux reports.
Le Néerlandais Jeroen Dijsselbloem (de dos) et le Grec Yanis Varoufakis, en février à Athènes. © Reuters.
In this interview with Mediapart, a senior advisor to the Greek government, who has been at the heart of the past five months of negotiations between Athens and its international creditors, reveals the details of what resembles a game of liar's dice over the fate of a nation that has been brought to its economic and social knees. His account gives a rare and disturbing insight into the process which has led up to this week's make-or-break deadline for reaching a bailout deal between Greece and international lenders, without which the country faces crashing out of the euro and complete bankruptcy. He describes the extraordinary bullying of Greece's radical-left government by the creditors, including Eurogroup president Jeroen Dijsselbloem's direct threat to cause the collapse of the Hellenic banks if it failed to sign-up to a drastic austerity programme. "We went into a war thinking we had the same weapons as them", he says. "We underestimated their power".
After Paris talks with Greek counterpart, French finance minister offered support for new timeframe or terms but not cancelling the debt.
Yanis Varoufakis will have a meeting with Michel Sapin in Paris on Sunday ahead of plans by Greece to renegotiate its debt burden.