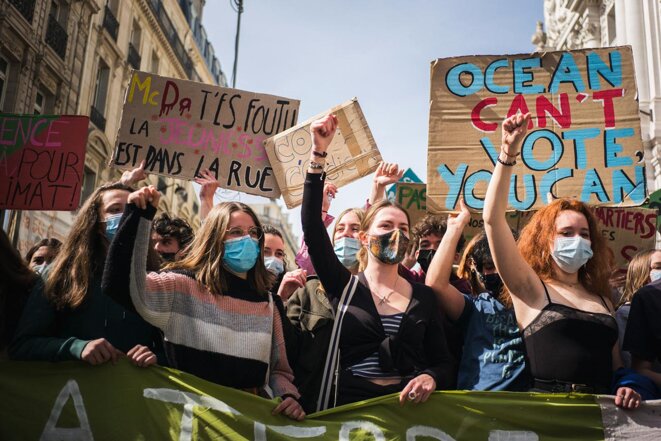 Demonstrators at the March for the Climate in Paris, March 28th 2021. © Photo Thomas Dévényi / Hans Lucas via AFP
As the 2022 presidential election edges closer there are signs that the swathe of young people who have become radicalised over the climate in France since 2018 are now starting to take a closer interest in politics and the need to vote. But as Mathieu Dejean explains in this analysis, the fragmentation on the Left ahead of next April's poll leaves many young 'climate generation' voters distinctly unimpressed.
Yannick Jadot's comments come a day after American laboratory Pfizer reported its candidate vaccine had shown 90 percent success rate in preventing people from catching the coronavirus.
The crushing win in Sunday's conservative primary by former prime minister François Fillon shows that the French Right is not worried about its electoral opponents, writes Mediapart's Hubert Huertas. In choosing the most hardline candidate with the most radical austerity programme since the end of World War II, right-wing voters have delivered a message of supreme confidence. As far as they are concerned, it is as if left-wing opposition no longer exists. So how, he asks, will the French Left respond?
During his recent visit to Washington French president François Hollande surprised many observers by calling for a speeding up of the negotiations for a EU-US free trade agreement, the biggest deal of its kind in the world. The president's demands are in sharp contrast with France's earlier caution over the free trade zone, an issue which has provoked concern and opposition across Europe. For some, it also seems a curious stance to adopt just weeks before important European elections at which the proposed deal is set to be a controversial issue. Ludovic Lamant reports.