Related keywords
At a press conference ahead of their talks at the French President's official retreat on the Mediterranean coast on Monday, Emmanuel Macron tackled Russian President Vladimir Putin on the crackdown on recent opposition protests in Moscow, to which the Russian leader spoke of a toll of deaths and injuries in France's 'yellow vest' protests, adding that, 'We wouldn't want such events to take place in the Russian capital'.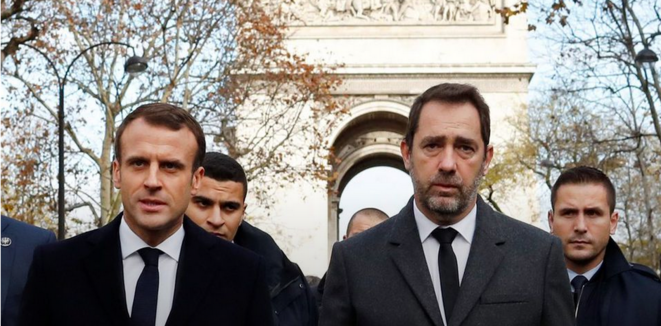 French President Emmanuel Macron with his interior minister Christophe Castaner. © Thibault Camus/Reuters
Over the course of recent months, the French government has continued to deny the mounting evidence of unwarranted violent behaviour by police, notably during the rolling 'yellow vest' protests when an 80-year-old woman died after being hit by a teargas grenade fired at her window and hundreds of people, both demonstrators and bystanders, have been injured, many seriously. Last month, a 24-year-old man went missing after he fell into the Loire river in Nantes, in north-west France, during a police charge on a group partying to music on a quayside. In this opinion article, Mediapart's Michaël Hajdenberg argues why, by refusing to condemn the abuses and even lending legitimacy to them, the executive has created a dangerous situation in which further tragic events appear inevitable.
But the demonstrations - on the 29th weekend in a row since they first erupted last November - passed off largely peacefully.
Public prosecutor Rémy Heitz said that after investigations into 174 incidents, police officers would be sent before the courts by end of the year.
On the 28th rolling Saturday of demonstrations by the so-called 'yellow vest' anti-government movement protesting falling living standards for low- and middle-income earners, and demanding greater say in policy-making decisions, the interior ministry said nationwide turnout had plunged to 11,500, the lowest so far, while the movement claimed 35,000.
French interior ministry figures put turnout for the 26th consecutive weekend of nationwide marches by the so-called 'yellow vest' anti-government movement, protesting falling living standards for low- and middle-income earners, at just under 19,000 on Saturday, suggesting the numbers are bottoming out after nearly six months of demonstrations.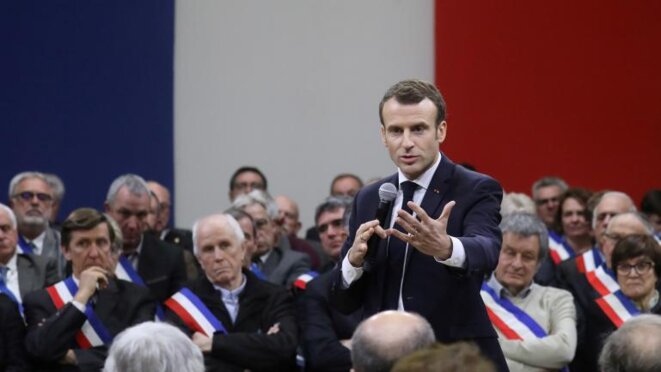 President Emmanuel Macron speaking to 600 mayors at Souillac in south-west France, January 18th 2019. © Reuters
The fabricated claim that the Pitié-Salpêtrière hospital in Paris was attacked by protestors during the traditional May Day demonstrations was a lie too far by a government that denies the reality of its own unpopularity, writes Mediapart's publishing editor Edwy Plenel. Its downward authoritarian spiral, he argues, is making it an accomplice in the destruction of democratic ethics.
Downturn in protestor numbers could be a relief to President Macron, who made policy proposals to address the issues raised by the movement.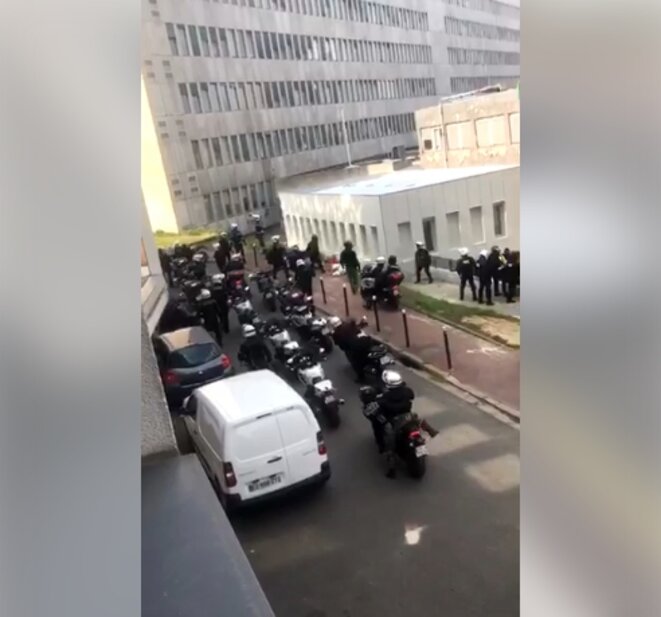 Police on motorbikes inside the grounds of Pitié-Salpêtrière hospital, May 1st 2019.
The Pitié-Salpêtrière hospital in Paris has been at the centre of a major controversy after incidents that took place there in the aftermath of this year's annual May Day demonstrations. Throughout the evening of May 1st and into the following morning, several members of the government and senior health managers in Paris insisted the well-known hospital had been "attacked" by violent demonstrators. Yet in fact there was no such attack: instead, a few dozen protestors sought refuge in the hospital's buildings to escape police tear gas and charges. There was no threatening behaviour from protestors towards hospital staff and none of them damaged the premises. However, some were later hit by the police. Now interior minister Christophe Castaner has formally retracted his use of the word "attack". Dan Israel reports.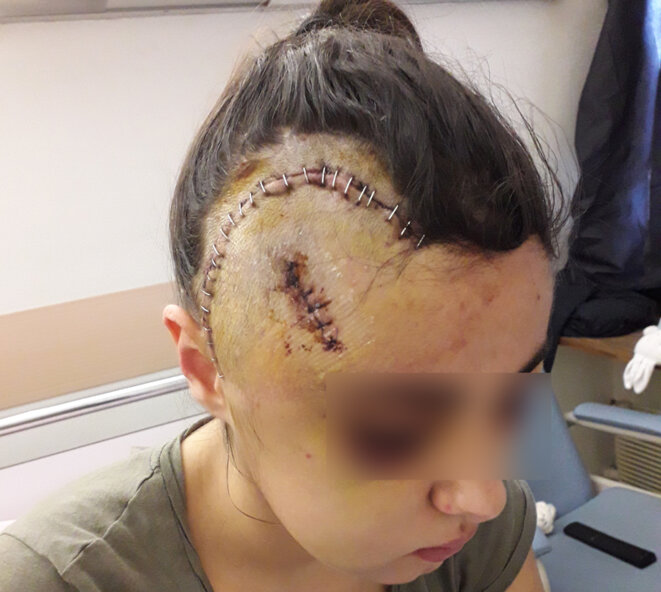 'Maria', aged 19, after her emergency operation following the incident in Marseille. © Mediapart
On Tuesday April 30th 2019, a 19-year-old woman formally lodged a criminal complaint with the Marseilles prosecution services against unnamed persons for attempted murder, aggravated assault and failure to assist a person in danger. This followed an incident on December 8th 2018 when, on the fringes of a demonstration by 'yellow vest' protesters in the southern French port city, 'Maria' – not her real name – was kicked in the head and struck with batons by police officers, according to several witnesses, as she lay injured on the ground. She suffered a skull fracture and brain damage. Pascale Pascariello reports.
Demonstrators from a march who entered the Pitié-Salpêtrière hospital said they were just seeking refuge from tear gas fired by police.
Protesters back on French streets two days after president set out proposals including tax cuts worth around €5billion in response to protests.
New measures to address 'yellow vests' protests  include tax cuts, a reform of the civil service and the introduction of proportional representation.
Macron to hold first-ever full domestic news conference to outline series of reforms drawn up in response to the 'yellow vest' protests.