Related keywords
Veteran French academic philosopher and media commentator Alain Finkielkraut, a member of the prestigious Académie Française, was filmed this weekend being insulted by a group of 'yellow vest' protestors during a chance encounter on the streets of Paris, when he was the subject of anti-Semitic abuse from some marchers of the movement against falling living standards and the political establishment. 
The French 'yellow vest' movement of revolt over falling living conditions for lower income households and against the political establishment held a 14th day successive day of action on Saturday, when contested interior ministry estimates said turnout across the country was around 41,500, down on last weekend.
An opinion survey published this week has found a majority of those questioned wish an end to the rolling 'yellow vest' street protests centred on falling standards of living for low-and middle-income earners, although most still continue to sympathise with the demands of the movement.
Former professional boxer Christophe Dettinger, 37, who was filmed on January 5th throwing punches and kicking riot police officers during a 'yellow vest' protest in Paris against falling standards of living, has been sentenced to 30 months in jail, with 18 months suspended, in a court ruling that angered police unions.
French President Emmanuel Macron's "Great Debate" – a vast, unprecedented nationwide exercise in consulting citizens on how to fix France's problems – is the latest attempt by the centrist president to try to bring an end to almost three months of spectacular anti-government revolt by the gilets jaunes protest movement.
Protester hurt after trying to pick up a rubber pellet grenade; meanwhile home of head of National Assembly Richard Ferrand hit by arson attack.
Some 30,000 people, including many Yellow Vest protesters, demonstrated in Paris on Tuesday, according to the CGT union.
Between 10,000 and 13,800 protested in Paris and though police used tear gas to disperse some protesters the situation remained relatively calm.

Human rights commissioner Dunja Mijatovic expressed worry about injuries from rubber ball launchers and other police anti-riot methods.
France ranks among the countries that most generously redistribute resources from rich to poor, and yet great disparities in wealth persist.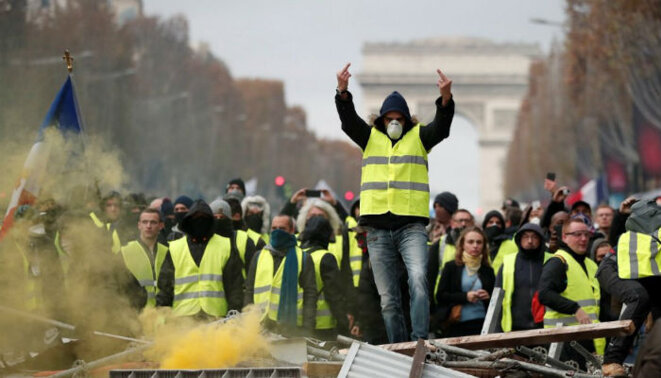 Yellow vest protestors on the Champs-Élysées avenue in Paris, November 2018. © Reuters
The two-month-long 'gilets jaunes', or 'yellow vest', movement in France, protesting the fall in living standards for low- and middle-income earners and against the powers of the country's social and political elite, continues largely unabated. It has attracted worldwide attention, and not least in the United States, where the Left sees it as an echo of the Occupy Wall Street movement, where also supporters of President Donald Trump have hi-jacked it as a new symbol of protest against the liberal establishment, and where the latter interpret it as a devil of populism. Mediapart's US correspondent Mathieu Magnaudeix reports from New York on the confused reactions across the Atlantic to the largely misunderstood revolt in France.
So-called 'red scarves', opponents of the 'yellow vest' demonstrations that have caused havoc in France with two months of protests against falling living standards for the lower paid, held a rally in Paris and other cities on Sunday calling for an end to the continued national disruption by the weekly street protests.
A lawyer for Jérôme Rodrigues, a high-profile militant with the 'yellow vest' protest movement who was struck in the right eye when police fired weapons at demonstrators during disturbances in central Paris on Saturday, said his client has been left permanently disabled by a police rubber bullet, in the latest case of dozens of life-changing injuries recorded among demonstrators in recent weeks.  
The French interior ministry reported that around 70,000 supporters of the 'yellow vest' movement, launched in November against a new hike on fuel tax and which has since grown into a broad protest over falling standards of living for low- and middle-income earners, turned out ofor its 11th successive weekend of nationwide marches on Saturday, with several demonstrations in Paris including an evening rally at the Place de la République which was dispersed by police.