French President Emmanuel Macron will make a televised address on Monday evening when he is expected to announce new measures, drawn from the results of more than two months of nationwide debates and consultations of citizens' demands, aimed at defusing the social unrest led by the so-called 'yellow vest' movement.
Rolling anti-government, anti-elite nationwide marches by the so-called 'yellow vest' movement, notably in protesrt iover falling living standards for low- and middle-income earners, continued into a 22nd day of action on Saturday, ahead of a much awaited televised address by President Emmanuel Macron on Monday.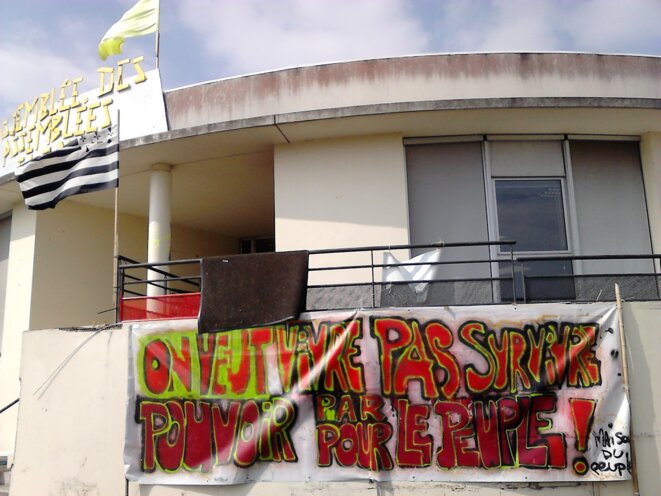 The outside of the community centre at Saint-Nazaire. © PYB
At the end of January 75 delegates from 'Yellow Vest' groups around France met at an 'assembly of assemblies' at Commercy in the north east of the country. From April 5th to 7th some 300 delegates will converge on a community centre in Saint-Nazaire in the west for a second such national assembly. The three-day gathering based on "exemplary fraternity" has required lots of last-minute local preparations and comes at what some describe as a key point in the protest movement's short life. Pierre-Yves Bulteau reports.
Constitutional Council struck down measure that would have let authorities ban certain individuals from protesting, a key element of new law.
The French interior ministry counted some 33,700 protesters throughout the country, including 4,000 in Paris, in Saturday's demonstrations.
France's road safety department attributed a 17% rise in fatal road accidents last month to destruction of speed cameras by the protesters.
While the 19th nationwide day of action on Saturday by France's so-called 'yellow vest' anti-government protest movement passed off largely without violence, a 73-year-old woman taking part in a banned rally in the south-east city of Nice received life-threatening head wounds in a charge by riot police.
A major political controversy has erupted over a government decision to use French troops, normally deployed on streets in anti-terrorism patrols, to defend official buildings and free-up police numbers during anti-government 'yellow vest' protests this weekend, amid tensions  heightened by a ban on demonstrations in certain towns and cities.
French Prime Minister Edouard Philippe, reacting to sharp criticism of policing during Saturday's 'yellow vest' anti-government demonstrations in Paris which saw buildings, stores, restaurants and newsstands torched in the capital's centre, announced on Monday that the Paris police chief  has been sacked, that future rallies in established trouble spots around the country may be banned, while he also approved wider use by police of the controversial LBD rubber bullet weapons which have left more than two hundred injured, many of them seriously, during the three months of rolling protests.
An 18th weekend of action in so-called 'yellow vest' protests against falling standards of living for low- and middle-income earners left about 60 people, including police officers, injured in Paris where stores, restaurants, banks and vehicles were set ablaze and more than 190 arrests were made.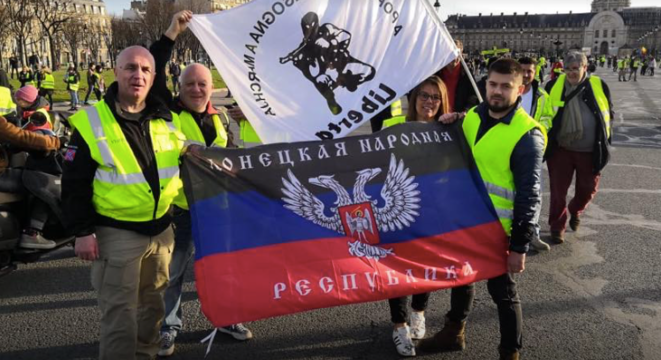 Screen grab from the Facebook page of Sergei Munier, a follower of former soldier Victor Lenta, at a 'yellow vest' protest. © DR
When President Emmanuel Macron spoke to a group of journalists at the end of January this year he claimed there were "40,000 to 50,000 extreme militants" stirring up the 'yellow vest' protests, and he warned that violence was being orchestrated by political hardliners. Yet at the very same time the president's own intelligence services were producing an analysis which came to precisely the opposite conclusion. According to those security agencies, the ultra-right and ultra-left are "virtually non-existent" in the protest marches. Matthieu Suc reports on the president who appears to be ignoring or contradicting his own secret services.
Dany Kocher from Phalsbourg in eastern France issued the decree, citing UN demand for a probe into claims of police brutality as one reason.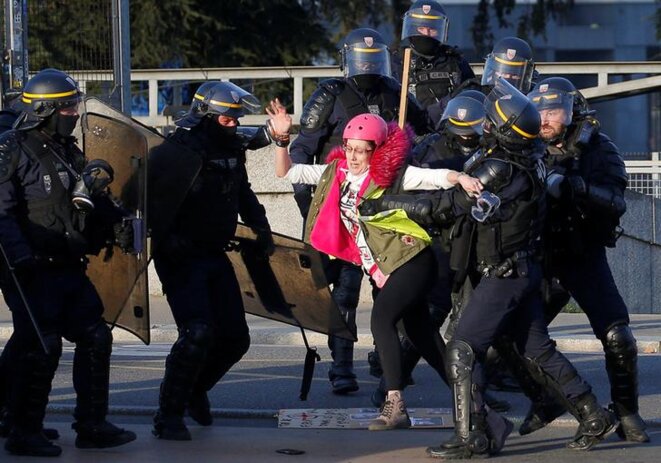 Scenes at a 'yellow vest' protest in Nantes in western France on February 16th 2019. © Reuters
The United Nations has followed the European Parliament in criticising the policing of some demonstrations staged by 'yellow vest' protestors in France. The UN's High Commissioner for Human Rights condemned what she called the "excessive use of force" used by the police on some occasions. The criticism came after interior minister Christophe Castaner's terse response to opposition MP Loïc Prud'homme after the latter was hit with a baton during a yellow vest protest last Saturday March 2nd in Bordeaux. Carine Fouteau reports.
Lower turnout for weekend's marches will be a relief for President Emmanuel Macron who has struggled to find a response to the movement.
France's so-called 'yellow vest' demonstrations against falling living standards among low- and middle-income earners, which since its beginnings in November has become a protest movement against the governement and the political elite, again drew tens of thousands of protestors nationwide on Saturday, which the interior mionisrty estimated to number 46,600, an increase on last weekend.