Related keywords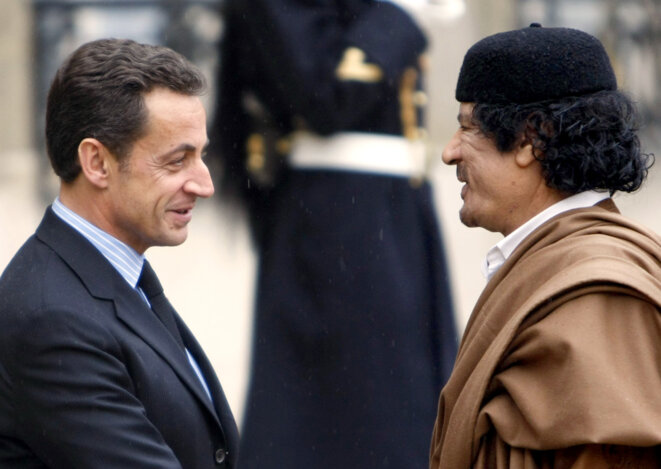 Nicolas Sarkozy and Muammar Gaddafi in Paris on December 10th 2007. © FRANCK FIFE / AFP
Ziad Takieddine, the ruined businessman who is on the run after being convicted in a separate political corruption case in France, has told Paris Match magazine and BFM-TV news channel that there was "no Libyan funding" of Nicolas Sarkozy's 2007 presidential campaign. This contradicts what he has previously told a judicial investigation into the affair and various media. But he maintains that he did hand over cash to Sarkozy's former chief of staff Claude Guéant. The former president himself immediately made clear his delight at Takieddine's retraction. Just a few days ago Sarkozy had described the middleman as a "madman" and a "manipulator". Fabrice Arfi and Karl Laske report.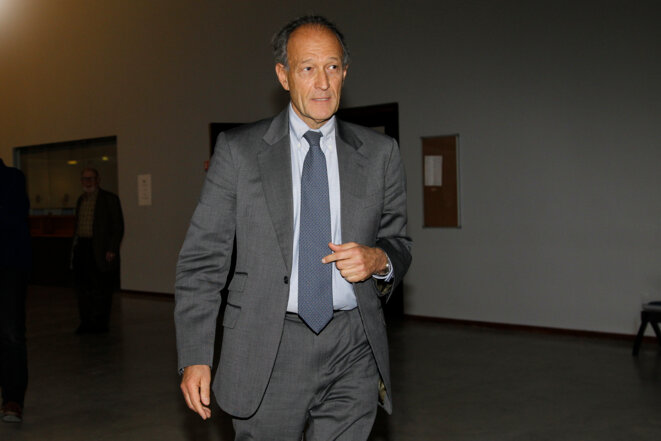 Thierry Gaubert at the court in Nanterre, west of Paris, in 2012 in an unrelated case. © Reuters
In January 2020 Thierry Gaubert, a former close aide to Nicolas Sarkozy, was arrested and then placed under formal investigation for "criminal conspiracy" in relation to claims that the former president's 2007 election campaign was funded with Libyan money. Gaubert is now free on bail, but banned from meeting with either Sarkozy or the ex-head of state's long-standing friend and ally Brice Hortefeux. As Fabrice Arfi and Karl Laske report, this move marks a major turning point in the long-running judge-led investigation.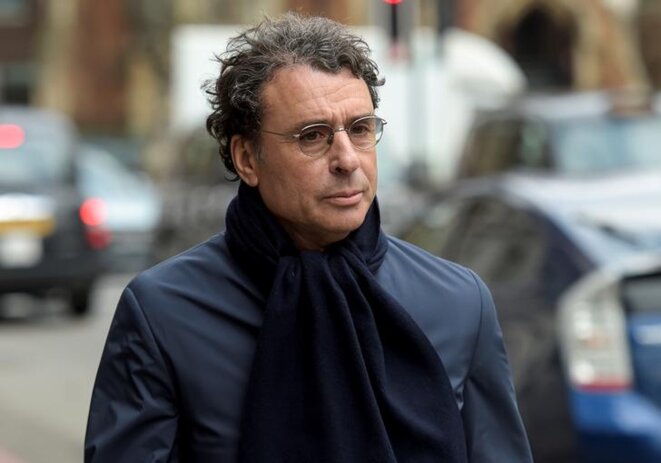 Middleman Alexandre Djouhri in London, where he is fighting against extradition to France.
French detectives and judges investigating the financial links between former President Nicolas Sarkozy's entourage and the Libyan regime of dictator Muammar Gaddafi are making progress in relation to a key figure in the affair. He is businessman Alexandre Djouhri, currently living in London, whom French judges are trying to extradite for questioning. His right-hand man, banker Wahib Nacer, was placed under formal investigation in the affair earlier this year. Fabrice Arfi reports on the latest judicial developments that are causing concern for the Sarkozy clan.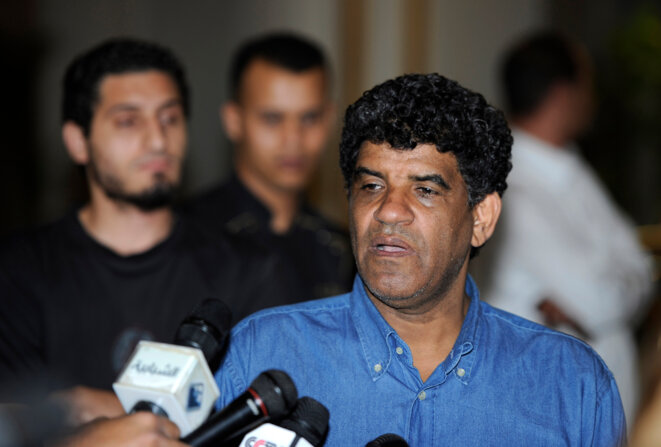 Security chief Abdullah Senussi in August 2011, just before the fall of the Libyan regime under Colonel Muammar Gaddafi. © Reuters
Investigators probing claims that the Libyan regime of Colonel Muammar Gaddafi funded Nicolas Sarkozy's 2007 presidential campaign have unearthed a key piece of evidence in the archives of the Élysée. It shows that on May 16th, 2009, the middleman Ziad Takieddine visited the Élysée to meet Sarkozy's right-hand man Claude Guéant. The object was to "set aside the arrest warrant" targeting Colonel Gaddafi's brother-in-law and security chief Abdullah Senussi, who had been convicted in absentia for his part in the 1989 bombing of a French UTA airline DC10 passenger plane over Niger, in which 170 people lost their lives. There is growing suspicion that an agreement to resolve Senussi's situation was a key component of the Libyan funding corruption plot. Fabrice Arfi and Karl Laske.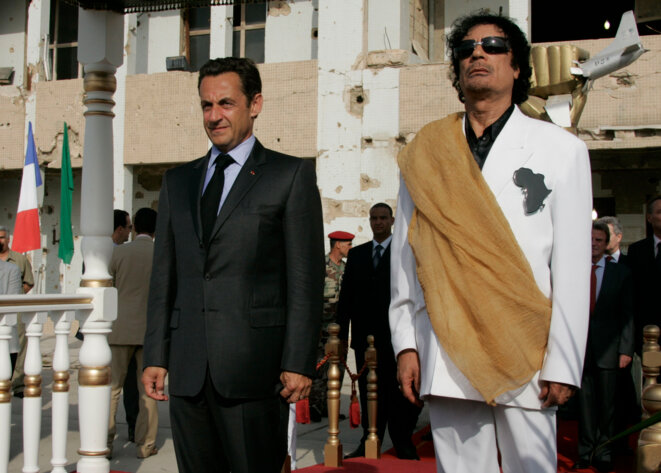 Standingtogether: Nicolas Sarkozy and Muammar Gaddafi in Libya. © Reuters
Nicolas Sarkozy, who has been placed under formal investigation for corruption over Libyan funding of his election campaign, has denied claims that he took money as part of a corrupt arrangement with Muammar Gaddafi's regime. He has also sought to rubbish accusations that as part of a corrupt pact he helped further the cause of Libya and some of its key figures. But here Fabrice Arfi and Karl Laske detail the evidence showing that the former head of state did indeed serve the interests of Gaddafi's dictatorial regime.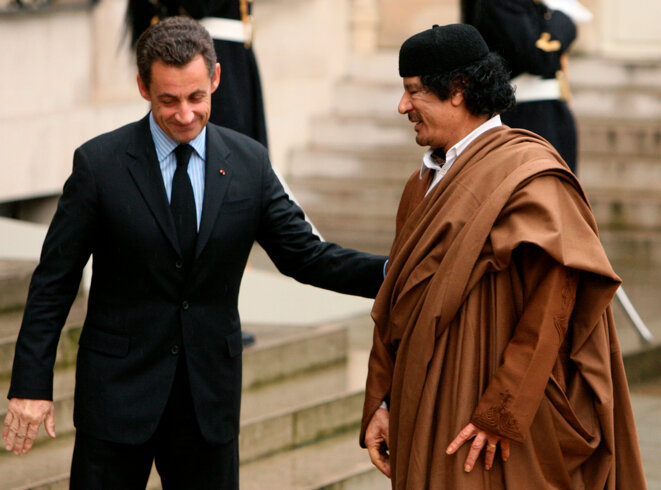 December 10th 2007: Nicolas Sarkozy welcomes Libtyan dictator Muammar Gaddafi on his first official visit to France. © Reuters
Mediapart has obtained access to extracts of the transcripts of the questioning last week of former French president Nicolas Sarkozy by officers of France's anti-corruption police agency, OCLCIFF, and also by the magistrates in charge of their investigation into the suspected financing of his 2007 presidential election campaign by the late Libyan dictator Muammar Gaddafi. They reveal how Sarkozy, who after more than 30 hours of questioning was placed under investigation on March 21st for "illicit funding of an electoral campaign", "receiving and embezzling public funds" from Libya, and "passive corruption", was unable to provide convincing answers on a number of key questions, and how also he appeared to place responsibility for some of the most compromising evidence of collusion with Gaddafi's regime on his close staff, including lifelong allies and friends Claude Guéant and Brice Hortefeux. Fabrice Arfi and Karle Laske report.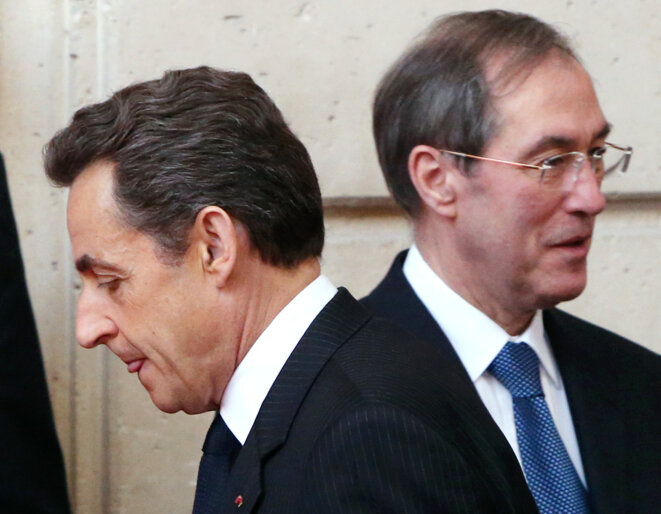 Nicolas Sarkozy and his right-hand man Claude Guéant, March 27th, 2012. © Reuters
Police officers from France's anti-corruption squad, the OCLCIFF, have produced a preliminary and damning report into the claims that the Libyan regime under Muammar Gaddafi funded the 2007 presidential election campaign of Nicolas Sarkozy. It raises questions about the role of Éric Woerth who at the time was treasurer of Sarkozy's campaign, later became a minister and is now president of the finance committee at the National Assembly. Meanwhile judges have ordered the seizure of properties belonging to Sarkozy's former chief-of-staff and right-hand man, Claude Guéant. Fabrice Arfi and Karl Laske report.

Money bagman: Ziad Takieddine says he took Libyan cash to Nicolas Sarkozy. © Pedro Da Fonseca/Premières Lignes
In an interview filmed by Mediapart the arms dealer and intermediary Ziad Takieddine has described how he brought three suitcases of cash from Libya to give to Nicolas Sarkozy and his top aide just before the former's successful presidential campaign in 2007. In a testimony that backs up claims that Sarkozy's campaign was part-funded by Colonel Muammar Gaddafi's regime, the Franco-Lebanese businessman says: "I discovered things that should no longer stay hidden." The revelations come as Nicolas Sarkozy makes an enforced exit from French politics after his humiliating defeat in last week's primary to choose the Right's 2017 presidential candidate. Fabrice Arfi, Karl Laske and Nicolas Vescovacci report.

Left to right: Nicolas Sarkozy, Ziad Takieddine, Claude Guéant, Abdullah al-Senussi and Sarkozy's lawyer Thierry Herzog.
Mediapart is publishing four documents which prove that from 2005 to 2009 Nicolas Sarkozy and his aides tried to extricate Libyan spy chief Abdullah al-Senussi from his legal problems in France where he had been convicted for his involvement in the bombing of a passenger plane over Africa. The same Senussi is suspected of having sent five million euros in Libyan cash to Sarkozy and his chief of staff Claude Guéant before the 2007 presidential election - as revealed by the man who says he physically carried the money, arms dealer Ziad Takieddine. Fabrice Arfi and Karl Laske report.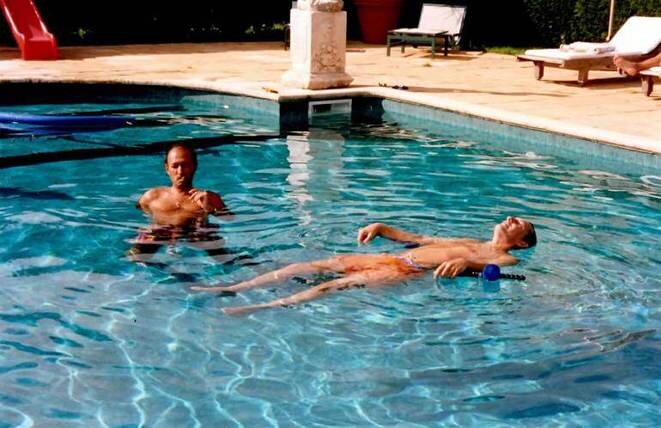 Facing trial? Former government aides Thierry Gaubert and Nicolas Bazire. © DR
An investigation into claims that kickbacks from French arms deals were illegally used to finance the 1995 presidential campaign of former prime minister Édouard Balladur has been bogged down in legal wrangles since early 2016. Now, however, a senior prosecutor has called for six men said to be at the heart of the corruption scandal known as the 'Karachi affair' to stand trial. Fabrice Arfi reports.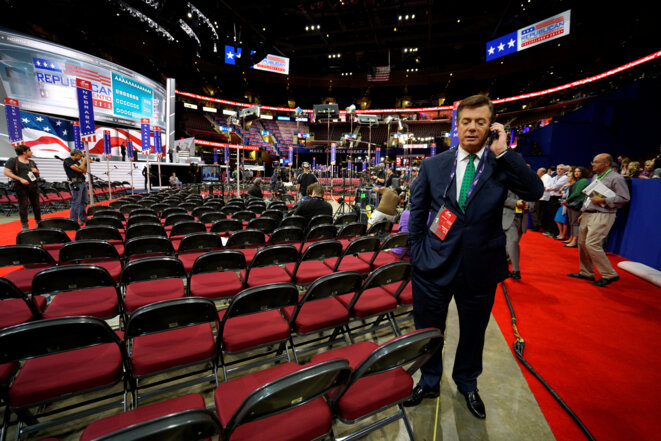 Paul Manafort, campaign manager for Donald Trump, at the Republican convention in Cleveland. © Reuters
Donald Trump's election campaign manager Paul Manafort is suspected by a French judicial investigation of having signed a fake contract with Paris-based arms dealer Ziad Takieddine to help the latter hide the real origin of cash seized by customs officers which he had smuggled into France from Switzerland. The incident occurred at the height of what has become known as the "Karachi Affair", involving suspected illegal funding of former French prime minister Édouard Balladur's 1995 presidential election campaign. Manafort is also suspected by the investigation of having invoiced the Balladur camp for unnecessary opinion polls during the campaign. Karl Laske and Fabrice Arfi report.  

The Panama Papers revelations have rocked the world with disclosures of how Panamanian law firm Mossack Fonseca mounted offshore financial structures for the rich and powerful that enable tax evasion and money laundering on a staggering scale. Beyond the sensational cases emerging in the leaked documents, Mossack Fonseca is also cited in several judicial investigations into some of the most important corruption scandals in France over recent years. Fabrice Arfi, Karl Laske, Mathilde Mathieu, Yann Philippin and Ellen Salvi report.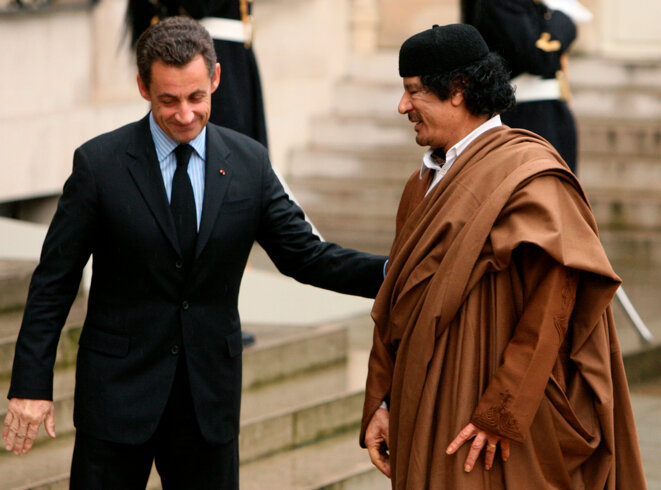 Nicolas Sarkozy et Mouammar Kadhafi sur le perron de l'Elysée, en 2007. © Reuters
The story of the covert Libyan funding of Nicolas Sarkozy's 2007 election campaign started two years earlier with a meeting between Colonel Muammar Gaddafi and the then presidential hopeful Sarkozy himself, Mediapart can reveal. According to arms dealer Ziad Takieddine, who was in Tripoli at the time, Sarkozy directly asked Gaddafi for financial help during an official visit to the North African country in October 2005. A short time later Sarkozy's close political friend and ally Brice Hortefeux made a visit to Tripoli in which he had an off-diary meeting with Gadaffi's security chief Abdullah Senussi, a key figure in the corruption allegations involving Libya and France. Judges investigating the Libyan funding of Sarkozy's campaign are now painstakingly piecing together the background to the affair. Fabrice Arfi and Karl Laske report.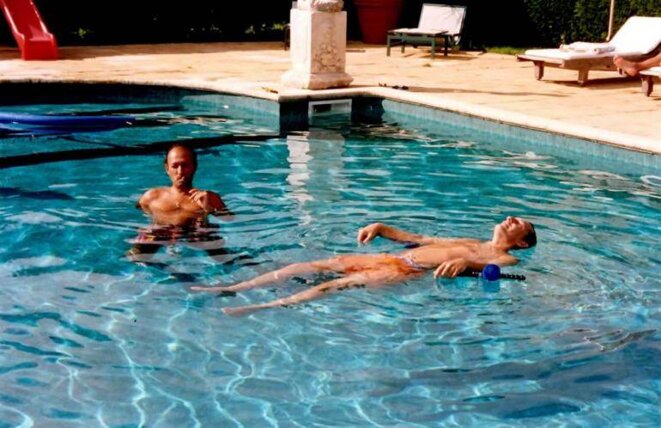 Thierry Gaubert et Nicolas Bazire © DR
At the end of an investigation that has lasted more than three years, six people, including a former minister and the current managing director of luxury goods firm LVMH, have been sent for trial for their alleged roles in a gigantic political funding scam that centred on secret cash kickbacks from French weapons sales abroad.  The case, one the biggest political corruption scandals to have emerged in France in recent decades, yet threatens to engulf the political masters of those accused - former French prime minister Édouard Balladur, his defence minister François Léotard, and Balladur's budget minister, later French president, Nicolas Sarkozy. Fabrice Arfi reports.