From independences to new liberations
A signatory of the 1960 Manifesto of the 121 (Déclaration sur le droit à l'insoumission dans la guerre d'Algérie - Declaration on the right to insubordination in the Algerian War), Edouard Glissant was co-founder of the separatist Front Antillo-Guyanais pour l'Autonomie in 1959, banned by the Gaullist authorities on July 20th 1961.
When he intervened in the Parisian congress that, in April, preceded this dissolution, it was to imagine how the freedom of small countries could bear witness "to the contact of cultures in a world conquered by complex cultures". Never relinquished, these engagements carried the unfulfilled promise of independence - the same that today is triggering the protests in Tunisia and Cairo, in quest of a new social and democratic liberation.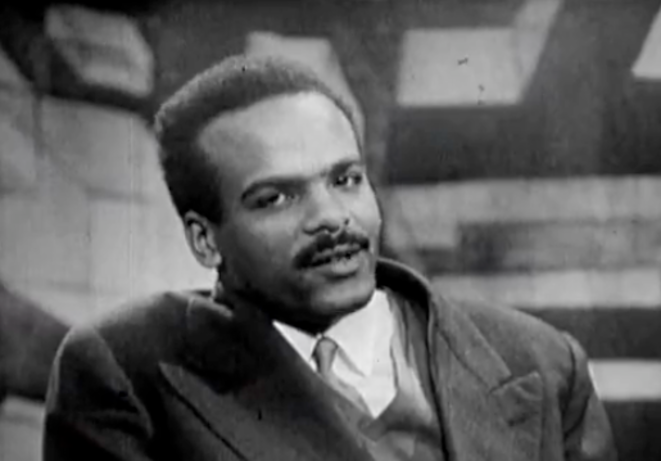 Edouard Glissant, 1957.
Poets generate luck, rather than believing in it. For it was in Carthage, Tunisia that, in 2005, the last big international seminar was held on Glissant, his poetry of Relation and his role of 'passeur de mondes' ('inter-world guide') in his presence. And it was also in Tunisia, almost fifty years ago, at the end of 1961, that his friend
Frantz Fanon
was laid to rest.
Fanon, his senior, also from Martinique, was an ardent defender of the free Algeria cause. In the 1950s, a time of colonial wars and hard-won emancipation, he addressed a Europe forgetful of itself in his book Black Skins, White Masks (Peaux noires, masques blancs 1952): "You mustn't try to tie man down, since it is his destiny to be free".
This book was published four years before the first International Congress of Black Writers and Artists was organised at the Sorbonne by the magazine Présence Africaine, in September 1956. Fanon and Glissant attended. The youngest there, they were in the company of Léopold Senghor and Aimé Césaire (Glissant was also at the second, held in Rome in 1959).
In various ways these four bards traced a path to the recognition of everybody's humanity, reconquering pride from Africa to America. Of them Edouard Glissant is the one who made the connection to our era, its perils and its challenges.
He was already looking ahead whilst being fully involved as a witness and actor in the 1950's heyday of 'négritude', the francophone black intellectual movement that spoke up for all humanity. Whilst fully embracing this necessary moment in history, he extracted its essentials to transform them and bring them into the future, our present. Entrusting Mediapart with his posthumous homage to Aimé Césaire, he anticipated and countered those keen to artificially oppose him to the author of Notebook of a Return to My Native Land (Cahier d'un retour au pays natal, 1939). From within his homage to the great elder breaks through his own definition of the poet, or rather of a poetry that progresses at the risk of the world.
Césaire's negritude, he wrote in Aimé Césaire, the Poet's Passion (Aimé Césaire, la passion du poète, 2008) "is at once an awakening of memory and the premonitory call for a renaissance. To a certain extent, it precedes the flowering of modern négritudes of the African diaspora, in this sense it differs from Senghor's, which proceeds from a millenarian community, whose wisdom it encapsulates. Aimé Cesaire's poetics is one of volcanoes and eruptions; it is torn from the tangles of consciousness, sailing the waves coursing out of black suffering, with at moments a surprising tenderness of spring water and a clamour of joy and jubilation. At times the French reader might reproach him for a lack of moderation, although his is a poetry of true measure, but a measure measuring something unmeasured: the world. Césaire is one who brings the beauties of his heritage into accord with the beauties of his becoming in the world."1
However, in contrast to Césaire, Glissant - and this is another of his strong idiosyncrasies - would not institutionalise himself in politics, not even in Martinique. "Writing isn't intended to precipitate politics", he points out in Baton Rouge Interviews2 (Entretiens de Baton Rouge, 2008), a clear introduction to his thinking, where he defended "the poetic necessity of escaping the simplified reproduction of the political". But of this rejection was born a paradoxical invention, where politics aspires to a different form, and is carried out differently, finding its way via poetry, always curious about the world and concerned about the present, attentive to misfortune, generous with joy.
-------------------------
1: This citation is from a 2008 translation into English by Glissant himself and Christopher Winks.
2: This title, apparently unpublished in English, is translated from the French by Mediapart.