In June 2012, the international police cooperation organisation Interpol accepted a donation of 15 million euros, to be paid over a three-year period, from US tobacco company Philip Morris International. The funds were to be used in combating black market cigarette trafficking.
One year later, Interpol had adopted Codentify, a product traceability system developed by Philip Morris International, British American Tobacco, Imperial Tobacco Group and Japan Tobacco International.
The tobacco companies are currently lobbying the European Union to also adopt this marking system, placed on each packet of cigarettes, which allows for the identification of genuine or counterfeit products as they pass through the supply chain from producer to customer. Quite simply, the four big tobacco companies propose a system that places themselves in control of checking the authenticity of products bearing their names.
With increasing pressure on its finances, Interpol appears to have overlooked the fact that the tobacco industry has for decades fed the black market traffic in cigarettes and in close cooperation with underworld networks. "Twenty years ago, almost all the tobacco industry was involved," commented Luk Joossens, an international expert on the black market cigarette trade and who has served as an advisor to the World Bank and the World Health Organisation. "Billions of cigarettes were exported, officially as 'duty free'. These cigarettes arrived on the illicit market in Europe. A police organization cannot work with companies suspected of organizing smuggling, it's unacceptable."
The donation was just one of several received by the intergovernmental police cooperation organisation in new partnerships it has developed with the private sector. These include funding of 20 million euros from the International Federation of Association Football (FIFA) in 2011, and funding of 4.5 million euros from the pharmaceutical industry in a deal mapped out earlier this year.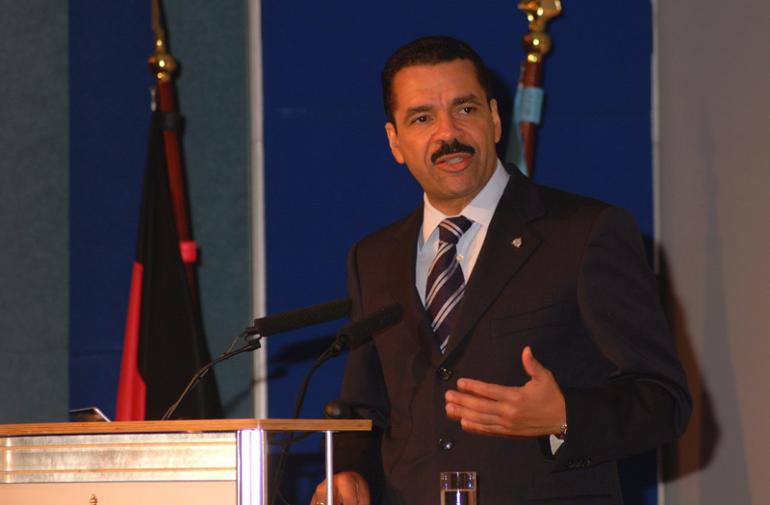 Interpol secretary general Ronald K. Noble.
In a joint letter sent to Interpol secretary general Ronald K. Noble in late 2012, senior police officers from several European countries called for more transparency over the deals with the private sector. Since then, a working group under the leadership of Jürgen Stock, head of the German Federal Police Office, the BKA, has been set up to establish a code of ethics for Interpol's funding.
"In any case, whatever the industrial sector with which we deal, there will always be suspicion," objected Interpol's General Counsel and Director of Legal Affairs, Joël Sollier, in an interview earlier this summer with Mediapart. "Are you going to work with the arms industry? With the pharmaceutical industry? With the tobacco industry? I can demonstrate to you that, from a certain point of view, one shouldn't. And on the other hand, I can show you that there are no other possibilities, because there are only those who are interested in this particular market who could finance the combat against the misdemeanours of this market."
Mediapart has obtained a copy of a report by Europol, the European Union's criminal intelligence agency, entitled 'Threat Assessment – Organised Crime in Montenegro' (see the report here). Dated August 2012, it indicates that the tobacco industry still plays a role in contraband trafficking in the state that was once part of the former Yugoslavia. The report observed that in Montenegro: "Cigarette smuggling continues, with ships used to transport large quantities with a legally declared cargo of cigarettes into and out of the Port of Bar. The presence of a Philip Morris factory in Montenegro is a crime relevant factor."
Questioned by Mediapart, both Philip Morris International and Interpol described the Europol report as erroneous. In fact, Philip Morris does not have a factory in Montenegro, but it does have offices.
Europol itself has now backtracked on its assertion. "The wording unfortunately is not valid," said a Europol press officer. "It is a misunderstanding that PMI has a factory in Montenegro and as such no single company should have been mentioned, since the idea behind the statement is that any cigarette factory in the [Montenegrin] territory is to be considered a crime relevant factor."
That error of vocabulary aside, the report illustrates the passivity of the tobacco industry towards contraband. In its study of organised crime in Montenegro, carried out between 2010 and 2012, Europol found that tens of millions of cigarettes were illegally smuggled every year from Montenegro to European Union (EU) member state Greece. Once inside the EU, the cigarettes are destined for the black market. While the quantities involved are significantly less than during the 1990s, at the height of the gang-led smuggling activities that became dubbed 'the Montenegro Connection', the trafficking is being carried out under the nose of Philip Morris which has a base in Montenegro since 2007.
"Cigarette smuggling causes significant damage to businesses like ours which is why we work with numerous organizations and commit significant resources to tackle the problem," Philip Morris International told Mediapart in a statement.