Michel Offerlé, a professor of political sciences at French higher education establishment, the École normale supérieure, and his colleague Julien Fretel, political sciences lecturer at the Paris 1 Sorbonne University, have carried out a study of thousands of letters and emails from a total of around one million that were addressed to François Hollande during his 2012-2017 presidential term.
Their research and analysis is due to be published later this year.
The correspondence to the French head of state, which then as now is dealt with at the Elysée Palace, the French presidential office, by a department made up of about 70 staff, contains quite different messages, from individual requests for help, complaints about taxation, insults and approval about the president's actions, and suicidal intentions.
While the large number of missives demonstrating exasperation and desperation over financial and bureaucratic difficulties are dealt with on an individual basis, they can be regarded as collectively representing the ills among a large section of French society. For the correspondence illustrates the growing frustrations of a section of the population that in part fuelled the eruption of the current so-called 'yellow vest' movement of social unrest over falling living standards for low- and middle-income earners, and which has now forced the government of President Emmanuel Macron to organise a series of nationwide debates for the airing of grievances and demands.
In this interview with Mediapart, Michel Offerlé details what he and Julien Fretel discovered in the correspondence addressed to François Hollande.
-------------------------
Mediapart: How did you obtain access to the correspondence addressed to the French president?
Michel Offerlé: Julien Fretel knew a member of the presidential mail department who helped with access to François Hollande's inner cabinet which, at the end of his five-year mandate, ended up giving us authorisation. But we had to wait for a year and a half, it was a long game of ping-pong. It's a department of 70 people, who opened up certain files.
There are about one million letters and emails that were sent in five years. We were able to consult some of them, between 10,000 and 15,000. They are often missives that repeat themselves, with similar rhetoric, notably with requests for help, petitions. The correspondence is more or less vehement in relation to the timeline of current events.
Mediapart: What does the correspondence contain?
M.O.: There are letters which view the president as someone who does not fulfil his role. Some of the authors know that the president can't do anything [about their concerns] but their letter serves just to set out their particular, painful case, and to express what they have to say. For others, it's a form of last resort. With more or less a tactical sense, they think that maybe this all-powerful person can sort out individual cases, or draw attention to political problems.
Even if the letters with requests are in general more polished, some express contempt or hate, even if hate was certainly less present during the previous [Hollande] presidency.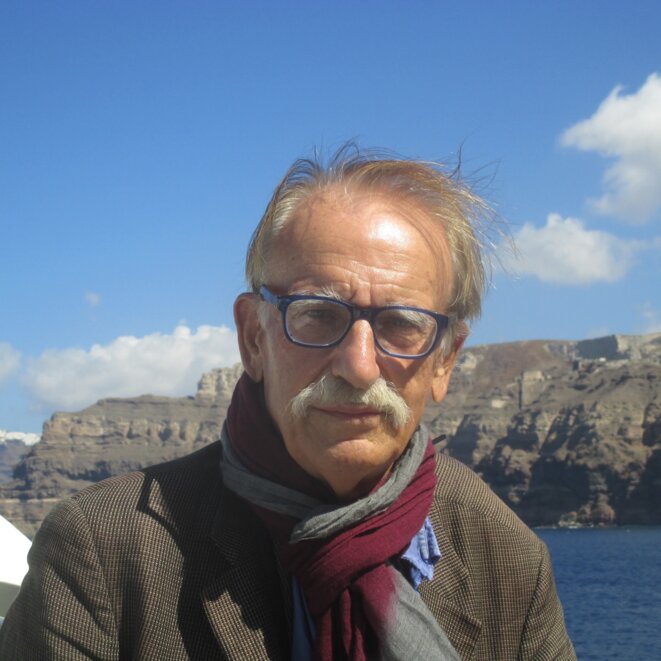 Michel Offerlé.
Mediapart: How is the correspondence sifted?
M.O.: The department begins with a first classification, in two collections. A first filtering selects correspondence relating to the safety of people. The correspondence chosen in first place is that which contains suicide threats. Also put to one side is the correspondence from personalities, and invitations.
The most important aspect is the interesting division between requests and opinions, and which can raise questions. The former category represents about 60% of correspondence. As for the correspondence expressing opinions, this comes from people who will give their advice on political choices, which is quite a good measure of what interests those most politicised in France at that moment. That could be the terrorist attacks, same-sex marriage, the setting up of the CICE [business tax breaks], the labour law [reforms], or the issue of a pardon for Jacqueline Sauvage [jailed for murdering her husband who allegedly abused her and her family]. There, we're in a relation with what makes headlines. But a comment, like that about 'the toothless' [Hollande was accused by his jilted partner of using the phrase in private to describe the poor] prompted numerous reactions.
Mediapart: In what manner does 'opinion' and 'request' correspondence differ?
M.O.: What is classed as requests are individual letters that show up the misery in the world. They are complaints that set out, with very big differences in capacity of expression, a personal, family, professional and sometimes medical situation. Here we are in what is very daily things, concrete things. For example, a woman who exposes her problem in a blunt manner: 'I had cancer, I'm almost homeless'. People send photos, X-rays, documents, there's a sort of demonstration of the right to write. What is interesting to see is the continuum of individual cases and a rise in generality. It is, 'I write regarding myself, but not only myself'.
Mediapart: What does the president actually read from among the political reflections and calls for help?
M.O.: In the weekly selection that is sent to him, the president specifically asked for those about taxes and social charges. These include summaries [of correspondence] and up to around 50 complete letters. But there is a filter – one cannot say everything to the 'Prince'! Letters of a positive nature are also included. But I did not see him sent purely personal letters except when it involved very emotional cases that were considered necessary to send on to the 'PR'. But if they were placed altogether, they could become collective cases.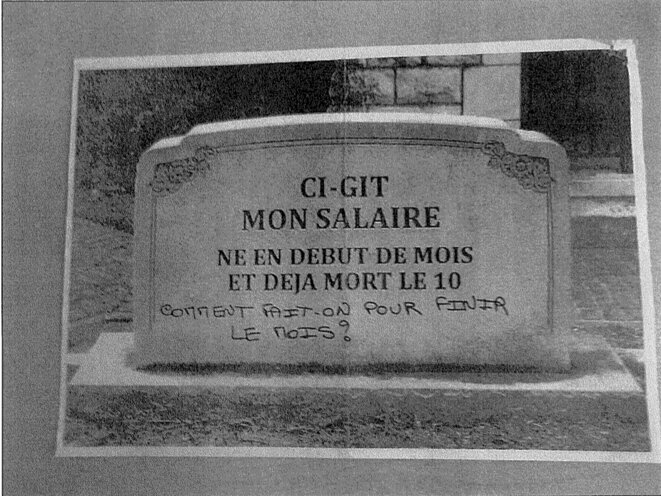 A photomontage sent in one of the letters to François Hollande, a tombstone with the inscription: "Here lies my salary, born at the beginning of the month and already dead on the 10th. What can one do to reach the end of the month?" © DR
Mediapart: Amongst the correspondence that you were able to read, what was there that gives echo to the current 'yellow vest' movement?
M.O.: Some people who have moved over to the yellow vest movement were no doubt among those who wrote to François Hollande. One theme was quite recurrent – having one's 'fill' of tax 'overkill', especially at the beginning of the [Hollande] presidency. There were also pensioners who wrote in, like the woman who sent a refund cheque of 1.4 euros to talk about her spending power.
Or this man who ran a company: 'You do everything that is necessary in order that, at last, the French people arise and chase you out, you and all the good-for-nothings who have never known, and will never know, what are real lives like ours!'
But what really made a sense, to make a connection with the yellow vests, is the similarity between the term 'toothless', which caused a lot of reaction, and the different arrogant phrases uttered by [current president, Emmanuel] Macron. We said to ourselves, the contempt shown by the president cannot pass off. Today it's as if the yellow vests have gone from writing requests to making demands.
Mediapart: Do you think that such correspondence can have an influence on political policies?
M.O.: It is very difficult to measure the political effects of the correspondence. The letters accompany political policies, they don't create them. In the mail department, the staff themselves say the weak signals are poorly understood because they are in majority personal stories. They tell the president about financial difficulties, divorces, illness. In comparison to more organised social demands, this correspondence includes a lot of different problems. It is a collection of anger, exasperation, which is firstly individual and is not, at the time, recognisable in a collective sense.
The mail department staff is not paid to analyse more political things, but to pass them along. The personal letters are treated as 'social cases', they are replied to with a view to providing a public service, pointing them in the direction of social services, to those of the family allowance fund. It is about shoring up, but it is not seen as a political issue because the majority of 'complainants' don't ask for a change in society, just that they are heard and helped. In retrospect, one can ask oneself whether the department could be given the role of putting these complaints into series from which collective problems could be identified. That is what is at stake with the different debates now being organised.
-------------------------
The original French version of this interview can be found here.
English version by Graham Tearse