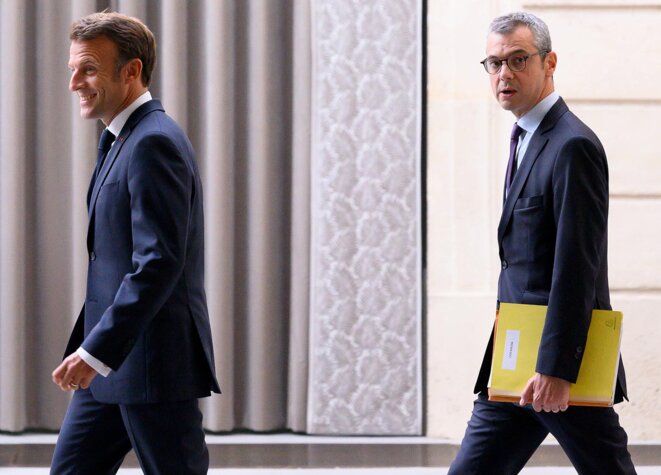 Emmanuel Macron and chief of staff Alexis Kohler at the Élysée Palace, September 15th 2022. © Photo Jacques Witt / Sipa
On September 23rd the president's chief of staff was placed under formal investigation for "unlawful conflict of interest" over claims he hid his family ties to the MSC shipping line and intervened in its favour on several occasions  while working as a senior civil servant. Alexis Kohler has also been placed under the status of "assisted witness" for "influence peddling" in relation to the same case. As Martine Orange reports, the news comes after the Élysée spent five years trying – in vain - to bury the case.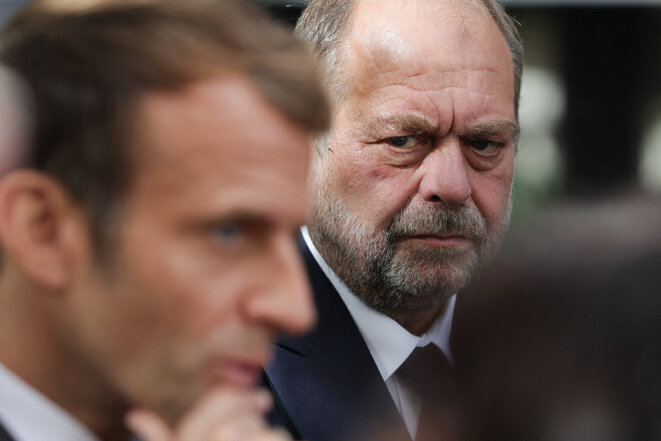 Emmanuel Macron and justice minister Éric Dupond-Moretti at the start of a round-table event to discuss the justice system, October 18th 2021. © Photo Thibaud Moritz / Abaca
For the first time in French political and legal history, a serving justice minister has been sent for trial before the Cour de Justice de la République. Éric Dupond-Moretti will appear before the CJR – the special court that deals with the alleged offences of ministers while in office – accused of an unlawful conflict of interest. He is said to have put pressure on anti-corruption prosecutors and a judge. However, argues Fabrice Arfi in this op-ed article, President Emmanuel Macron must also accept a major share of the responsibility for the affair. It was the head of state who appointed the former high-profile and outspoken lawyer to the post - and who then chose to keep him in office after the allegations first broke.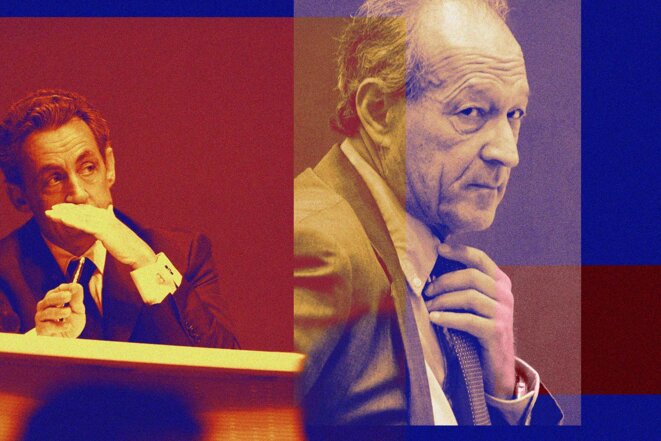 Nicolas Sarkozy and Thierry Gaubert. © Photo illustration Sébastien Calvet / Mediapart avec AFP
In what appears to be a significant development in the French judicial investigation into the suspected illegal financing of Nicolas Sarkozy's 2007 presidential election campaign by the regime of the late Libyan dictator Muammar Gaddafi, the probe has discovered evidence pointing to the involvement in the alleged funding of Thierry Gaubert, a longstanding friend and political ally of the former French president. This centres on the contents of a computer hard disk belonging to Gaubert, seized in 2011 in a separate case concerning him, and which have only now come to light. In this first of a two-part report, Fabrice Arfi and Karl Laske detail the findings and their implications for Sarkozy.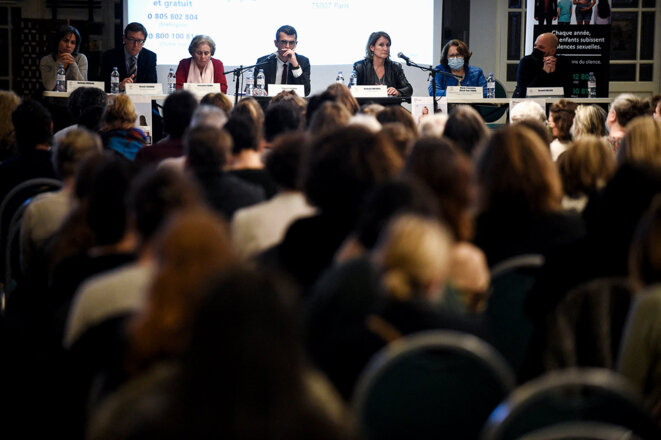 A public consultation meeting organised in Paris by France's commission on incest and sexual violence towards children, February 16th 2022. © Photo Julien de Rosa / AFP
An extraordinary national awakening to the extent of child sex abuse and its traumatic consequences followed the publication in France last year of a book, La Familia grande, exposing the recurrent sexual abuse of the author's twin brother by their stepfather. Its publication prompted an outpouring of posts on social media by victims of similar abuse, and the creation, at the behest of President Emmanuel Macron, of an advisory "independent commission on incest and sexual violence towards children". The commission has now published a preliminary report following its national appeal for victims to come forward to detail their experiences, to which more than 16,000 people have so far responded. Sarah Brethes reports.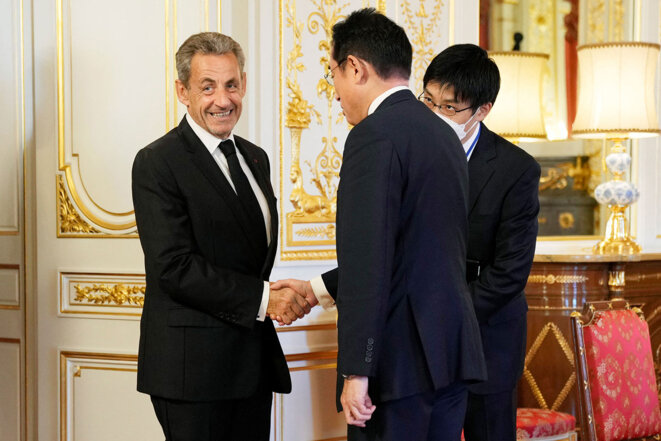 Nicolas Sarkozy greeted in Tokyo by Japanese Prime Minister Fumio Kishida, September 27th 2022. © Photo Hiro Komae / pool / AFP
At the request of Emmanuel Macron, Nicolas Sarkozy travelled to Tokyo to represent France at the state funeral on Tuesday of former Japanese prime minister Shinzo Abe. That was despite the fact that the former French president has two convictions, and notably one for corruption, and that he is currently placed under investigation for "criminal conspiracy", "corruption", "illicit campaign financing" and "receiving the proceeds of the misappropriation of public funds" in relation to the alleged Libyan funding of his 2007 election campaign. Fabrice Arfi and Ilyes Ramdani report.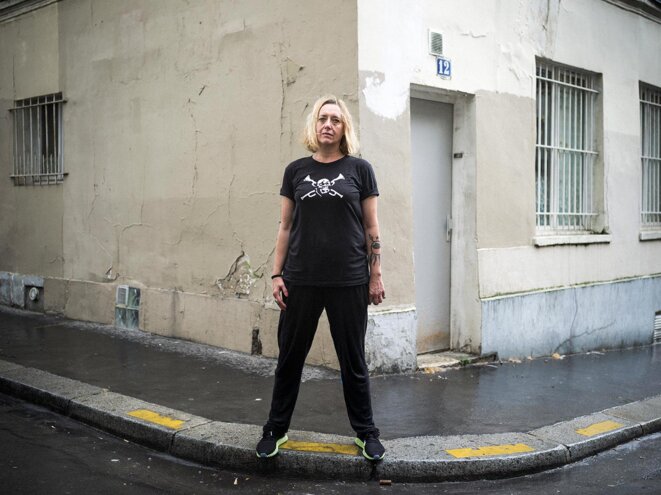 Virginie Despentes, pictured here in Paris in 2018. © Photo Ed Alcock / MYOP
Acclaimed author Virginie Despentes, whose prolific writing career began in a wild-child bang almost three decades ago with Baise-moi, is back on the bestseller list in France with the publication of Cher connard, a feminist and punk novel that tackles issues of sexual harassment in contemporary French society. It is reviewed here by Lise Wajeman who, while she finds a certain new tenderness in Despentes' approach, assures that nonetheless "one will never find a mollifying incantation to love and harmony" in the works of Despentes, whose "rage is intact".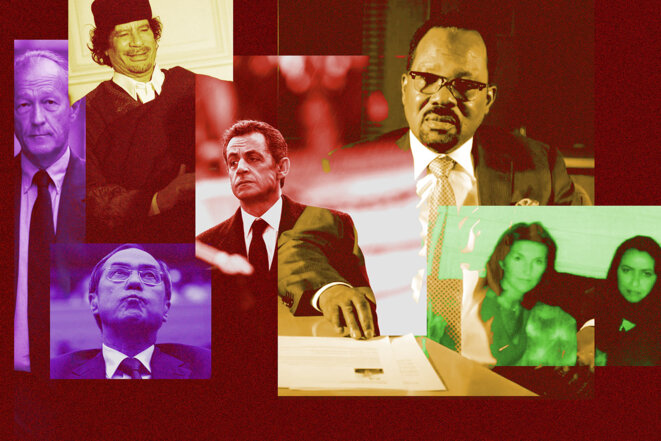 Clockwise from top left: Muammar Gaddafi, Nicolas Sarkozy, Bashir Saleh, Cécilia Attias with Mabrouka Sherif, Claude Guéant and Thierry Gaubert. © Photo illustration Sébastien Calvet / Mediapart avec AFP
Bashir Saleh, the former chief of staff to the late Libyan dictator Muammar Gaddafi, has given a statement to the public prosecution services of Libya's internationally recognised Government of National Unity saying that he was informed how Nicolas Sarkozy directly asked Gaddafi for "help" with his 2007 presidential election campaign. The prosecutors have also obtained a detailed statement from Gaddafi's personal secretary, Ahmed Ramadan, on precisely how the regime allegedly financed Sarkozy's bid. In this second part of a series of three reports, Fabrice Arfi and Karl Laske report on the latest developments in the French judicial investigation into the suspected illegal funding.
Clockwise from top left: Bernard Squarcini, Cécilia Attias, Nicolas Sarkozy, Muammar Gaddafi, Thierry Gaubert and Brice Hortefeux. © Photo illustration Sébastien Calvet / Mediapart avec AFP
Cécilia Attias, the former wife of Nicolas Sarkozy, was interviewed in June as a witness by police acting under the authority of a judicial investigation into the suspected illegal funding of her then husband's 2007 presidential election campaign by the regime of the late Libyan dictator Muammar Gaddafi. During the four-hours of questioning, she was notably unflattering about several of the former president's close entourage, and described evidence from the probe that was presented to her as, variously, "staggering", "surreal" and "ugly".  Fabrice Arfi and Karl Laske report.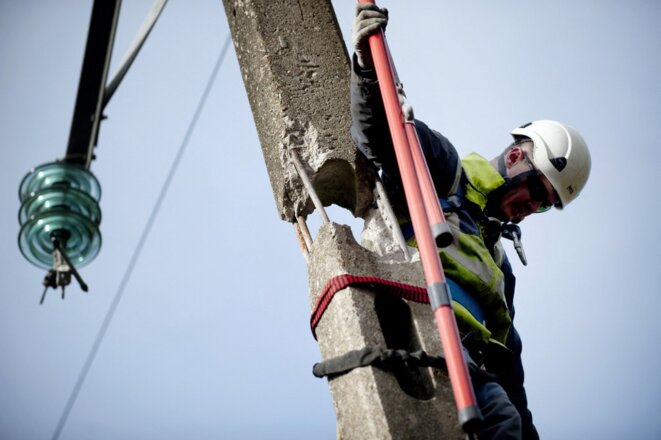 A worker from ENEDIS, the company that looks after the power grid for domestic users, in 2014. © Photo Jean-Sébastien Evard / AFP
A number of European governments introduced detailed energy conservation plans in the spring to tackle the energy crisis. In contrast, the French government has been happy simply to talk about the need for 'restraint' combined with vague calls for people to cut energy use, argues Martine Orange in this op-ed article. She says it has now taken the country's electricity grid operator RTE to spell out just how urgent the situation is.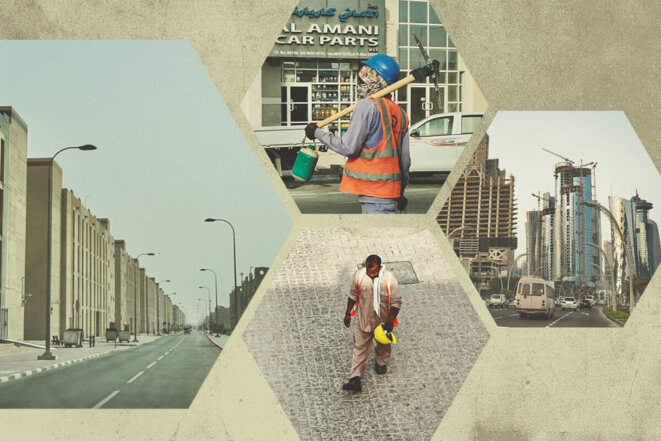 © Illustration Simon Toupet / Mediapart
Forced labour, working without pay, excessive working hours in sweltering heat ... despite several reforms brought in by the emirate's authorities under pressure from human rights groups, the migrant labourers working flat-out to ensure the gas-rich state of Qatar is ready to host November's World Cup finals are still enduring appalling conditions. Rachida El Azzouzi reports from Doha on the plight of the workers just two months before the tournament kicks off.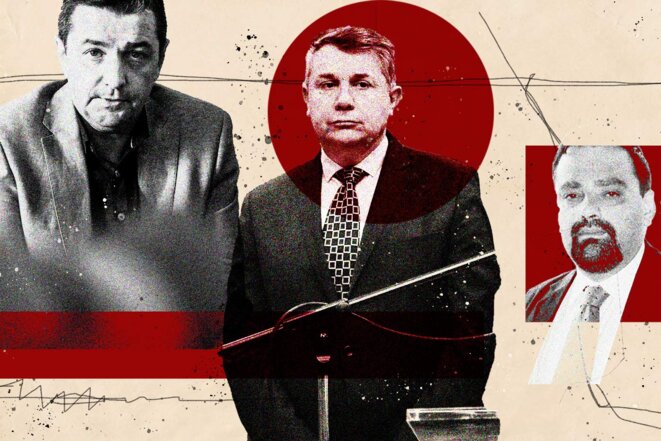 Mayor Gaël Perdriau, his deputy Gilles Artigues and Pierre Gauttieri. © Photo illustration Sébastien Calvet / Mediapart avec AFP et MaxPPP
Prosecutors have begun a criminal investigation after Mediapart revealed claims that the mayor of Saint-Étienne in south-east France, Gaël Perdriau, blackmailed his deputy mayor Gilles Artigues using a videotape of the latter with a male escort in an hotel room. The apparent aim of the blackmail was to ensure that Perdriau, who is from the right-wing Les Républicains (LR), maintained political control over his deputy Gilles Artigues, a devout Catholic and former Member of Parliament from the centre-right UDI party. After the initial revelations Mediapart then published extracts from recordings which revealed both Gaël Perdriau and his chief of staff threatening the deputy mayor over the sex tape. Both men, along with three others, have now been questioned in custody by detectives. Antton Rouget reports on an affair that has provoked widespread condemnation across the political spectrum.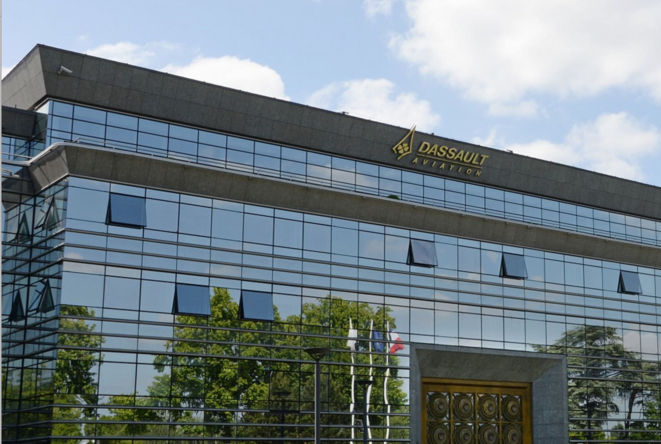 Dassault Aviation's headquarters at Saint-Cloud ,west of Paris. © Dassault Aviation
French judges are leading an investigation into claims of corruption surrounding the 7.8-billion-euro sale to India in 2016 of 36 Dassault-built Rafale fighter aircraft. But four months after searching the headquarters of the French defence and aviation group, investigators were refused access by France's Ministry of the Armed Forces and the Ministry of Foreign Affairs to classified documents concerning the contract negotiations. Yann Philippin reports.
Mediapart has published a series of investigations into the circumstances of the 7.8-billion-euro sale by France to India of 36 Rafale fighter jets, which is clouded by suspicions of large-scale corruption. In this short video with English subtitles, Yann Philippin explains the key revelations and background of Mediapart's investigations into this most complex story.
Between June and August 2022 France saw "excess deaths that were in all probability due in part to the heatwave". That is the verdict of the country's official statistics agency INSEE. If one compares the 2022 mortality figures with the same period in 2019, an additional 11,124 people lost their lives this summer. These initial estimates of the impact of this year's heat inevitably revive memories of the tragic heatwave of 2003, which led to the deaths of many thousands of people. Donatien Huet and Jade Lindgaard report.