Two years ago the French-owned Pâtisserie des Rêves opened two patisseries in London to considerable acclaim. "A cake shop like none other," was how The Telegraph newspaper described one of the shops launched with the involvement of top French pastry chef Philippe Conticini. But just before Easter this year both stores closed abruptly and staff were not paid their final month's wages. Mathilde Goanec reports on the battle by the 22 former employees to get their money.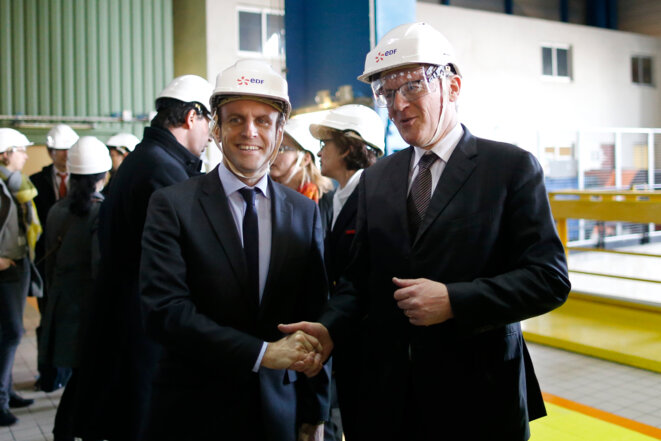 Economy minister Emmanuel Macron and EDF boss Jean-Bernard Lévy are under fire over the Hinkley Point project. © Reuters
On Friday April 22nd the board of directors at French energy giant EDF announced they were delaying a final decision on building two European Pressurised Reactors (EPRs) at Hinkley Point in Britain. The news came in the wake of an unprecedented rebellion by EDF staff against the 23-billion-euro project which some fear could even lead to the demise of the state-owned French company. Mediapart has seen a letter backed by 400 managers which calls on EDF's directors to face up to their corporate responsibilities, or face potential legal action if the Hinkley project damages the company. Martine Orange reports.
The French government was initially enthusiastic about the free trade agreement being negotiated between the European Union and the United States. However in recent months Paris, and in particular overseas trade minister Matthias Fekl, has taken a tougher line on the so-called TAFTA deal. Talks on the agreement resume in New York on Monday April 25th, while the day before President Barack Obama will raise the issue with German chancellor Angela Merkel in Berlin. But as Ludovic Lamant reports, the chances of a deal being struck before the end of Obama's term of office look increasingly remote.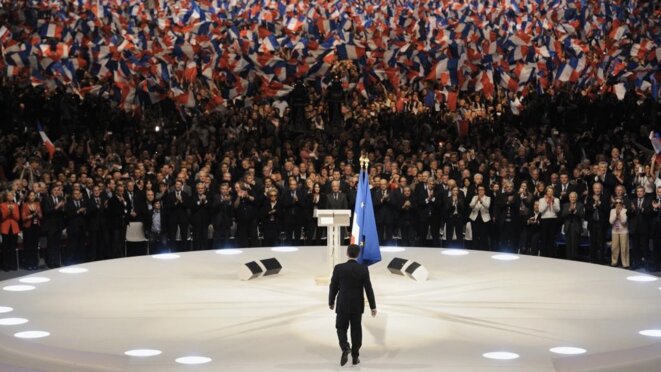 Nicolas Sarkozy's 2012 election campaign spent nearly 46 million euros. © Reuters
An expert report has revealed for the first time the full extent of the massive overspend by Nicolas Sarkozy's failed election campaign in 2012. The document, seen by Mediapart, shows that the former president's campaign spent a total of nearly 46 million euros – double the fixed ceiling for a presidential candidate. The overspend includes a 'forgotten' 8.2 million euros whose existence only came to light late in 2015. Mathilde Mathieu reports.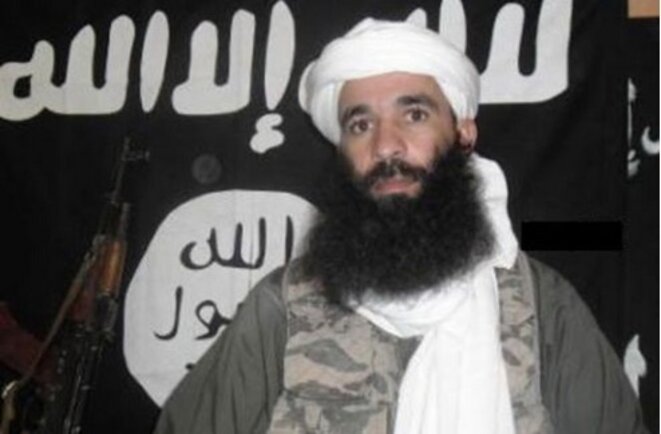 Threat to France: Yahya Abu Hammam
The massacres in Paris on November 13th last year and the attacks in Brussels on March 22nd have focused attention on Islamic State. Yet the threat from Al Qaeda terrorism has not gone away. Indeed, French intelligence agencies fear that the older terrorist movement may be planning to up the stakes with an attack on France in a bid to restore its flagging reputation in relation to its jihadist rival. Matthieu Suc reports.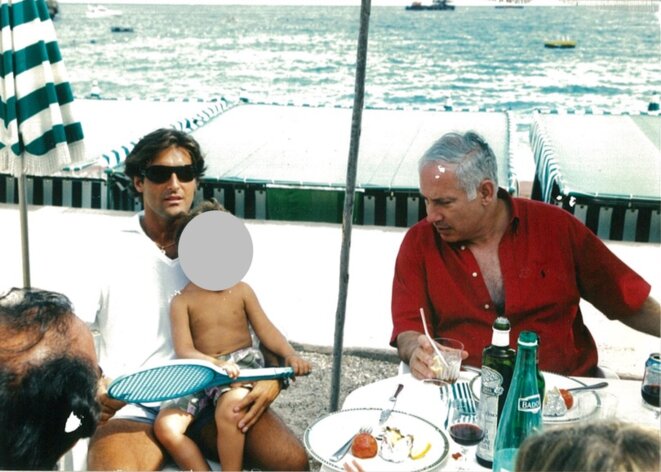 No such thing as a free lunch: Arnaud Mimran and Benjamin Netanyahu in Monaco in August 2003. © Mediapart
Israeli Prime Minister Benjamin Netanyahu last month denied ever asking or taking financial favours from French businessman Arnaud Mimran, who next month stands trial in France for his alleged key role in the country's biggest fraud case centring on a 1.6 billion-euro carbon trading scam, and who is also placed under investigation in a separate case of kidnapping and sequestration. But a joint investigation by Mediapart and Israeli daily Haaretz reveals Netanyahu's longstanding links with Mimran were far from disinterested. Fabrice Arfi reports.
France's anti-corruption services are over-stretched, under-staffed and under-performing, lacking both the human and material resources to effectively carry out the investigations handed to them. The problem affects both the judicial services and the specialised police units that carry out the in-the-field investigations into white-collar crime. Mediapart legal affairs correspondent Michel Deléan reports on a deepening crisis.  

Roselyne et Pascal © MG/MP
Massaging unemployment figures has become a preoccupation for France's socialist government, as the rising numbers of jobless threaten to put the final nail in President François Hollande's political coffin ahead of presidential elections next year. The figures are presented in three categories, A, B and C, ranging from those without any professional activity – the official unemployed - to those who have partial jobs. But there are few differences between either section, all facing a desperate daily search for a proper job and liveable income, as illustrated in these four interviews by Mathilde Goanec.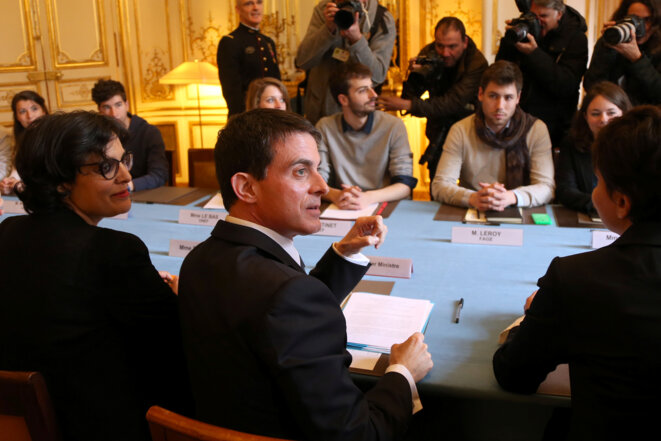 Manuel Valls, with labour minister Myriam El Khomri (l) and education minister Najat Vallaud-Belkacem, meeting with student representatives on Monday. © Reuters
François Hollande's expected bid for a new term of office in presidential elections next year is facing a serious threat from growing student anger over his government's proposed new labour law. A string of national protests have brought student and trades unions onto the streets in recent weeks against what they see as a pro-business, retrograde reform that heightens job insecurity at a time of record unemployment. The perspective of a spring revolt prompted the government to present a package of measures for the young on Monday, worth a yearly 500 million euros and aimed at easing access to the labour market and to provide financial aid for the worst off. But while the measures were broadly met with approval, the student unions vowed to continue the battle against the reform. Faïza Zerouala reports.
Since March 31st, an increasing series of nocturnal sit-ins have taken over town and city centres around France. Called Nuit Debout, (roughly meaning 'Standing Up Night'), they are gatherings of people of all ages who are dismayed by the political scene in France. They hold debates, spontaneous discussions, break out in song, swap books, eat together and hold occasional demonstrations. There is no official aim, and there are no official leaders, and no-one knows where it will all end. The movement began on the Place de la République in central Paris, in the aftermath of a demonstration against the government's proposed labour law reform. Christophe Gueugneau and Michaël Hajdenberg joined the sit-in there this weekend.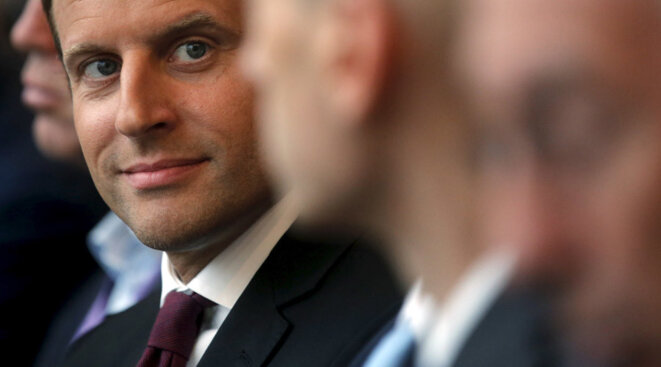 An eye on 2017: Emmanuel Macron. © Reuters
French economy minister Emmanuel Macron this week announced the launch of his political movement, En Marche, raising speculation that he was preparing a bid for next year's presidential elections. Macron, a former advisor to socialist president François Hollande and who holds no elected office, declared that his movement was neither left- nor right-wing. But, as Laurent Mauduit reports, it is in fact domiciled at the private address of the director of one of the leading think tanks of French business.

The Panama Papers revelations have rocked the world with disclosures of how Panamanian law firm Mossack Fonseca mounted offshore financial structures for the rich and powerful that enable tax evasion and money laundering on a staggering scale. Beyond the sensational cases emerging in the leaked documents, Mossack Fonseca is also cited in several judicial investigations into some of the most important corruption scandals in France over recent years. Fabrice Arfi, Karl Laske, Mathilde Mathieu, Yann Philippin and Ellen Salvi report.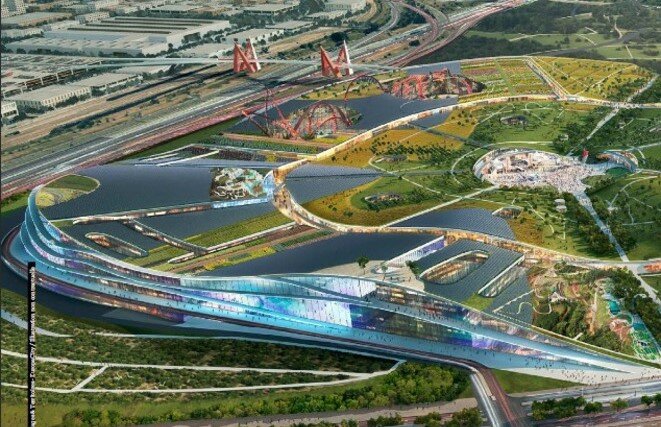 Vision of the future: how the planned EuropaCity will look.
It is one of the largest development projects in the Paris region. The Auchan supermarket chain wants to build a vast shopping complex on farmland near Charles-De-Gaulle airport that will contain not just shops but a leisure park, a ski slope and cultural centres. Its supporters say EuropaCity will bring thousands of job to a poor, deprived area and serve as a blueprint for commerce and society in the 21st century. Opponents doubt the number of jobs it will create, say it will harm the environment, and argue that it is at odds with the commitments made by France and other nations at the COP21 climate summit held in Paris in December. Urban utopia or environmental nightmare? Jade Lindgaard reports.
Plans by French energy giant EDF to build two European Pressurised Reactors (EPRs) at the Hinkley Point nuclear power plant in south-west England have already triggered the resignation of the company's finance director, led to opposition from unions and raised doubts from France's financial watchdog. Now, Mediapart can reveal, in an unprecedented move a number of EDF's own engineers have also expressed their deep misgivings about the multi-billion euro project and called for it to be delayed. As Martine Orange reports, the engineers fear the Hinkley Point construction could threaten the group's plans to renew France's own nuclear power stations in the near future.