François de Rugy, the environment minister and number two in the government who quit on Tuesday July 16th after revelations about his lifestyle and use of public money, employed ministerial chauffeur-driven cars for his own personal use, Mediapart can reveal. Several former government ministers have raised questions over de Rugy's apparently excessive use of such vehicles. Michel Deléan, Michaël Hajdenberg, Antton Rouget and Marine Turchi report.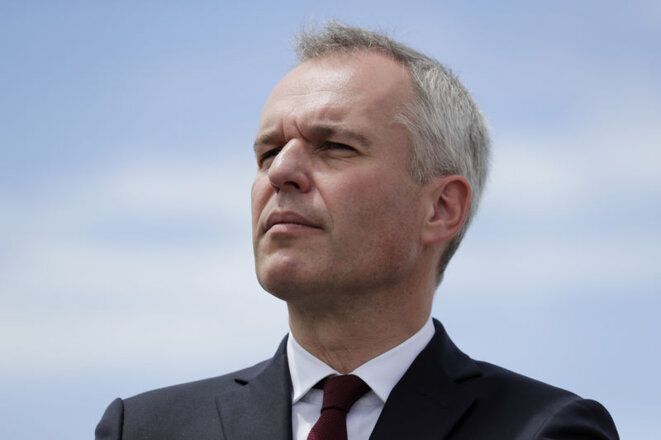 Environment minister François de Rugy has resigned from the government. © Reuters
François de Rugy, the environment minister and number two in President Emmanuel Macron's government behind prime minister Édouard Philippe, resigned on Tuesday 16 July following a string of revelations by Mediapart about his lifestyle as a minister, including grand dinners paid for out of the public purse. De Rugy quit just as Mediapart was about to make fresh revelations about his use of expenses as an MP. Michaël Hajdenberg, Antton Rouget and Fabrice Arfi report.
In a confidential letter seen by Mediapart and the British daily newspaper The Guardian, the president of leading French football club PSG, Nasser Al-Khelaifi, requested the payment of a 2-million-euro commission to the agent of Argentine midfielder Javier Pastore in relation to the latter's transfer. The request was apparently made on the instructions of the current Emir of Qatar. If carried out, such a payment appears to breach both French football transfer regulations and the law. A company run by Al-Khelaifi's brother also asked for 200,000 dollars in 'expenses' over the transfer. Yann Philippin reports.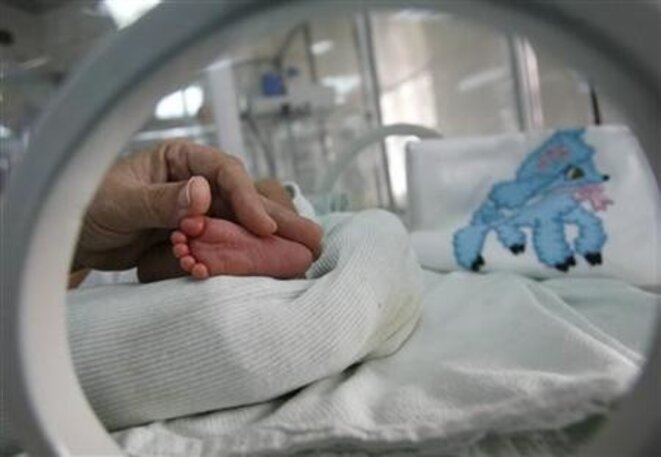 Expert panel member Dr. Alexandra Benachi: "We don't know what we're looking for". (File photo). © Reuters
A French health ministry experts' study into reported clusters of babies born with missing or malformed upper limbs in three separate regions of rural France has failed to establish the cause. "We don't know what we're looking for," said one of the panel of experts. The study has caused outrage among families of the malformed infants, born without arms or hands, after it decided one of the clusters did not meet the medical criteria of the term, and ruled out a number of proposed measures to further research into the problem at a national level. Amid speculation that environmental factors, such as pesticides, may have played a role, the experts said there was "currently insufficient" knowledge of the issue to draw a conclusion. François Bonnet reports.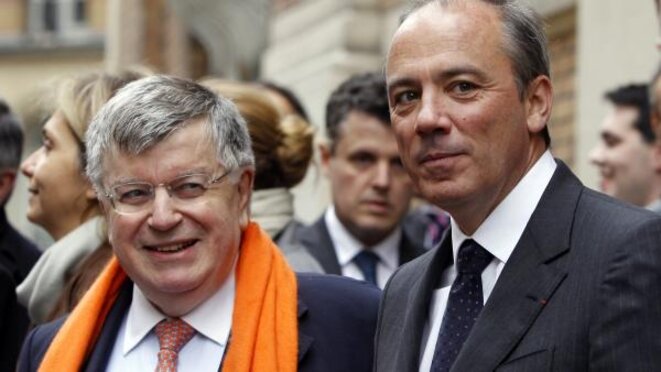 Former France Télécom boss Didider Lombard (left) with his successor, current Orange CEO Stéphane Richard. © Charles Platiau/Reuters
The trial in Paris on charges of moral harassment of the former CEO of France Télécom and six other senior executives of the company, who are accused of causing a wave of staff suicides amid a brutal corporate restructuring plan, ended on Thursday. While the verdicts will only finally be announced in December, the prosecution has demanded that the defendants be handed maximum sentences, which include jail terms of between eight months and one year. Mediapart turned to Rachel Saada, a French lawyer specialised in labour law cases and who notably represented the families of Renault staff who took their lives in a wave of suicides at the carmaking group between 2006-2007, for her analysis of the trial, and its implications for corporate culture in France.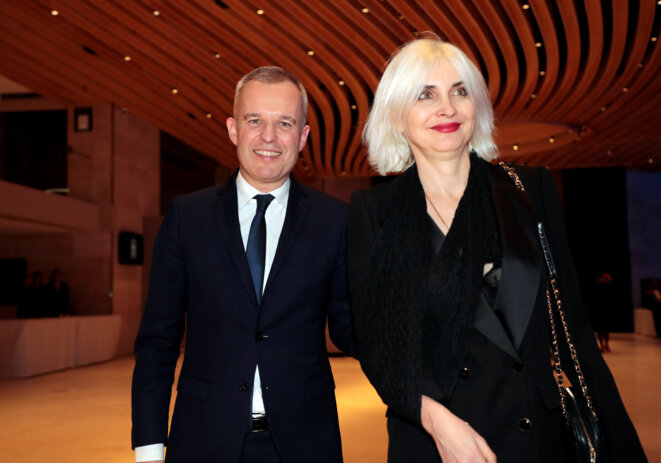 French environment minister François de Rugy and his wife Séverine. © Reuters
French environment minister François de Rugy, an outspoken campaigner for greater transparency in public office, is engulfed this week by Mediapart's revelations of how he and his wife regularly organised grand dinner parties with fine wines and food provided for by the public purse, while also ordering the redecoration of their ministerial grace and favour apartment at a cost of more than 60,000 euros also paid for by public funds. His chief of staff has now been forced to resign after Mediapart also revealed this week how for 12 years she held on to an apartment allocated to her on subsidised rent by the Paris social housing department when she was in fact posted elsewhere in the country.
Notre-Dame cathedral after the fire in April 2019. © Reuters
Levels of lead concentration 400 to 700 times the maximum authorised limit have been detected in the ground inside and around Notre-Dame cathedral in Paris since the fire that destroyed it in April, according to confidential documents seen by Mediapart. Neither the regional health authority nor the Paris police authorities – who have carried out one of the tests - have passed on these results to people living near by or people working in contaminated areas. One reason for not doing so is apparently the fear of alarming people. Pascale Pascariello reports.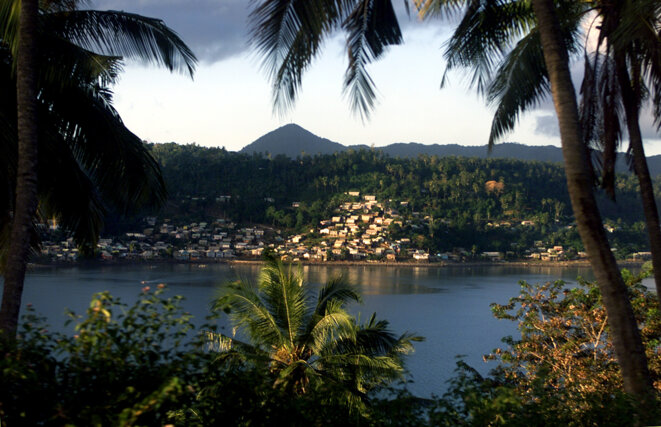 Mayotte, a French département in the Indian Ocean. © Reuters
Authorities in Paris and on France's Indian Ocean overseas département of Mayotte seem set on deterring further Sri Lankan asylum seekers from coming to the impoverished archipelago. Even if, as a series of documents show, the cost to taxpayers of sending that message has been exorbitant. Manuel Sanson from investigative website Le Poulpe reports
Concerns have been raised privately within the French justice system about the involvement of the government and in particular the Élysée in picking the successor to Éliane Houlette as head of the country's national financial crimes prosecution unit, the Parquet National Financier (PNF). This is because the PNF is currently handling two investigations which are particularly sensitive for the presidency. One is into the Russian security contracts involving former Élysée security aide Alexandre Benalla. The other probe is into President Emmanuel Macron's chief of staff Alexis Kohler over an alleged conflict of interest. Fabrice Arfi, Michel Deléan and Antton Rouget report.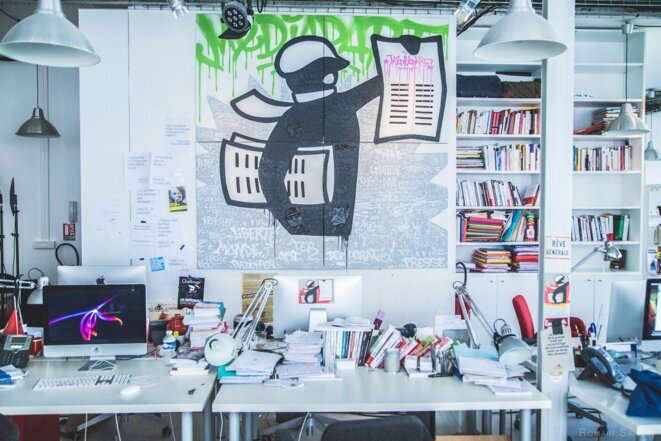 © Mediapart
On top of its successful journalistic venture, Mediapart has now come up with its own capitalist invention by placing 100% of its capital in a not-for-profit structure which will ring-fence it and ensure it cannot be bought or sold in the future. The new Fund for a Free Press will also have its own objective in the general interest - to defend the freedom, independence and pluralism of the press. Its four co-founders, François Bonnet, Laurent Mauduit, Edwy Plenel and Marie-Hélène Smiejan-Wanneroy, explain this move to guarantee Mediapart's permanent independence.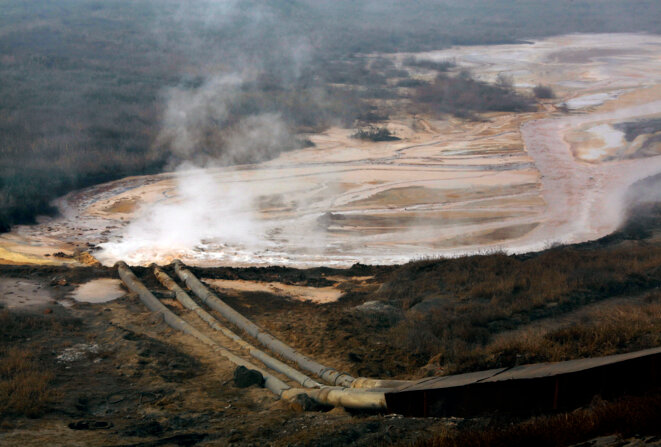 Huge pipes removing polluted water from a rare earth refinery in Inner Montgolia. © Reuters
The Chinese president Xi Jinping, whose country is embroiled in a trade war with the United States, has threatened an embargo on Chinese exports of what are called rare earths. These metallic elements have become essential raw materials both for the technological transition to greener energy and in the digital world. And China has a near-monopoly on them. Mediapart's Martine Orange spoke about the issue with French expert Guillaume Pitron, author of a recent book on the growing global battle over these crucial elements.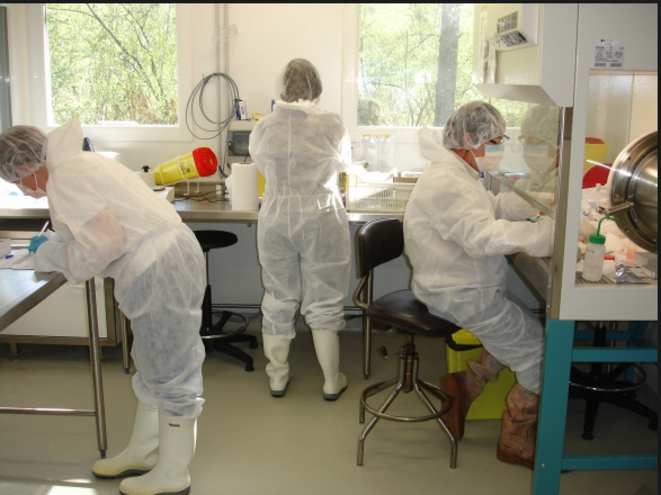 A research laboratory at INRA. © DR
Émilie, a 33-year-old laboratory technician, died in June 2018 from Creutzfeldt-Jakob disease, the human variant of so-called mad cow disease. Her family has now lodged an official complaint of manslaughter and endangering lives against France's national agricultural research institute, INRA, where the young woman was working when she contracted the disease. The evidence suggests that there were health and safety failings on the part of this prestigious institute. Meanwhile the Ministry of Education, which oversees the research body, has launched an investigation. Pascale Pascariello reports.
Édouard Philippe and Khalid Bouksib. © DR
A friend of French prime minister Édouard Philippe was arrested and placed in custody on Sunday June 23rd for having reportedly hit an off-duty police officer. According to legal sources he was, unusually, freed just a few hours later after having claimed – falsely - that he was the premier's diplomatic advisor. He is now due to face trial in November on charges that include passing himself off as a ministerial advisor. Fabrice Arfi, Antton Rouget and Matthieu Suc report