The Paris public prosecutor's office has recommended that three complaints for forgery and use of falsified documents, for obtaining a ruling under false pretences and for subornation of a witness lodged by former trader Jérôme Kerviel against the Société Générale bank be dismissed. Kerviel, whose high-risk trading was revealed in January 2008 to have cost the bank almost 5 billion euros, has fought a long-running legal battle for the recognition of the responsibility of the Société Générale in his reckless trades, already partly established in court. A senior police officer who twice led investigations into the case and who denounced the bank's manipulation of investigators, Commander Nathalie Le Roy, has told Mediapart that the decision to throw out Kerviel's remaining legal action comes as no surprise. Ostracised by her hierarchy, she tells Mediapart that she has no regrets for blowing the whistle on what increasingly appears to be a cover up. Martine Orange reports.
The issue of immigration control sits high on the agenda of campaigning by candidates in France's presidential elections to be held this spring, a subject that is increasingly manipulated for political gain. The latest annual immigration statistics released this week by the French interior ministry sober a sometimes hysterical debate. They show that a total of 227,500 non-EU foreign nationals were granted residence in France in 2016, a year-on-year increase of 4.6%, while the number of migrants refused entry at border crossings rose by 302% compared to 2015. Just more than 25,000 people were last year granted refugee status. Carine Fouteau reports.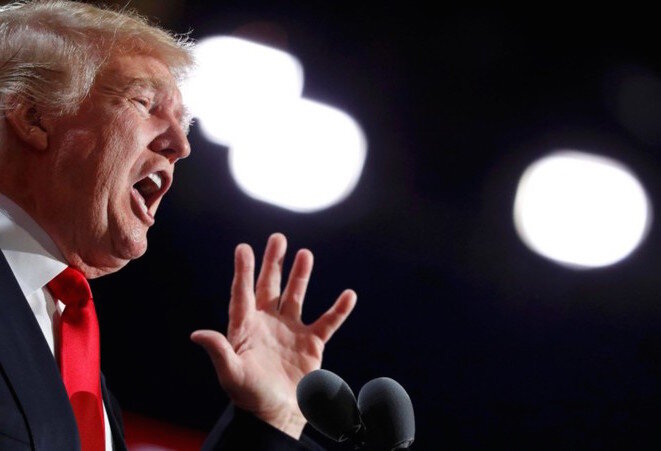 US President-elect Donald Trump will be sworn into office on Friday, as much of the world holds its breath for the start of what is arguably the most controversial presidency in American history. In this interview with Mediapart, US thinker and academic Judith Butler analyses the true political nature of the 70-year-old businessman and reality-show star who is to lead the world's most powerful nation, and who is already at the centre of international tensions. She argues that behind Trump's electoral success is "a fascist phenomenon" and says that "many rejoice to see this awkward and not very intelligent person posturing as the centre of the world, and gaining power through that posturing".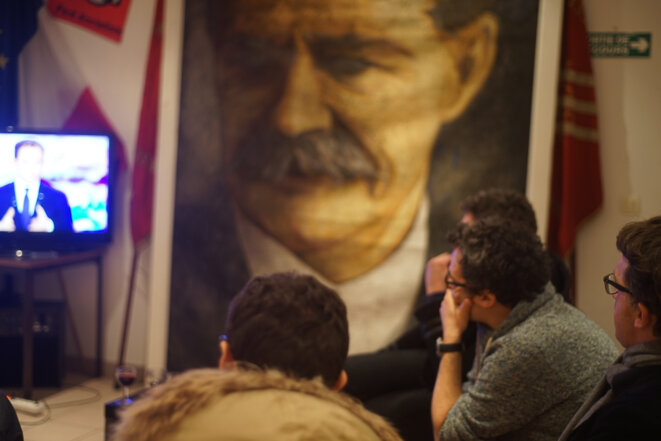 Local party members at Roubaix in northern France watch the first socialist primary debate on January 12th 2017. © Amélie Poinssot
Last Thursday the seven candidates in the Socialist Party's primary to choose a presidential candidate took part in the first of three televised debates. Mediapart joined a group of party members watching the first debate at Roubaix near Lille in northern France, which is historically one of the staunchest of socialist strongholds in France. As Amélie Poinssot discovered, many grassroots activists are still hopeful the party can be rebuilt despite the massive disappointment of François Hollande's presidency.
As winter bites in the French capital, three humanitarian associations allege the police have been harassing migrants on the streets of Paris and in some cases tear-gassing them as they queue at the refugee centre. And following the destruction of the so-called Jungle migrant camp in Calais, a local association says remaining migrants there are also suffering harassment. Carine Fouteau interviewed Corinne Torre of Médecins Sans Frontières to find out more.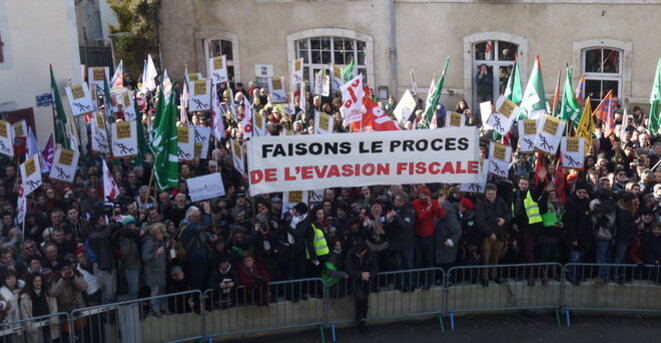 Protesters in Dax, south-west France, turned the trial into an attack on tax evasion.
An activist has gone on trial in a town in south-west France for having "requisitioned" some chairs from a bank. Jon Palais and others took the chairs as part of a wider protest against tax evasion and the use of tax havens which costs France billions of euros a year. The bank in question, BNP Paribas, took exception to the protest and made a formal complaint over their "stolen" chairs. But as Dan Israel reports, the legal complaint backfired as Palais and his supporters turned the trial into a media event in which the bank's own actions were held up to scrutiny.
Following the 2015 terrorist attacks in France, probation officers in the prison system have been instructed to inform the authorities about the "radicalisation" of prisoners. When one officer criticised the new system in a newspaper interview, claiming that being forced to work as "intelligence agents" undermined the trust between probation workers officers and prisoners, her job was threatened. Probation officers also fear that they will get the blame for not flagging a problem if former prisoners go on to commit terrorist acts. Maxime Grimbert reports.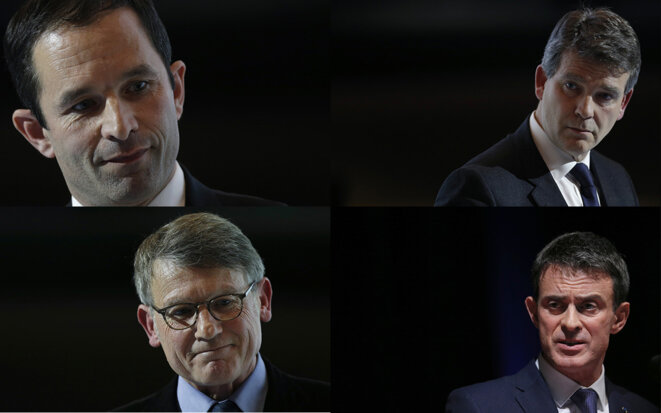 Clockwise, from top left: Benoît Hamon, Arnaud Montebourg, Manuel Valls and Vincent Peillon. © Reuters
The four main contenders to be the official mainstream socialist candidate for the 2017 French presidential elections, Benoît Hamon, Arnaud Montebourg, Vincent Peillon and Manuel Valls, know each other extremely well. For more than 20 years the members of this quartet have occupied important positions and roles in the Socialist Party and were once hailed as a new generation destined to modernise the party. Now, having never been able to form lasting alliances among themselves, and having been 'blocked' by the generation above them, the four are all standing against each other in the party's primary to choose a candidate for the Elysée. Stéphane Alliès and Donatien Huet report on four politicians who have waited a long time for their chance to become president.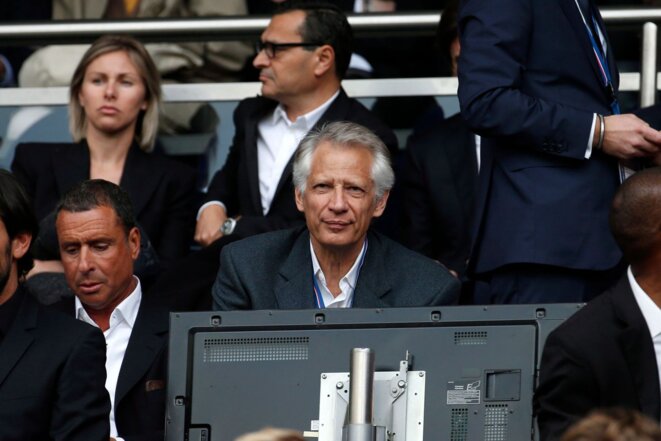 Alexandre Djouhri, centre left, and former premier Dominique de Villepin, centre, at the Parc des Princes football stadium, April 23rd, 2014. © Benoit Tessier Reuters
In 2009 the former French prime minister Dominique de Villepin was paid nearly half a million euros in money which originated in a Libyan state fund, Mediapart can reveal. Details of the payment, which came via middleman and business Alexandre Djouhri, have been unearthed by investigators examining another 500,000 euro payment, which was made to Nicolas Sarkozy's former right-hand man Claude Guéánt and which passed through a similar route. Villepin has told detectives he was unaware of the Libyan origin of the money. Karl Laske and Fabrice Arfi report.
The celebrated British art critic and writer John Berger has died in Paris at the age of 90. Mediapart's Antoine Perraud says that his work as a thinker and writer has helped change the way we look not just at art but the whole world around us. Here is his appreciation of Berger's life and work.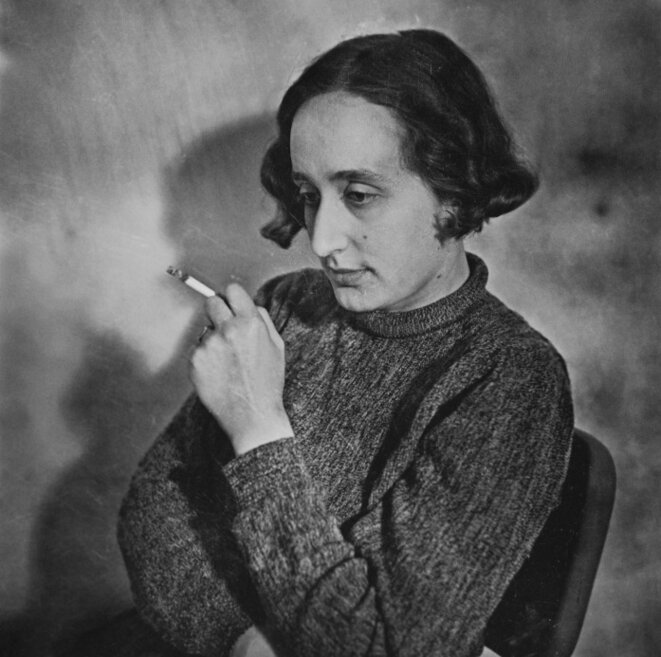 Autoportrait © Edith Tudor-Hart
A committed communist from a Jewish background, Edith Tudor-Hart was born and grew up in Vienna but fled to Britain after the fascists came to power in Austria in the 1930s. There she helped recruit the notorious Soviet spy Kim Philby and was an intermediary for another, the art historian Anthony Blunt. In a recent book translated into French, Tudor-Hart's great nephew Peter Stephan Jungk recounts the life story of his great aunt, who was a talented photographer. As Dominique Conil argues, one of the strengths of this moving portrait is that it avoids the Cold War spying clichés so beloved of many writers and directors. 
Throughout December, Mediapart and its 11 partners in the journalistic consortium European Investigative Collaborations (EIC) have published a catalogue of revelations about the corrupt practices in football, including tax evasion and money-laundering on a vast scale, and involving some of the best-known players, managers and agents in the game. The disclosures came from documents supplied by the whistle-blowing platform Football Leaks, and expose a startling state of affairs on and off the pitch. At the end of this long series of reports, which have now  prompted a judicial investigation in France, Michael Hajdenberg, Michel Henry, Yann Philippin summarise the principal findings of the EIC and review the surprisingly timid reactions of the regulating authorities of the world's most popular sport.  
President François Hollande has just granted a full pardon to Jacqueline Sauvage, a woman who killed her husband after he had continually beaten her and sexually abused their daughters. Hubert Huertas says the decision to act having hesitated for so long over the pardon sums up Hollande's presidency. He also argues that the case illustrates the limits of French democracy and highlights the issue of judicial scandals.
Football has become a new playing field for financial institutions preying on debt, as illustrated by documents from the whistle-blowing platform Football Leaks and analysed by the European journalistic consortium European Investigative Collaborations (EIC), in which Mediapart is a founding member. In one example, a British company called XXIII Capital had bought up 73 million dollars' worth of debts resulting from transfers of players in England, France, Italy, Spain and Portugal. These were then included in a financial product offered on Wall Street and subsequently on the stock exchange of the Caribbean tax haven of the Cayman Islands. Michael Hajdenberg, Michel Henry and Yann Philippin report.