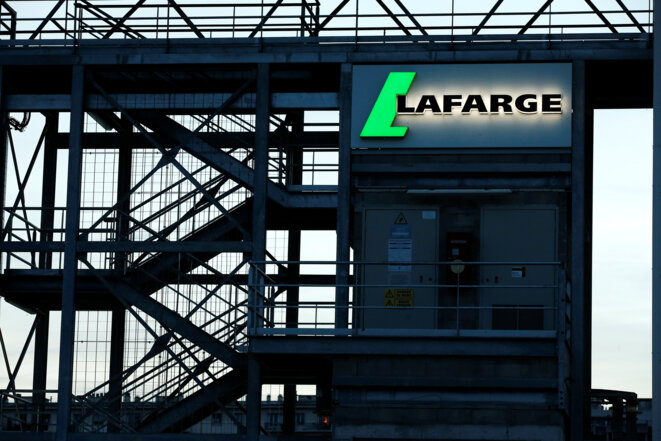 A Lafarge industrial plant in Paris. © Reuters
A French investigation into alleged payments to jihadist groups, including Islamic State, by French cement-making giant Lafarge in order to ensure the functioning of one of its plants in Syria is focussing on a fund of more than 15 million dollars set aside by the company for its operations in the war-torn country, according to documents obtained by Mediapart. Fabrice Arfi reports.

The court ordered a convenience store's lease agreement in a town near Paris to be torn up on the grounds that the outlet failed to operate as a general "grocery" shop as agreed. The landlord, a local authority housing agency, says the shopkeeper does not sell pork products or alcohol, though it denies any religious motive behind its court action. The shopkeeper, meanwhile, is set to appeal. Louise Fessard reports on a case that appears to be the first of its kind in France.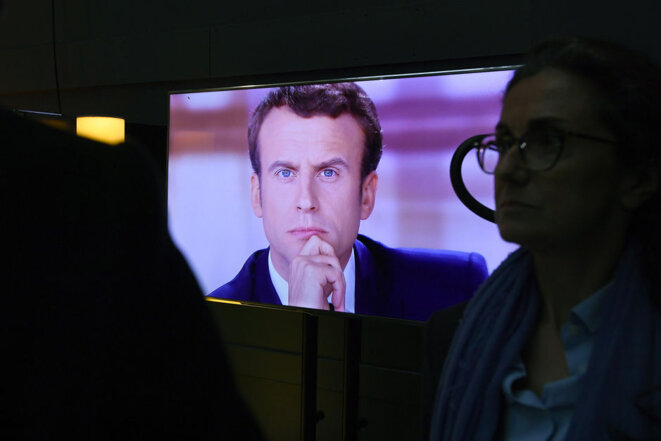 President Emmanuel Macron seems set to reform French public broadcasting. © Eric Feferberg / Reuters
A row has broken out after President Emmanuel Macron reportedly described French public broadcasting as a "disgrace to the Republic". His office has denied the exact phrasing but there is little doubt that the president is not happy with the quality of programmes or the way that the country's public broadcasting sector is run. It is equally clear, reports Loup Espargilière, that President Macron is planning major reforms in this area.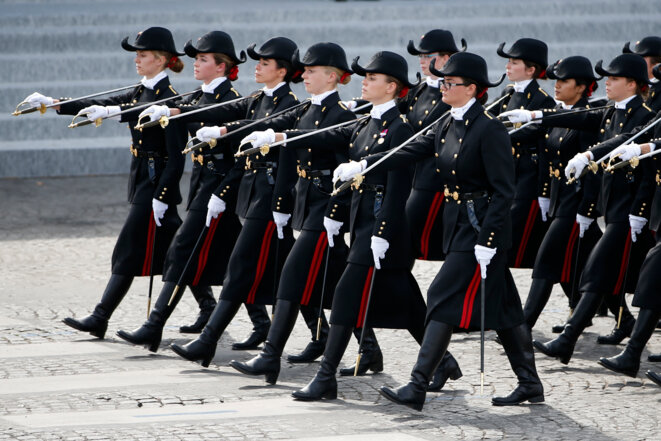 Students from the École Polytechnique during a Bastille Day parade. © Reuters
The École Polytechnique, one of France's most prestigious higher education institutions, faced calls to tackle issues of sexual violence and sexism among students and staff well before the Harvey Weinstein scandal broke. Some women students have complained of sexist comments and others of sexual assaults. There has been one allegation of rape. Faïza Zerouala reports on attempts to fight sexist behaviour at the elite engineering school where military training is compulsory and which has a "macho" atmosphere.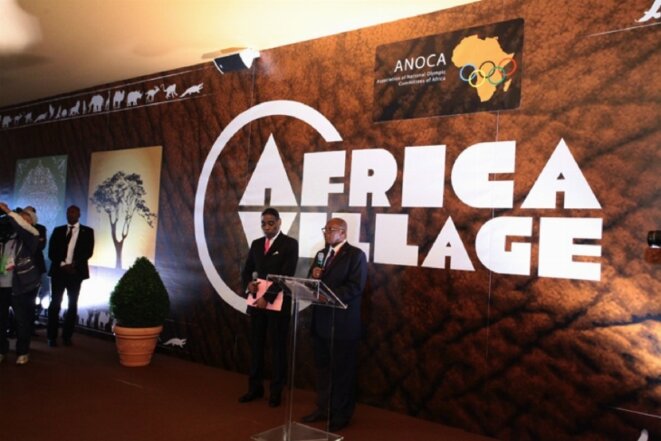 General Lassana Palenfo at the inauguration of Africa Village at the London Olympics in 2012. © DR
At the 2012 Olympic Games in London a major initiative called 'Africa Village' was set up in the British capital to promote the continent. But it was forced to close early after local suppliers went on strike, saying their bills had not been paid. Five years on it is still not clear what has happened to hundreds of thousands of pounds which appear to have gone missing in relation to the project. A French events company involved denies it is responsible for the problem and is suing a senior African Olympic official for defamation. Antton Rouget reports.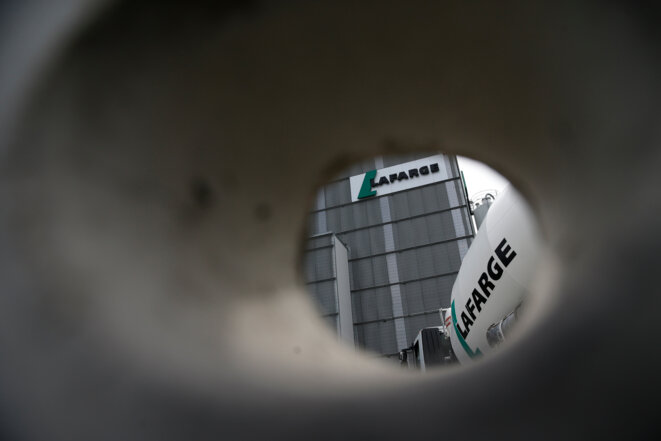 A Lafarge lorry photographed in the Paris region in April 2014. © Reuters
Two former executives at giant French cement manufacturers Lafarge and the head of its security – a former election candidate for Marine Le Pen's far-right Front National – have been formally placed under investigation for alleged "financing of terrorism". It follows an investigation by French prosecutors into links between the French group – now merged with a Swiss firm – and jihadist groups such as Islamic State. In 2013 and 2014 the cement group maintained its activities in zones in Syria which were at the time controlled by IS and other armed factions. Fabrice Arfi, Michel Deléan and Julien Antoine report.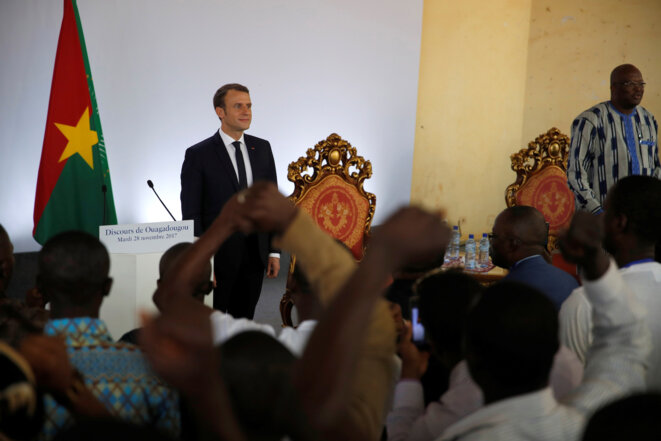 Emmanuel Macron speaking at the University of Ouagadougou in Burkina Faso on Tuesday November 28th, 2017. © Reuters
On his first tour of Africa last week President Emmanuel Macron vowed to do away with France's old and discredited approach to the continent. Addressing 800 students in the Burkina Faso capital of Ouagadougou, the French head of state certainly struck a fresh tone, talked of new projects and themes and signalled the passing of an old generation. But as Mediapart's editor François Bonnet reports, the old and serious problems confronting France in its relations with Africa have not gone away.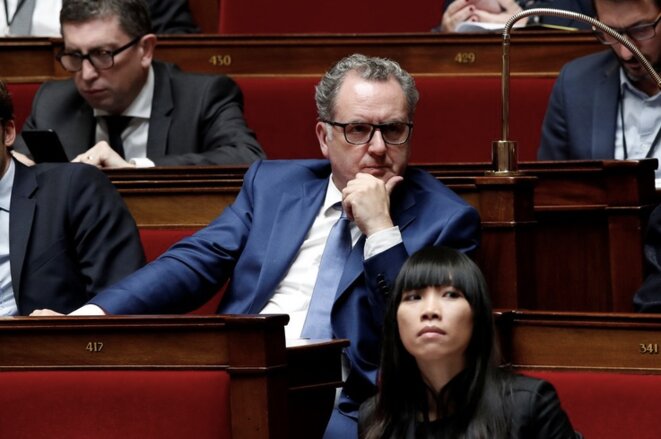 Richard Ferrand, centre, head of the Parliamentary group of Emmanuel Macron's LREM party. © Reuters
According to information seen by Mediapart an architect friend of senior politician Richard Ferrand won several public contracts from a local authority at the start of the 2000s just after the latter was elected to that council. Earlier this year Ferrand, a close ally of Emmanuel Macron and currently head of the president's La République en Marche party at the National Assembly, faced questions over a property deal by his partner involving a mutual health firm of which he was then managing director. The prosecution authorities later dropped their investigation. Mathilde Mathieu reports on the latest revelations.
The European Union on Monday gave the go-ahead to extend the licence for sales of the herbicide glyphosate, recognised by the World Health Organisation as "probably carcinogenic to humans", for a further five years. The French government, which voted against move, has decided to unilaterally limit the licence to market glyphosate to three years. But France remains Europe's biggest user, by volume, of agrochemicals, including many considered by scientific studies to present a health risk. Mediapart, in partnership with online journal Mediacités, details here, region by region and with interactive charts, their sales in France by volume, which in turn provides an indication of where they are most employed.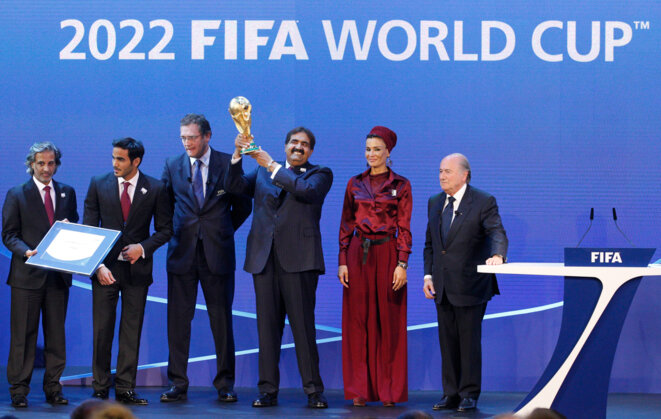 The celebrations after FIFA announced on December 2nd 2010 that Qatar would host the 2022 World Cup. © Reuters
US and Brazilian investigators have discovered a payment from Qatar of 22 million dollars made to a former executive committee member of world football governing body FIFA shortly after he and his colleagues controversially awarded the Gulf state the 2022 World Cup, well-informed sources have told Mediapart. The payment was made to Ricardo Teixeira, former head of the Brazilian Football Confederation and paid into his account with the Pasche Monaco bank in Monte Carlo, which was then a subsidiary of French bank Crédit Mutuel-CIC. Geoffrey Livolsi and Yann Philippin report.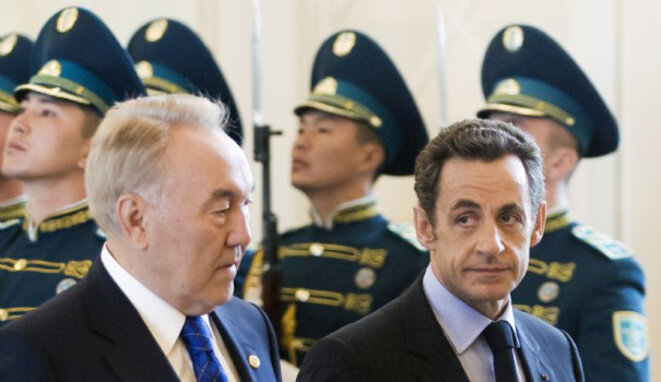 Kazakh president Nursultan Nazarbayev (left) with then French president Nicolas Sarkozy in Astana on October 6th 2009 when they signed the contract for two EADS satellites. © Reuters
A French judicial investigation into suspected corruption surrounding the sale to Kazakhstan of satellites made by aerospace giant EADS, now renamed Airbus Group, has discovered the trace of a mysterious payment of 8.8 million euros made by the group to an offshore company whose true owners are unknown, apparently even to Airbus. The investigation also centres on the sale to Kazakhstan by EADS of 45 helicopters, and the deepening scandal implicating Airbus in what has become dubbed "Kazakhgate" is joined by separate probes in France and Britain into the group's alleged corrupt practices in past sales of its civil aircraft. Martine Orange and Yann Philippin report.
That is the question we ask ourselves after these dizzy recent weeks of a political and media cabal against us, writes Mediapart publishing editor Edwy Plenel in this op-ed article, in which he offers an answer and responds to the extraordinary call by former French prime minister Manuel Valls that Mediapart be "removed from public debate."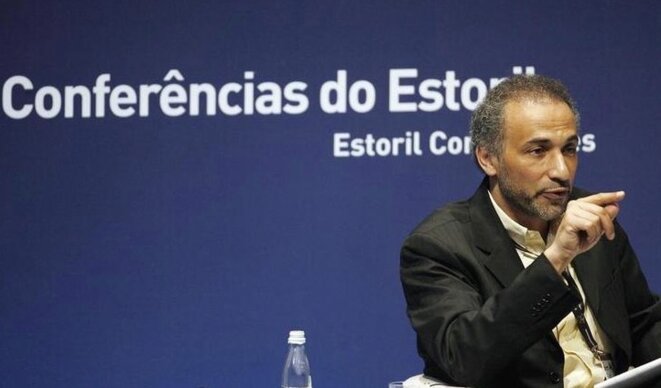 Tariq Ramadan. © Reuters
The prominent Islamic intellectual, scholar and preacher Tariq Ramadan has taken leave of absence from his post as professor at Oxford University after being accused of rape and violent assault by two women who last month filed formal complaints against him in France. Other French women have come forward with allegations of sexual harassment and domination, and in Switzerland former female pupils of his have accused him of sexual advances, including one who was aged just 14 at the time of the reported events. Ramadan has vigorously denied the allegations, denouncing "a campaign of calumny". Marine Turchi investigates the claims and the reasons why they have emerged so late after the alleged events.