At the end of four days of debates, French MPs on Wednesday voted in favour of the socialist government's package of proposed amendments to the country's constitution, which include stripping French nationality from convicted terrorists and giving temporary state of emergency powers a permanent legal basis. The measures are highly controversial and have opened deep divisions both on the Left and Right, yet when the crucial voting of the reforms began on Monday, just 136 MPs out of a total 577 were present. Mediapart political affairs commentator Hubert Huertas argues here that the decried absenteeism reveals above all an inherent weakness of the French parliamentary system.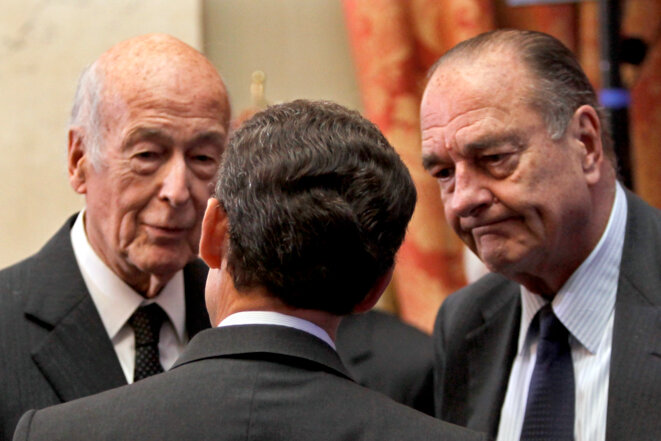 France's three surviving presidents (left to right): Valéry Giscard d'Estaing, Nicolas Sarkozy and Jacques Chirac. © Reuters
Mediapart has gained access to a detailed account of the annual payments made to former French presidents and prime ministers in a lifelong system of perks and privileges that beggars belief. With items ranging from newspaper and dry-cleaning costs to the payment of staff, offices and vehicles, the country's three surviving former heads of state cost the taxpayer a yearly 6.2 million euros. Former prime ministers, meanwhile, receive tens of thousands of euros annually for staff and vehicles, including one who left office 25 years ago. Mathilde Mathieu reports.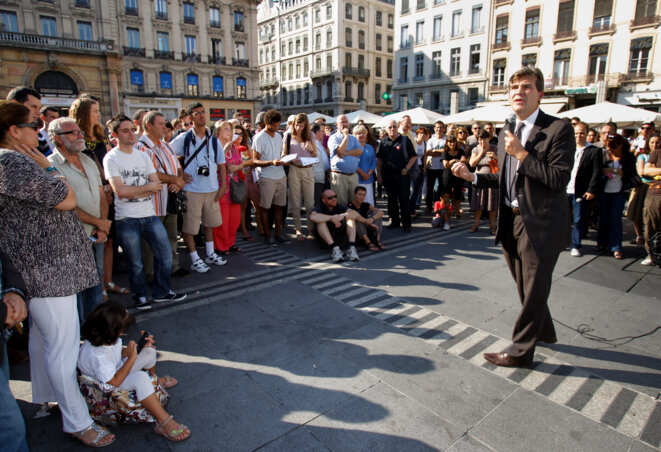 Heading for the Elysée? Arnaud Montebourg on the campaign trail back in 2011. © Reuters
He remains one of the most fascinating and colourful figures in French politics. Arnaud Montebourg was a high-profile figure in the government of President François Hollande, who as economy minister had a very public spat with a US business boss. In August 2014 he quit after disagreeing with the government's policies and went off to work in commerce. In the last 18 months Montebourg has kept a low public profile but has been assiduously meeting key figures and thinkers on the French Left. So is he, as many believe, discreetly preparing a bid for the French presidency in 2017? Lénaïg Bredoux reports.

Caught in their own trap? President François Hollande and prime minister Manuel Valls.
On Friday February 5th, 2016, the National Assembly began debating plans to alter the French Constitution, including adding the power to strip convicted terrorists of their French nationality. It was supposed to be President François Hollande's grand response to the Paris terror attacks of 2015. Instead, amid general confusion, the government has become bogged down and endlessly changed its mind over the issue. To the point, argues Mediapart's Mathieu Magnaudeix, where the entire affair has become a national farce.
On Tuesday February 2nd France's pharmaceuticals giant Sanofi announced that it would be shedding up to 600 jobs over three years. Just before Christmas another drug maker, Servier, revealed that more than 600 posts will go, while Swiss company Novartis is also discreetly losing up to 200 positions in France. The news of the job losses comes despite the fact that some of the firms are not only profitable but have also been picking up taxpayers' cash aimed at protecting employment. Mathilde Goanec reports.
In the early hours of November 18th, 2015 officers from the French police's elite antiterrorism unit RAID staged an assault on a flat at Saint-Denis, just north of Paris. The operation led to the death of two terrorists who had carried out the attacks in Paris on November 13th. Mediapart has discovered that though the police claim they came under "sustained" fire during the assault, in fact the terrorists in the flat only fired eleven rounds, against more than 1,500 from police officers. Most of the shots sustained by the police came from their own officers. Matthieu Suc reports.
The charity Oxfam recently sounded the alarm about an explosion in wealth inequality across the world. Academic Patrick Savidan says that France, which once resisted this trend, is now in the same boat as other developed nations as the gap between wealthiest and poorest grows wider. Savidan, who co-founded a commission to monitor inequality, explains in an interview with Mediapart's Dan Israel that while the rich have long been getting richer in France, the latest development is that the poor are now getting poorer too.
Last week France's top appeal court heard an appeal by former president Nicolas Sarkozy against the validly of an official investigation into him for alleged "corruption" and "influence peddling". He faces claims he tried to induce a senior magistrate to hand over confidential legal information. A great deal hinges on the judges' verdict, which is due on March 22nd, 2016. For as Mediapart's legal affairs correspondent Michel Deléan reports, if the appeal fails it is likely Sarkozy, who hopes to be the French Right's candidate at the 2017 presidential election, will be forced to stand trial over the allegations.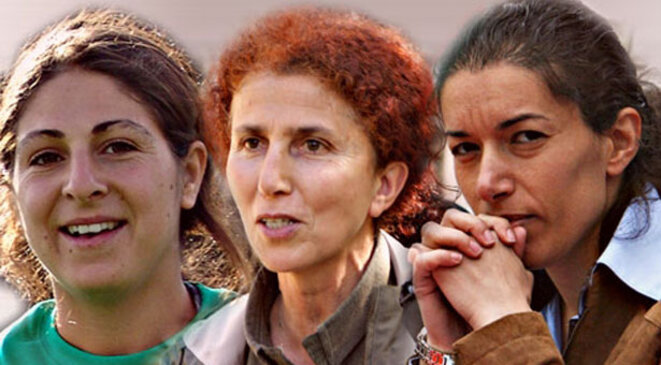 The three Kurdish activists killed in 2013: Leyla Saylemez, Sakine Cansiz, Fidan Dogan.
In January 2013 three female Kurdish activists were gunned down in cold blood at their offices in Paris. The chief – and only - official suspect will stand trial in France early this year for their murder. However, despite an investigation by three examining magistrates the people who ordered the killings have never officially been identified. Instead, political, diplomatic and security concerns appear to have blunted the French judiciary's probe. Nonetheless, writes Jacques Massey, it is clear that the confrontational approach adopted by Turkish president president Recep Tayyip Erdogan towards the Kurds lies behind the shootings.

Gone: left-wing justice minister Christiane Taubira.
Justice minister Christiane Taubira quit the French government on Wednesday January 27th over her opposition to controversial plans to strip dual nationals of their French citizenship if they are convicted of terrorism. To the last this iconic figure on the left of French politics showed her flamboyance, Tweeting that "sometimes resisting means going" and later declaring: "I leave the government over a major political disagreement." As Mediapart's political correspondent Lénaïg Bredoux reports, her replacement as justice minister by Jean-Jacques Urvoas, a close ally of prime minister Manuel Valls, is the final step by this government towards the liberal and security-based political line that President François Hollande has been seeking.
Jérôme Cahuzac. © Reuters
Former French finance minister Jérôme Cahuzac will next month stand trial on charges of tax evasion and money laundering. The trial follows a two-year judicial investigation which was itself prompted by Mediapart's revelations that Cahuzac held a secret bank account abroad, which he first denied before finally confessing in April 2013. Mediapart has gained access to the concluding report by the magistrates which details the evidence for sending Cahuzac for trial. Fabrice Arfi reports.
Laws restricting Sunday trading in France were freed up in a package of liberal economic measures introduced last July by economy minister Emmanuel Macron. The so-called 'Macron law' allows stores in designated zones in Paris and a handful of other towns and cities to open every Sunday and to lengthen late-opening hours, on condition that agreement is found with staff. But, as Mathilde Goanec reports, fierce union resistance to the extended trading is stalling any widespread implementation of the controversial new law.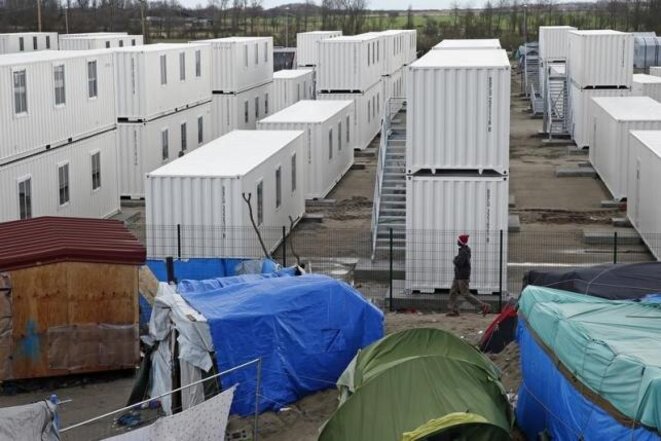 The container camp in Calais. © Reuters
Most of the estimated 6,000 migrants gathered in the French port of Calais in the hope of crossing the Channel to Britain live in dire conditions in a sprawling makeshift camp commonly called 'the Jungle'. As part of a longterm plan to raze the makeshift shacks and tents, the authorities have begun evacuating part of the site to build a camp with living quarters made out of containers that have no water or cooking facilities. Many migrants are refusing to move in to what resembles a prison, surrounded by fencing, watched over by video surveillance cameras, access to which is controlled by biometric readers. In this opinion article, singer and songwriter La Parisienne Libérée, who regularly commentates on current affairs for Mediapart in music and images, denounces a "shameful" project that has cost 20 million euros of public money.
French President François Hollande on Wednesday told French parliament leaders that he will seek a third extension of state of emergency powers introduced immediately after the November 13th terrorist attacks in Paris which left 130 people dead. The announcement followed two separate and fiercely critical reports published this week, one by the government's own official consultative committee on human rights which denounced "abuses" and the "devastating damage" of the special powers the government has granted itself, and another by a panel of United Nations rights experts who said the measure had created "excessive and disproportionate restrictions". Jérôme Hourdeaux reports.