This spring has inevitably seen lots of attention devoted to the 50th anniversary of the events of May 1968 in France and the accompanying social upheaval. Largely forgotten, however, is another springtime event dating from just a few years before – the failed coup attempt by French generals in Algiers on April 21st, 1961. Yet as historian Nicolas Lebourg points out, the way France's secret services and police handled that plot and its aftermath has important lessons for current events in France.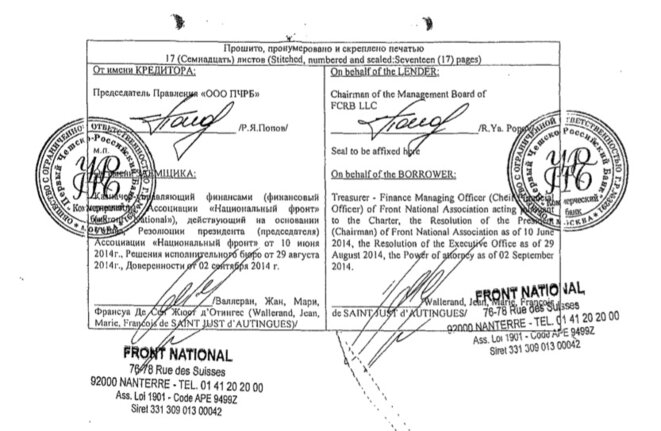 The Russian loan contract signed by the head of the bank Roman Popov and Front National treasurer Wallerand de Saint-Just. © Document Mediapart
Mediapart has obtained a copy of the contract for the 9 million euro loan that a Russian bank gave to France's far-right Front National (FN) in 2014. The document answers some of the questions in this murky affair but many remain. The bank later went bankrupt, its former director is wanted for alleged misappropriation of funds, the FN's loan has been sold on at least twice, and it is still not clear to whom it has to be repaid. Marine Turchi and Agathe Duparc report.

Does President Emmanuel Macron's approach to government encourage the confusion of public and private interests?
Two current affairs sum up the nature of 'Macronism', the approach to government adopted by the French president Emmanuel Macron since his election in May 2017. One involves his chief of staff at the Élysée and claims that he faces a clear conflict of interests between the public and private sectors, the other concerns the hefty discounts that the Macron campaign received on various campaign services during the presidential election. Both stories highlight the same problem: the failure of France's watchdogs to adequately monitor public life. Fabrice Arfi reports.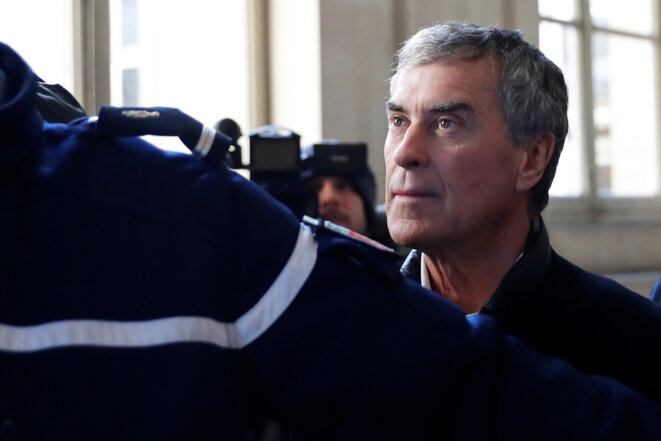 Escaping jail time? Jérôme Cahuzac at the Court of Appeal in Paris on February 12th, 2018. © Reuters
After an appeal, former budget minister Jérôme Cahuzac has received a reduced sentence for tax fraud, making it now highly unlikely he will serve any time in prison. It was an unexpected and happy outcome for the former minister whose tax dodge was first exposed by Mediapart in 2012. But, as Fabrice Arfi argues, it sends out an unfortunate message in a country which is already reluctant to imprison white collar criminals – especially those in public life.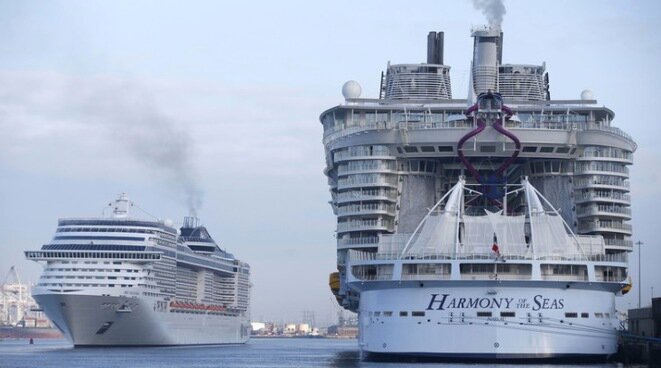 The fast-expanding cruise ship fleets are forecast to carry 17.2 million passengers worldwide in 2018. © Reuters
The expanding cruise ship industry estimates more than 27 million people worldwide will this year holiday on the giant vessels, some of which are longer than an aircraft carrier, often dwarfing the landscapes of the ports they dock in. Environmentalists warn that they also leave behind them a noxious blend of particulates and gases that represent a serious health risk to the populations of the locations they visit, the tip of the iceberg of the problem of pollution caused by maritime traffic. Dorothée Moisan reports on the dirty side of sea travel.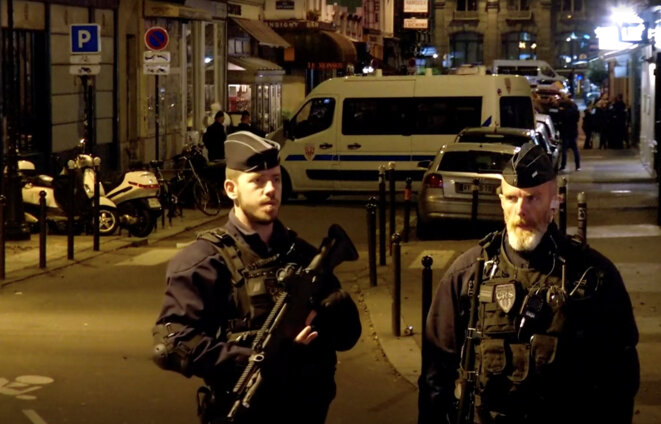 Police stand guard on the rue Monsigny after the attack on Saturday evening. © Reuters TV
One person was killed and four others wounded after a French national of Chechen origin went on a knifing rampage in central Paris on Saturday evening, in a terrorist attack claimed by the Islamic State group (IS). Khamzat Azimov, born in Chechnya in 1997, was shot dead by police minutes after he began stabbing passers-by on a street near to the Garnier Opera house. Mediapart terrorism specialist Matthieu Suc analyses here the reasons behind the changing strategy of IS-sponsored attacks in Europe, and in France in particular where they have claimed the lives of 246 people since 2014.

This sinkhole at Khasfa, close to Mosul in northern Iraq, is believed to contain the remains of around 4,000 victims of IS. © Jérémy André
Many thousands of people disappeared without trace during the occupation of large parts of Iraq by the Islamic State (IS) group between 2013 and 2017, most of them feared buried in hundreds of mass graves around the country which remain unexcavated. But among the lost, whose families continue to seek news of their fate, are also former captives of the jihadists, who are now detained in Iraqi prisons suspected of being members of IS. The increasingly desperate families of the vanished are demanding action to establish the truth about what happened to their relatives, and the mounting anger has become an issue in this weekend's parliamentary elections in the country. Jérémy André reports from the city of Mosul in northern Iraq.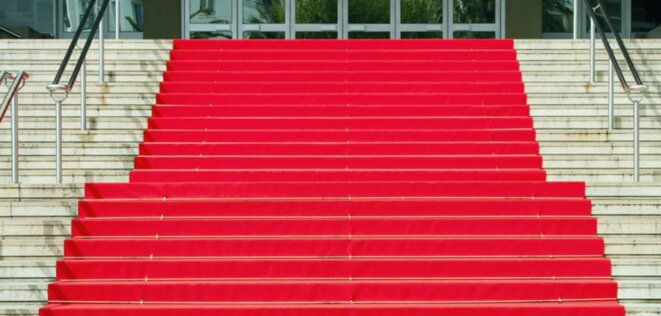 The red carpet at the Palais des festivals in Cannes.
The 71st Cannes Film Festival officially opened on Tuesday evening, and over the next two weeks the Riviera town will be bustling with cinema stars, directors, producers and hopeful actors, hundreds of journalists, TV crews and crowds of sightseers. But not Mediapart, whose cinema critic Emmanuel Burdeau sets out here why he sees no sense in covering an event that has lost touch with the evolutions of the so-called "seventh art".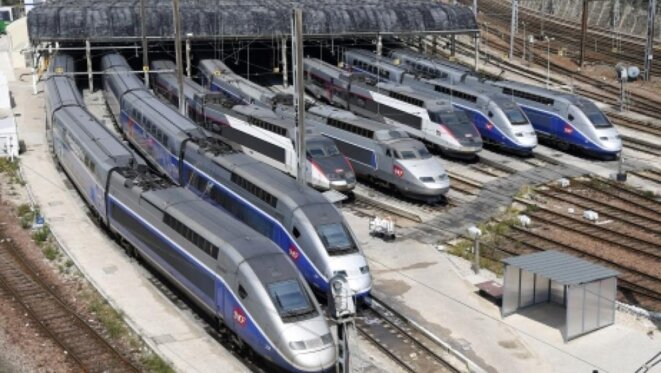 Trains at the gare du Nord in Paris. © Reuters/Charles Platiau
On April 17th this year, with the rail strike in full swing, a manager at the busiest railway station in Paris, the Gare du Nord, asked colleagues to create a database on workers who were most active on Facebook, Twitter and other social media. Unions have condemned the action, saying they fear the firm wants to muzzle staff involved in the industrial action, while lawyers say the move is completely illegal. The state rail company SNCF, meanwhile, dismisses it simply as a "clumsy" local initiative not connected with the strike. Dan Israel reports.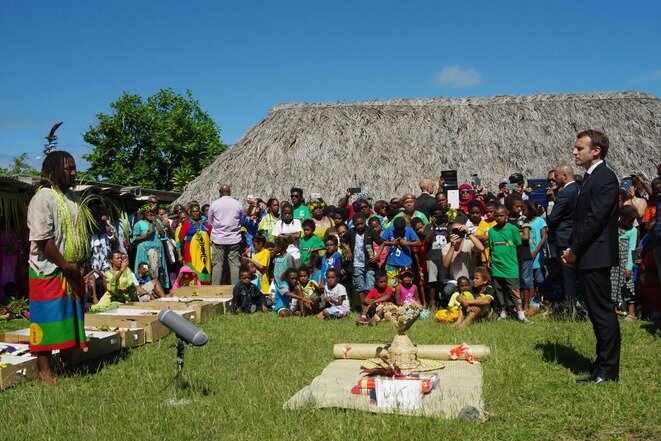 President Emmanuel Macron during his visit to Ouvéa in New Caledonia. © Julien Sartre
President Emmanuel Macron is visiting New Caledonia as the Pacific archipelago prepares for a crucial vote in the autumn on whether to embrace full independence from its old colonial power. The French head of state will be there on the 4th and 5th of May, two grim dates in the calendar of recent New Caledonian history. On May 5th 1988, 19 hostage takers and two soldiers died after the military intervened to rescue gendarmes kidnapped by a separatist group on the island of Ouvéa. A year later, on May 4th, 1989, two nationalist leaders were killed on the same island by another separatist who felt they had betrayed the cause. Joseph Confavreux reports on a bloody past that still hangs over the region's politics and on the attempts at reconciliation and forgiveness.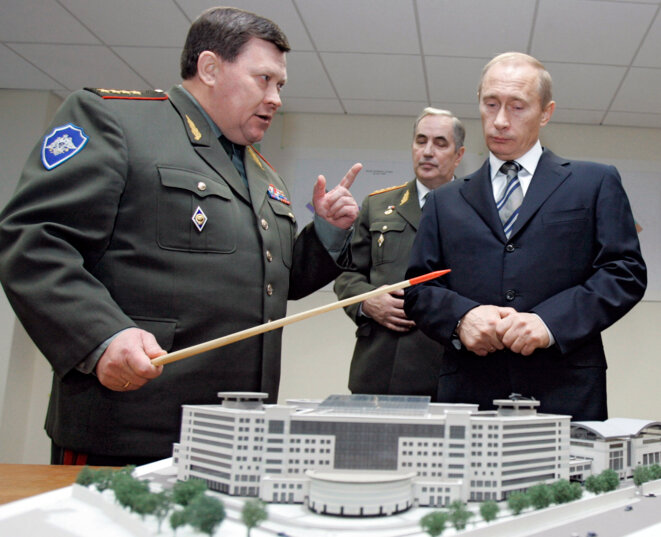 Vladimir Putin, himself a former KGB officer, listening to officials from the Russian foreign military intelligence agency the GRU in 2006. © Reuters/Itar-Tass/Service de presse présidentiel russe
Russian spies in France are trying to recruit business people, diplomats and military personnel, using resources and methods similar to those used at the height of the Cold War. French counter-intelligence officials are meanwhile working hard to unmask the Russian agents. Though Russia and France are co-operating over antiterrorism issues, their respective intelligence agents are engaged in a parallel, largely hidden struggle, with French soil as the battleground. Matthieu Suc and Jacques Massey report.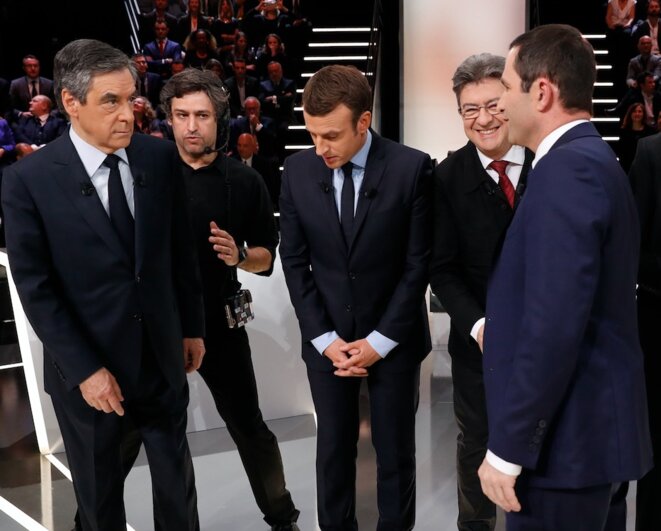 François Fillon, Emmanuel Macron, Jean-Luc Mélenchon and Benoît Hamon, on March 20th, 2017, during the presidential campaign. © Reuters
New documents seen by Mediapart undermine claims that the substantial discounts that events firm GL Events handed to Emmanuel Macron's presidential campaign were simply in line with "normal" business practice. The documents show that neither socialist candidate Benoît Hamon or conservative candidate François Fillon received similar discounts despite renting the same halls during the campaign. Opposition politicians are now raising questions over the cut-price deals offered by GL Events, whose boss Olivier Ginon the president describes as a "friend". Antton Rouget reports.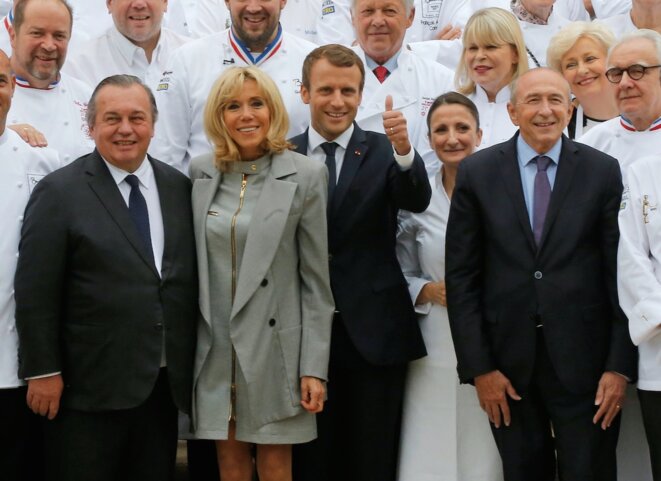 Events organiser Olivier Ginon, left, with Brigitte Macron, President Emmanuel Macron and interior minister Gérard Collomb at the Elysée in September 2017. © Reuters
According to election campaign accounts seen by Mediapart, the French events organisers GL Events gave Emmanuel Macron significant discounts on services it provided for his successful election campaign. The company run by Olivier Ginon, an ally of interior minister Gérard Collomb and currently very much in favour at the Elysée, claims these were normal business discounts available to everyone. Yet according to the information seen by Mediapart, conservative candidate François Fillon did not benefit from similarly advantageous rates from the same company. Antton Rouget reports.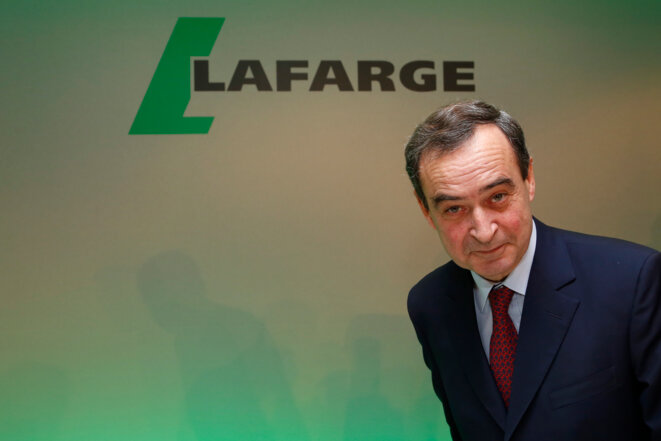 Bruno Lafont when he was CEO of Lafarge, on February 18th, 2015. © Reuters
An intercepted telephone call involving the former boss of French cement firm Lafarge, which is accused of funding terrorist group Islamic State to keep its Syrian cement plant in production, shows the extend of the "worry" that has gripped the company, which has since become a Franco-Swiss multinational. Just how far – and to whom – will the current judicial investigation extend? Fabrice Arfi reports.