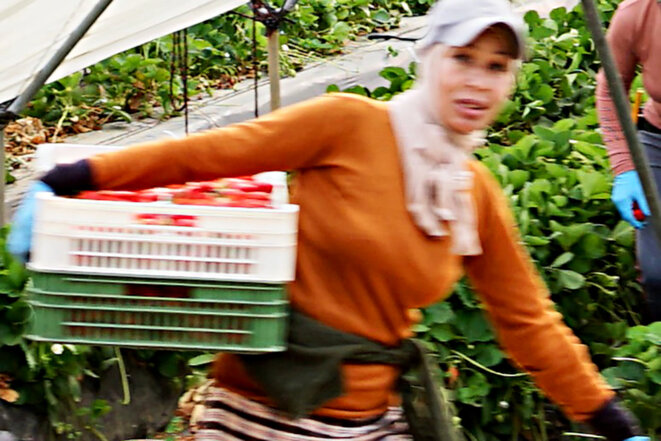 Strawberry picking in Spain is today mostly carried out by Moroccan workers; Huelva province, May 2023. © Photo Rachida El Azzouzi / Mediapart
On May 1st a bus overturned in the Huelva province of southern Spain. On board were Moroccan agricultural workers on their way to pick strawberries at one of the huge farms in the region. One of the workers, a woman with five young children, lost her life. Mediapart went to meet some of the crash survivors, who condemned the appalling working conditions they have to endure. Rachida El Azzouzi reports.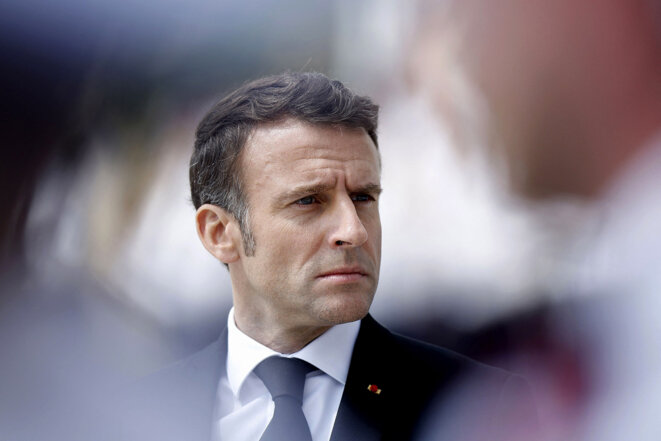 Emmanuel Macron at Roubaix in northern France on May 25th 2023, after the death of three police officers in a car crash. © Yoan Valat / Pool / AFP
Last week, following a series of violent but unrelated incidents in the country, French president Emmanuel Macron told ministers that the government needed to "counter this process of decivilisation". The expression immediately provoked controversy. In this analysis, Mediapart's publishing editor Edwy Plenel says that despite what his supporters claim, the president's choice of the word "decivilisation" owes nothing to the late German sociologist Norbert Elias and instead owes everything to the normalisation of far-right ideas.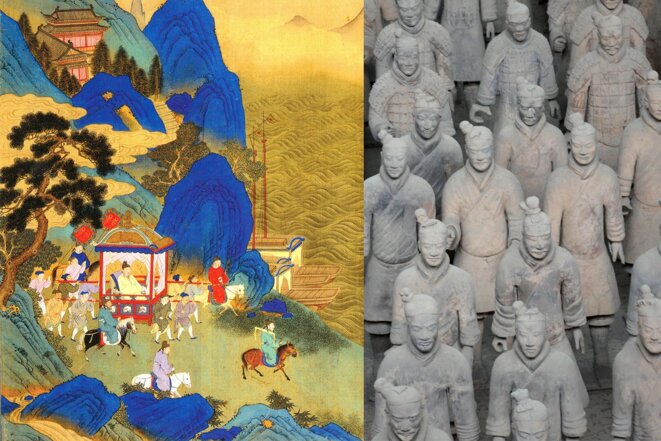 An 18th century illustrating depicting the first Chinese emperor, Qin Shi Huang, visiting his empire; and some of the terracotta army of soldiers guarding the emperor's tomb. © Photos Wikimedias commons
French academic Alexis Lycas has just published a book on mediaeval China which counters the popularly-held notion of a Chinese state with a linear, unbroken and united history stretching into the distant past. The historian says that following the creation of its empire more than 2,000 years ago, China has been "divided for longer than it's been than united". This approach is more than simply fascinating scholarly history; it also provides a valuable insight into the myth-making historical narrative of the current Chinese regime. François Bougon spoke to Alexis Lycas, who has been taking part in the 'L'histoire à venir' festival in south-west France, an event in which Mediapart is a partner.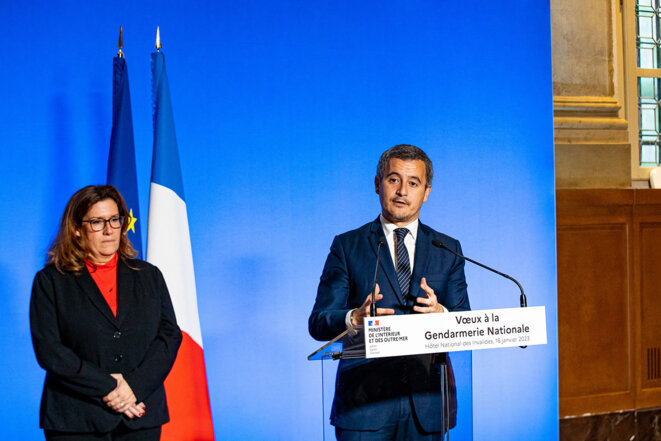 Interior minister Gérald Darmanin and the minister for citizenship, Sonia Backès, in Paris on January 16th 2023. © Photo Amaury Cornu / Hans Lucas via AFP
The revelation that dozens of schools in southern France were asked to provide data on the number of pupils who had been absent during the festival of Eid has sparked controversy. Some of the schools involved refused, fearing that the demand was a form of discrimination. Senior education officials who had appeared to support the requests later backtracked, telling schools they did not have to comply with them. Meanwhile the Ministry of the Interior has got itself in a tangle trying to explain the reasons for requesting this data. Mathilde Goanec reports.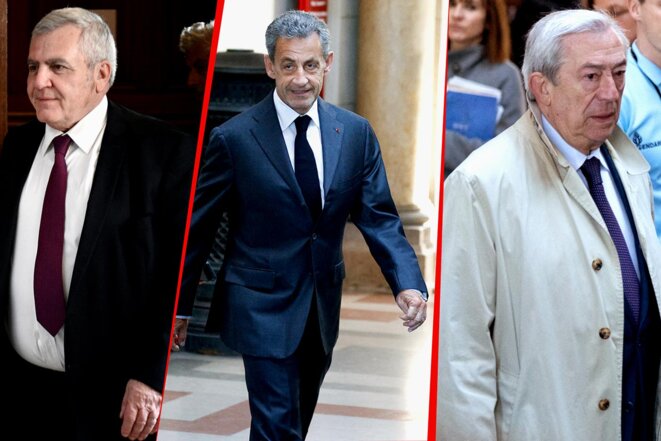 Left to right: Thierry Herzog, Nicolas Sarkozy and Gilbert Azibert. © Photomontage Mediapart avec AFP et Abaca
A Paris appeals court last week upheld former French president Nicolas Sarkozy's conviction and jail sentence in 2021 for corruption and influence peddling. He is accused of offering to help a senior magistrate secure a comfortable post with Monaco's Council of State in exchange for influence and information on legal procedures concerning him. Sarkozy and two co-accused, his lawyer Thierry Herzog and magistrate Gilbert Azibert, have now launched an ultimate appeal against their convictions. Mediapart has studied the detailed judgment of the appeals court, and publishes here extracts of the damning evidence it contains, and the story behind the case.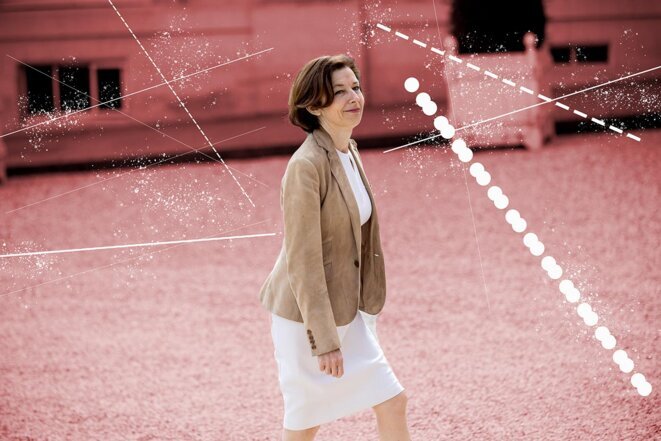 Spyware target: Florence Parly arriving at the Élysée Palace, May 7th 2022. © Photo illustration Sébastien Calvet / Mediapart
France's former armed forces minister Florence Parly was unknowingly targeted while in office by the secret Pegasus spyware, sold to governments by Israeli surveillance technology firm NSO Group, bringing the total number of French ministers whose phones were infected with the eavesdropping tool – along with that of President Emmanuel Macron – to seven, Mediapart has learnt. A judicial investigation has established that at least 23 people in France, including journalists as well as politicians, fell victim to the spyware between 2019 and 2020. Fabrice Arfi and Ellen Salvi report.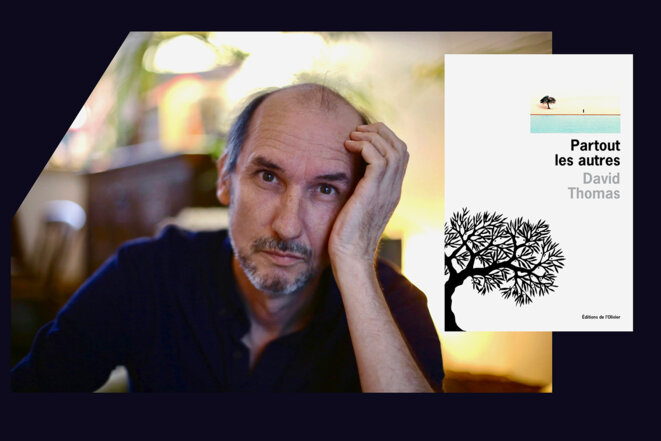 David Thomas. © Photo Olivier Lemaire / L'Olivier
One of France's most prestigious literary prizes, the Goncourt, is awarded each year to works published in French in five separate categories, from novels to poetry. This month, the 2023 Prix Goncourt for a book of short stories went to David Thomas for Partout les autres, a collection of quick-fire microfictions that mirror societal issues. In this review, Quentin Margne, from the French literary journal En attendant Nadeau, enthuses over Thomas's mischievousness and wit, making fun of his contemporaries while raising profound questions, accomplished with art and subtlety.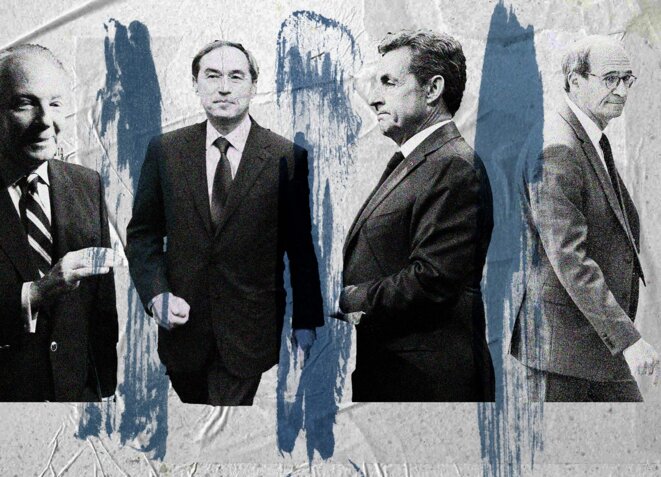 Left to right: Brice Hortefeux, Claude Guéant, Nicolas Sarkozy and Éric Woerth. © Photo illustration Sébastien Calvet / Mediapart
French prosecutors earlier this month recommended that former French president Nicolas Sarkozy, along with three of his former ministers and nine other individuals, stand trial for the alleged illegal funding of his 2007 election campaign by the regime of former Libyan dictator Muammar Gaddafi. Mediapart obtained access to the 425-page document in which the prosecutors detail the evidence and their conclusions. The Libyan financing arrangements could not have been carried out, they write, "without the consent and the perfect knowledge" of Sarkozy, for whom "the hoped-for advantage consisted of obtaining secret financial support for the 2007 electoral campaign". Fabrice Arfi and Karl Laske report.
The red carpet being placed on the steps of the 'palais du festival' in Cannes, May 15th 2023. © Photo Patricia de Melo Moreira / AFP
The 76th Cannes Film Festival opened on Tuesday amid controversy over two films presented at the annual cinema event – one marking the return of Johnny Depp, the other dogged by accusations of on-set harassment and abuse – and silence over recent sexual violence allegations against actor Gérard Depardieu. In this co-authored op-ed article, Lénaïg Bredoux and Marine Turchi argue that the festival is a further illustration of how the French cinema industry obstinately continues to resist feminist struggles.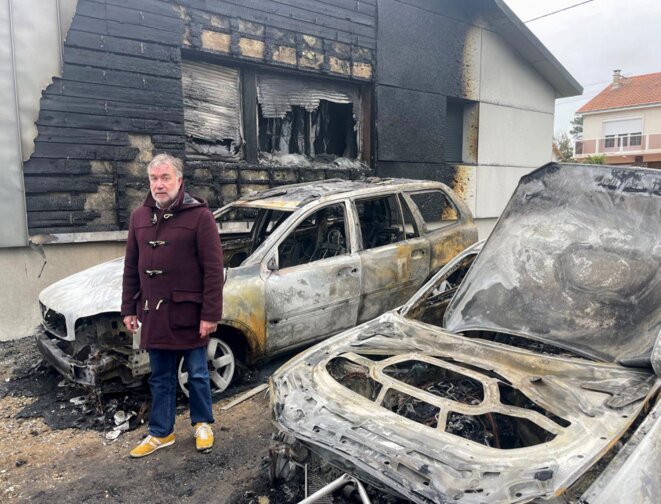 Yannick Morez, mayor of Saint-Brevin-les-Pins, pictured on March 22nd in front of his damaged home and burnt-out cars following an arson attack. © Photo Ouest France / PhotoPQR via MaxPPP
The mayor of a small town in north-west France announced his resignation this week following a vicious, months-long hate campaign whipped up by the far-right over the creation of a hostel for asylum seekers in a residential area close to a school. Yannick Morez, who is to move out of the town he has lived in for 32 years, said his decision was prompted by an arson attack on his home and the disinterest of the authorities to the successive threats made against him. The resignation caused a political storm this week, over both the apparent lack of support and protection given to the mayor, and the rising tensions and climate of violence in French political life.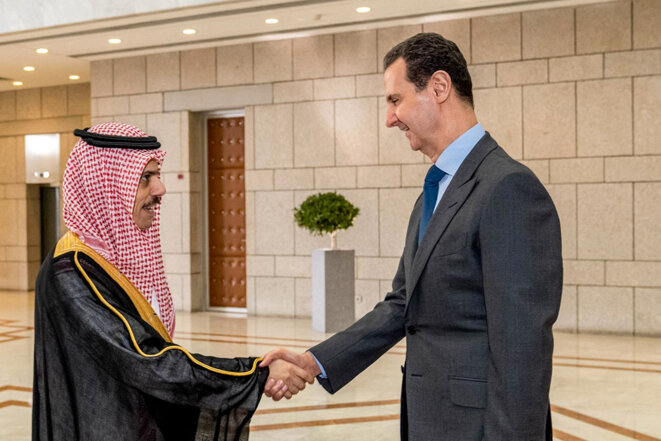 Bashar al-Assad (right) with Saudi foreign minister Prince Faisal bin Farhan in Damascus, April 18th 2023. © Photo de la page Facebook de la présidence syrienne via AFP
The pariah regime of Syrian dictator Bashar al-Assad, ostracised for its bloody repression of opponents in a civil war estimated to have caused the deaths of more than 300,000 civilians, was last weekend re-admitted, with the encouragement of Saudi Arabia and the UAE, to the Arab League. While the French government, like those of other Western countries, insists there will be no normalisation of its relations with the Assad regime, there are some in France's economic circles who are openly keen to resume business dealings with Damascus. Elie Guckert reports.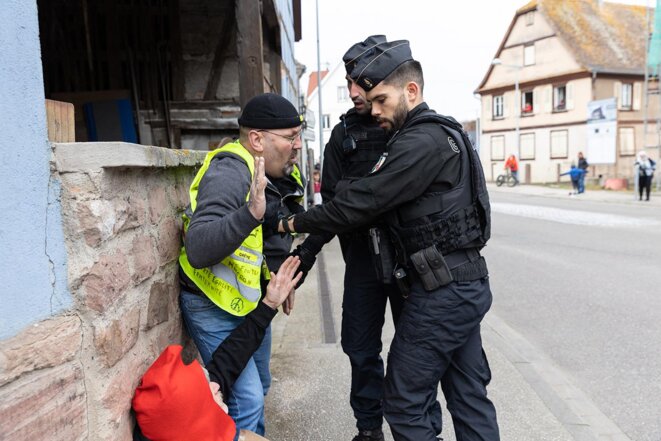 Gendarmes push back a protestor in demonstrations staged during a visit by Emmanuel Macron to Muttersholtz, north-east France, on April 19th 2023. © Photo Abdesslam Mirdass / Hans Lucas via AFP
Since the start of the protest movement against the government's pension reforms, French police officers have been arresting more and more demonstrators over insults aimed at President Emmanuel Macron. This offence is commonly known as 'lèse-majesté' - or in this case 'lèse-Macron'. However, a decade ago the crime of insulting the president of the Republic was declared to be in contravention of the European Convention on Human Rights and was removed from French law. As Jérôme Hourdeaux reports, lawyers say they are worried that the government no longer appears to tolerate criticism.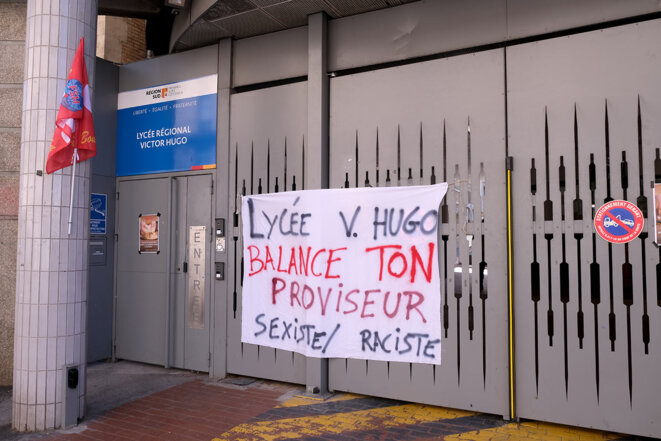 A banner calling on pupils to 'rat on' their headteacher, at the entrance of the Victor-Hugo secondary school in Marseille. © Photo Yasmine Sellami pour Mediapart
Last autumn France's Ministry of Education issued an update on the rules and advice to education authorities regarding the wearing of "conspicuous" religious symbols, which are banned in French schools. Mediapart has investigated how this latest advice is being applied in one secondary school in Marseille. Several pupils there who have worn outfits judged to be contrary to the rules say they have been "persecuted" by the school management. They also complain of scandalous comments made by the school's headteacher. Teachers meanwhile talk of a "tense" atmosphere and a divided staffroom. Yasmine Sellami reports.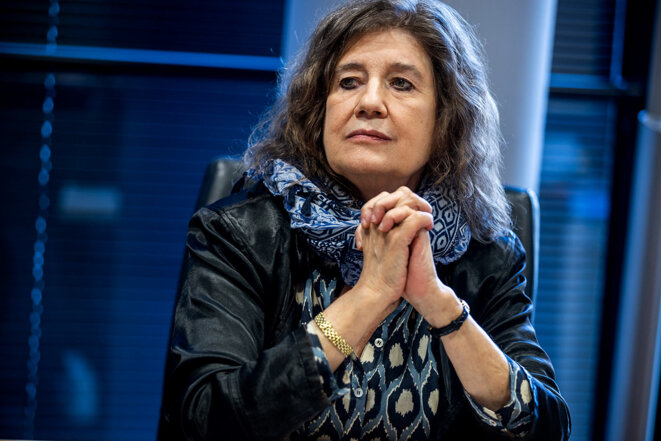 Dominique Simonnot in Paris, May 2022. © Photo Sébastien Calvet / Mediapart
The French government has become embroiled in a dispute with the independent public body responsible for overseeing the rights of people held in custody or prison. That body, the Contrôleur Général des Lieux de Privation de Liberté, inspected custody conditions in nine Paris police stations during the height of the anti-pension reforms demonstration in March. In a subsequent report it has criticised what it calls "serious infringements" of the rights of those being held and the "repressive use" of custody by the police. The interior minister Gérald Darmanin has hit back, claiming the controller general has "exceeded her jurisdiction", while the Paris police chief said he felt "insulted". Mediapart's Célia Mebroukine spoke to the controller general, Dominique Simonnot, about the controversy.