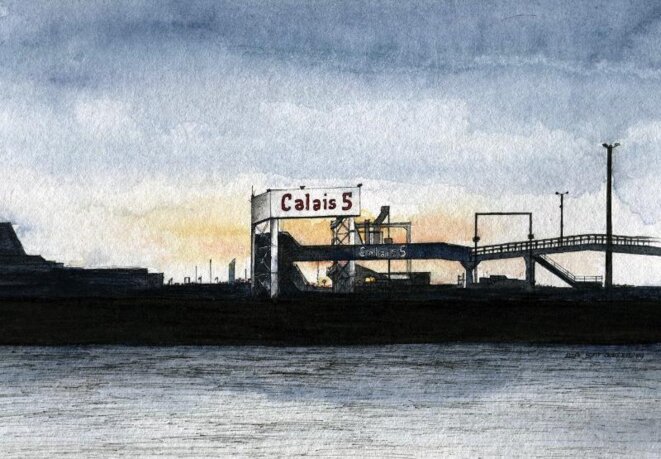 A sketch of a ferry terminal at Calais. © Elisa Perrigueur
Since 1999, an estimated 170 migrants desperately seeking a clandestine passage across the Channel to Britain have died in road accidents in and around the port of Calais in northern France, 37 of them since 2015. One former police officer said the situation became so grim "it was humanly impossible to pick up more bodies from the road". One of the most recent victims was a 22-year-old Eritrean whose mutilated body was found on a motorway last month after he was run over by a truck whose driver fled the scene. Elisa Perrigueur reports from Calais, where she met with Biniam's relatives as they prepared the return of his body home to north-east Africa.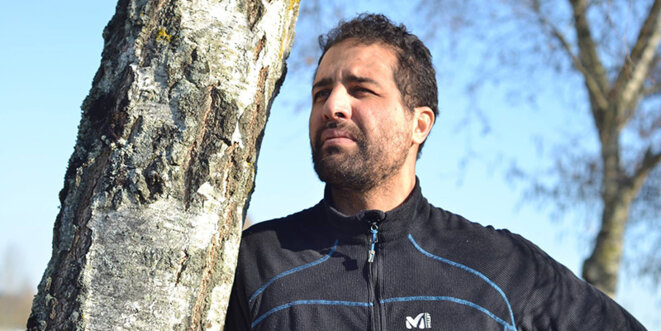 Kamel Daoudi. © DR
For ten years since serving a prison sentence for his part in a plot to attack the US embassy in Paris, Kamel Daoudi has lived under house arrest in France, the longest anyone has been subjected to in the country. Despite his apparent renunciation of his jihadist past, he must report to the police four times per day, every day, and abide by a night-time curfew. He has been ordered to move home on five occasions, and the last has separated him from his wife and three children. New legislation now allows for the restrictive sentence to continue indefinitely, prompting Daoudi to go on hunger strike earlier this month. Michel Deléan reports.
Spanish refugees arriving across the French border in the village of Le Perthus, February 1939. © David Seymour. Musée national de l'histoire et des cultures de l'immigration
A move to include the 150th anniversary of the birth of the notorious French anti-Semitic and far-right author Charles Maurras in official ceremonies across France this year caused such an outcry that it was struck off the agenda, calling into question the criteria employed by the country's learned national commemorations committee. Amid the farce over Maurras, historian and Mediapart contributor Nicolas Lebourg argues here that a truly worthy commemoration sorely missing from the official calendar is that of the plight, and unsung contribution to France, of the hundreds of thousands of Spanish Civil War refugees who, in the runup to World War II, crossed into the country seeking refuge from the Franco regime.
In an extraordinary move, American tech giant Apple this week applied before a Paris court for a three-year ban to be imposed on alter-globalisation group ATTAC from continuing with its recent demonstrations at the company's stores in France in a campaign to denounce its tax-dodging practices. Mediapart economics and business correspondent Martine Orange was in court to follow the hearing which, she reports here, has above all served to further tarnish the iPhone maker's image.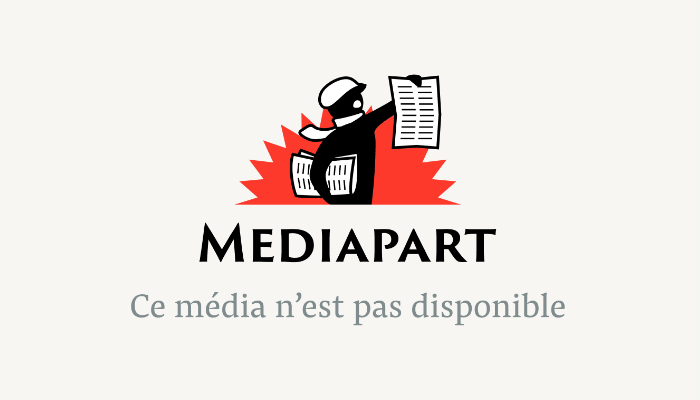 Then foreign minister Laurent Fabius during a Foundation symposium in 2015. © Fondation Alliance Française
The future of the Fondation Alliance Française, regarded as the shop window for French cultural diplomacy, is at risk. A confidential report carried out by inspectors from three government ministries – and seen by Mediapart – slams the way the foundation has been managed. Its president Jérôme Clément, who is close to former foreign minister Laurent Fabius, has resigned. And five directors, including former prime minister and current mayor of Bordeaux Alain Juppé, have also quit. Antton Rouget reports.
An official body in charge of overseeing sexual equality in France has criticised the way that many people are harassing women online "with impunity". This is despite the many laws that are available to combat such harassment. The Haut Conseil à l'Égalité entre les Femmes et les Hommes (HCE) points to a trial it carried out in 2017 in which less than 8% of sexist content flagged to Twitter, Facebook and YouTube was taken down. Louise Fessard reports.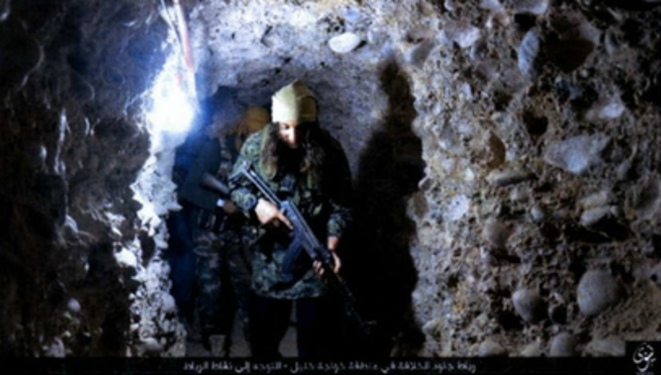 A jihadist in a tunnel underneath the former Islamic State-held city of Mosul.
The Islamic State terrorist organisation has been quietly preparing for the loss of its self-styled Caliphate for several months. France's security services now fear that its fighters might be moved to other areas of jihadist conflict or into Europe. In particular they have have raised concerns over the role of the terrorist's mysterious 'Emigration and Logistics Committee' based in Turkey, the Lebanon and Jordan, amid fears it may be used to send French and other European jihadists back to their country of origin. Matthieu Suc reports.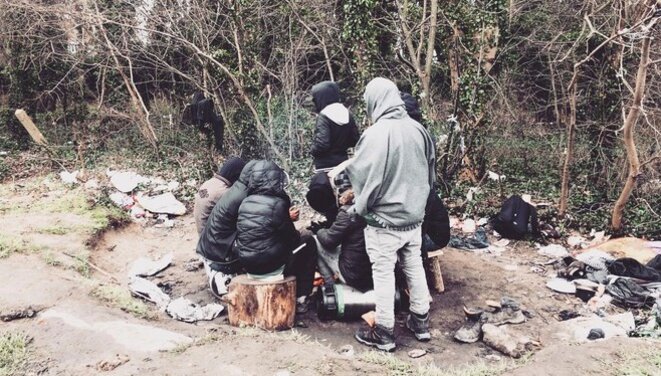 Migrants living rough in Calais, February 2nd, 2018. © Elisa Perrigueur
A recent battle between groups of migrants in Calais left 21 people injured, including five with gunshot wounds. Four were left in a critical condition. Local voluntary groups on the ground say that the situation in the Channel port town has got worse in recent weeks, notably after a visit by President Emmanuel Macron and because of a policy of not allowing any new migrant camps to spring up. Elisa Perrigueur reports from Calais.
The French authorities have quietly issued a decree to state officials in some regions that allows them to depart from the normal rules when it comes to projects concerned with the environment, farmland, forests, local development projects and urban policy. The rules are being relaxed as part of an experiment to give decision makers in certain regions greater flexibility. But lawyers representing environmental groups say the move could open the way to more projects that cause pollution and are harmful for the environment. One has called the decree 'absurd and dangerous'. Jade Lindgaard reports.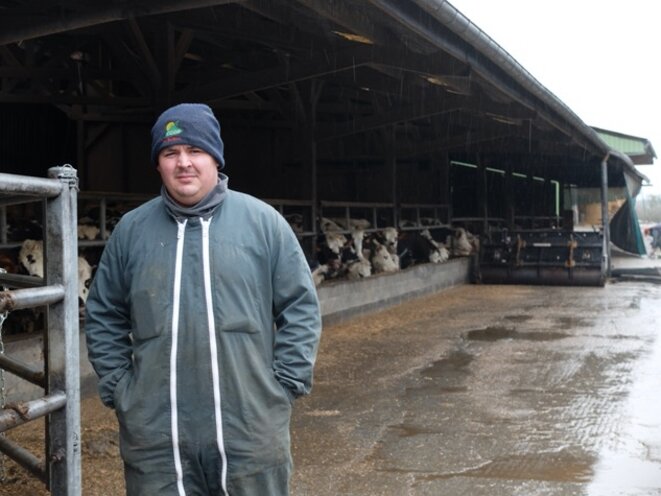 Farm film star Sébastien Cœuré. © CT
A recently-released film 'Normandie nue' or 'Naked Normandy' uses comedy to depict the crisis facing the world of farming in France. The movie, which stars 'The Intouchables' actor François Cluzet, features real farmers from a village in northern France who agree to strip naked for the film. But behind the film's slapstick moments the crisis and hardship are real enough. Caroline Trouillet met some of the farmers involved.
Gucci bos Marco Bizzarri (left), actress Salma Hayek and her husband François-Henri Pinault in Milan in 2016. © Kering
French giant luxury goods and haute couture group Kering mounted a tax avoidance scheme, validated by its chairman and CEO François-Henri Pinault, to pay via a Luxembourg-registered firm the boss of its Italian subsidiary Gucci, Marco Bizzarri, who was domiciled for the purpose in Switzerland, according to confidential documents obtained by Mediapart and its partners in the journalistic consortium European Investigative Collaborations. The scheme, which began in 2010 when Bizzarri then headed another Kering subsidiary in Italy, Bottega Veneta, allowed both parties to avoid tens of millions of euros in potential tax payments, as Yann Philippin, with Vittorio Malagutti (from Italian weekly L'Espresso) and Jürgen Dahlkamp (from German weekly Der Spiegel) report.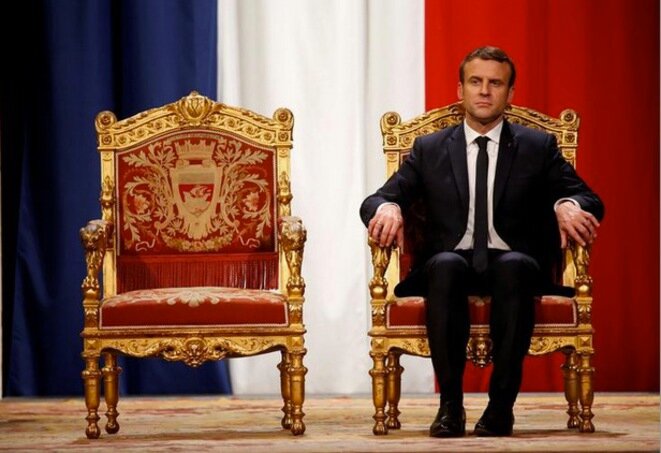 French President Emmanuel Macron. © Reuters
French President Emmanuel Macron has enjoyed a headline-grabbing week of appearances, from hosting international CEOs in the sumptuous surrounds of the Palace of Versailles, to being feted by the world elite at the Davos Economic Forum in Switzerland, before touching down in rural France to woo the country's agricultural sector. The packed agenda was the latest example of the young president's skill in occupying the media agenda and promoting double-pronged policies that have anesthetised public opinion, argues Mediapart editor François Bonnet, along with political and economic correspondents Romaric Godin, Manuel Jardinaud and Ellen Salvi, in this joint analysis of Macron's impressive mastership of the art of spin.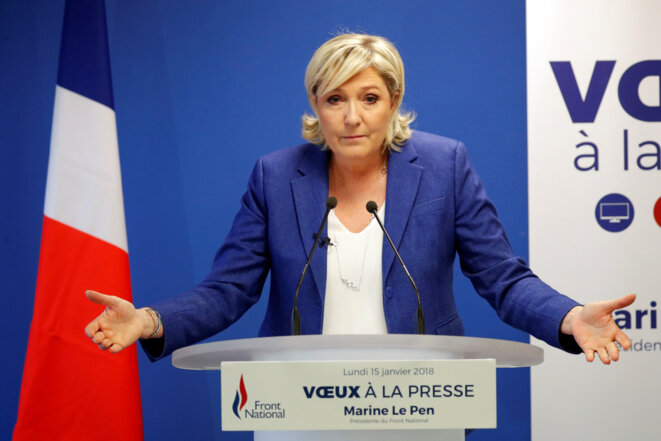 Marine Le Pen during the traditional New Year address to the French press in Paris, January 15th 2017. © Reuters
French far-right Front National party leader Marine Le Pen was once tipped as the likely winner of last year's presidential elections, sending shockwaves across Europe, before she finally lost to Emmanuel Macron. In the build-up of her campaign, and little known to the wider public, her policy programme was developed with the help of senior French civil servants, dubbed by her party as "night-time visitors" and whose names were kept secret. But in this joint investigation, Mediapart and Buzzfeed have obtained access to documents which reveal the true identities of several of them. They are nearly all graduates of France's elite higher education schools and include former members of France's Council of State and the French national audit body, along with a prefect and advisor to the director-general of the French gendarmerie, and a director of a major French construction firm. Marine Turchi and David Dufresne report.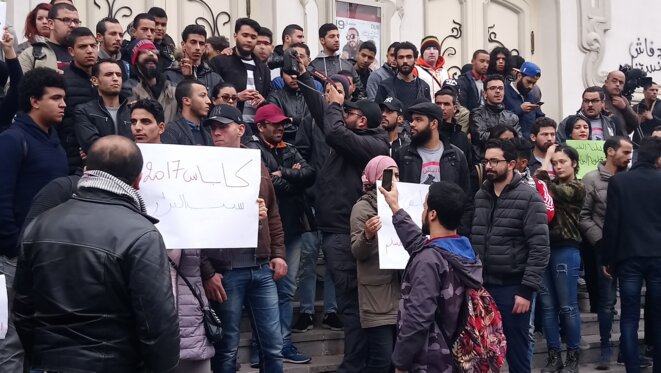 Demonstrators in Tunis earlier this month demanding an end to new austerity measures. © L. B.
Austerity measures imposed in Tunisia at the start of the year in a new public finance law, and which follow a multi-billion-dollar loan from the International Monetary Fund, sparked demonstrations across the country earlier this month that were marked by violence. The protests were mostly mounted by the younger population, particularly affected by rising living costs and unemployment. The unrest has rocked the government, whose authoritarian reaction has prompted some observers to draw parallels with the events that led to the downfall in 2011 of Tunisia's former dictator, Zine al-Abidine Ben Ali. Lilia Blaise reports from the capital Tunis.