The chief of staff and senior bodyguard of France's far-right Front National party leader and presidential election candidate Marine Le Pen were on Wednesday questioned in police custody as part of an investigation into alleged fraudulent payments made to them by Le Pen out of European Parliament funds dedicated to remunerating parliamentary assistants. Le Pen's chief of staff, Catherine Griset, was later placed under formal investigation. The case, which mirrors the scandal surrounding conservative presidential candidate François Fillon, now threatens to become more than a severe embarrassment to Le Pen, one of the frontrunners in the election, whose campaign hinges on her image as an anti-establishment alternative to a corrupt political class.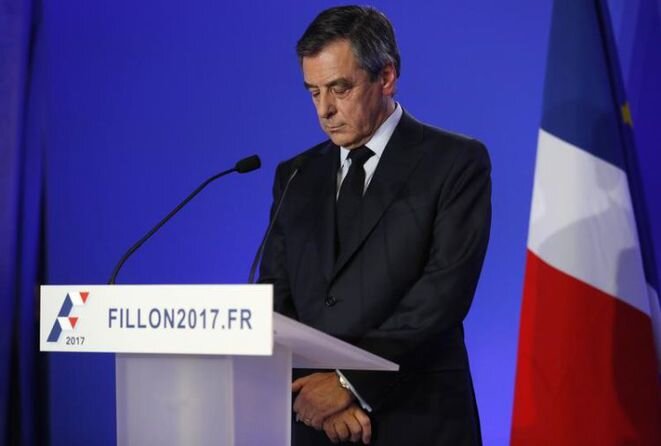 Down but not out: François Fillon. © Reuters
While mired in a scandal over allegations that he provided his family with fake jobs paid out of public funds, French conservative party presidential election candidate François Fillon has insisted he will not step down. Fillon, once the front runner in the race and now knocked off his perch and into the back line of contenders, has become a largely inaudible candidate, his public appearances compromised by regular protests, while his statements denying any wrongdoing have been notable by the frequent contradictions of his explanations. But he still believes in his chances of election. Mediapart political analyst Hubert Huertas argues here why he might well be right.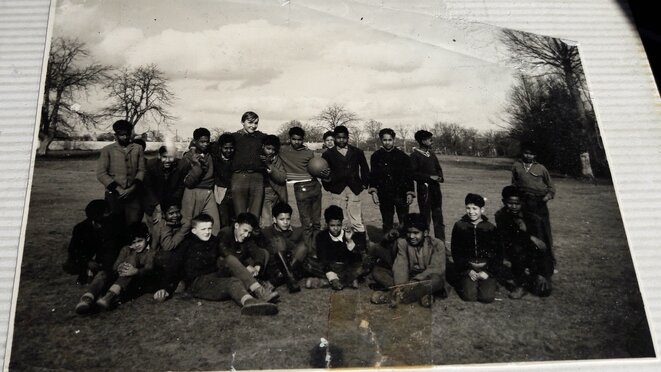 Réunionese child deportees in France during the 1970s (location and exact date unknown). © Jean-Charles Pitou - 'Génération brisée'
For several decades, it remained one of the most shameful secrets of post-war France: from 1963 to 1982, more than 2,000 children were  deported from the French-governed Indian Ocean island of La Réunion to mainland France in a government programme to repopulate deserted rural areas in the centre of the country. It was only in 2002 that the scandal first came to public attention, beginning a long campaign for justice. That finally resulted in an official commission of enquiry which this week presented its initial findings, when it formally recognised the displaced children's suffering, including maltreatment and racism. But the victims, a number of whom are now in their 50s and 60s, are still waiting for proper reparation.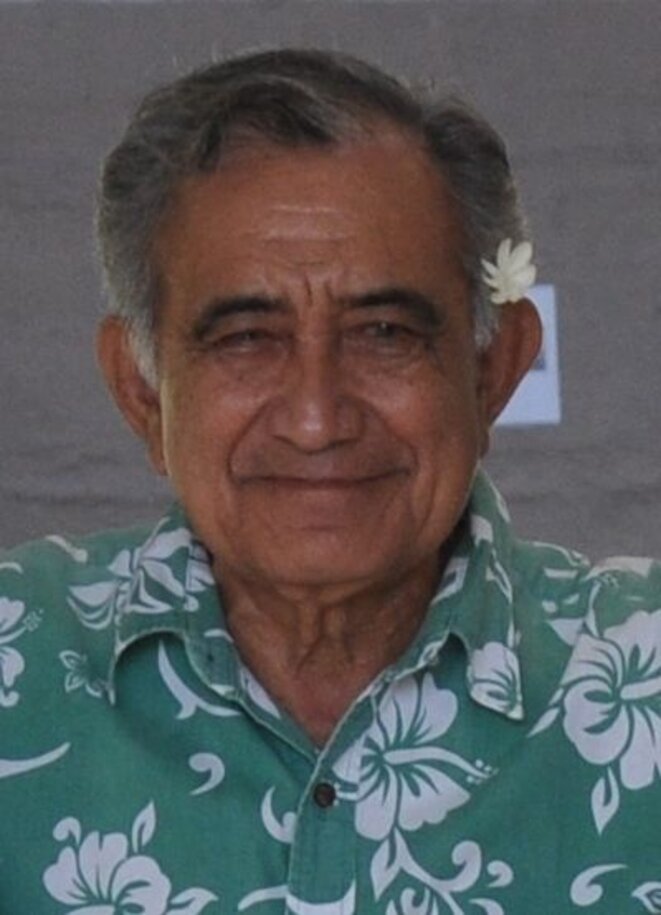 Oscar Temaru. © Saga70 - Wikimedia commons
Oscar Temaru, the veteran leader of the pro-independence movement in French Polynesia, is hoping to run in this spring's French presidential elections. He is currently in mainland France to lobby elected representatives, from Members of Parliament to village mayors, for the mandatory 500 signatures of support for his candidature which are required to enter the race. Temaru openly declares he does not want to become president, but instead he hopes to win the vote of a majority of Polynesians in order to declare the archipelago's independence. Is his campaign a political stunt or a significant challenge to French rule? Julien Sartre reports.    
Benoît Hamon: seeking a path to party unity.
With just ten weeks to go before voting begins in the first round of France's presidential elections, newly-elected Socialist Party candidate Benoît Hamon has revealed a campaign team made up of fellow leftwingers but also of allies of President François Hollande and former prime minister Manuel Valls.  While Hamon's olive branch to the party's Right may dissipate its predicted desertion in favour of maverick centrist Emmanuel Macron, it suggests there can be little, if any, chance that he can reach an alliance with radical-left candidate Jean-Luc Mélenchon. Mediapart political analyst Hubert Huertas sketches here the fundamental divide between Mélenchon and Hamon and what is at stake for the future of the Socialist Party.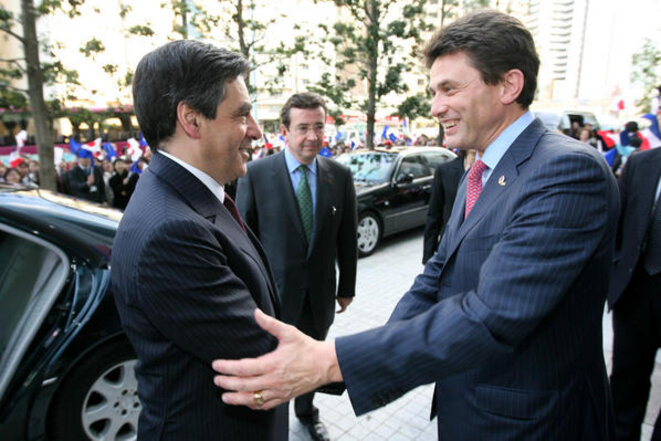 François Fillon (left) and his friend Henri de Castries, former CEO of AXA. © DR
On February 6th the beleaguered right-wing presidential candidate was forced to admit that the major insurance firm AXA was a client of his consultancy firm 2F Conseil. Between 2012 and 2014 the group paid 200,000 euros to Fillon, who was a Member of Parliament at the time. The money was apparently paid to the former prime minister because he could "open doors in Brussels and Berlin" as new European Union insurance regulations were being implemented. Mediapart's Martine Orange argues that the affair is a clear example of conflict of interest.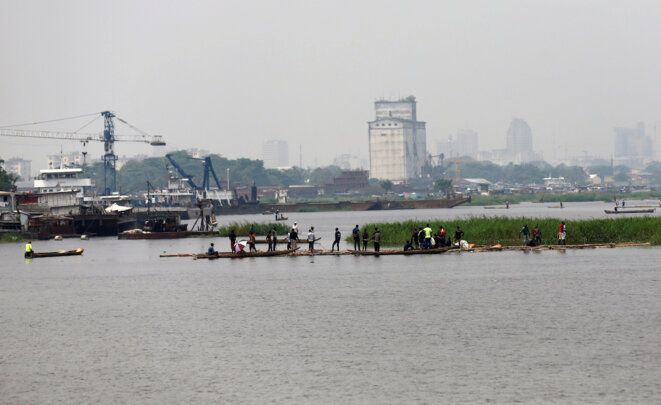 A view of Kinshasa on the River Congo, 2016. © Reuters
It was claimed – and hoped - that the River Congo would one day be the gateway to the country's prosperity. But with corruption rife, trade in decline and salaries going unpaid, the main port that serves the Democratic Republic of the Congo's capital city Kinshasa is today slowly rusting and dying. Pierre Benetti visited this once-thriving commercial hub and met those now trying to make ends meet along the banks of one of the world's largest rivers.

Image from a video in which AQMI claimed responsibility for taking the hostages in Niger.
In November 2013 two journalists from French public broadcaster RFI, Ghislaine Dupont and Claude Verlon, were kidnapped and killed while on assignment in the north of Mali. The exact reasons why the pair were killed have never been clear. Now an investigation suggests the murders may have been a revenge attack after the jihadist kidnappers of four other French hostages had not received all the ransom reportedly paid to secure their release. Yann Philippin reports.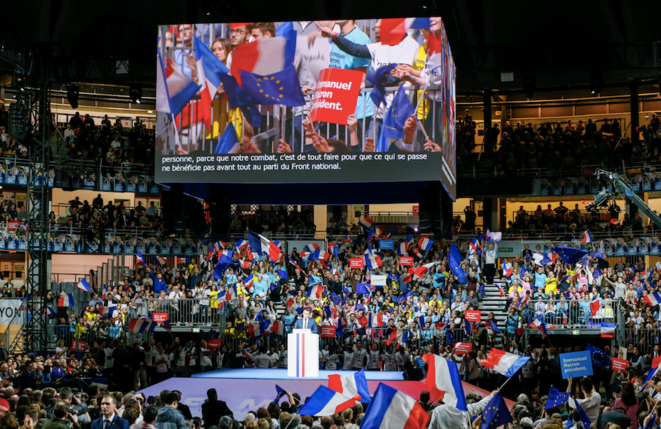 The glitzy Emmanuel Macron rally at Lyon on Saturday February 4th, 2017. © Reuters
With just over 70 days to go before the first round of the French presidential election, former economy minister Emmanuel Macron continues to attract large crowds to his rallies and is doing well in the opinion polls. Yet what does the founder of the 'En Marche!' political movement - who keeps talking about "bringing people together" - actually plan to do if he is elected president? Mathieu Magnaudeix attended Macron's latest gathering but came away little the wiser.
Facebook has become one of the foremost media in Tunisia, an alternative to controlled official information; it played an important a role in the 2010 uprising that led to the Arab Spring. But while it remains a tool for mobilising people, it is also now used for the more mundane and trivial, including trolling, rumours and rants. More disturbingly, Facebook has also been be turned against human rights activists, who are sometimes treated by the authorities in the same way as apologists for terrorism. Lilia Blaise reports.
Like many of leading French politicians, François Fillon has his own 'micro' party which is used to develop policy ideas and raise funds. But Mediapart can reveal that the micro party run by Fillon, whose candidacy for the French presidency has been rocked by the so-called "fake jobs" scandal involving his wife Penelope, is discreetly banking donations from members of the public supporting his official electoral campaign. "It's madness!" says one senior figure on the Right. Mathilde Mathieu reports.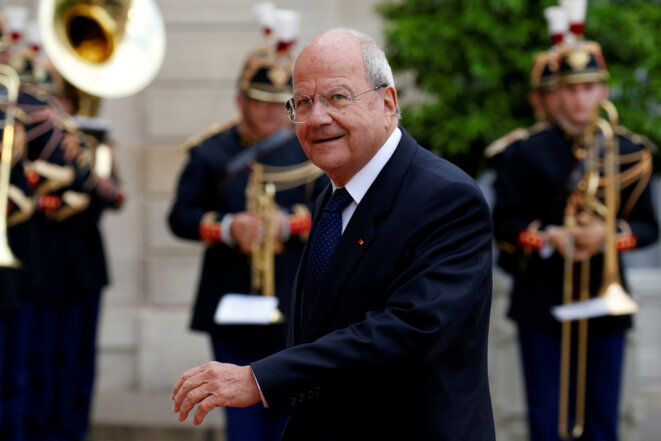 Friend of François Fillon: billionaire Marc Ladreit de Lacharrière at the Élysée on July 11th, 2016. © Reuters
Right-wing François Fillon's presidential campaign has been thrown into turmoil after claims that his wife Penelope was paid €500,000  as his parliamentary assistant despite doubts she ever performed that role. It is also claimed that Penelope Fillon received €100,000 from a magazine owned by a billionaire ally of former prime minister Fillon, even though she appears to have done little work for it. The couple have been questioned by investigators, while new claims emerge that the family may have pocketed close to a million euros in all. Now Mediapart can reveal that a key advisor on Fillon's election campaign was given a job at a charitable foundation run by the same billionaire, Marc Ladreit de Lacharrière, at the time she began working for the presidential candidate. Yet there is no public trace of the advisor's work at the foundation. Antton Rouget investigates a case that will raise yet more questions surrounding the finances of the frontrunner to be the next French president.
The list of victims of the recent presidential primary elections held by the Left and Right in France is remarkable. Two presidents, two prime ministers and a number of senior former ministers have been rejected after rebellious voters gave their verdicts. The primary process - which ended on Sunday with the unlikely election of Benoît Hamon as the official socialist candidate for the presidential contest – has proved something of an earthquake for the French political establishment, writes Hubert Huertas.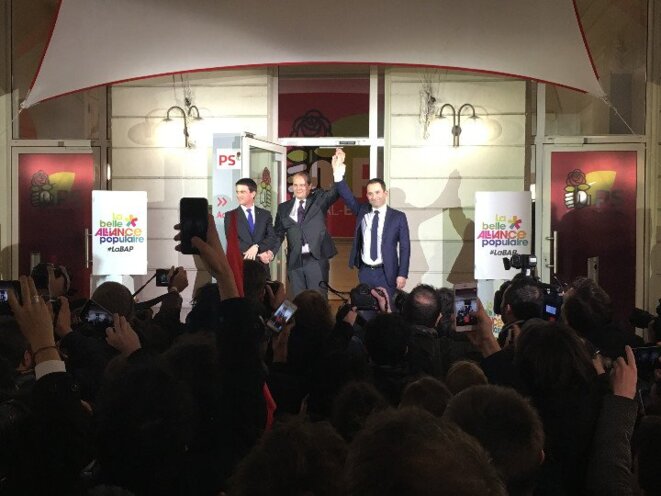 Benoît Hamon (right) with Socialist Party leader Jean-Christophe Cambadélis (centre) and Manuel Valls. © Christophe Gueugneau
Benoît Hamon, the leftist candidate bidding for the Socialist Party's nomination to run in France's presidential elections this spring, has won a resounding victory over his rival, the former prime minister Manuel Valls, in the final round of the primary contest on Sunday. Hamon, 49, who represents a clear break with the policies of the current socialist government and President François Hollande, will run on a manifesto that eats into that of the radical-left, with significant consequences for the spread of the vote in the presidential election, and also on the future cohesion of France's beleaguered Socialist Party. Follow the results and reactions as they happened throughout the evening in this live report.