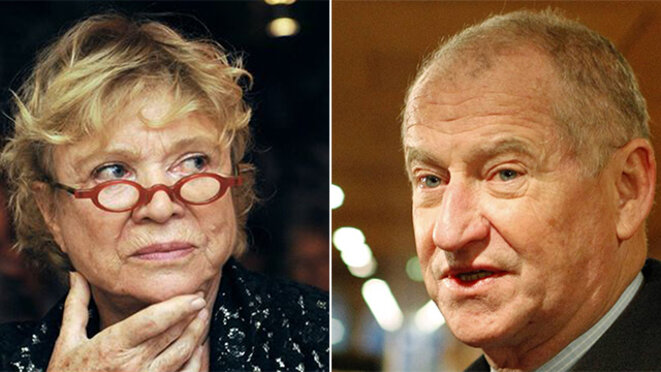 Eva Joly and Éric de Montgolfier. © Reuters
The scandals hanging over this spring's French presidential elections highlight the endemic problems of corruption across the French political class which has been steeped in sleaze for decades. In this interview with Mediapart, two veteran and emblematic figures of the fight against corruption, former investigating magistrate Eva Joly and former public prosecutor Éric de Montgolfier, set out why they believe the problem has flourished for so long and what measures must be taken to effectively tackle it.

The bullet-shattered glass entrance of the Hyper Cacher store (left) and guns offered by the traffickers who armed Amedy Coulibaly.
In January 2015, a series of terrorist attacks in Paris left 17 people dead, including 11 at the offices of satirical magazine Charlie Hebdo, and four Jewish men in a kosher supermarket. The attack on the kosher store was carried out by Amedy Coulibaly in the name of the so-called Islamic State group. A number of weapons later found at the scene and at his home transited via an arms trafficking network in northern France which had been the object of several lengthy police surveillance operations. So why have magistrates in charge of investigating the itinerary of the arms still not questioned those involved in the surveillance? Karl Laske reports.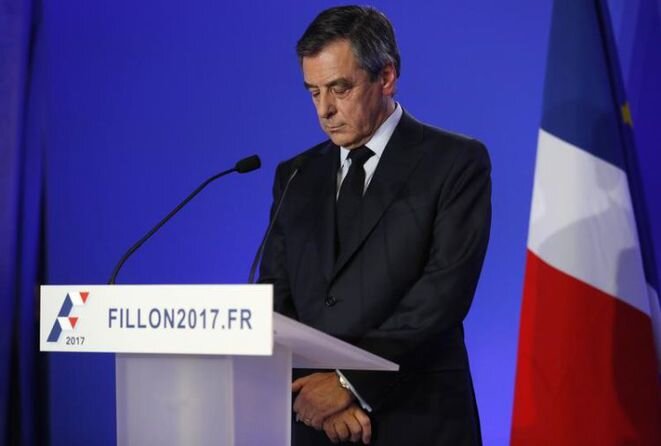 François Fillon. © Reuters
The French conservative party's presidential candidate, François Fillon, was on Tuesday formally placed under investigation for the suspected fraudulent payments made by him out of public funds to his wife and two of his children who he employed as parliamentary assistants. While the move was widely expected, it is a major new blow for the former prime minister who was the election frontrunner until the alleged fake jobs scandal emerged in January. Meanwhile, further press revelations since the weekend include the disclosure that his children paid him regular sums of money from their salaries as his assistant, and that a mysterious benefactor has gifted him over the past five years with luxury clothing worth more than 48,000 euros.
For some years the European Union has been recommending that France carry out a series of policy initiatives in key areas such as public finances, pensions, unemployment benefit, workers' rights and even large-scale infrastructure projects such as digital development. Now, says Mediapart's Martine Orange, these policies have found a home – in centrist candidate Emmanuel Macrons's manifesto for the French presidency. In some cases they are almost word for word.
Benoît Hamon on the evening he won the socialist primary election in January 2017. © Reuters
The official Socialist Party candidate in the French presidential election, Benoît Hamon, has been deserted by a section of the right wing of his own party who are opting to support the independent centrist Emmanuel Macron. The latest high-profile figures to support Macron are former Paris mayor Bertrand Delanoë and defence minister Jean-Yves Le Drian, a close ally of President François Hollande. Some in Hamon's team say the defections make it easier for their candidate to make his pitch on the left. But as Stéphane Alliès and Lénaïg Bredoux report, his campaign is so far pretty much inaudible.
In 2012 the Left attracted its biggest shares of votes in the presidential election from the poorest sectors of society. But after François Hollande's presidency that support has dwindled. In the regional elections in 2015 this electorate turned instead towards the far-right Front National, headed by Marine Le Pen. The signs are that large numbers of France's poorest voters will also back Le Pen in the first round of the presidential election in April. Academic and Front National specialist Nonna Mayer analyses the figures.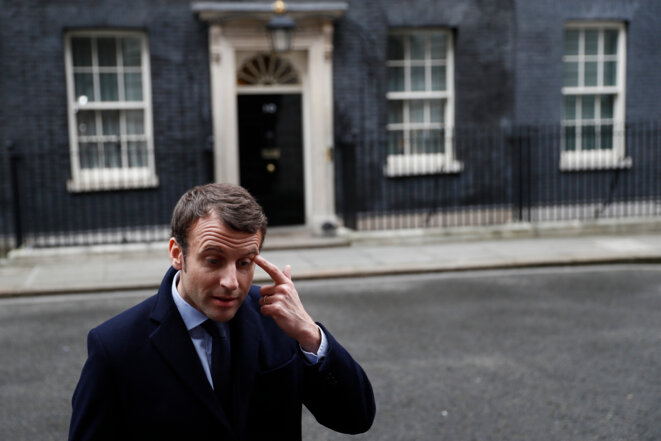 Emmanuel Macron outside 10 Downing Street where he met British PM Theresa May on February 21st, 2017. © Reuters
The independent centrist candidate Emmanuel Macron has no public money behind him to help his presidential campaign, as he has no established political party. Instead he is relying on donations both via the internet and from private gatherings with wealthy supporters. Opponents have raised questions over the former economy minister's links with the world of money and business, as well as the declarations of his personal assets which seem to suggest he spent large amounts of money while working as a merchant banker. Those rivals seek to paint him as a candidate for "global capitalism". His entourage are irritated by such a depiction but, given his background in the world of finance, they have little choice but to accept it, report Mathieu Magnaudeix and Mathilde Mathieu.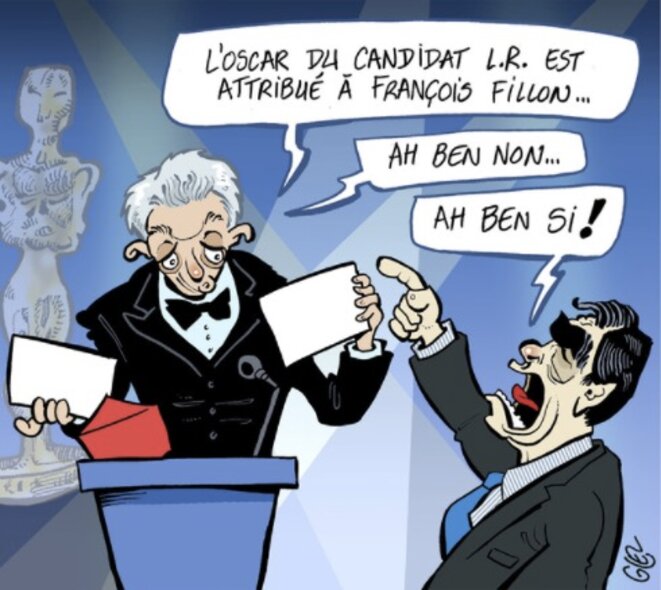 François Fillon's presidential campaign has descended into a grim farce.
The French Republic is in its death throes, having been taken hostage by a maniac – François Fillon - who is riding roughshod over the legal system, insulting the press, scorning his own elected representatives and calling on divisive factions for help. Having destroyed political parties, corrupted Parliament and having undermined voting itself, the Fifth Republic is now reaching the climax of its democracy-destroying operation. It is time to get rid of it, writes Mediapart's editor-in-chief Edwy Plenel, before it is too late.
The Pacific archipelago of New Caledonia and the South American territory of Guiana are both part of France. But in these remnants of the French colonial past, indigenous peoples suffer from violations and non-recognition of their human rights. France's human rights commission has now called on the country to recognise New Caledonia's Kanaks and Guiana's Native Americans as indigenous peoples and to grant them full rights, as laid out in the United Nations charter. Julien Sartre reports.
The Aube département or county in the north-east of France is a rural area that also has pockets of industrialisation. Here, apart from the 'fake jobs' controversy surrounding right-wing candidate François Fillon, the presidential election campaign seems not to have had much of an impact so far. This has left the far-right Front National to take advantage of the relative indifference of the other candidates towards issues affecting those who live in the French countryside. Mathilde Goanec reports.
The extent of political and financial corruption in France has been highlighted by the scandal-plagued French presidential elections, with two of the frontrunning candidates, conservative nominee François Fillon and the far-right challenger Marine Le Pen, engulfed in graft accusations. Following the case of Jérôme Cahuzac, the socialist budget minister tax-fraud tsar who, Mediapart revealed, held a secret foreign bank account over two decades, several new anti-corruption agencies were created to fight a seemingly endemic problem. But, in a series of interviews with Mediapart, investigators and magistrates denounce a dire and crippling lack of resources.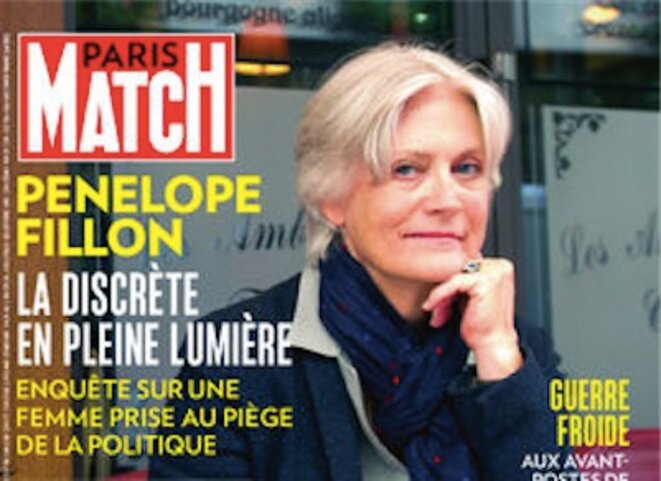 The cover story of this week's edition of Paris-Match is a portrait of Penelope Fillon, the British wife of the French conservative presidential candidate François Fillon. The article was clearly an attempt by François Fillon's public relations team to dampen the scandal which has dented his campaign after it was revealed he paid his wife and two of his children out of parliamentary funds for work it is alleged was never carried out. But, writes Mediapart poltical analyst Hubert Huertas, the portrait of the central but mute character in the affair has in fact simply served to increase the mystery surrounding Penelope Fillon and the unease over her image as her husband's "mute muse".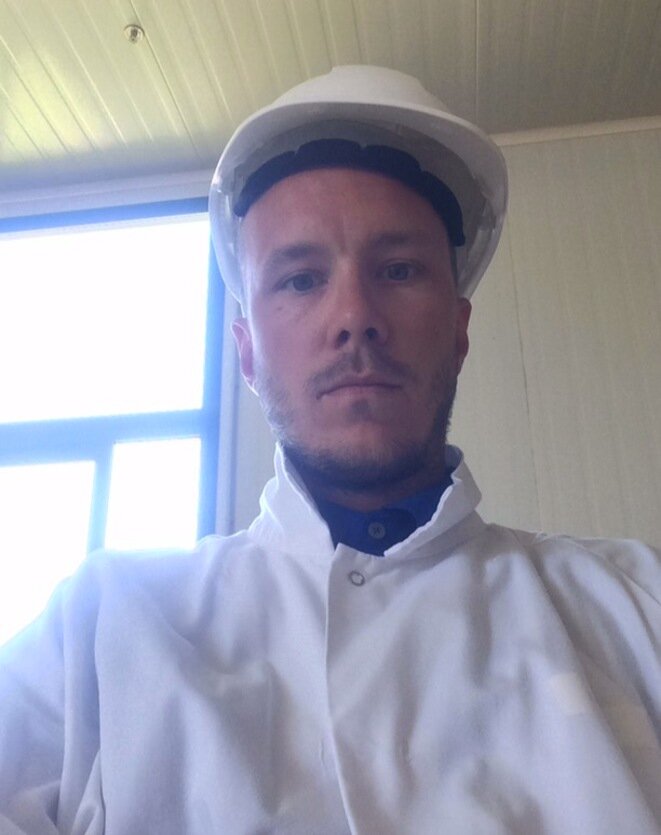 Geoffrey Le Guilcher © DR
During the summer of 2016, journalist and Mediapart contributor Geoffrey Le Guilcher covertly gained employment as a worker on the production line of an industrial slaughterhouse in Brittany, north-west France. Le Guilcher infiltrated the lines to see for himself the infernal environment where, knife in hand, he was tasked with removing the fat from half-carcasses of cows at a rate of one every minute. He discovered not only the dreadful plight of the animals, but also the extreme duress placed on employees, whose relentless working rhythm drove some of those he befriended to drink and drugs. His experiences are detailed in a book, Steak Machine, published this month in France. Here he tells Rachida El Azzouzi about the horrors of the slaughterhouse.
The chief of staff and senior bodyguard of France's far-right Front National party leader and presidential election candidate Marine Le Pen were on Wednesday questioned in police custody as part of an investigation into alleged fraudulent payments made to them by Le Pen out of European Parliament funds dedicated to remunerating parliamentary assistants. Le Pen's chief of staff, Catherine Griset, was later placed under formal investigation. The case, which mirrors the scandal surrounding conservative presidential candidate François Fillon, now threatens to become more than a severe embarrassment to Le Pen, one of the frontrunners in the election, whose campaign hinges on her image as an anti-establishment alternative to a corrupt political class.