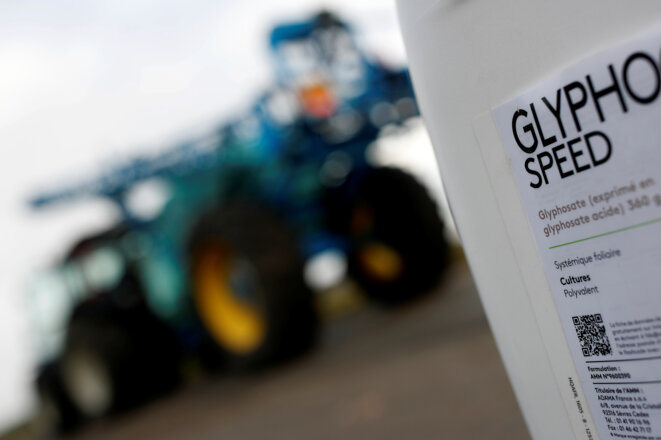 A total ban on the use of products containing glyphosate is due to be introduced in France on January 1st 2021. © Archives Reuters
A growing number of French mayors have issued by-laws this year banning the use of chemical pesticides and herbicides in their communes. But these have been regularly overturned by local administrative tribunals which have ruled the measures to be illegal as only central government has the power to issue such prohibitions. Earlier this month, however, a tribunal upheld the by-laws issued by the mayors of two Paris suburbs, ruling that the government had failed in its responsibilities to protect public health. With nationwide municipal elections due next spring, the issue is fast developing into a political hot potato for President Emmanuel Macron who has insisted that the rebel mayors must abide by the law.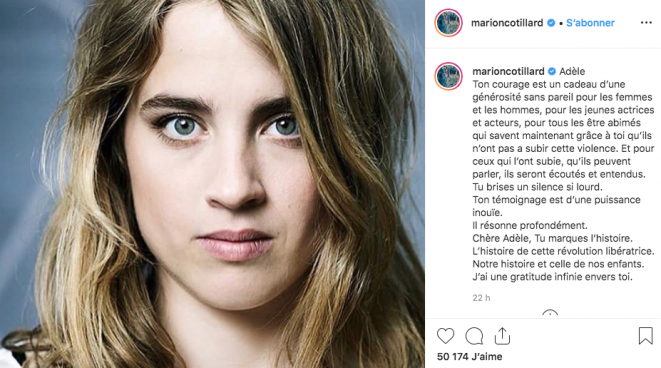 A message of support for Adèle Haenel posted on Instagram by French actress Marion Cotillard. © dr
The Paris public prosecution services announced on Wednesday that they have opened a preliminary investigation into French actress Adèle Haenel's accusations, made in an interview with Mediapart, that filmmaker Christophe Ruggia had sexually harassed her and subjected her to inappropriate "touching" over several years when she was aged between 12 and 15. Haenel, now aged 30, has this week received the support of many leading figures in the French cinema industry. Meanwhile, Ruggia has addressed a new statement to Mediapart in which he recognises a "hold" he may have had over Haenel, but again denies any inappropriate sexual behaviour.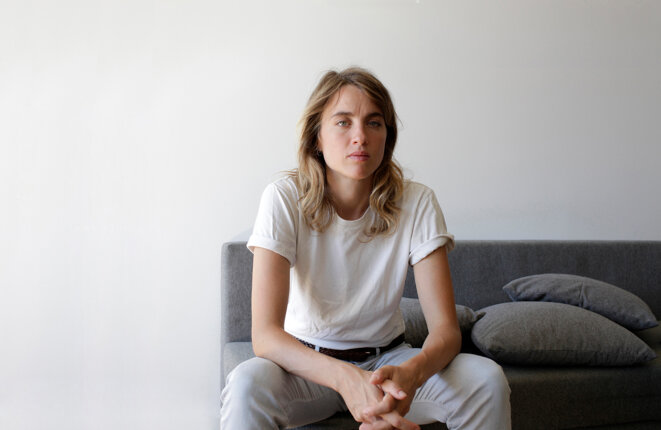 Adèle Haenel. © Isabelle Eshraghi pour Mediapart
Award-winning French actress Adèle Haenel has accused the prominent French filmmaker Christophe Ruggia of inappropriate "touching" and of "sexually harassing" her when she was aged between 12 and 15. Haenel, now aged 30, whose story is supported by numerous documents and witness accounts, describes the director's behaviour as "paedophilia". In this lengthy investigation, Mediapart reveals the long journey the actress has undergone, from the period when it was "impossible" to speak out to the point when continuing to stay silent had become "unbearable". In a written statement, Christophe Ruggia has "categorically" denied the claims. Marine Turchi reports.

Robert Paxton talking about how Vichy France is remembered. © Mathieu Magnaudeix / Mediapart
When the French language version of his book 'Vichy France' appeared in 1973, the American historian Robert Paxton opened French eyes to the Vichy regime's collaboration with the Nazis in World War II. At the age of 87 he remains one of the most knowledgable people about fascism. Mediapart spoke with the emeritus professor at Columbia University about Donald Trump, nostalgia for the wartime era of Vichy president Marshal Philippe Pétain, and the spectre of a return to the 1930s. Mathieu Magnaudeix reports from New York.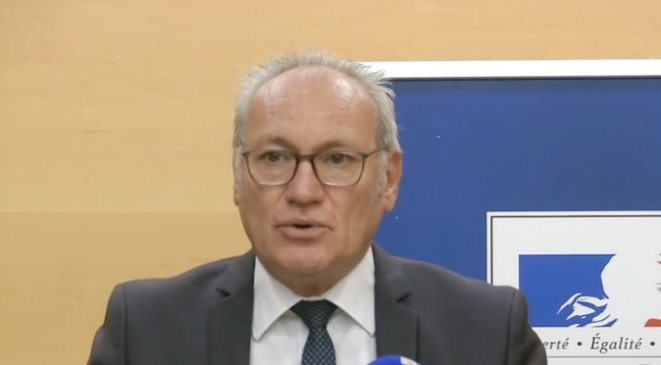 The state prosecutor in Bayonne Marc Mariée.
Claude Sinké, aged 84, a former local election candidate for the far-right Front National – now called Rassemblement National – is in custody for the attack on a mosque in Bayonne in south-west France on October 28th 2019. He told detectives his aim was to "avenge the destruction" of Notre-Dame cathedral in Paris from a fire which he blames on Muslims. Marine Le Pen and the rest of the RN leadership have been quick to distance themselves from their former activist. But Claude Sinké had been adopted as a candidate for the far-right party in 2015 despite posting hate-filled messages on Facebook. Marine Turchi and Matthieu Suc examine the far right party's handling of its supporters and look at the growing threat posed by right-wing extremists in France and across Europe.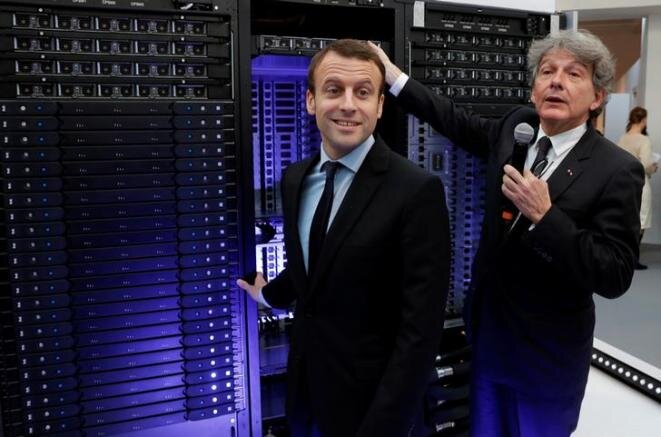 Thierry Breton with Emmanuel Macron, who was then economy minister, in 2016. © Reuters
After his first choice for EU Commissioner was rejected by MEPs, President Emmanuel Macron has nominated the veteran businessman and former government minister Thierry Breton as France's new candidate for the key Brussels post. But just how suitable is he? By flitting between business and politics, the former finance and economy minister has become a bridge between two worlds where collusion, cliquiness and conflicts of interest shamelessly run riot, argues Mediapart's Marine Orange.
Pierre Mumber, a volunteer from the French Alps who came to the aid of migrants who crossed the nearby border with Italy, was last year convicted of 'helping a foreigner enter the country'. However, an appeal hearing against the verdict has been shown video footage from an Italian journalist which undermines the police version of events that led to the conviction. Meanwhile other cases confirm that the legal clampdown on French volunteers on the border who go out in search of migrants in distress is continuing. Michel Henry reports.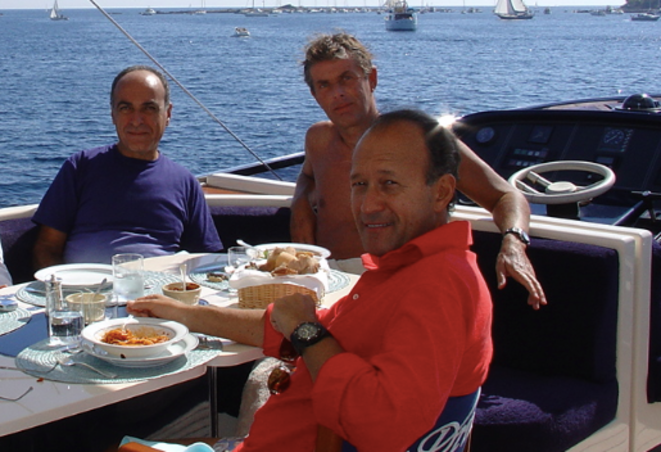 Middleman Ziad Takieddine, left, and Thierry Gaubert, right, two of the accused in the Karachi trial.
A trial is underway in Paris into the financial aspects of the so-called Karachi affair, which involves allegations of illegal kickbacks paid in relation to French defence contracts with Saudi Arabia and Pakistan in the 1990s. The case has witnessed two very different worlds coming together in the same courtroom. On the one hand is the white-collar world of power, money and vanity represented by the accused, who were senior French advisors and officials. On the other side is the blue-collar world of workers, represented by the survivors and families of victims of the bus bombing which killed 14 people in Karachi in 2002, including 11 French defence staff who were working on contracts relating to those multi-million euro defence deals. Fabrice Arfi reports.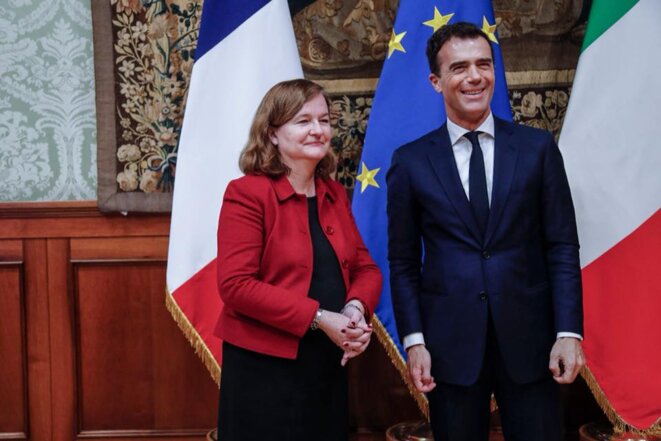 The lead European election candidate for President Macron's ruling LREM party, Nathalie Loiseau, and fellow candidate Sandro Gozi. © Facebook/Sandro Gozi
In May 2019 former Italian government minister Sandro Gozi was elected as a French MP for the European Parliament representing Emmanuel Macron's ruling party and then became an advisor on Europe to the French prime minister Édouard Philippe. But unbeknown to both his former campaign team and the prime minister's office, Gozi was also an advisor to the government of Malta. The official insists he resigned that advisory role just after his election as an MEP and before he began working for the French prime minister. But after details of the curious affair became public, Sandro Gozi quit his post. Antton Rouget and Ellen Salvi report.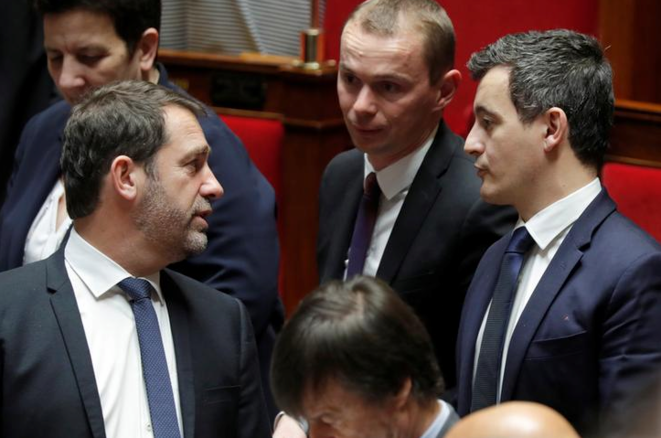 Interior minister Christophe Castane, left, and budget minister Gérald Darmanin, right, were the first to raise the issue after the 2019 European elections. © Reuters
Right-wing politicians want religion-based election candidates lists to be banned in France. This comes after a group calling itself the Union of French Muslim Democrats stood in this year's European elections, in which it won just 0.13% of the popular vote. Some members of the government are said to be tempted by the idea of a ban, but President Emmanuel Macron has rejected this approach. Instead, Ellen Salvi reports, he is looking at other possible avenues, including extending the religious neutrality that civil servants have to observe to elected representatives.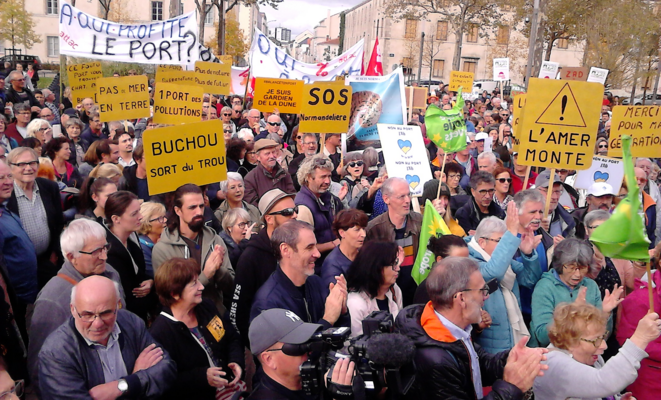 The protest on October 19th 2019 at La Roche-sur-Yon against the nearby marina on the French Atlantic coast. © P.-Y. B
After sixteen years and much deliberation and delay, the French state has finally given the green light for a marina to be built at Brétignolles-sur-Mer on the west coast of France. The surprise decision has re-ignited long-standing opposition to the scheme amid fears it will harm biodiversity on that section of coastline. Now protestors have set up a camp near the site and staged a peaceful demonstration. Pierre-Yves Bulteau reports.
According to estimations published this month by France's national institute of statistics and economic studies, INSEE, social inequalities in the country rose to a higher level in 2018 than at any time since 2011 while, in parallel, the numbers of those in poverty also increased. Mediapart's economics correspondent Romaric Godin analyses the gloomy figures and concludes that they are the direct result of the economic and budgetary policies of President Emmanuel Macron's government.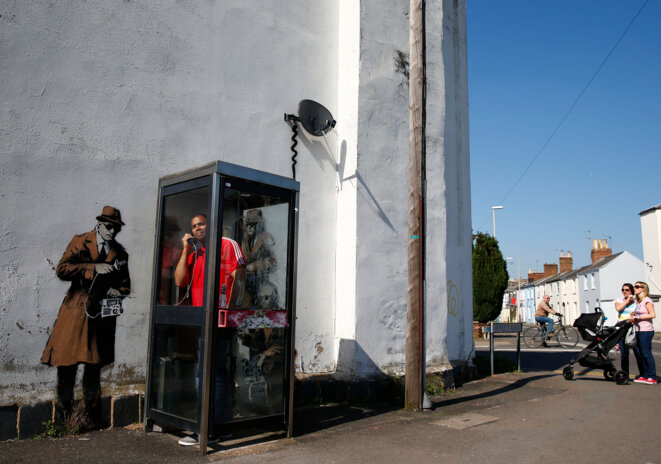 A mural by street artist Banksy close to Britain's signals intelligence agency GCHQ,in Cheltenham, England. © Reuters/Eddie Keogh
The British and French intelligence agencies are deeply concerned that their close bilateral cooperation, notably on counter-terrorism activity, remains intact after the UK leaves the European Union. But they are fearful of the consequences, especially in the case of a hard Brexit, when, the EU warns, "The UK will be disconnected from all EU networks, information systems and databases" concerned with police and judicial cooperation. Matthieu Suc reports.
President Emmanuel Macron on Wednesday warned against a stigmatisation of the Muslim population in France and the shortcut of associating the Islamic religion with terrorism, as was illustrated in a string of recent events that have caused outrage and heated debate across the country. It was a tardy reaction by Macron who, Mediapart co-editor Carine Fouteau writes in this op-ed, has left the door open to precisely the problem he now identifies. It is his responsibility to strengthen the barriers against hatred, alongside the fight against terrorism.