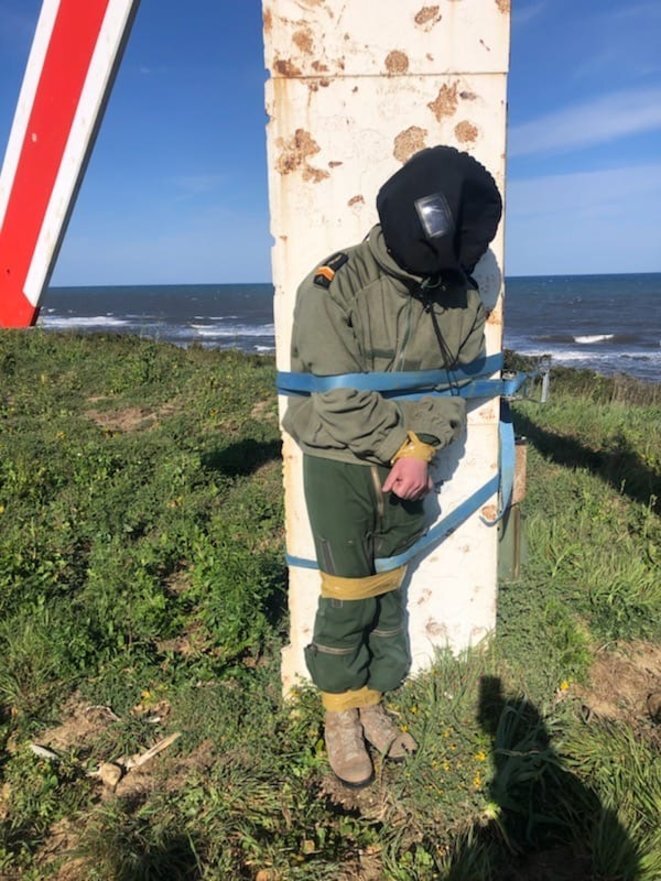 Ordeal: pilot 'A.C.' tied to fighter jet target in Corsica. © DR
A young French air force pilot who, in a cruel initiation prank by otherairmen, was hooded, trussed, and tied to a post used for target practice by fighter jets, has filed a formal complaint with the public prosecution services for "aggravated violence" and "deliberately endangering the life of others". Mediapart reveals here photos and video of the disturbing events at an airbase in Corsica which, as Justine Brabant reports, further tarnish the image of the air force after prosecutors in February opened an investigation into allegations of "institutionalised" harassment at a major base in eastern France.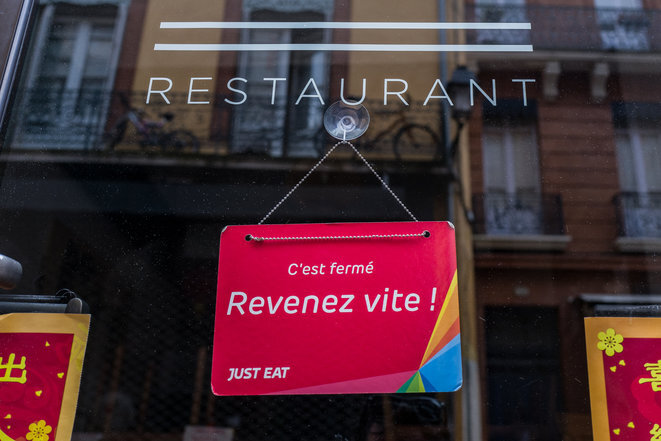 A French restaurant sign announcing "It's closed", "Come back quickly!". © Frédéric Scheiber/Hans Lucas/Hans Lucas via AFP
For a little more than a year now, the succession of on-off lockdowns and restrictions on public and economic activity have severely disrupted the personal and professional lives of many millions in France, notably for those placed on furlough. Mediapart asked readers to provide their personal accounts of the long months deprived of work and largely confined to their homes. Cécile Hautefeuille presents here a selection of the stories that came back; some are sad, some are funny, and nearly all have an underlining theme of a questioning of the sense of their lives and jobs.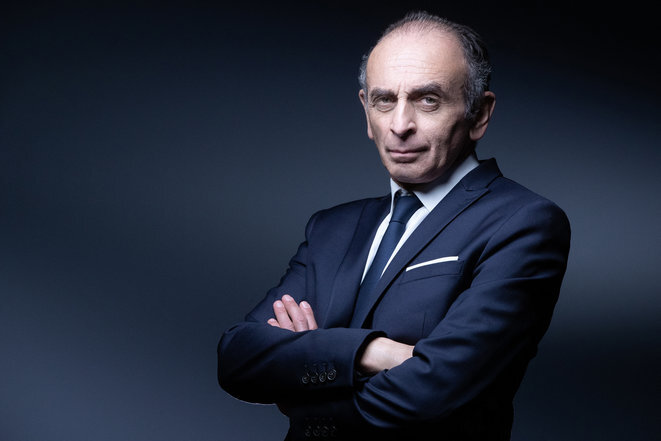 Journalist and polemicist Éric Zemmour. © JOEL SAGET / AFP
On April 24th 2021 a female councillor publicly accused French journalist and polemicist Éric Zemmour of having forcibly kissed her. Mediapart has gathered the accounts of several other women who have also condemned the actions and behaviour of the journalist from Le Figaro newspaper and CNews news channel, whom some on the far-right want to be a candidate in next year's presidential election in France. When approached by Mediapart, Zemmour declined to respond to the allegations. Lénaïg Bredoux, David Perrotin and Marine Turchi report.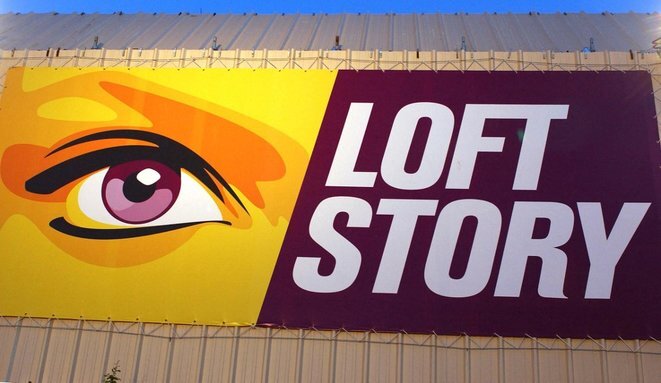 The 'Loft Story' logo on April 25th 2002 at La Plaine Saint-Denis north of central Paris during season 2. © Bertrand Guay/AFP
The first reality television show on French television was broadcast on April 26th 2001. 'Loft Story', a French remake of the 'Big Brother' format, caused a scandal and provoked endless debate and discussion among both the public and academics. One critic even claimed it marked a descent into "fascism". Twenty years later the genre has become a standard part of TV viewing. Participants in some of the top-rated shows have become professionals with large incomes, working as 'influencers' who promote brands on social networks. François Bougon reports on the history of reality TV in France.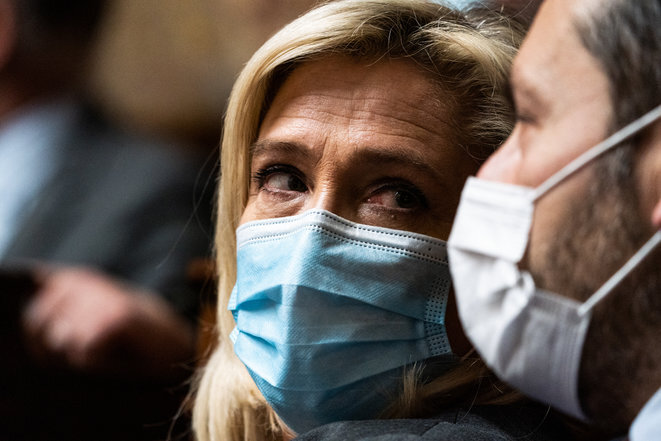 Marine Le Pen in March 2021. © Xose Bouzas / Hans Lucas via AFP
A letter signed by 23 retired French generals, who warn that the military might have to "intervene" in a "civil war" because of a failure by the French state to crack down on "Islamists", has caused a political row. Defence minister Florence Parly has warned of "consequences" for any active soldiers on the list of signatories, which includes scores of other senior ranks. Meanwhile Marine Le Pen, the president of the far-right Rassemblement National (RN) party, has given the retired generals her support. As Lucie Delaporte reports, her backing for such views is a stark reminder of what the RN really stands for, after a decade in which Le Pen has sought to soften the party's image.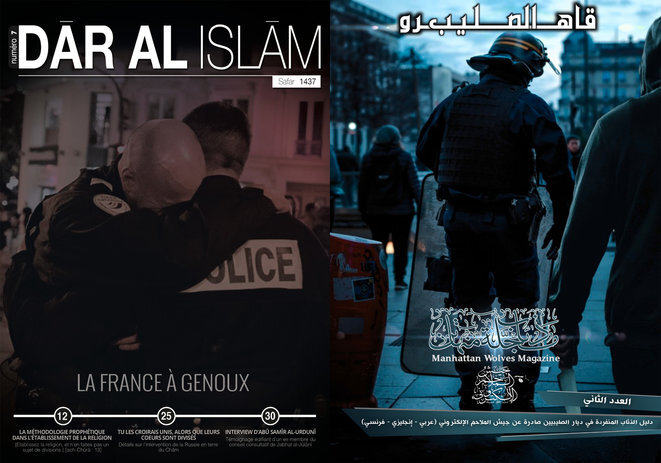 Jihadist propaganda publications often target the French police. © DR
The murder of a policewoman at Rambouillet, south west of Paris, on Friday April 23rd brought to 12 the number of members of the police and security forces who have been killed in terrorist attacks in France since 2015. Overall, attacks targeting police officers have grown in number over that period. This "French exception"  is a phenomenon which has become more prevalent since the collapse of Islamic State's self-styled 'Caliphate' in the Middle East. Matthieu Suc reports.
School for judges: the École nationale de la magistrature (ENM) at Bordeaux. © Valentino BELLONI / Hans Lucas via AFP
Documents seen by Mediapart reveal that some students at the school where France's future judges and prosecutors are trained used racist language on a private online document. The comments made by the students, who are poised to graduate from the École Nationale de la Magistrature and start their careers, include "France for the French" and "Arabs Out". The college's authorities informed prosecutors in Bordeaux who have now opened a criminal investigation. David Perrotin reports.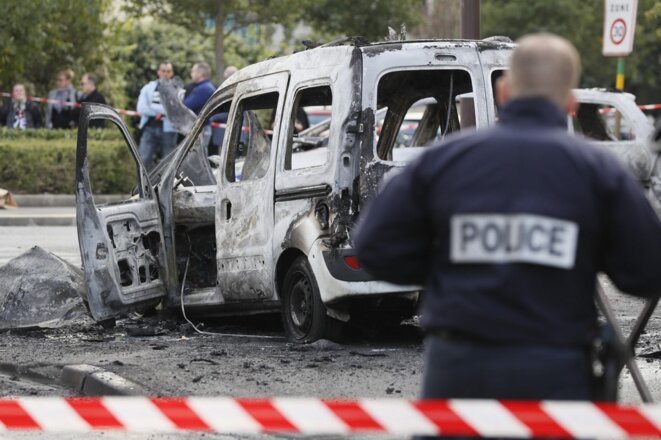 À Viry-Châtillon, le 8 octobre 2016. © Thomas Samson / AFP
On April 18th 2021 five youths were found guilty on appeal of an attack in 2016 in which two police officers were set ablaze when their patrol car was pelted with petrol bombs in a Paris suburb. The five were given jail terms of between six and 18 years. Eight other youths were acquitted. The appeal verdict, which was more lenient than the original trial in 2019, caused outrage among some politicians and led to a protest march by angry police officers. But Mediapart can reveal that the real scandal was the way in which police detectives ran the initial investigation into the brutal attack in Viry-Châtillon. Officers truncated or cut out entire sections of what suspects said in custody. They also put pressure on them to implicate other youths from the area. Lawyers for some of those involved have described it as a "legal scandal" and formal complaints have now been made to prosecutors about the conduct of the detectives. Pascale Pascariello reports.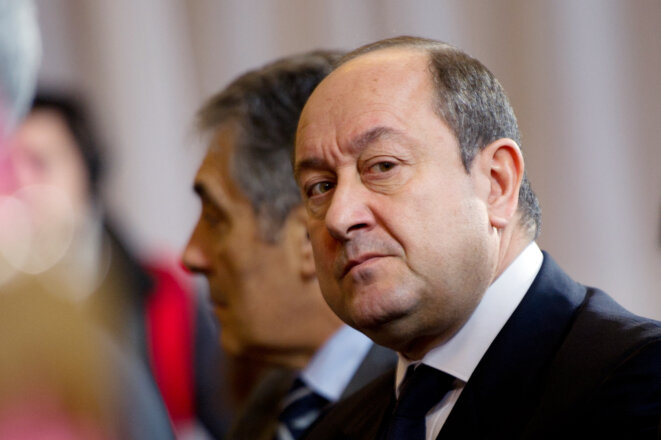 Bernard Squarcini, en 2012. © MARTIN BUREAU / AFP
Two recent reports by French police have revealed in minute detail the spying system set up by the former head of France's domestic intelligence agency, Bernard Squarcini, on behalf of the giant luxury goods firm LVMH, which is owned by billionaire Bernard Arnault. Its target was journalist François Ruffin - who is now a Member of Parliament in France - and his publication Fakir. Fabrice Arfi reports.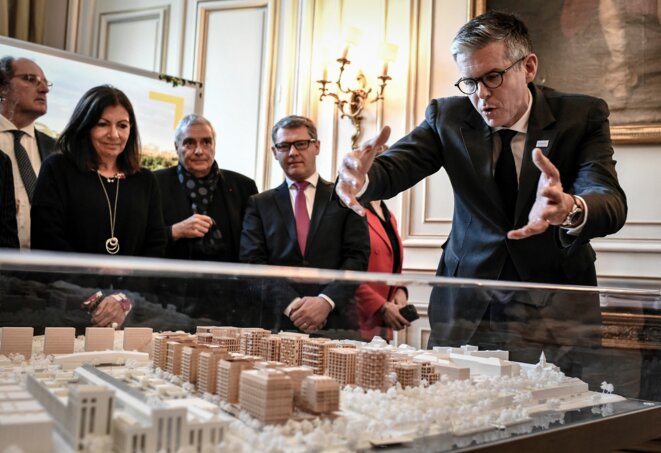 Nicolas Ferrand, CEO of SOLIDEO, during a presentation of a model of the Olympic village in November 2019, watched by Paris mayor Anne Hidalgo. © Stéphane DE SAKUTIN / AFP
An investigation by Mediapart has revealed a pattern of anti-Roma insults, sexist behaviour and prejudice towards residents of a high-immigration area among certain staff at an organisation helping to deliver the 2024 Paris Olympic Games. After Mediapart raised the issue with management three employees at SOLIDEO – the body overseeing construction of the Games infrastructure - have been suspended and an internal inquiry has been established. Previous attempts to raise the issue internally, including the referral of complaints to the office of Paris mayor Anne Hidalgo,  apparently had little effect. Jade Lindgaard and Antton Rouget report.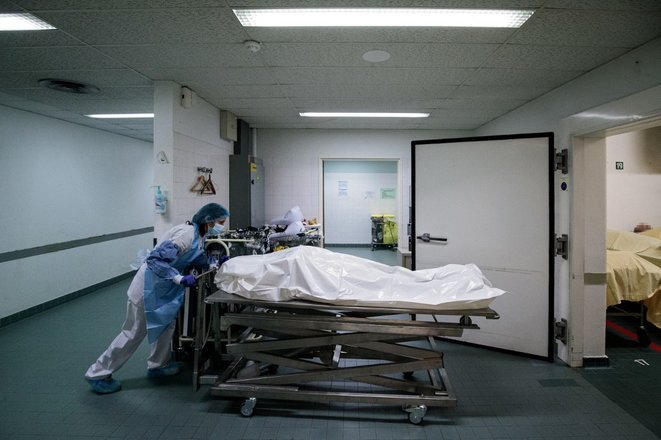 The mortuary at the Bichat hospital in Paris, January 29th 2021. © Joel Saget/AFP
While France last week passed the landmark official figure of 100,000 deaths from Covid-19, some have questioned the real significance of the disease on the deathrate of the elderly and the physically weak who, they bluntly argue, would have died sooner or later from other causes. Rozenn Le Saint turned to demographers for their insight into a clouded debate.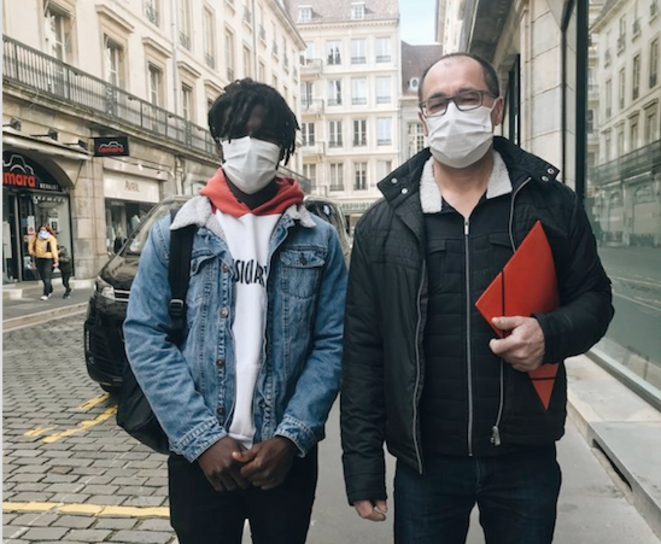 Yaya Camara and his employer Robert Duarte. © Mediapart
Earlier this year, a young Guinean apprentice baker in Besançon, eastern France, who arrived in the country as an unaccompanied minor, received a deportation order immediately after he turned 18. His outraged employer went on hunger strike in protest, and the order was finally overturned. Now another young Guinean, Yaya Camara, a 19-year-old apprentice electrician also settled in Besançon, has similarly been handed an expulsion order, which he has appealed with the support of his employers and teachers. But a particularly cruel twist in the case is the bizarre and disproven accusations levelled against the teenager by prefecture officials. David Perrotin reports.  
Participants in the first 'International congress of black writers and artists', held in Paris in 1956. © © Présence Africaine
A fiery debate has erupted in France over the holding of meetings on issues of discrimination to which are admitted only those who are affected by such prejudice. In this opinion article, Mediapart's publishing editor Edwy Plenel says the furore over such gatherings is but the latest offensive against the self-organisation of those who are dominated in society, whether that be because of their appearance, religion, gender or social condition.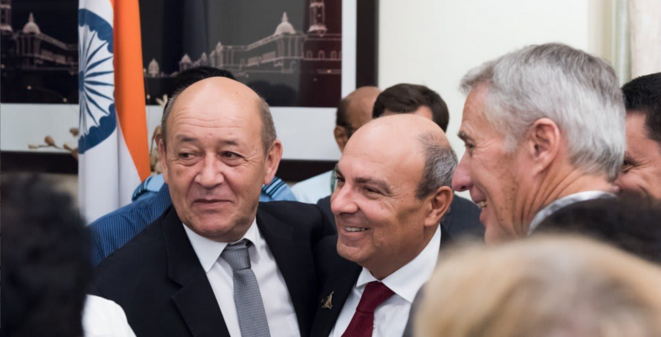 Then French defence minister Jean-Yves Le Drian (l) celebrates with Dassault CEO Dassault Aviation CEO Éric Trappier (c) the signing of the Rafale deal in September 2016. © Dassault Aviation
In this final report in a three-part investigation into the controversial sale by France to India of 36 Rafale fighter aircraft, Mediapart reveals, with hitherto unpublished documents, how an influential Indian business intermediary was secretly paid millions of euros by Rafale manufacturer Dassault Aviation and French defence electronics firm Thales. They succeeded in removing anti-corruption clauses from the fighter contract which was subsequently signed by then French defence minister, now foreign minister, Jean-Yves Le Drian. Yann Philippin reports.