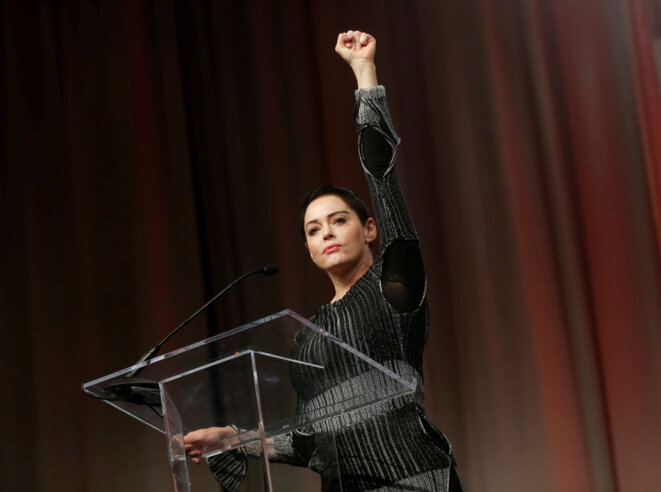 Rose McGowan. © Reuters
Following Mediapart's revelations of the accounts of nine women who accuse French filmmaker Luc Besson of various forms of sexually abusive behaviour and, in one case, of rape, they have now received outspoken support from US actresses Rose McGowan, Jessica Barth, Caitlin Dulany, trauma expert Louise Godbold and former Italian model Samantha Panagrosso, five women who have become symbolic of the movement against sexual harassment and aggression in the US film industry and beyond in the wake of the Harvey Weinstein scandal.
French producer and director Luc Besson, February 17th 2018. © Reuters
Following Mediapart's revelations in July of the accounts of four women who accuse French filmmaker Luc Besson of sexual misconduct, five more women have now come forward with new allegations against him of inappropriate sexual behaviour and which are detailed in this report. Besson, 59, the celebrated producer and director behind blockbuster films that notably include 'Nikita', 'The Big Blue', 'Leon', 'The Fifth Element' and 'Lucy', is the subject of a formal complaint for rape filed in France earlier this year by Belgian-Dutch actress Sand Van Roy, an accusation that the filmmaker firmly denies.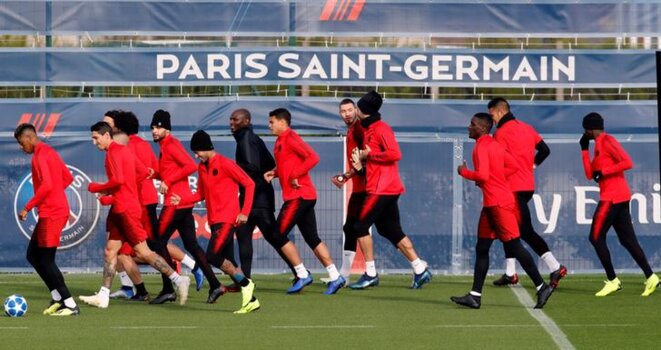 Le Paris Saint-Germain team during training. © Reuters
Seven years after Mediapart's revelations about discriminatory ethnic quotas in French football, our 'Football Leaks 2' investigation revealed how French football's most prestigious club, PSG, kept files on the ethnic origins of potential youth recruits, writes Mediapart publishing editor Edwy Plenel. What, he asks, does this persistent prejudice say about France?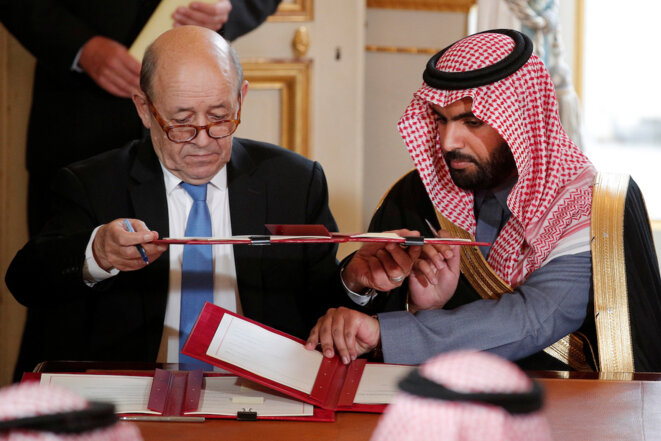 Yves Le Drian and Crown Prince Mohammed bin Salman in April 2018. © Reuters
On November 12th, 2018, Jean-Yves Le Drian insisted on French television that he was not aware of evidence supplied by Turkey regarding the murder of journalist Jamal Khashoggi by Saudi killers. Yet no fewer than seven French diplomats and intelligence agents have contradicted this claim by France's foreign minister. Thomas Cantaloube, Lucie Delaporte, René Backmann, Nicolas Cheviron, Matthieu Suc and Rachida El Azzouzi investigate.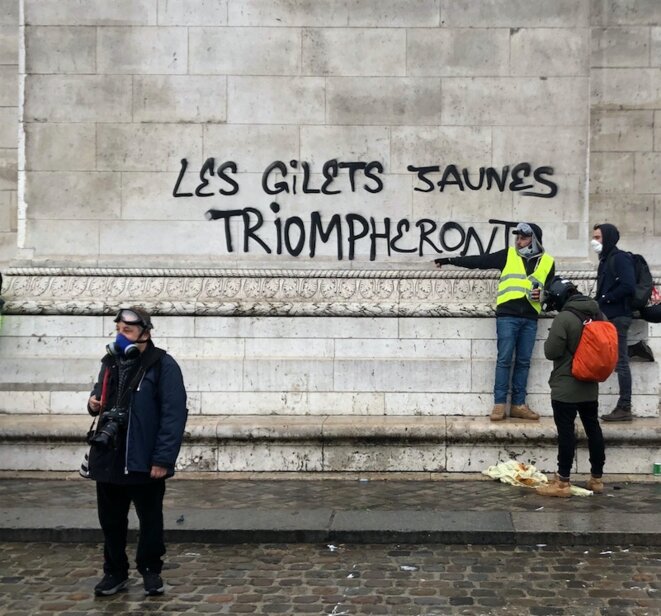 The Arc de Triomphe,December 1st, 2018. © Karl Laske
The revolt of the 'gilets jaunes', the protesters whose symbol is their yellow hi-vis jackets, is aimed against tax injustice and arbitrary behaviour by the French state. What drives it is that which lies at the heart of of all emancipatory struggles: the demand for equality. Mediapart publishing editor Edwy Plenel argues that its political future will depend on its willingness to embrace common cause with others movements who are advocating equality for all.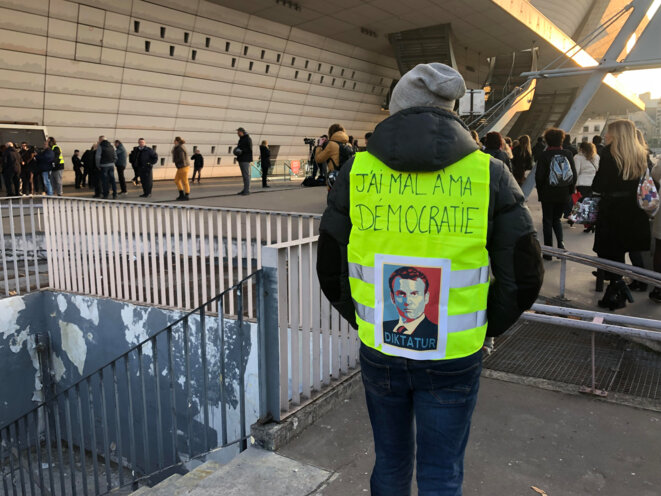 Scenes from the first 'gilets jaunes' protests in Paris, November 17th, 2018. © E.S.
This Saturday December 1st the so-called 'gilets jaunes' or yellow hi-vis vest protesters will take to the streets of central Paris for the third weekend in a row. This time other groups – unions, anti-racist movements and student groups – are also planning demonstrations in the capital. But while they might all be demonstrating at the same time, these different components of the current social movement sweeping across France are not all on the same wavelength when it comes to their aims and objectives. Mathilde Goanec, Dan Israel and Faïza Zerouala report.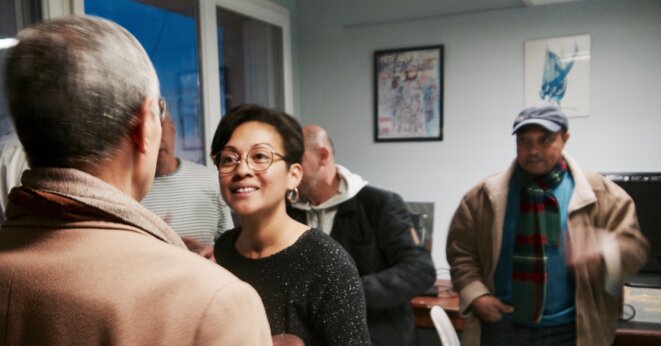 MP Aina Kuric at a meeting in Reims, November 16th, 2018. © MJ
Aina Kuric is a Member of Parliament for France's ruling La République en Marche party east of Paris and last week she held meetings with members of local volunteer groups, small-town mayors and councillors just as the "gilets jaunes" or yellow hi-vis jacket protests over fuel prices swept across France. In doing so she experienced at first hand the deep divide that is growing between the government and a section of the population increasingly gripped by despair. Mediapart's Manuel Jardinaud joined the MP on the trip to meet her constituents.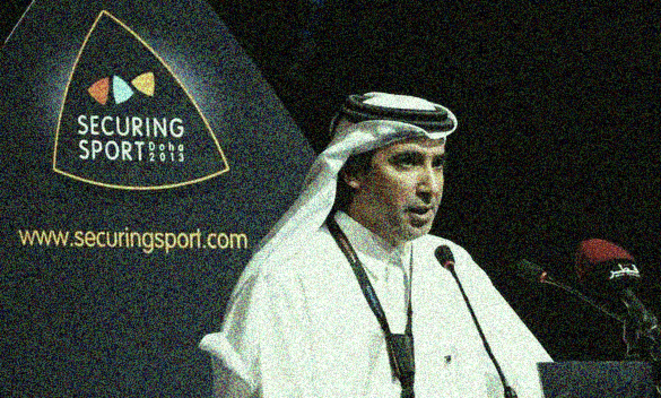 Mohammed Hanzab, president of the ICSS, based in Doha, Qatar. © ICSS
In just a few years the International Centre for Sport Security, an NGO based in Doha, has made a name for itself in the global fight against corruption in sport. But Football Leaks reveals a hidden side to this organisation which is funded by the Qatari state and which works with the United Nations, the Council of Europe and Sorbonne University in Paris. In April 2015 former police officers working for the ICSS went to Lausanne to tail one of the key figures in world sport, the Kuwaiti sheikh Ahmad Al-Fahad Al-Sabah. Mediapart's Antton Rouget and Mathieu Martinière and Robert Schmidt from independent journalistic collective We Report investigate.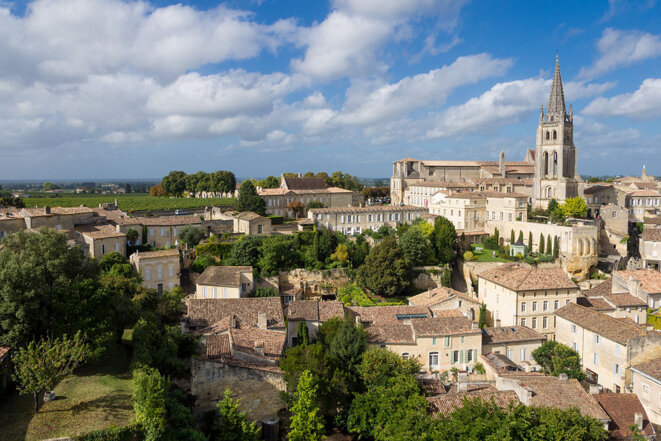 The medieval village of Saint-Émilion, one of the most prestigious wine areas in France.
French journalist and author Ixchel Delaporte spent a year investigating the wine industry in the Médoc region near Bordeaux in south-west France. It produces some of the most prestigious – and expensive – wines not just in France but anywhere in the world. Yet the journalist's book on her experiences and discoveries reveals a deep chasm between the impoverished local workers, many of them seasonal and occasional staff, and often suffering from poor health and living in substandard accommodation, and the glittering world of the small but powerful elite who control the major vineyards. Mediapart's Joseph Confavreux reports.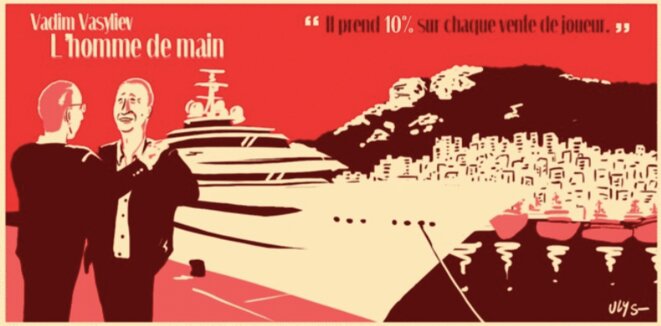 The vice-president and CEO of AS Monaco receives 10% of the profits made on the sale of players by the French football club, according to evidence from Football Leaks documents. Vadim Vasilyev, who is a close ally of club owner Dmitry Rybolovlev, is in line to receive up to 41 million euros in total from player transfers over the last five seasons.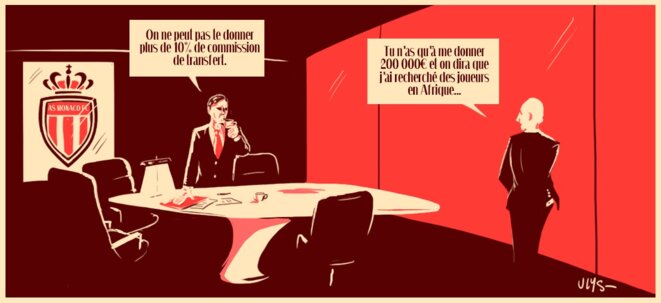 "Not allowed to pay more than 10% on agents' commissions? Just give me 200,000 euros as a scout for players in Africa". © Ulys
In order to get around the financial regulations imposed by France's Professional Football League, which is responsible for managing and overseeing the proper conduct of clubs in the country's top two football divisions, AS Monaco developed a system of private agreements, which are legally uncertified deals, with players and their agents. The scheme involved not only agent's commissions disguised as so-called "scouting agreements" but also, the evidence from Football Leaks documents suggest, a friendly match that was never played between AS Monaco and Manchester United about which neither club agreed to comment upon.
An individual close to Prince Albert II of Monaco received a hefty commission after sportswear company Nike signed a sponsorship contract with football club AS Monaco. According to documents consulted by Mediapart, during the negotiations the intermediary suggested that the prince, a member of the International Association of Athletics Federations, would "lend his support" for the candidature of the Oregon state city of Eugene, with which Nike is closely associated, to host the world athletics championship. Which it will, in 2021. Prince Albert firmly denies giving "any voting instructions".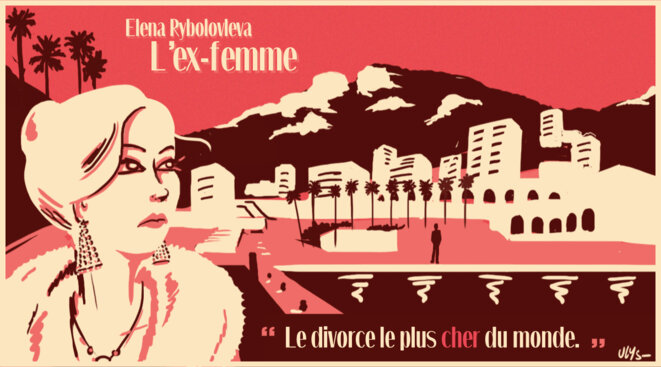 Elena Rybolovleva's petition for 'the most expensive divorce in history' was a high-stakes battle over Dmitry Rybolovlev's immense fortune. © Ulys
In 2014, at the height of a bitter divorce battle with his wife of 23 years, Elena Rybolovleva, Russian multi-billionaire Dmitry Rybolovlev organised the arrest of his wife when she travelled to Cyprus, where much of his fortune is placed, to discuss a settlement with him. The oligarch is close to high-ranking figures in Cyprus, and the circumstances of the arrest were, at the very least, highly unusual, while confidential messages swapped at the time by Rybolovlev's aides spoke of secret meetings with a man called "our friend", and a "president". In this third report in a seven-part series of investigations into the oligarch's activities, Mediapart unveils the disturbing background to Elena Rybolovleva's arrest.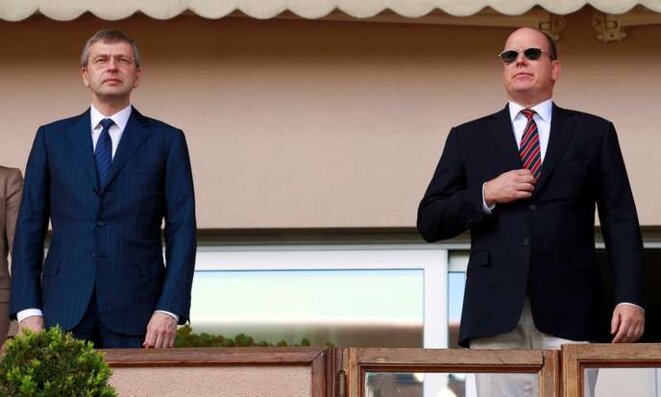 Dmitry Rybolovlev (left) with Prince Albert II of Monaco, May 4th 2013. © Reuters
When Russian billionaire Dmitry Rybolovlev took control of AS Monaco in 2011, he had not only offered himself a football club, he had secured himself a base from where he began spinning a web of influence in the Riviera micro-state, including around Monaco's royal family. In this second of a seven-part series of investigations into the oligarch's activities, Mediapart lifts the lid on a developing scandal shaking the Rock.