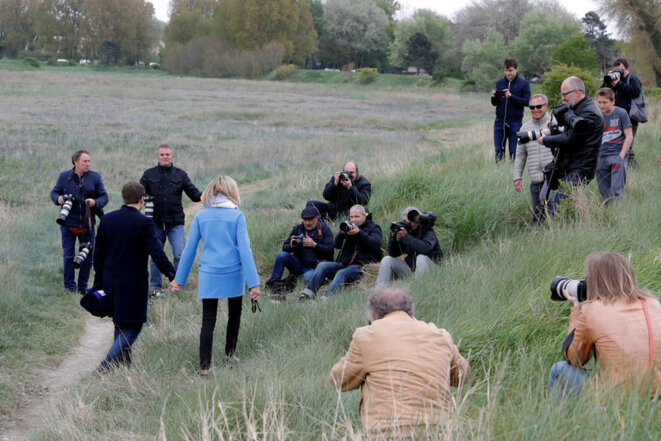 Emmanuel Macron and his wife Brigitte in a staged photo shoot during his election campaign.
French president Emmanuel Macron has lodged a legal complaint for "harassment" and "violation of personal privacy" against a photographer he alleges entered the private property in Marseille where the president and his wife Brigitte were holidaying. The photographer, Thibaut Daliphard, denies trespassing but was arrested and questioned for six hours in custody, when his computer and images were studied by police. Thomas Cantaloube and Michaël Hajdenberg report on the events which highlight Macron's very firm control of his public image and the journalists who follow him, and also the highly questionable legal move of a president who is by virtue of the French constitution immune to prosecution.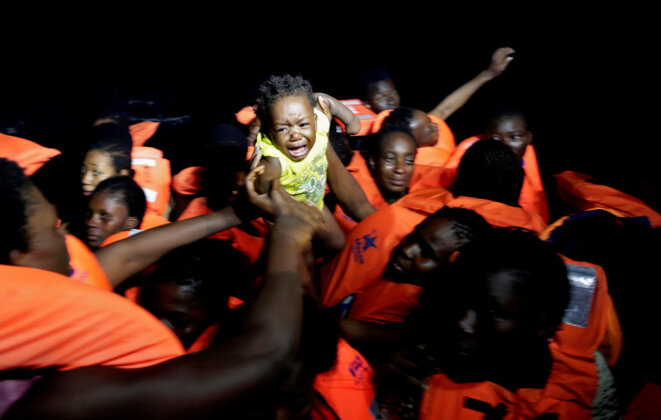 Migrants rescued from the Mediterranean Sea on October 20th 2016. © Reuters
Last week a court in Nice handed down a suspended prison sentence to a farmer convicted of helping the illegal entry of three Eritrean migrants into France. Meanwhile, the Italian authorities this month adopted a hostile approach to NGOs operating missions to rescue migrants from perilous conditions in the Mediterranean, accusing them of aiding illegal immigration. In this op-ed article, Mediapart publishing editor Edwy Plenel denounces what he says is an outrageous criminalisation of fundamental acts of humanity, which illustrates both moral bankruptcy and a gross ignorance of the reality behind the migrant crisis.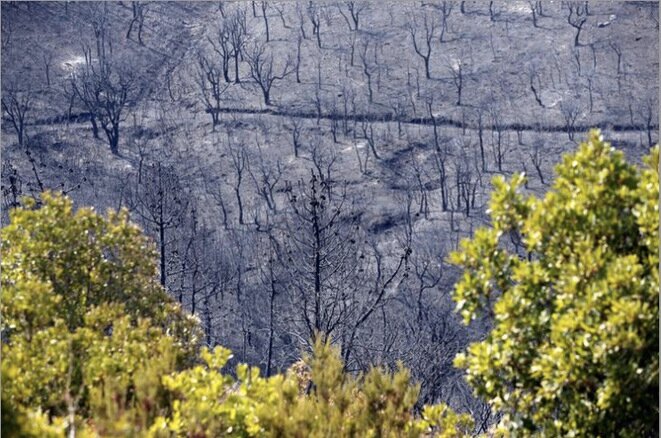 The charred remains of a forest close to Bormes-les-Mimosas, southern France, after wildfires in late July 2017. © Reuters
Huge forest fires in the north of the French Mediterranean island of Corsica this weekend destroyed more than 2,000 hectares (about 5,000 acres) of vegetation, as blazes continue to unfold in southern France amid exceptionally dry conditions. In late July, an estimated 7,500 hectares of countryside were devastated by wildfires, mostly in the Provence region, stretching the fire services to their limit. While President Emmanuel Macron and his prime minister, Edouard Philippe, have heaped praise on the efficiency and courage of France's firefighters, many of the latter are angry that the country's fire services are depleted by budget cuts, with insufficient and ageing equipment and a shortfall in their numbers. Elsa Sabado travelled to the Var département, the worst hit by the wildfires, to hear their complaints.
European Union commissioners spent nearly 500,000 euros on travel expenses in just two months in 2016, including 75,000 euros on a trip to Azerbaijan and Armenia by the EU's foreign affairs head Federica Mogherini and 27,000 euros on a round trip to Rome by Commission president Jean-Claude Juncker. The partial details on commissioners' spending were released only after a lengthy campaign by a Spanish rights organization which is demanding that their expenses be systematically posted online, which the Commission is refusing to do. Mediapart's Brussels correspondent Ludovic Lamant reports.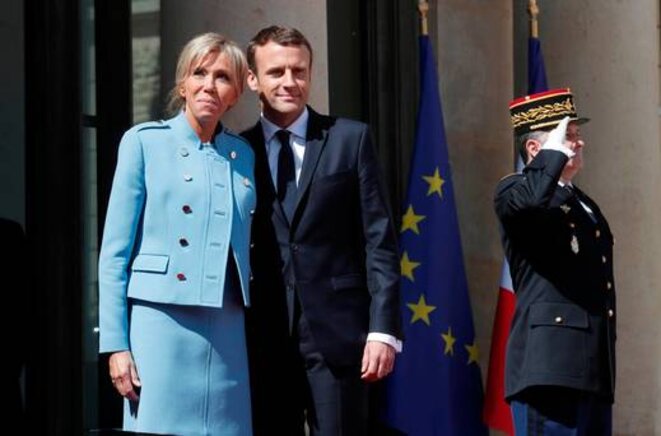 Brigitte and Emmanuel Macron on the steps of the Elysée Palace. © Reuters
The French government on Tuesday appeared to be backtracking on President Emmanuel Macron's pledge to provide his wife Brigitte with an official, legal status of "First Lady", with the announcement that the position will now be the subject of a "charter". The development came after an online petition launched last month against creating an official title of First Lady has attracted almost 300,000 signatures. Mediapart political commentator Hubert Huertas argues here that, whether the role of "première dame" is enshrined in a charter or by official status, the petition has focussed attention on both a fundamental problem and a pile of hypocracy.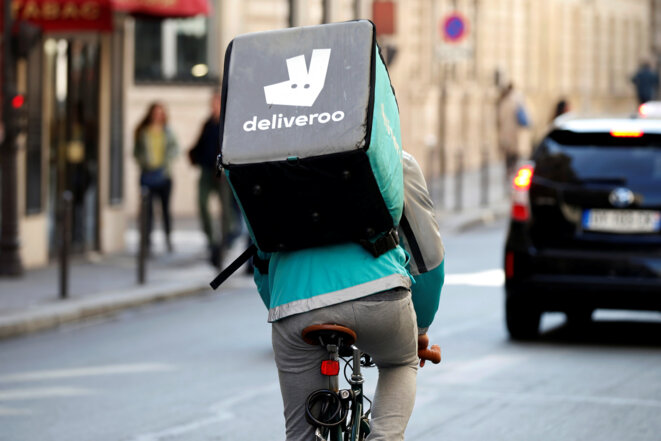 A Deliveroo courier in Paris, April 2017. © Reuters/Charles Platiau
The meal delivery company Deliveroo, which uses 7,500 couriers across France, is ending its system of paying its riders by the hour. This has led to protests from many of the food couriers who say they will end up earning hundreds of euros a month less. As Dan Israel reports, the move also shines a light on the precarious livelihoods of those working in this and other sections of the 'gig' economy.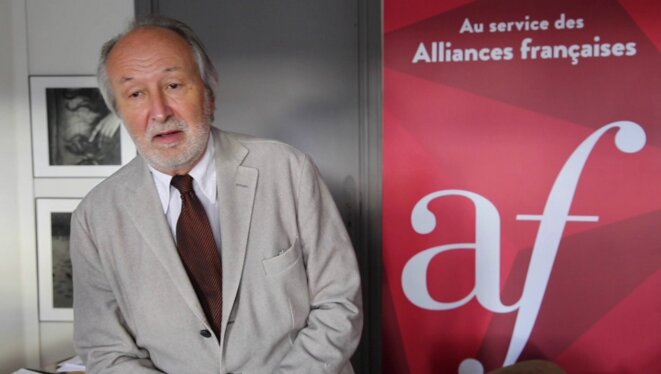 Jérôme Clément, president of the Alliance Française Foundation © DR
The Alliance Française was set up more than 130 years ago to promote French language and culture and is one of France's flagship ambassadors overseas. But today this lofty cultural organisation is embroiled in conflict with a number of senior executives around the world rising up against their boss in Paris, Jérôme Clément. They say he is authoritarian, lacks vision and that under him management is "amateurish". He says parts of the network are still stuck in the 19th century and insists he has the government's full backing for his planned changes. Fabien Cazeaux reports.

Paris, une chambre, dix couchages. © DR
In recent years the American-owned home and room-sharing site Airbnb has become immensely popular, providing an easy way for homeowners to rent rooms out to tourists. However, a study by three French academics shows the potential negative sides of the phenomenon in France; its abuse by slum landlords, an increase in rent prices and the risk of tax-dodging. Michaël Hajdenberg reports.
President Emmanuel Macron with the delegration from the Paris 2024 bid at Lausanne in Switzerland on July 11th, 2017. © Reuters
An agreement struck between Los Angeles and the International Olympic Committee (IOC) over 2028 has left the way open for Paris to be the host nation for the 2024 Games. While rival cities have pulled out of the race for budgetary reasons, officials behind the French bid insist they will keep to their budget of 6.6 billion euros. But as Antton Rouget reports, there are nonetheless real risks of an overspend, especially on security.

Airbus is one of Europe's flagship industrial groups.
The French and British investigations into alleged corruption at the European aerospace and defence group Airbus centre on claims that hundreds of millions of euros of allegedly hidden commissions were paid out as part of massive export deals. Here Mediapart reveals details of a secretive system which flourished inside the group for 15 years and which today threatens some of its most senior figures. Martine Orange and Yann Philippin investigate.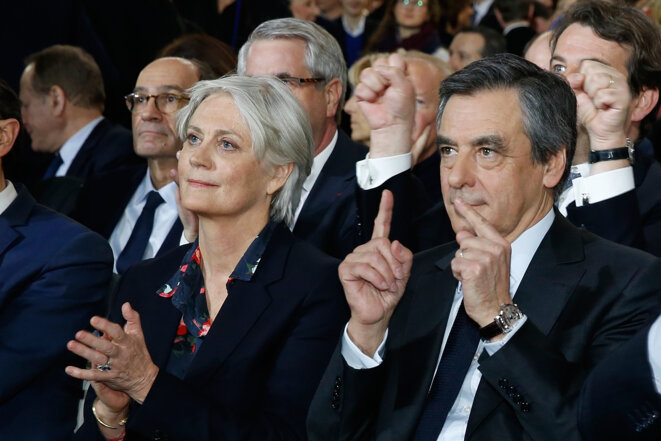 Penelope and François Fillon: the 'fake jobs' affair highighted the fact that many MPs employed family members. © Reuters
The much-trumpeted law to improve morality in public life and restore public confidence in the nation's elected representatives has passed its key hurdle in the French Parliament. The two key measures voted for by Members of the National Assembly were the ban on MPs employing members of their own family, and an obligation to produce receipts for expenses. After 50 hours of sometimes lively debate and 800 amendments, MPs voted overwhelmingly in favour – even if some on the Right called it an act of "masochism". Mathilde Mathieu reports.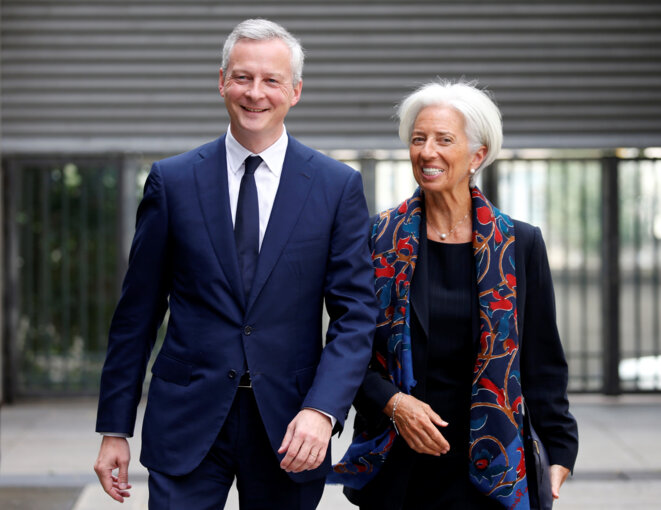 France's economy minister, Bruno Le Maire, with Christine Lagarde, managing director of the IMF. © Reuters
To the immense satisfaction of France's finance ministers, the International Monetary Fund recently lavished praise on the new French government's economic policies. Yet the IMF's comments on French policy run contrary to the organisation's own admissions over its past analytical failings, its change in economic thinking and much of its own internal research. Romaric Godin says this inevitably raises questions about whether the IMF was taking a political stance towards President Emmanuel Macron's new administration rather than giving economic analysis.
Palavas-les-Flots is a popular seaside resort in the Languedoc region of southern France, one of several built up during a government-driven programme launched in the 1960s to develop tourism along western Mediterranean seaboard. But the town, like others in the region, now faces future disaster from the slow but certain rise in the level of the sea and coastal erosion exacerbated by mass tourism. Mediapart environment correspondent Jade Lindgaard reports from Palavas-les-Flots.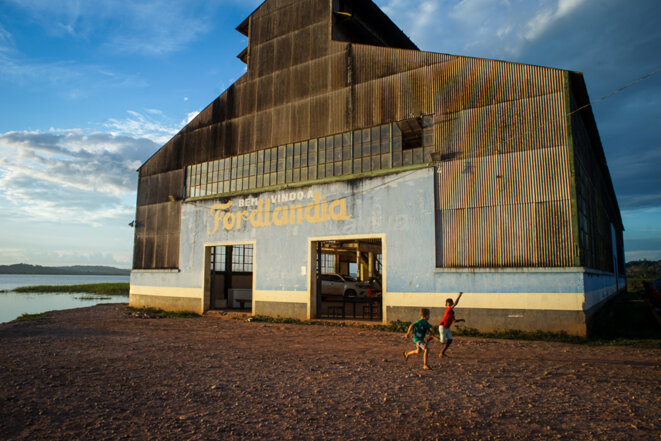 One of the old Fordlandia warehouses. © Thomas Cantaloube
Ninety years ago the American car magnate Henry Ford created a town in the Amazon jungle in order to secure a supply of rubber for his vehicles' tyres. Today it is just a ghost town, another example of the hubris so commonly associated with this region of the world. Mediapart's Thomas Cantaloube reports from Brazil on whether the lessons of that failed venture have truly been learned.