Two weeks after the November 13th terror attacks, France's Fifth Republic is gripped by fear, a clamour for war and the spectacle of a government that is out of control. This headlong rush towards security at all costs – including the arrest of climate activists ahead of the Paris climate summit - is storing up new crises for the future. The fact that it is a socialist government that has taken France down this route recalls the bad old days of the discredited Fourth Republic, writes Mediapart editor François Bonnet.
For many years successive French governments have opposed the decriminalisation of cannabis, unlike many other countries. However, France did recently bring in on-the-spot police fines in a bid to simplify procedures and avoid lengthy and costly court cases for cannabis users. However, this new approach will not end the disparities and lack of coherence in the existing repressive policy, under which prosecution for using cannabis depends as much on who you are and where you live as on what you smoke. Michaël Hajdenberg reports.
Was France attacked on November 13th because of what it is – or what it does? The debate over whether the country's perceived status as a beacon for individual and social freedom or its foreign policy in the Middle East was the main factor behind the attacks by Islamic State is dominating social media and private conversations as well as public discourse. However, Joseph Confavreux argues that rather than simply trying to put itself in the minds of the terrorists, French society should focus on the wider impact for the country and the political responses that are now needed.
In the wake of the Paris terror attacks, President François Hollande has carried out a 180 degree U-turn on French policy towards the Syria crisis. Previously the French stance was that neither Islamic State nor current leader Bashar al-Asad was acceptable in Syria. Now the approach is an all-out focus on destroying IS. On Thursday November 26th, Hollande will meet Assad's ally, Russian leader Vladimir Putin, in Moscow to help build an alliance to destroy the organisation. But, Thomas Cantaloube argues, apart from air strikes, there seems little real strategy to restore peace to Syria and find a political solution.
Following the recent terror attacks, public demonstrations have been banned in Paris. This includes the huge march for the climate planned for Sunday November 29th, on the eve of the opening of the COP 21 climate change conference in the French capital. Some groups have described the ban as an attack on civil liberties. Meanwhile the march organisers, the Coalition Climat 21, have vowed that some form of public demonstration – within the law – will still take place. Jade Lindgaard reports.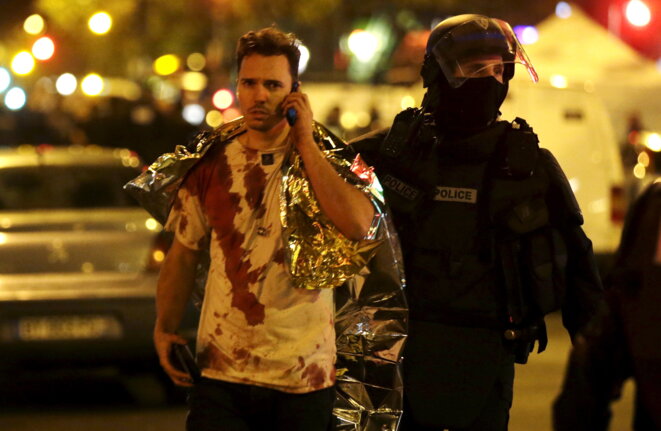 Un survivant du Bataclan, après l'assaut des forces de l'ordre © Reuters
French intelligence agencies knew as far back as 2009 that Ismaël Omar Mostefaï, one of the three suicide bombers who attacked the Batalcan concert hall in Paris, had been radicalised in a group in France led by a veteran jihadist with a history of planning terrorist attacks, Mediapart can reveal. Mostefaï had also been spotted with the group when it was under surveillance in April 2014, and the authorities were later informed that he had almost certainly gone to Syria, at the same time as another future Bataclan bomber. But by late 2014 the secret services no longer knew of his whereabouts. He did not resurface again until November 13th, 2015, when he was part of the coordinated attacks that killed 130 people in Paris. The French authorities, however, deny there was any intelligence blunder. Yann Philippin, Marine Turchi and Fabrice Arfi report.
The French parliament this week approved a three-month prolongation of the state of emergency introduced in the country immediately after the November 13th terrorist attacks in and around Paris which have left 130 people dead. The debate over the state of emergency powers is about its effectiveness, writes Mediapart editor in chief Edwy Plenel who argues here that the emphasis on security alone is a short-term response driven by an immediate political agenda which hands the perpetrators a symbolic victory, and which disarms French society as much as it protects it.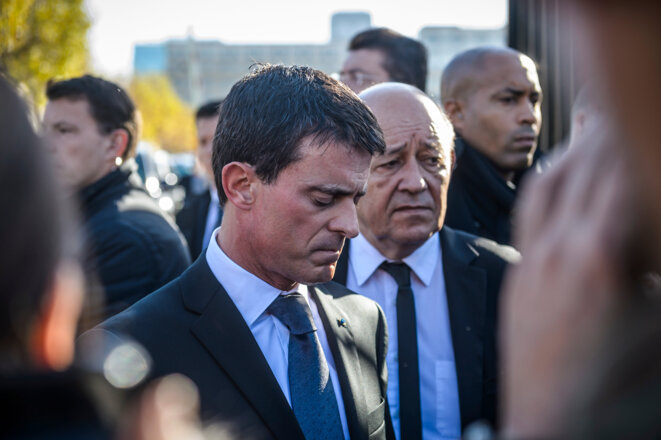 Manuel Valls, le 15 novembre © Reuters
Mediapart can reveal how during the Paris terror attacks on Friday night security service agents hastily removed France's prime minister Manuel Valls from his home which is just 300 metres from the scene of one of the restaurant shootings. At the same time, however, witnesses have complained that it took police around ten minutes to arrive at the scenes of the shootings as the gunmen rapidly made their murderous passage through the capital without once encountering a police unit. Karl Laske and Louise Fessard report.
One of the key issues arising from the Paris terror attacks on Friday November 13th is the apparent ease with which the perpetrators and other terrorists got their hands on significant numbers of "decommissioned" military assault weapons. Belgium, where some of those who carried out the Paris attacks lived, is said by many to be the hub of the flourishing illegal firearms trade in Europe. Mediapart's Brussels correspondent Ludovic Lamant interviewed Belgian expert Cédric Poitevin on the issue.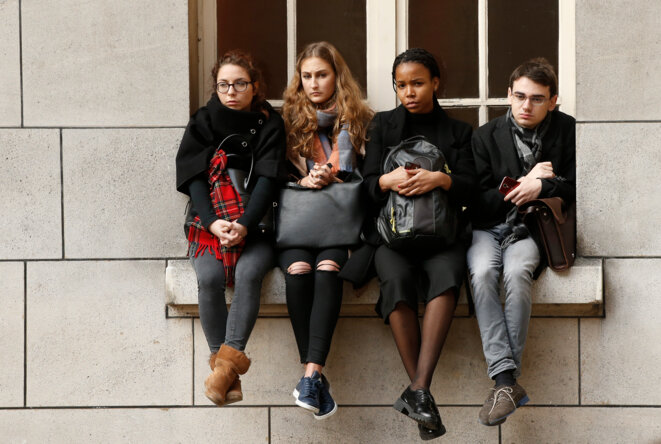 Les étudiants de la Sorbonne (Paris-V) observent une minute de silence, le lundi 16 novembre. © Reuters
The shootings and bombings in Paris on the evening of Friday November 13th targeted people – mainly young people – who had simply gone out to enjoy themselves. Two days after the killings Mediapart talked to pupils and students from the Paris region as they went back to school or university. Many spoke of their fear of being "in the wrong place at the wrong time" and are still struggling to make sense of the carnage. But they insist they are determined to carry on living their lives to the full. Mathilde Goanec, Dan Israel, Amélie Poinssot and Ellen Salvi report.
After the Charlie Hebdo shootings in January this year President François Hollande's key focus was on pulling the nation together. Now, after the terror attacks that struck Paris on Friday November 13th, the French head of state has espoused the language of war to justify more air strikes by French jets in Syria and Iraq, stronger internal security measures, more police officers and, most notably, a change to the French constitution. In a rare address to French MPs and senators Hollande said on Monday: "France is at war." As Lénaïg Bredoux and Martine Orange report, the mood in the French presidency is for tough talk and tough measures to combat jihadists – and also to stop the French Right from seizing the political initiative.
French President François Hollande announced a nationwide state of emergency on Saturday, granting the government exceptional powers in the wake of Friday's terrorist attacks in and around Paris that left at least 132 people dead. The powers initially last for 12 days, and Hollande announced on Monday he will seek parliamentary approval to prolong it for a period of three months. So just what are the special powers announced on Saturday? Michel de Pracontal explains.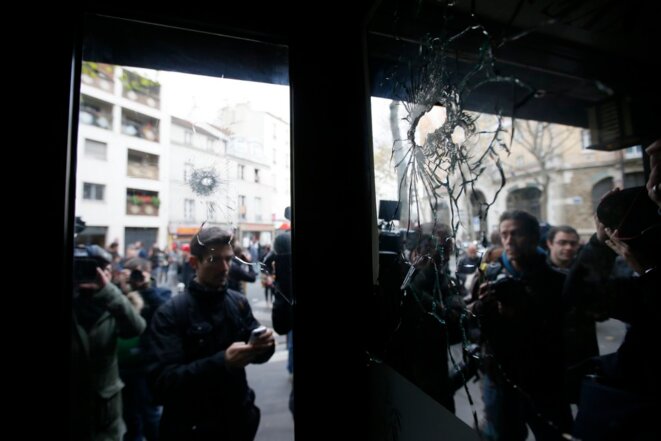 DATE IMPORTED:November 14, 2015Journalists work outside a restaurant where bullet impacts are seen the day after a series of deadly attacks in Paris, France, November 14, 2015. REUTERS/Gonzalo Fuentes © REUTERS/Gonzalo Fuentes
Islamic State has claimed responsibility for the Paris terror attacks on Friday, November 13th. But why has the terror group made France its "principal target", ahead of other states involved in the anti-IS coalition in Iraq and Syria? French journalist and author David Thomson, an expert on French jihadists, explains the background to Mediapart's Joseph Confavreux.
The terrorist attacks in Paris that have left at least 129 dead and hundreds wounded on Friday evening were committed by Islamists whose activities were apparently ignored by the French security services. Yet in the wake of the January attacks in Paris, French intelligence services were promised more financial and manpower resources, and this summer they were handed vast new intrusive surveillance powers. So just why is it that they appear to be overwhelmed by the jihadist threat? Michel Deléan and Louise Fessard report.