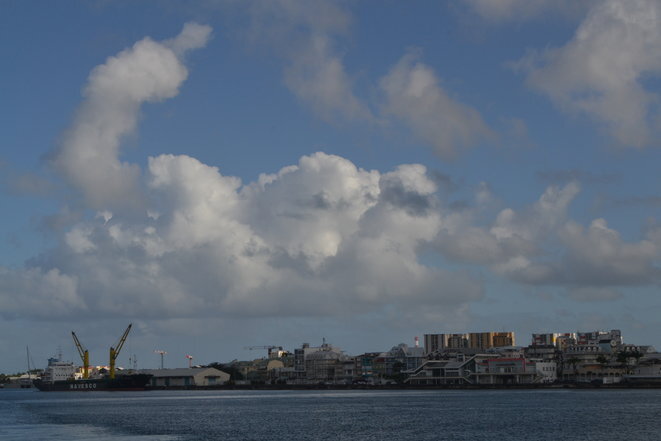 When goods enter the ports of French overseas départements - here, Fort-de-France in Martinique - they are subject to the 'octroi de mer' or dock dues. © JS
One of the recurring complaints of consumers living in France's overseas regions is how high the cost of living is compared with Metropolitan France. At the heart of this criticism is the 'octroi de mer' or dock dues, a tax paid on the import of goods to these territories. This tax has been in place since 1670 and the start of the French colonial system. And the European Union has just agreed to continue it to at least 2027. Julien Sartre reports on the history and impact of a tax that is a throwback to colonial days and which still leaves a burden on often poor French consumers living in overseas départements.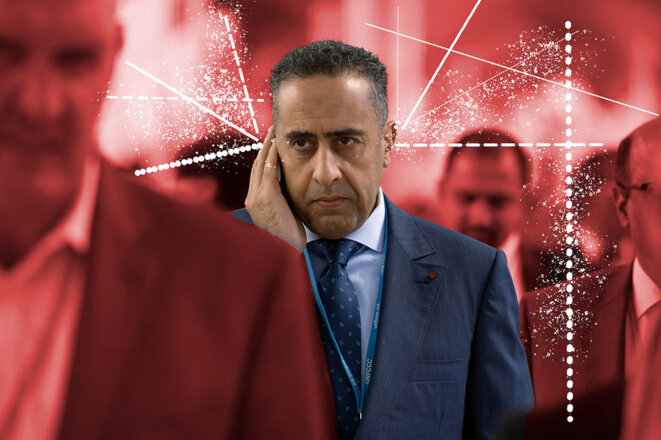 Abdellatif Hammouchi during a visit to the COP22 international conference on the climate at Marrakesh, November 8th 2016. © Photo Illustration Mediapart avec Fadel Senna / AFP
The Pegasus scandal has helped throw a spotlight on the repressive regime in Morocco, which is accused of using the Israeli-made spyware to target the phones of thousands of people, including politicians and journalists in France. In particular it has focused attention on the North African kingdom's top cop and spy chief Abdellatif Hammouchi and his role in the affair. As Mediapart reports, this key figure in the Moroccan state apparatus is feared in many Western capitals, including Paris.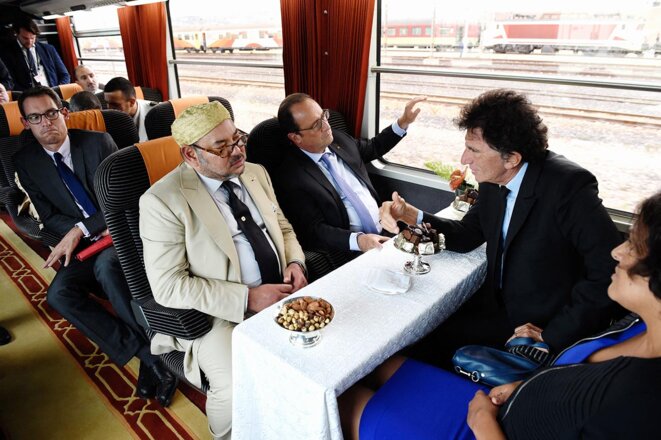 Moroccan king Mohammed VI with French president François Hollande, Jack Lang, president of the Institut du Monde Arabe in Paris and labour minister Myriam El Khomri on a train to Tangiers, September 20th 2015. © Photo Alain Jocard / AFP
The Pegasus spyware revelations show how Morocco has targeted at least 10,000 mobile phones in recent years. These include the phones of several dozen French citizens, including journalists, the president of the Republic Emmanuel Macron and government ministers and senior opposition figures. Yet for the last thirty years the political, media and cultural elites here in France have closed their eyes to the repressive behaviour of the North African monarchy. Lénaïg Bredoux and Iyes Ramdani report.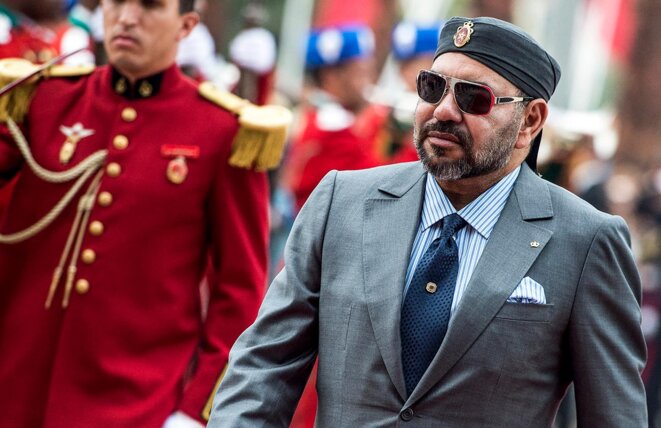 The king of Morocco, Mohammed VI, during the opening of the Agdal railway station at Rabat, on November 17th 2018. © Photo Fadel Senna / AFP
The revelations about the use made by certain countries of the Pegasus spyware against journalists around the world have focused attention on Morocco's close surveillance of the media. As Mediapart – itself a victim of Moroccan spying - here reveals, the North African kingdom's clampdown targets not just independent journalists and publications but human rights activists too. The regime has also cynically made use of the #MeToo movement and the subsequent heightened global awareness about sexual and sexist violence to discredit those who criticise and oppose it by manipulating or fabricating evidence of a sexual nature.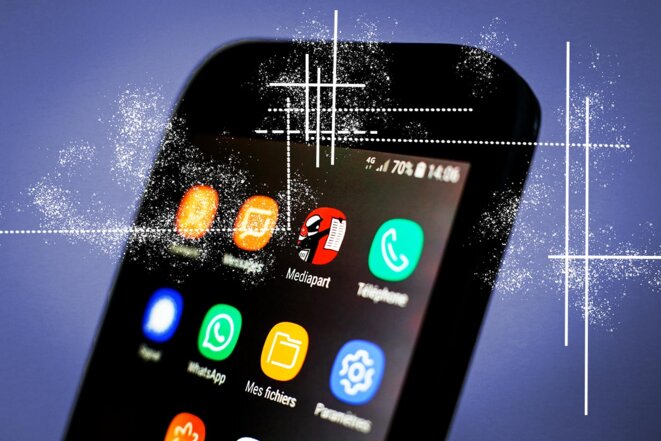 © Photo illustration Sébastien Calvet / Mediapart
Mediapart has started legal action after revelations that two of our journalists had their phone hacked with the Pegasus spyware by the Moroccan secret services. The software, made by Israeli firm NSO Group, was sold to government clients around the world and was supposedly to be used only to "fight serious crime and terrorism". But a date leak and investigations by various media around the world show that some countries drew up lists of telephone numbers that could be targeted with the spyware – and these lists include many journalists. Among them are Mediapart's co-founder and publishing editor Edwy Plenel and reporter Lénaïg Bredoux.  Analysis has shown their phones were infected with the spyware by Moroccan agents in 2019 and 2020. Mediapart has filed a formal complaint with the state prosecutor in Paris, which has now opened a criminal investigation. Meanwhile it has also emerged that French president Emmanuel Macron's phone was targeted with the spyware by Morocco in 2019.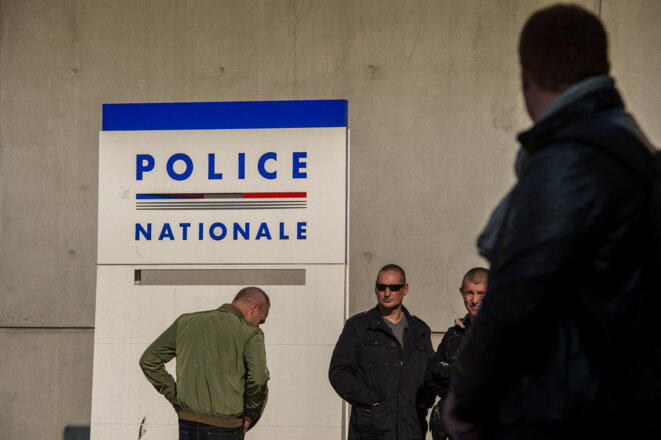 Police officers gather in front of the police HQ in Lille on October 11th 2016 in support of their colleagues attacked at Viry-Châtillon near Paris. © Philippe HUGUEN / AFP
Prosecution authorities in France have opened an investigation into police officers who are suspected of having truncated the statements of a key witness and some suspects in relation to a petrol bomb attack on a police patrol car at Viry-Châtillon in the southern suburbs of Paris in 2016. Largely as a result of this doctored evidence some innocent youths were jailed in 2019 and were only released on appeal in April this year. The launch of this new investigation follows formal complaints by five lawyers representing some of those accused, as previously revealed by Mediapart. Pascale Pascariello and Antton Rouget report.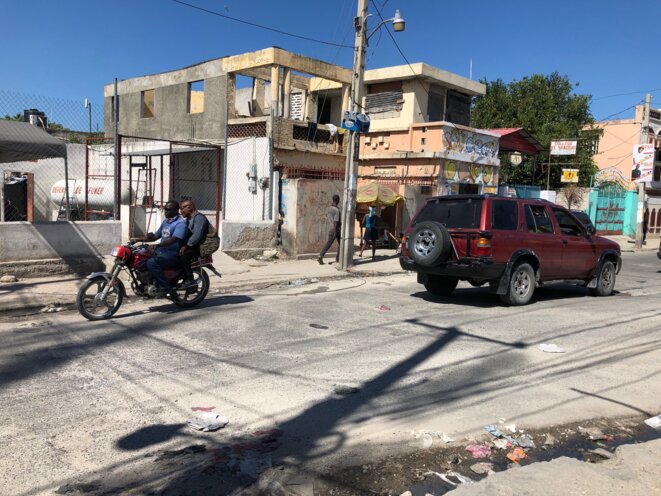 The centre of Port-au-Prince, capital of Haiti, in November 2019. © FB / Mediapart
Haiti has been in the news recently after the assassination of President Jovenel Moïse by foreign mercenaries in early July 2021. Away from the headlines, however, there remains an unresolved issue between France and its former Caribbean slave colony. For more than a century, from 1825 to the 1950s, Haiti paid France a colossal sum in exchange for recognising its freedom and independence. As Mediapart's co-founder François Bonnet reports, some prominent figures are asking whether the French authorities should now pay this money back.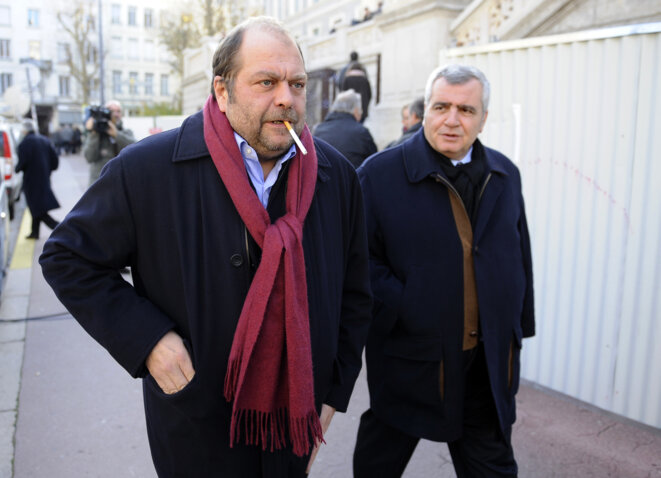 Éric Dupond-Moretti, left, and his friend and fellow lawyer Thierry Herzog at Saint-Étienne in south-west France in December 2011. © PHILIPPE DESMAZES / AFP
For the first time in the history of the French republic, a serving minister of justice has been placed under formal investigation by examining magistrates. On Friday July 16th Éric Dupond-Moretti was told he faces a judicial probe by the Cour de Justice de la République (CJR) – which handles allegations relating to a minister's official functions - over claims of an unlawful conflict of interest between his position as justice minister under President Emmanuel Macron and his previous role as a high-profile lawyer. In particular Dupond-Moretti is suspected of using his ministerial post to settle scores with prosecutors and a judge with whom he clashed when working as a lawyer. Lawyers acting for Dupond-Moretti, who denies any wrongdoing, say he intends to stay in his position despite the judicial investigation. Fabrice Arfi reports.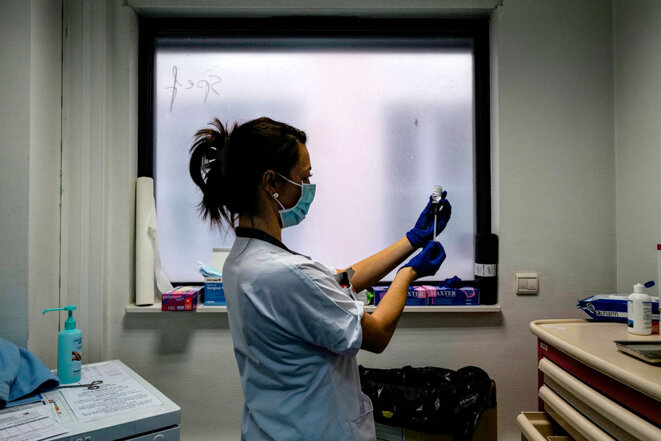 A nurse prepares a dose of the AstraZeneca vaccine at the Édouard-Herriot hospital in Lyon, in east France, February 6th 2021. © Photo by Olivier Chassignole / AFP
On Monday July 12th President Emmanuel Macron announced that all healthcare workers in France will have to be vaccinated against Covid-19 by September 15th. He also hinted that if the Delta variant of the disease takes hold and not enough of the public get a jab then this obligation could be extended to the whole population. The announcement has had a mixed reaction among some healthcare staff. The president's words have also sparked a wider debate about the ethics of mandatory vaccination and highlighted some glaring weaknesses in French public health policy since the start of the Covid epidemic. Rémi Yang, Mathilde Goanec, Jérôme Hourdeaux and Donatien Huet report.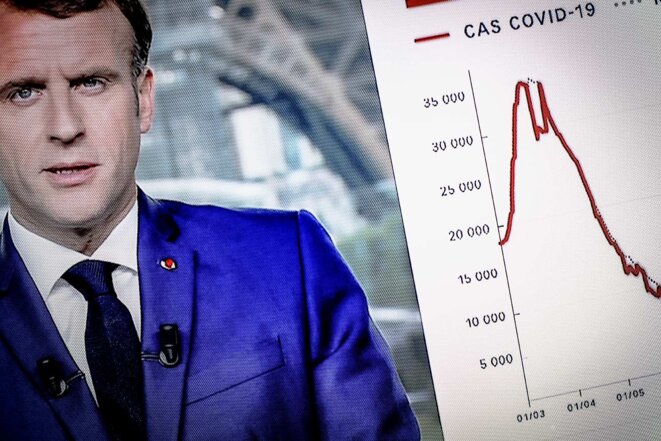 President Emmanuel Macron's televised address on July 12th 2021. © Sébastien Calvet/Mediapart
The French president addressed the nation on the evening of Monday July 12th to announce that all health workers will have to get a Covid vaccination between now and September 15th. In addition, Emmanuel Macron said that citizens will soon require a Covid pass or 'passport' for many social activities; for cinemas from July 21st and for bars and restaurants from the start of August, as well as for train journeys and longer coach trips. At the same time the president took the opportunity to praise his own track record as head of state before and during the Covid crisis and to set out some potentially controversial reforms just months ahead of next April's presidential election. Ellen Salvi reports on the president's latest televised address.
Adolf Hitler's notorious, two-volume manifesto Mein Kampf was published in France last month in a scholarly version, heavily annotated by a team of historians, destined as a work of academic reference that analyses and explains the contexts, notably historical and cultural, of the hate-filled text. Olivier Mannoni is the German-to-French translator of this revised version of Hitler's rantings, and here he tells Santiago Artozqui of the challenges of working for nine years on the "sticky, vile, deceitful, paranoiac and violent text", and how the rigour of the historians gave a "solidity" and "reassuring stability" to his work.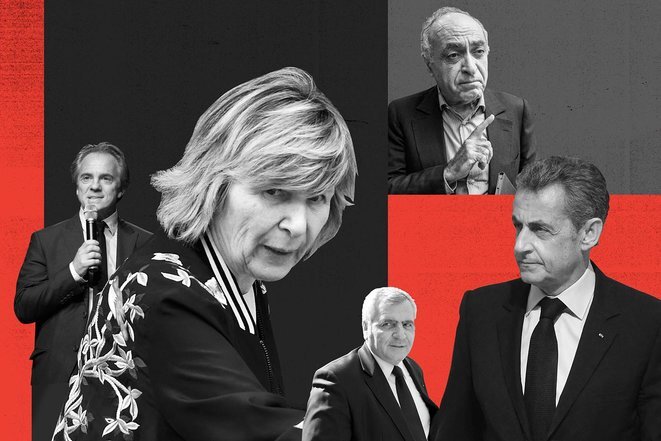 Michèle Marchand and (clockwise from left) Hervé Gattegno, Ziad Takieddine, Nicolas Sarkozy and Thierry Herzog. © Photo Illustration Simon Toupet /Mediapart avec AFP
Documents to which Mediapart has obtained access reveal evidence suggesting how a witness tampering plot was mounted to discredit the case against former French president Nicolas Sarkozy in a judicial investigation into the alleged funding of his 2007 election campaign by the regime of late Libyan dictator Muammar Gaddafi. According to judges investigating the alleged plot, it was "aimed at influencing the statements of a witness and to mislead, even to publicly discredit, the examining magistrates in charge of a case of particular sensitivity". Fabrice Arfi, Karl Laske and Antton Rouget report.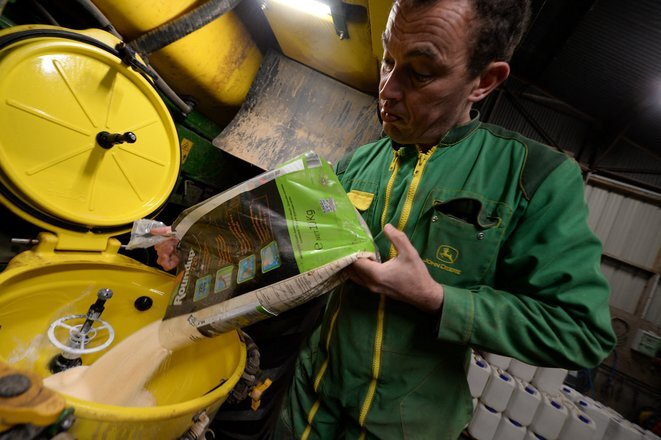 A farmer in the Sarthe département (county) of north-west France, filling up his crop dusting machine with a glyphosate product for use on his maize fields, April 2021. © Jean-François Monier / AFP
France's National Institute of Health and Medical Research, INSERM, has published a report on its studies into the use of pesticides and the increasing evidence of their causal effect on grave pathologies, including cancers, among farmers and also among children. Amélie Poinssot interviews toxicologist Xavier Coumoul, a co-author of the report.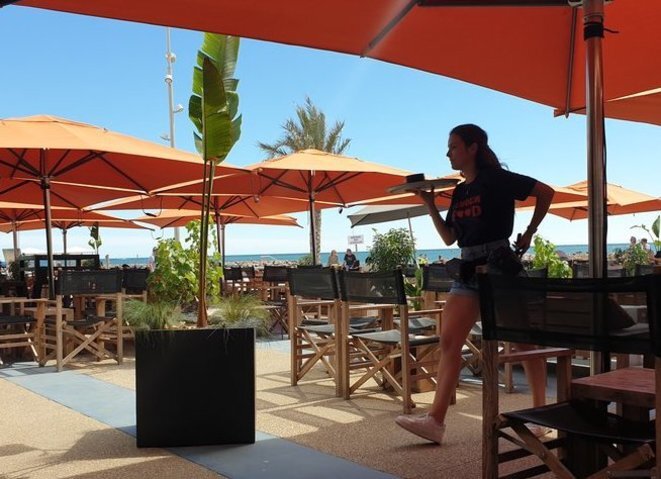 Margot, a waitress at the Café Jules in La Grande-Motte, southern France. © Cécile Hautefeuille
In a gradual lifting of the restrictions introduced to contain the Covid-19 epidemic in France, cafés and restaurants were allowed to re-open in June after a lengthy period of closure. But employers report increasing difficulties in finding staff, many of whom appear to have decided, after months laid off, to quit insecure and demanding jobs in which they complain of being exploited and undervalued. Cécile Hautefeuille reports from the Mediterranean resort of La Grande-Motte.