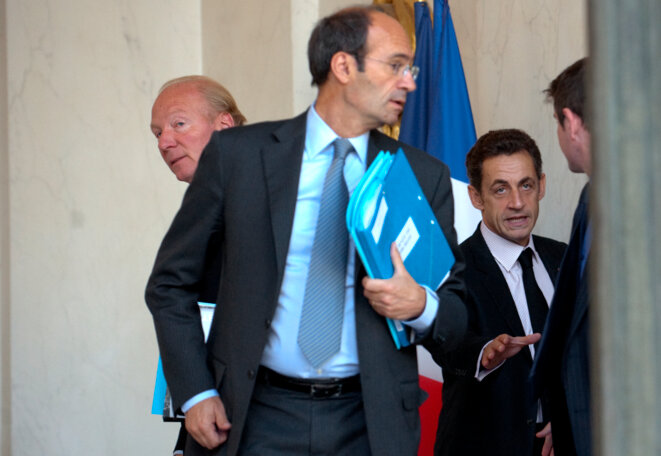 Éric Woerth (centre) treasurer of the 2007 presidential election campaign of Nicolas Sarkozy (right). © Reuters
A French judicial investigation into the suspected illegal financing of Nicolas Sarkozy's 2007 presidential election campaign by the regime of late Libyan dictator Muammar Gaddafi, opened after evidence of Tripoli's agreement to make the payment was published by Mediapart, has in recent weeks stepped up questioning of suspects and witnesses in the case who have confirmed the abundant use of cash sums to pay campaign staff. Several former managers and secretaries of the campaign were placed in custody and questioned by police who also carried out searches of their homes. Fabrice Arfi, Karl Laske and Mathilde Mathieu report.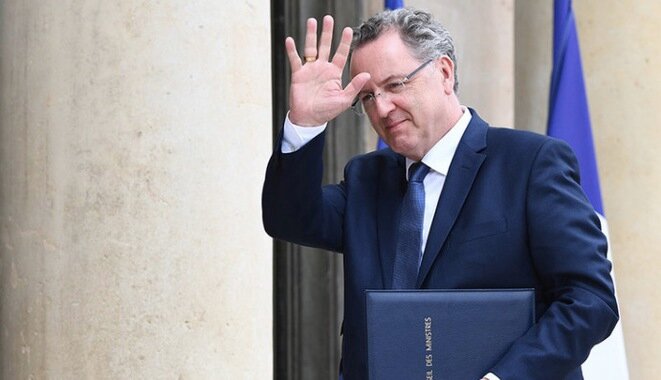 Richard Ferrand, Minister for Territorial Cohesion, at the Elysée Palace. © Reuters
Richard Ferrand, appointed to President Emmanuel Macron's first government as Minister for Territorial Cohesion, has become engulfed in a controversy over the employment of his son as his parliamentary assistant and alleged favouritism in a 2011 property deal handed to his wife by a mutual insurance company when Ferrand was its managing director. The allegations against Ferrand, a socialist MP who last year became secretary general of Macron's En March! movement, are a major embarrassment for the new government which is about to introduce legislation aimed at cleaning-up political life. But, Mediapart's political commentator Hubert Huertas argues here, Ferrand's political opponents would do well to think twice about their calls for his dismissal.
Newly-elected French President Emmanuel Macron has made the introduction of structural reforms in France one the priorities of his five-year term, beginning with a freeing-up of labour market regulations which he intends pushing through parliament this summer in the form of executive decrees. He began consultations with union leaders and employers this week, but he has made clear that the fundamentals are not negotiable, raising the prospect of a costly social conflict. To help steer this controversial and potentially divisive labour law reform into place a team of three key advisors have been appointed and who are profiled here by Dan Israel and Manuel Jardinaud.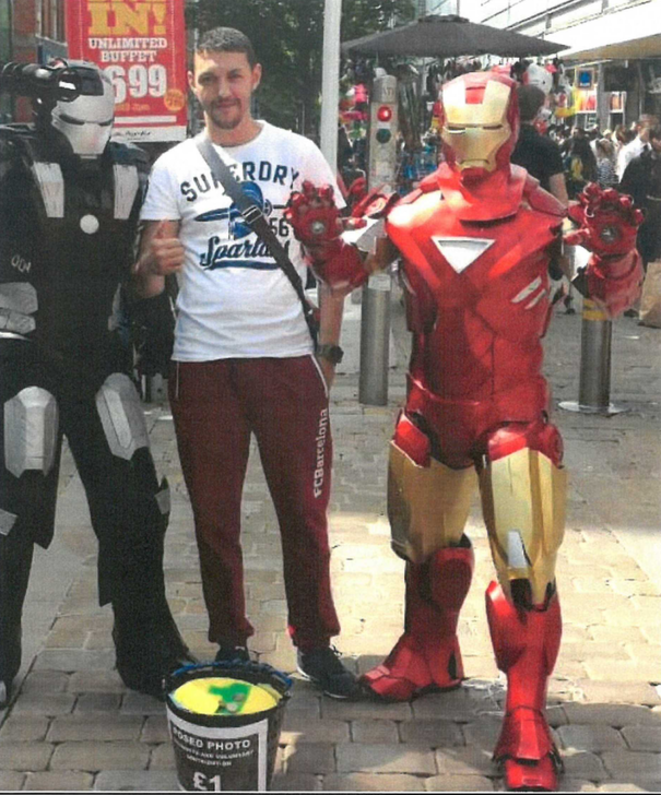 Islamic State operative Mohamed Abrini (centre). © DR
Responsibility for the suicide bombing at the Manchester Arena on Monday night, in which 22 people were killed and another 52 were injured, has been claimed by the Islamic State group. One of the Belgium-based IS cell that carried out the November 2015 attacks in Paris and the March 2016 bombings in Brussels travelled to Britain in July 2015, where he visited and photographed locations in Birmingham and Manchester, including a railway station and the Manchester United stadium Old Trafford. Matthieu Suc reports.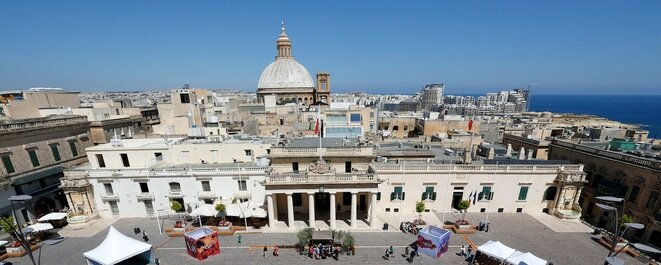 St.George's Square in the Maltese capital Valletta. © Reuters
Malta, which currently heads the European Union's rotating presidency, relies on more than tourism as a source of revenue. Its secretive financial structures and generous tax schemes serve to make it one of the EUs most attractive havens for tax avoidance and money laundering by individuals and corporations and which cost other countries billions of euros in lost revenues, reveals a four-month investigation by Mediapart and its partners in the European Investigative Collaborations journalistic collective (EIC).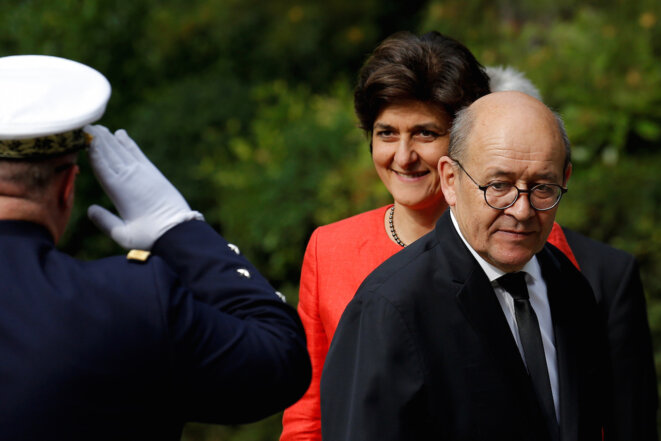 Centrist Sylvie Goulard, the new French defence minister, with socialist Jean-Yves Le Drian, appointed as foreign affairs minister.
The makeup of French President Emmanuel Macron's new government is crucial to his chances of obtaining a parliamentary majority in legislative elections in June, when his République En Marche party faces its first electoral test against the traditional parties of the Left and Right. The maverick centrist has succeeded in including renegade conservatives and socialists, along with his centre-right allies, as well as a key figure from the Green camp and others from "civil society". But, as Ellen Salvi and Mathieu Magnaudeix report, it nevertheless remains a pale exercise of what was promised to be a political "renewal".
Just hours after naming the conservative Edouard Philippe as his prime minister on Monday, France's new president Emmanuel Macron flew off to pay a visit to German Chancellor Angela Merkel. She, like European Commission president Jean-Claude Juncker, has hailed the election of pro-EU Macron, and notably his announced structural reforms of France's economy, which are at the heart of his political programme. Macron considers they represent a panacea for the ills in French society, but are they really appropriate to the country's economic situation? Romaric Godin weighs up the widely different views on the mantra that there is no alternative to "structural reforms".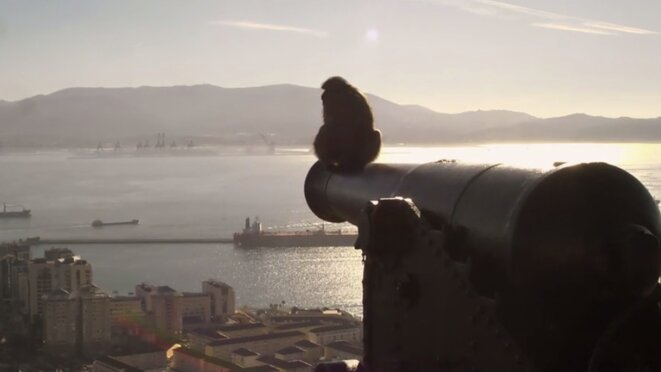 Monkey business: a scene from 'Territory'. © Eleanor Mortimer
Gibralter, the British-ruled territory on the southern tip of the Iberian peninsula, is home to a human population of about 30,000, but also several hundred Barbary macaques, the only wild monkeys to be found in Europe, who regularly descend from the wild reserve of the Rock to jump and scurry around the densely-populated town underneath. Humans and monkeys live a tense relationship, fought with peashooters and guile, for the monkeys are blissfully unbound by - and mocking of - human notions of territory, as illustrated in this award-winning short documentary, Territory, by Eleanor Mortimer.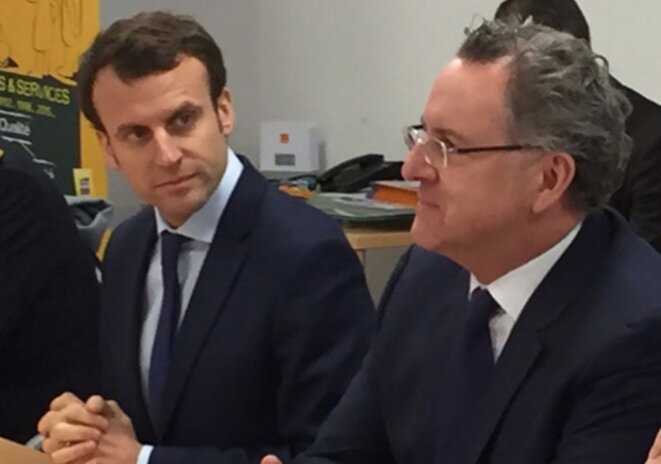 Emmanuel Macron (left) with his République en Marche! movement's general secretary Richard Ferrand.
The result of France's parliamentary elections in June appears as uncertain as, just weeks ago, did that of the presidential elections. President-elect Emmanuel Macron's fledgling République en Marche! movement has unveiled 428 candidates it will field, comprised mostly of political rookies and unknowns. Meanwhile, the old traditional parties, apprehensive after their presidential election defeat, place their hopes in the electorate backing off from the political unknown of the newly-elected maverick president. Mediapart's political commentator Hubert Huertas examines why, in these crucial elections, once again nothing is happening as was foreseen.
France goes back to the polls next month for crucial legislative elections to decide the composition of the 577-seat lower house, the National Assembly. President-elect Emmanuel Macron's newly-created maverick centrist movement is hoping to win a majority and, in the process, smash the power of traditional parties of the Left and Right and halt the surge of the far-right. Whatever the outcome of this most uncertain battle for survival, the configuration of the French political scene will emerge profoundly altered, argues political scientist Fabien Escalona.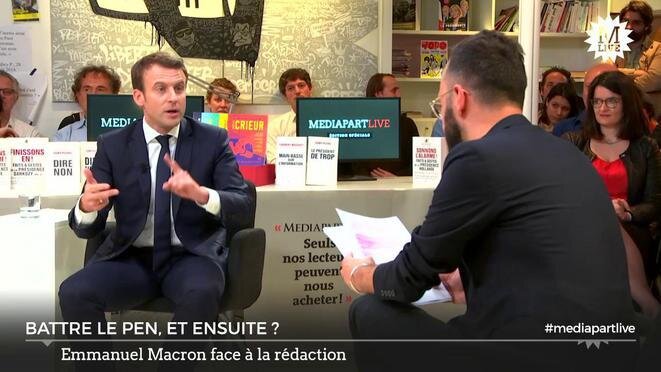 © Mediapart
Emmanuel Macron, who was elected as France's new president on Sunday, gave his last interview before his landslide victory to Mediapart, in which he detailed the measures and policies he would adopt over his five-year term of office. During the two-hour interview on Friday evening, he detailed his approach to a number of foreign policy issues - which were little mentioned during his campaign - including French military intervention abroad, his views on Donald Trump and Vladimir Putin, the Israeli-Palestinian conflict, the Greek debt crisis, and US reluctance to implement the Paris COP 21 measures to combat climate change.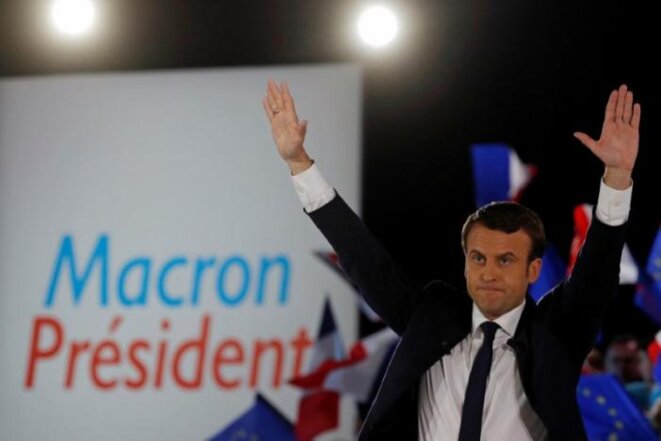 The next president of France: Emmanuel Macron. © Reuters
Independent centrist candidate Emmanuel Macron was on Sunday elected as France's next president in a landslide victory over his rival, far-right leader Marine Le Pen. Final results gave Macron a 66.1% share of votes cast against 33.9% for Le Pen, a remarkable win for the 39-year-old political maverick but which was significantly boosted by an anti-Le Pen vote and tempered by the unusually high rate of abstentions and blank votes. Meanwhile, despite Le Pen's defeat her score represents a historic surge in support for the far-right giving it its highest-ever result, as attention now turns to the crucial legislative elections in June to elect France's 577 MPs. Follow here the election night reactions and analyses as the events unfolded. Reporting by Michael Streeter and Graham Tearse.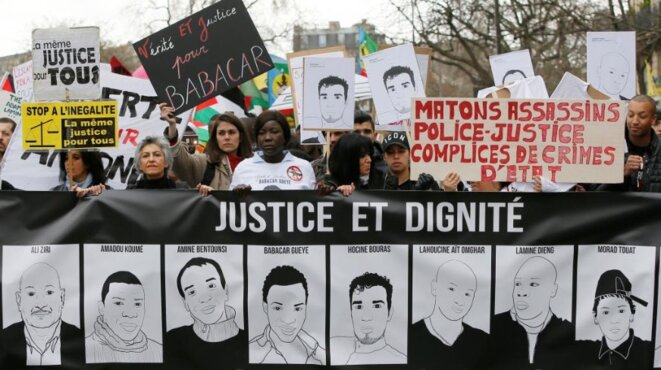 Nearly 7,000 demonstrators marched in Paris on March 19th, 2017, against police violence. © Reuters
The residents of France's working-class multi-ethnic areas abstained from the first-round elections in greater numbers than the national average. Yet if they turn out in force in Sunday's second round vote between Emmanuel Macron and Marine Le Pen they could yet have a big say in the outcome. Though fed up with being told who to vote for, many of the inhabitants come from immigrant backgrounds and already experience everyday racism they fear will only get worse if the far-right win power. However, many are also afraid Macron's liberal economic policies will make their lives even harder. Carine Fouteau assesses the mood in areas that have been largely overlooked in the French presidential campaign.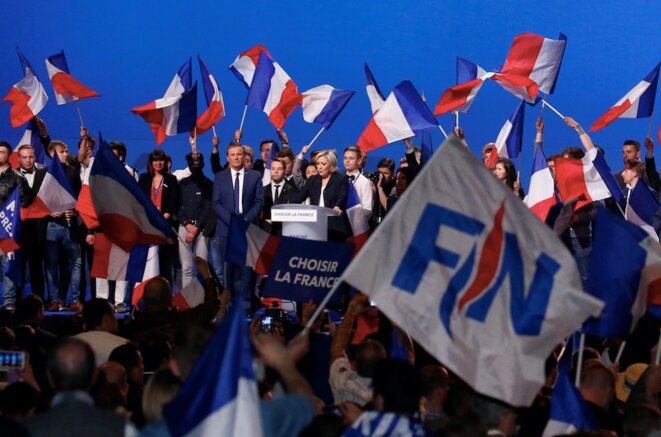 The far right's Marine Le Pen during a politcal rally at Villepinte near Paris on May 1st, 2017. © Reuters
Mediapart is calling for a vote for Emmanuel Macron against Marine Le Pen in the second round of the French presidential election on Sunday May 7th. This is not out of approval for his manifesto, writes Mediapart's publishing editor and co-founder Edwy Plenel, but in defence of democracy as an arena where one has the freedom to object - including against Macron's policies. For under the authoritarian and identity-obsessed far right, he says, this fundamental right would certainly come under challenge.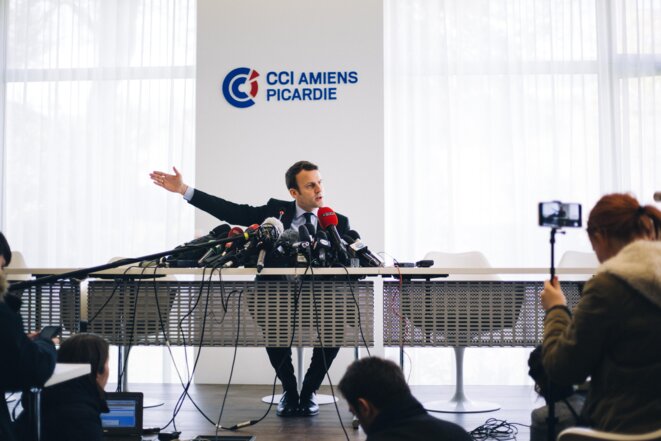 Emmanuel Macron at the Chamber of Commerce in Amiens, April 26th, 2017. © Nicolas Serve / Hans Lucas
Emmanuel Macron's appeals for a unified front against the far right's Marine Le Pen in the run-off for the presidential election have been hit by a major handicap – himself. The former merchant banker and civil servant's CV, image and policies repel many on both the Left and Right. In response he has sought to offer pledges for those who did not vote for him in the first round. But in essence, says Mathieu Magnaudeix, the centrist candidate is holding to his policy line and is aiming for a major and rapid realignment of French politics if he is elected.