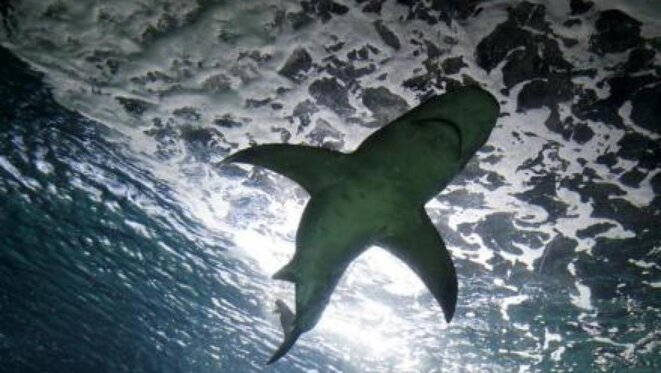 Nine people have died from shark attacks on La Réunion since 2011. © Reuters
Over the past six years a spate of shark attacks have hit the French Indian Ocean island of La Réunion, leaving nine people dead and many others badly wounded. The problem, virtually unknown before 2011, has traumatised the local population, and in an effort to reduce the danger local authorities have introduced a programme of shark culling, which has outraged conservationists. In all, more than 10 million euros have been ploughed into measures including the erection of safety netting around beaches and the employment of divers to scout for predators close to resorts. But the attacks are continuing, and despite numerous scientific studies no-one knows why. Julien Sartre reports from La Réunion, where locals are anything but united on how to deal with the problem.
Emmanuel Macron's new government has announced the introduction of sweeping tax cuts in its 2018 budget which it insists will stimulate growth and reduce unemployment. But a recent study by the French Economic Observatory found that the tax breaks will above all benefit the wealthiest 1% of the French population, without any significant benefit to the economy. Romaric Godin reports.
Emmanuel Macron and General Pierre de Villiers. © Reuters
After a glowing political honeymoon on the international stage, President Emmanuel Macron was on Wednesday engulfed in his first crisis since his election in May after the chief-of-staff of France's armed forces, General Pierre de Villiers, resigned amid a row between the two men over defence budget cuts. But while there is widespread outrage from the Left and Right at Macron's humiliating treatment of de Villiers, who he rebuked in public over opposition to the cuts for a military the general says is at "breaking point", the controversy has widened to the new president's apparent contempt for parliament's right to information. Lénaïg Bredoux reports.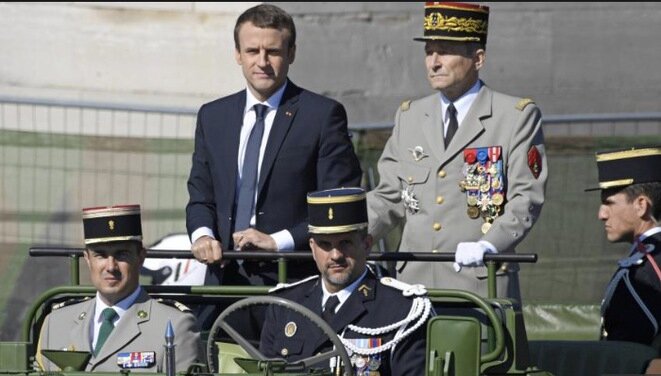 President Emmanuel Macron and General Pierre de Villiers (standing) during this year's Bastille Day parade. © Reuters
President Emmanuel Macron's government last week announced a package of public spending cuts, including 850 million euros to be slashed from France's 2017 defence budget in an effort to bring the public deficit to below 3% of GDP, as demanded by the EU. That prompted a furious reaction from the French military's chief-of-staff, General Pierre de Villiers, who was subsequently publicly slapped down by Macron, reminding the general who is "the boss". In this wry analysis of the spat and the controversy it has provoked, Mediapart political commentator Hubert Huertas sees an illustration of political gymnastics by Left and Right, but also a surprising insight into Macron's forthcoming labour law reforms.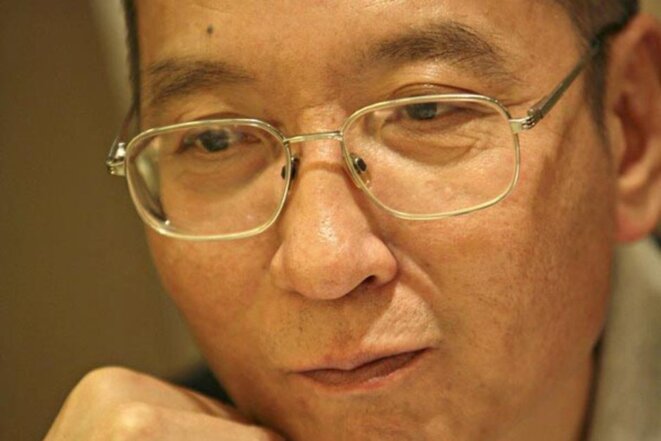 Liu Xiaobo. © Reuters
The death on July 13th of imprisoned Chinese human rights activist and Nobel Peace Prize winner Liu Xiaobo has highlighted the reticence of Western nations to clearly denounce the fierce repression meted out by the Chinese authorities against pro-democracy campaigners. Mediapart's Beijing correspondent Elodie Goulesque reports on how rights issues have fallen off the agenda of the international community in face of China's rise to the rank of the world's second superpower.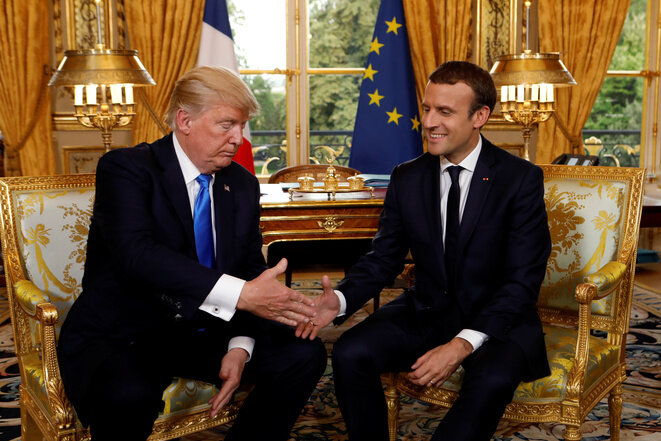 Donald Trump and Emmanuel Macron at the Elysée Palace july 13th. © Reuters
US President Donald Trump's two-day visit to Paris last week saw him courted with great pomp and ceremony by his French counterpart Emmanuel Macron whose red-carpet welcome provided Trump with a welcome diversion from political turmoil at home and a rare break from his isolation on the international stage. Macron, meanwhile, seized the opportunity of the vacuum created by Brexit and forthcoming elections in Germany to position Paris as Washington's new "special friend" in Europe. Mediapart's Washington correspondent Philippe Coste reports on how the manoeuvring was viewed from across the Atlantic.

The British parliament was on Thursday presented with the bill of law that aims to transfer European Union (EU) law into British law at the moment of the country's exit from the EU in two years time. The European Union (Withdrawal) Bill, more widely known as the "repeal bill", is necessary to avoid a black hole in legislation on the day after Britain leaves the union, but will allow the British parliament to subsequently remove any number of the EU laws adopted into national legislation. For an explanation of the complexity of the task, Mediapart's UK correspondent Hélaine Lefrançois spoke to lawyer Robert Bell, specialised in EU and British competition laws with the London law firm Bryan Cave who says that, beyond the proposed legislation, "I just do not see how Brexit can be negotiated in two years".
Seven years after the revelation of the so-called "Bettencourt affair", the tentacular scandal of corruption, fraud, tax evasion, conflicts of interest and political funding centred on the entourage of Liliane Bettencourt, heiress of the L'Oréale cosmectics giant, those who exposed the crimes committed against the dementia-suffering billionaire were tried by a Bordeaux appeal court last month for invasion of privacy. They are Bettencourt's butler, who secretly recorded compromising conversations of those who were swindling his employer, and Mediapart and weekly magazine Le Point which published the contents of the tapes. Mediapart publishing editor Edwy Plenel explains here the history of an absurd legal procedure led by a public prosecutor's office that has never accepted an initial court ruling that threw out the case on the grounds of the press's duty to inform and the public's right to know.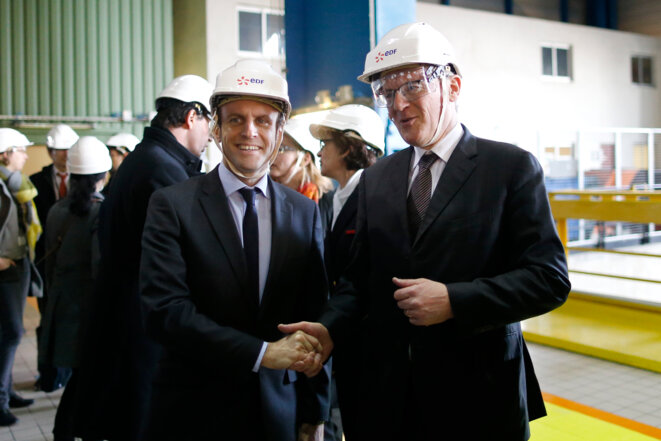 Emmanuel Macron, then economy minister, and EDF boss Jean-Bernard Lévy at a nuclear power station at Civaux, near Poitiers, March 17th, 2016. © Reuters
The new French government has reacted as if it were surprised at the news that the French-led project to build a new nuclear power station in south-west England is already behind schedule and over budget. Yet it has known about the financial and technical risks posed by the Hinkley Point scheme for a long time, says Martine Orange. For the minister who personally backed and oversaw the massive project during the last presidency now himself occupies the Élysée.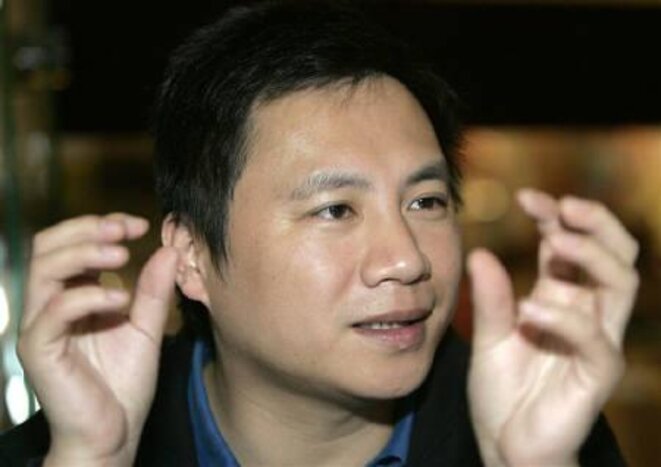 Dissident Wang Dan. © Reuters
Wang Dan was one of the student leaders in the Tiananmen Square protests in Beijing in 1989 and was later jailed twice before going into exile. He recently visited Paris to give a series of lectures on the continuing impact of the movement and spoke to Mediapart about his involvement in the protests and his reading of the situation today in China and its role in the world. Gilles Taine reports.



Last month an investigation in which Mediapart was a partner showed how three key players in the French economy, Renault, Peugeot-Citroën and Auchan, used lax laws in Malta to reduce their tax bill in France. Now, other documents in the Malta Files investigation reveal that Groupe April, an insurance firm created by entrepreneur Bruno Rousset 30 years ago, is also using the Maltese tax loophole to avoid paying French corporate tax. Rousset has previously publicly stated that he believes his company should serve the "general interest". Mediapart's Yann Philippin and Sylvain Morvan from investigative website Mediacités report.
For a long time French overseas territories have been spared armed jihadism and the phenomenon of young people heading off for the war zones of Syria and Iraq. But the recent trial in Paris of a young man from La Réunion in the Indian Ocean for a conspiracy to carry out a terrorist act has changed that. The conviction of Naïl Varatchia also challenges the widely-perceived idea that the Muslim community on the island is an example of tolerance. Julien Sartre reports.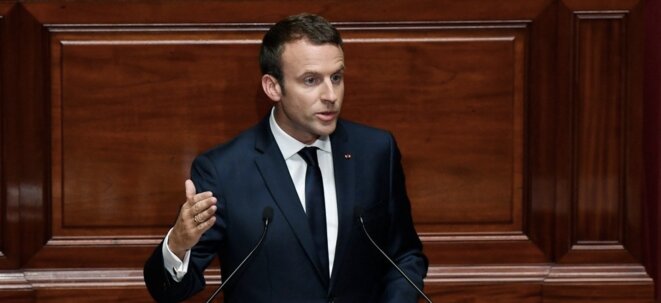 President Emmanuel Macron addressing the special Congress at Versailles, July 3rd, 2017. © Capture d'écran France 2
In a high-profile and highly-unusual speech before both chambers of the French Parliament in the sumptuous surroundings of Versailles on Monday July 3rd, President Emmanuel Macron claimed to be setting the "course" for his presidency. But, says Ellen Salvi, it turned out to be an hour-and-a-half of messages that had already been delivered during his election campaign and he announced little more than a promise of some institutional reforms.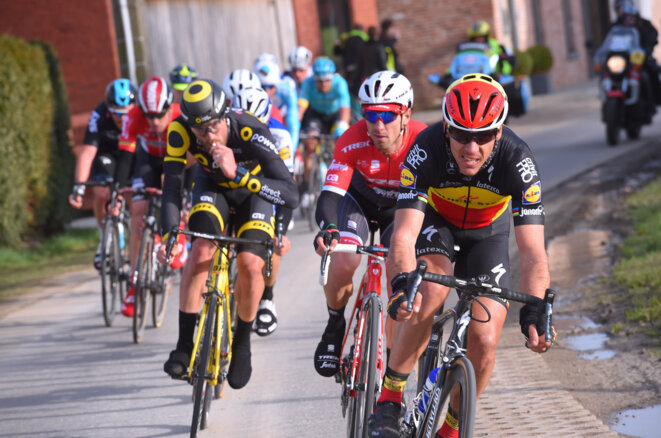 Belgian cyclist Philippe Gilbert, in lead, who had a company based in Luxembourg. © Quick step
As the Tour de France gets underway, Mediapart has examined the way that key figures in the world of cycling minimise their tax payments by putting money earned from image rights into companies based in Cyprus, Switzerland or Luxembourg. Some major names such as the Belgian cyclist Philippe Gilbert and the French star Tony Gallopin have taken advantage of this tax route. Antton Rouget reports.
The new Members of Parliament have taken up their seats in the National Assembly following the Parliamentary elections and they consist of new faces, new groups and a new social demographic. Many of them are from a non-political, civic society background, with their own habits, customs and beliefs and bringing with them, too, a desire to circumvent the old political obstacles and delays of the past. But, says Hubert Huertas, this new group may themselves soon end up personifying those very same old political ways.