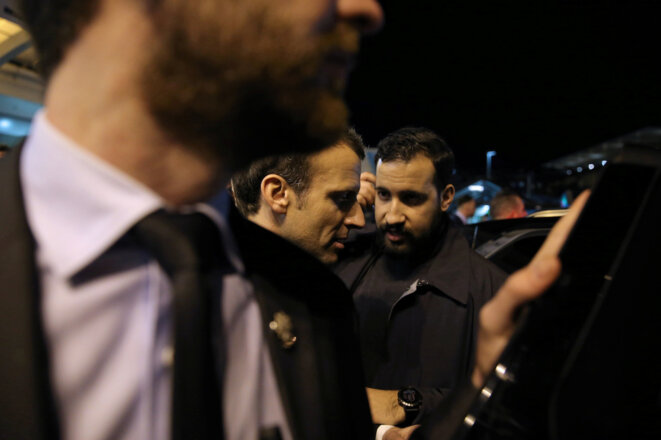 Emmanuel Macron and Alexandre Benalla. © Reuters
Mediapart refused a highly unusual attempt by prosecutors in Paris on Monday morning to search its editorial offices as part of an  investigation that notably cites a breach of the personal privacy of Alexandre Benalla, the disgraced controversial former security aide to President Emmanuel Macron. He was sacked and placed under formal investigation last summer after video footage emerged of him and ruling LREM party security manager Vincent Crase using violence on protestors during demonstrations in Paris on May 1st. The new prosecution services' probe follows Mediapart's revelations last week of extracts from a compromising conversation between Benalla and Crase, who met in violation of their conditional bail, which raise wider questions over Benalla's actions while employed by the presidency, and also his relationship with the president. Mediapart exercised its legal right to refuse the raid on the grounds of protecting the identity of its sources.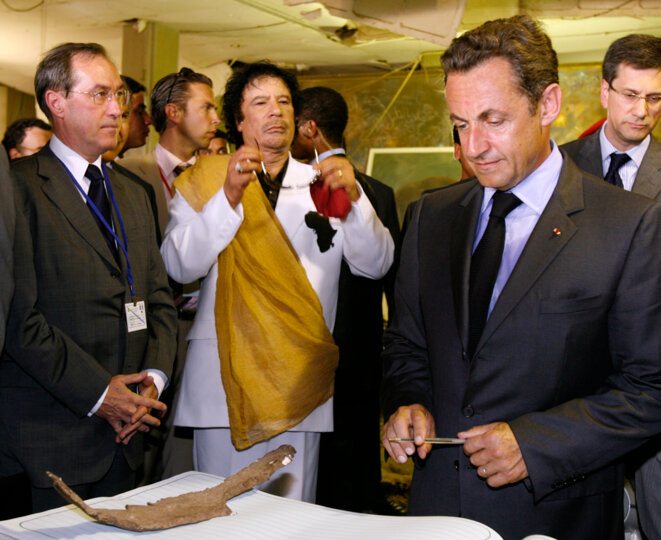 Left to right: the French president's chief aide Claude Guéant, Muammar Gaddafi and Nicolas Sarkozy inTripoli in 2007. © Reuters
France's highest appeal court, the Cour de Cassation, has rejected an appeal by former president Nicolas Sarkozy in a case against Mediapart relating to the authenticity of a key document showing he was promised Libyan funding for his 2007 election campaign. The judgement, published on Wednesday January 30th, means that the former president can no longer evade the election funding scandal revealed by this site, says Mediapart's publishing editor Edwy Plenel.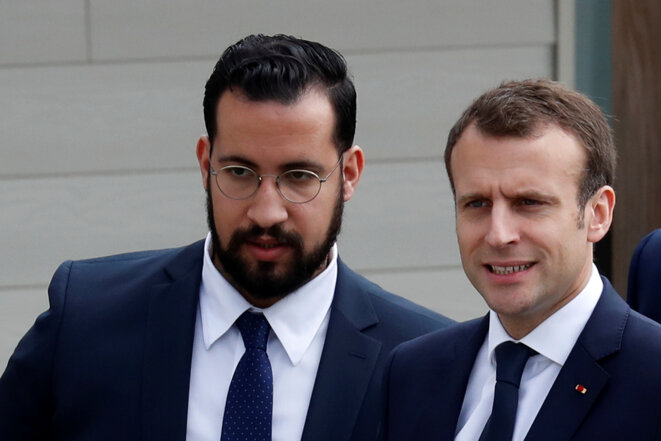 Alexandre Benalla and President Emmanuel Macron during a visit to Normandy April 12th 2018. © Reuters
An investigation by Mediapart sheds dramatic new light on the affair involving Alexandre Benalla, who was a security aide to President Emmanuel Macron until he was sacked when video footage emerged showing that he had used violence against protestors at a demonstration. In particular recordings of Benalla talking to the former head of security for the ruling LREM party, Vincent Crase, who also lost his job over the scandal, reveal details about a secret meeting that breached a judicial control order, about a security contract with a Russian oligarch close to Vladimir Putin, and Benalla's ongoing communications with President Macron. Fabrice Arfi, Antton Rouget and Marine Turchi report.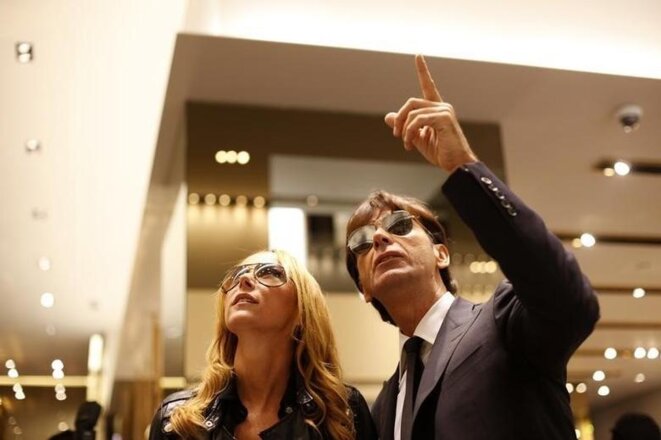 The former CEO of Gucci, Patrizio Di Marco, with his wife Frida Giannini. © Reuters
The leading French luxury goods company Kering, owned by the ultra wealthy Pinault family, saved 39 million euros in tax by paying the former boss of its subsidiary Gucci via a company in Panama, according to documents obtained by Mediapart and shared with the European Investigative Collaborations (EIC). The French company also lied about its tax avoidance schemes to two separate investigations carried out by the French Senate. Yann Philippin investigates.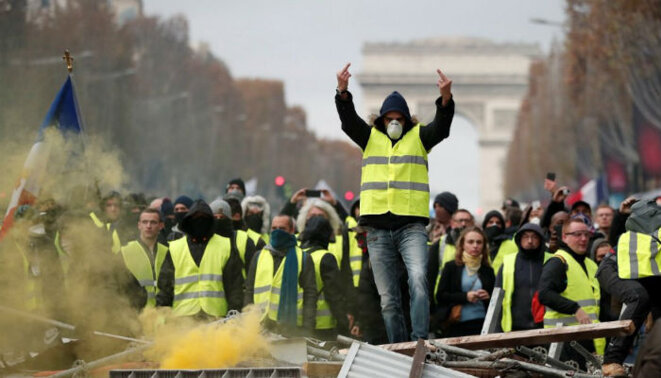 Yellow vest protestors on the Champs-Élysées avenue in Paris, November 2018. © Reuters
The two-month-long 'gilets jaunes', or 'yellow vest', movement in France, protesting the fall in living standards for low- and middle-income earners and against the powers of the country's social and political elite, continues largely unabated. It has attracted worldwide attention, and not least in the United States, where the Left sees it as an echo of the Occupy Wall Street movement, where also supporters of President Donald Trump have hi-jacked it as a new symbol of protest against the liberal establishment, and where the latter interpret it as a devil of populism. Mediapart's US correspondent Mathieu Magnaudeix reports from New York on the confused reactions across the Atlantic to the largely misunderstood revolt in France.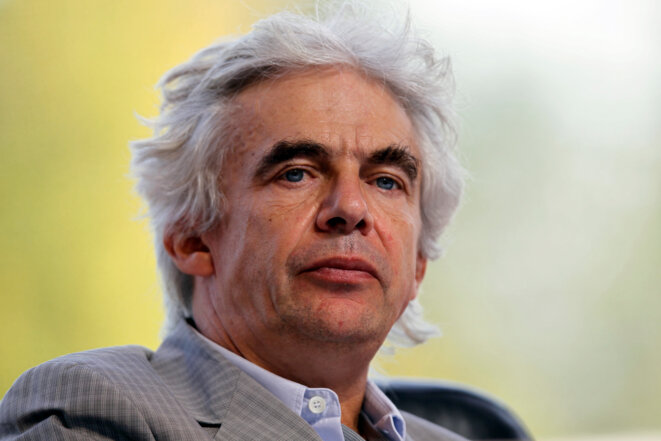 Paris-based lawyer William Bourdon. © Reuters
William Bourdon, the lawyer representing Rui Pinto, who was arrested last week in Hungary at the demand of the Portuguese authorities, has confirmed that his client is "John", the alias given to the key source behind the Football Leaks revelations that have rocked the world of professional football. The more than 70 million Football Leaks documents were the starting point for two series of investigations published by Mediapart and its partners in the European Investigative Collaborations (EIC) media consortium, and which have revealed widespread corruption and fraud in the shadows of the "beautiful game". In this in-depth interview with the EIC, Bourdon offers further detail about Pinto's actions, and dismisses his presentation by the Portuguese media "simply as a hacker, whereas he is a significant whistleblower".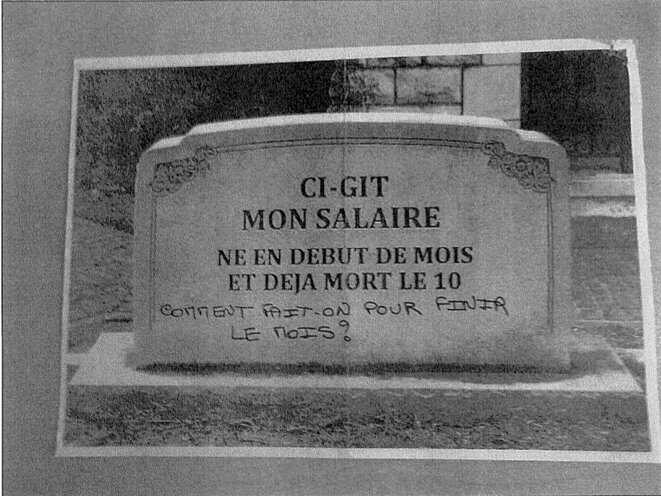 A photomontage sent to François Hollande: "Here lies my salary, born at the beginning of the month and already dead on the 10th." © DR
During his 2012-2017 term in office, France's socialist president François Hollande received a total of about one million letters and emails from members of the public, several thousands of which have been studied by political sciences lecturers Michel Offerlé and Julien Fretel. In this interview, Michel Offerlé explains that while the correspondence contained a large number of individual demands for help, complaints over financial difficulties and taxes, and insults about the head of state's disconnection with the people, they in part collectively represent the social group that has erupted into the 'yellow vest' protest movement over falling standards of living which is shaking the current presidency of Emmanuel Macron.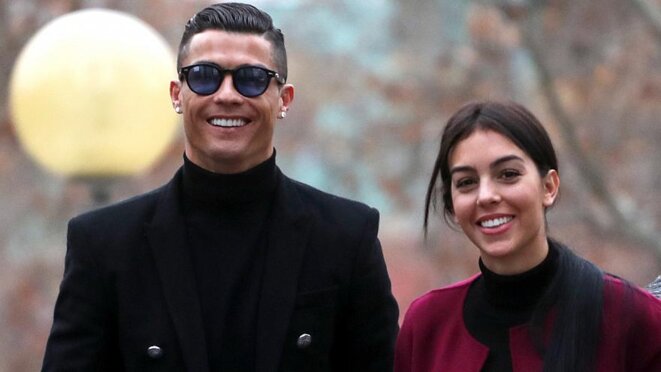 Cristiano Ronaldo arriving at court in Madrid, January22nd, with his fiancee Georgina Rodriguez. © Reuters
Portuguese football star Cristiano Ronaldo was on Tuesday ordered to pay an 18.8 million-euro fine by a Madrid court and was handed a 23-month suspended jail sentence after admitting tax fraud amounting to almost 15 million euros between 2011 and 2014. The case followed the Football Leaks revelations published in December 2016 by Mediapart and its partners in the European Investigative Collaborations (EIC) media consortium. But the former Real Madrid striker, whose wealth is estimated at more than 200 million euros, in fact escaped a far heavier sentence with the falsification of a document concerning his offshore payments on image rights, which Mediapart reveals here.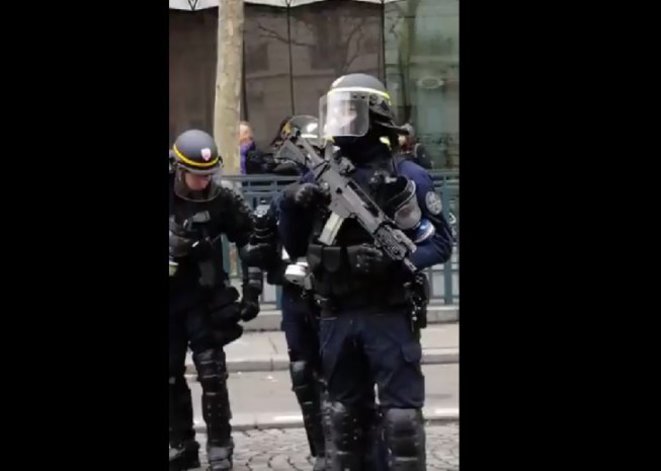 CRS riot police with HKG36 assault rifles in central Paris on January 12th. © DR
A document obtained by Mediapart reveals that the national director of France's CRS riot police ordered the deployment of Heckler & Koch G36 assault rifles during nationwide demonstrations on January 12th by the 'yellow vest' movement. The militarisation of policing tactics during the recurrent demonstrations, in protest over falling living standards for low- and middle-income earners, includes an almost systematic use of rubber bullets and stun grenades that have caused numerous serious injuries. Karl Laske reports on the arsenal employed and the dramatic consequences of the escalating violence.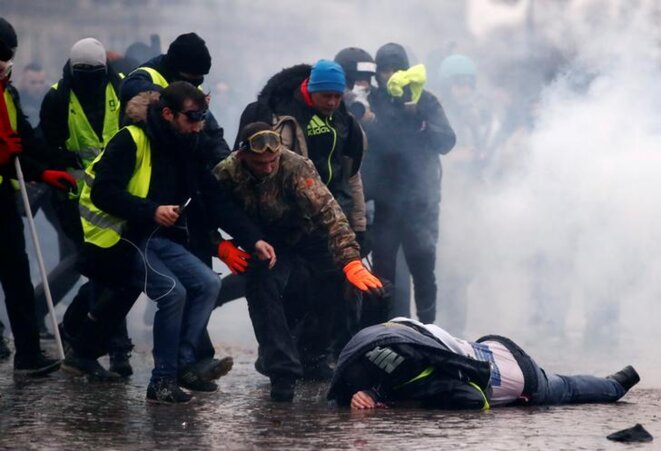 A 'yellow vest' protestor lies injured in Paris, January 12th 2019. © Reuters
France's 'yellow vest' protestors were back on the streets this weekend, as their movement calling for better living standards for low- and middle-income earners held its tenth nationwide day of action. While some demonstrations have been marred by violence from extremist groups, there is mounting criticism of aggressive police tactics. These notably include the widespread and often indiscriminate use of rubber bullets and stun grenades that have caused, according to several estimations, around 100 serious and life-changing injuries to protestors and bystanders. Mediapart co-editor Carine Fouteau argues here why these highly dangerous weapons, which France is one of very few countries to deploy in such situations, should be immediately banned from crowd-control policing.
Rui Pinto, the Portuguese whistleblower linked to the Football Leaks revelations, was released on conditional bail by a Hungarian court on Friday after his arrest following an extradition demand issued by the Portuguese authorities. Pinto, 30, who is to fight the extradition demand, is accused of attempted extortion and data theft. Mediapart can confirm that he is cooperating with French prosecution services and has agreed to help Swiss prosecutors in separate investigations into suspected tax evasion and corruption revealed by the Football Leaks documents.
The case of the arrest and continued detention in Japan of Renault chairman and CEO Carlos Ghosn over alleged financial misconduct has revealed the severity of the Japanese judicial system, which again denied him bail at a hearing in Tokyo this week. But it has also illustrated the situation of impunity granted in France to numerous high-placed individuals like Ghosn, writes Mediapart co-founder Laurent Mauduit in this opinion article. For while it now appears that the French government is finally moving towards his replacement as head of the French carmaker, economy and finance minister Bruno Le Maire has until now done his utmost to protect Ghosn, even declaring that there was 'nothing in particular to report' on his tax situation in France, when in fact the boss of one of France's biggest industrial corporations has been a tax resident in the Netherlands since 2012.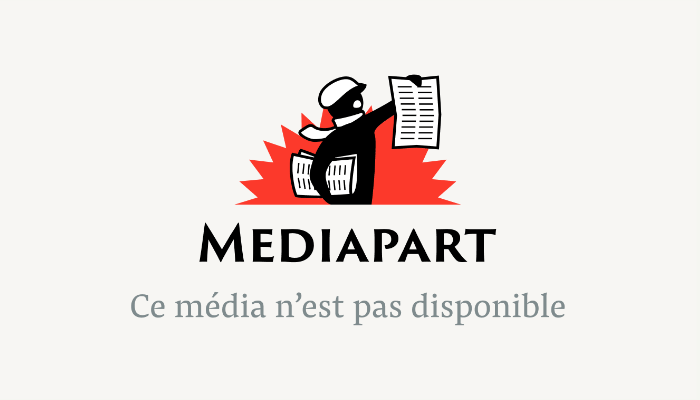 The first appeal made by the 'yellow vests at Commercy in north-east France. © DR
Two months ago in the small town of Commercy in north-east France a group of 'yellow vest' protestors created a citizens popular assembly. It is gaining supporters: on January 26th around 30 delegations from across France will gather in the town. François Bonnet reports on a local experiment in what some yellow vests define as "libertarian municipalism", a concept pioneered by American social theorist Murray Bookchin.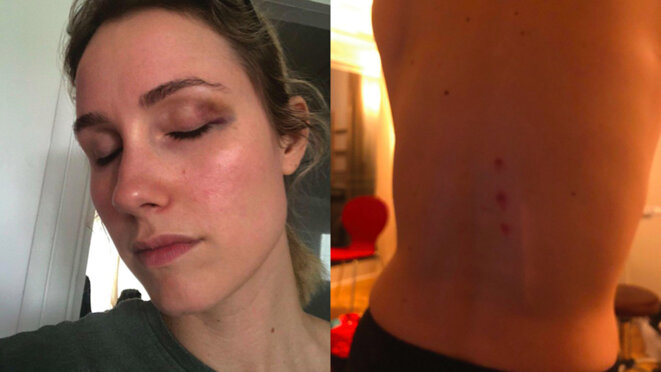 The bruise to her left eye and the three marks on the back of actress Sand Van Roy. © Documents Mediapart
A file on the preliminary investigations by detectives into allegations of rape against celebrated French film director Luc Besson has been handed to state prosecutors in Paris who are now analysing it. Among the elements that police officers have examined are a series of photographs of the complainant, Belgian-Dutch actress Sand Van Roy, and a report from medical forensic experts confirming the presence of unexplained injuries on her body. Besson strongly denies the claims. Marine Turchi reports.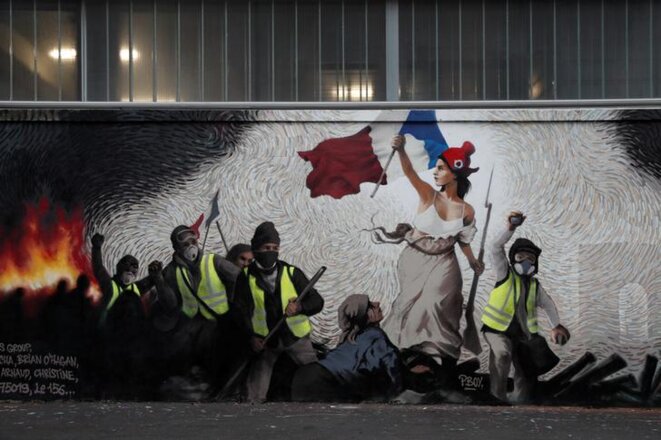 A work by artist Pascal Boyart, alias PBOY, in homage to the 'yellow vests', on the walls of Paris, January 7th 2019. © Reuters
On Monday January 7th the French prime minster Édouard Philippe announced plans to boost the array of security powers at the state's disposal with, in particular, a new law against rioters and undeclared demonstrations, plus preventative targeting of protestors presumed to be violent. Mediapart publishing editor Edwy Plenel points out that the prime minister did not utter a word about police violence, demonstrating that in making this repressive decision the government has turned its back on the sometimes vague democratic demands made by the 'yellow vest' protestors.