By Victor Jean Junior in Port-au-Prince
Astoundment and confusion continues to surround the circumstances of the surprise arrival in Haïti on Sunday of the country's former dictator Jean-Claude 'Baby Doc' Duvalier, ousted from power 25 years ago by a popular revolt.
Until now, Duvalier, 59, had been living in exile in France. Between 20,000 and 30,000 people are estimated by human rights organizations to have been murdered under his brutal regime, and he and his father are accused of embezzling hundreds of millions of dollars of Haïtian state funds.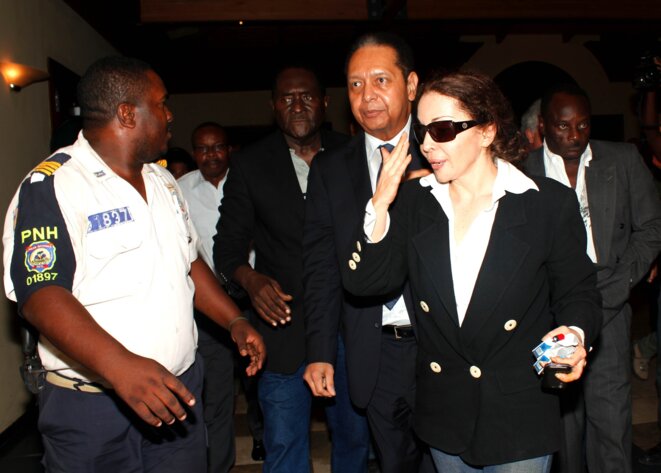 Jean-Claude Duvalier et son épouse, Véronique Roy, dimanche. © Francis Concite
Following two days of speculation, he was on Tuesday finally charged with corruption, theft and fraud relating to the period he was in power, between 1971 and 1986. "His fate is now in the hands of the investigating magistrate, we have filed a suit against him," commented Aristidas Auguste, senior public prosecutor in the capital Port-au-Prince.
Duvalier owes his nickname to that of his father, dictator François 'Papa Doc' Duvalier, who died in 1971 after 14 years in power. Baby Doc took over power then at the age of 19, declaring himself a president for life and continuing a reign of terror that began under his father and which saw some 100,000 Haïtians flee abroad.
Haïti, still shattered by the earthquake in January 2010 that left 250,000 dead and more than a million people still homeless, is in the throes of a major political crisis; the second and decisive round of presidential elections originally due to be held on 16 January has been postponed amid contestation over fraud in the first round, the ghost-like return of Duvalier has triggered considerable commotion.
Several government ministers who suffered persecution under the Duvalier regime, as well as political party leaders Serge Gilles (Social Democrat Mergence) and Evans 'K-Plim' Paul (Democratic Alliance) have called for an official explanation over his return. There are claims that he was helped in the move by France and the US in a move to destabilize incumbent president René Preval.
Duvalier has said his return was "to help the people of Haïti". He arrived with an expired diplomatic passport, and a return air ticket with a booking for a flight back to France on 20 January. Questioned by reporters, French ambassador to Haïti, Didier Le Bret, said France was in no way involved in his return. The diplomat has said that the French authorities became aware of his trip only after he changed planes in the French Caribbean island Guadeloupe, and urgently immediately alerted the Haïtian government.
But mystery surrounds the question of how Duvalier, with an out-of-date passport and a temporary, yearly-renewable permit of residence in France, could have slipped unnoticed past the embarkation controls of a French airport. "We have other things to be getting on with rather than losing time on this business of Duvalier,' concluded Le Bret, in an irritated reaction to the questions put to him on Tuesday.
Duvalier was arrested as he prepared to give a press conference on Tuesday at the Karibe Hotel, in Pétion-ville, a district in the upper hills of the capital, where he and his companion Véronique Roy have been staying since their arrival. He was taken under police escort to the capital's court buildings, where he underwent three hours of questioning before being charged. He was afterwards released without detention, conditional to remaining at the disposition of the judicial authorities.
The prosecution services appear to have had to urgently establish a file against Duvalier, because no procedure against him had previously been prepared. It is now for the examining magistrate to decide whether or not to pursue an investigation into the initial charges.
Baby Doc's return was loudly celebrated in the streets by hundreds of young Haïtians who had never known his ruthless regime. The group of Haïtian police officers who on Sunday gave Duvalier a triumphant escort from the airport have since been suspended from their duties. On Tuesday, his supporters began calling for the arrest of René Preval, reiterating accusations that he also pocketed millions of dollars of funds destined as aid to Haïti under the Venezuelan government's Petrocaribe programme.
"The judicial moves have been incomprehensible until now," protested Danielle Magloire, Haïtian head of the country's human rights organization Droits et Democratie, (Rights and Democracy), and a prominent Haïtian feminist. "I am a bit lost," shesaid. The country's Senate has called the ministers of justice and the interior, as well as the head of the Haïtian police to appear before it on Thursday to explain what they know of the circumstances surrounding Duvalier's arrival.