Former socialist president François Mitterrand, under whom the death penalty was eventually abolished in France, ordered the execution of 45 Algerian prisoners when he was justice minister during the 1954-1962 Algerian independence war. This and other little-known facts about Mitterrand's ruthless stance against Algerian nationalists, when he was justice minister between February 1956 and May 1957, were detailed in a documentary screened on French television on November 4th.
'François Mitterrand et la guerre d'Algérie' (François Mitterrand and the Algerian War) is based on a book by the same name co-authored by journalist François Malye and historian Benjamin Stora, who spoke to Mediapart in a detailed interview published further below here.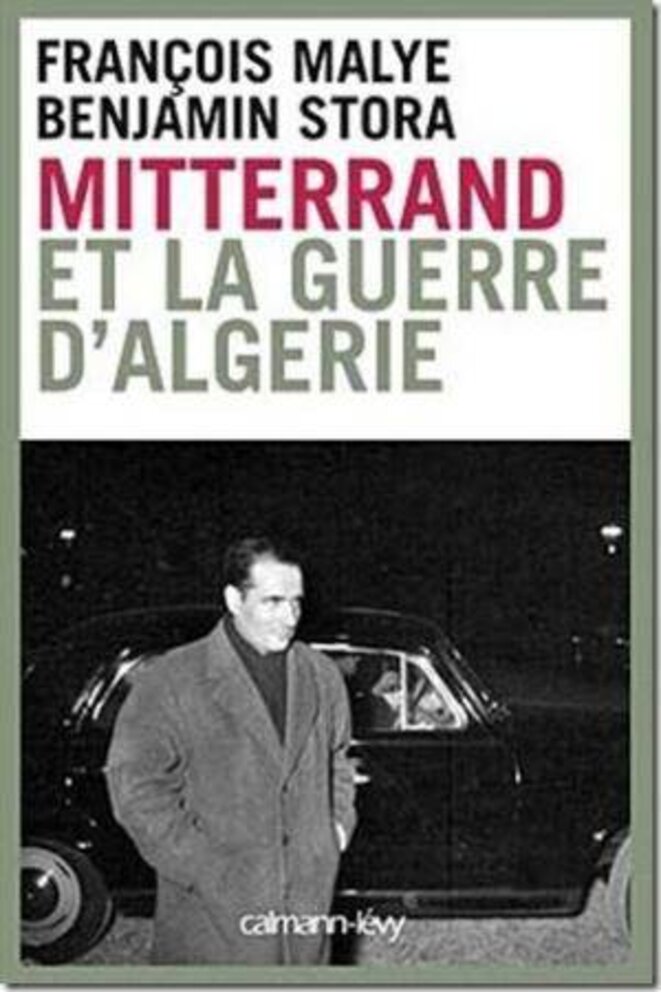 Dark and deadly: the cover of 'Mitterrand and the Algerian war'. © calmann-lévy
Directed by Frederic Brunnquell, who elegantly alternates black and white footage with colour, the documentary manages to avoid voyeurism while taking a very close look at the torture and capital punishment perpetrated in Algeria when the country constituted three French departments. Those referred to at the time as
'indigènes
' ('natives'), 'Muslims', or 'terrorists' bear witness: Louisette Ighilariz, of the Front de Libération National (FLN - National Liberation Front), a proud combatant devastated by nightmarish memories; Yassef Saâdi, leader of the Algiers branch of the FLN; and Abdelkader Guerroudj, head of the Algerian communist party''s 'Action Group', who suffered both water and electric torture.
Also interviewed is Antoine Argoud, a representative of the executioners, who had already appeared shamelessly swaggering before the camera in
Français si vous saviez
(French People, If Only You Knew),
the 1973 documentary directed by André Harris and Alain de Sédouy
. Here, he talks about the shootings on village squares that were carried out to set an example. These he happily justifies, unlike the '
corvée de bois'
(meaning wood-gathering duty), the phrase given to the unofficial executions of prisoners by the French military when prisoners were shot for allegedly trying to escape while gathering wood.
Another witness, from the civil service, is Jean-Claude Périer, who in 1956 was secretary of the French High Council of the Magistrature (CSM), on which he also subsequently served as a representative of the Council of State during François Mitterrand''s two seven-year terms as president of France (1981-1995). ""President Mitterrand was, to my mind, a real statesman, who strove to rise to his function, even if his calling was more aesthetic than moral," Périer, now 88, told Mediapart. "However, at the time of his ministerial career under the 4th Republic, he had a terrifying ambition that was utterly uncurbed. He wasn''t a combatant, he was a partisan.""
In 1956, François Mitterrand was Minister of Justice under prime minister Guy Mollet1 (whose government lasted 16 months - a record of longevity at the time). During a secret cabinet meeting, Mitterrand approved of the decision to carry out the death sentence in Algeria on the basis that it served as a severe warning to others, while his left-wing colleagues (Pierre Mendès France, Alain Savary and Gaston Defferre)2 voted against. Under justice minister Mitterrand, 45 people were sentenced to death and guillotined. Mitterrand nearly always refused to commute any sentences, according to Jean-Claude Périer's testimony in the film, also confirmed by records of the time.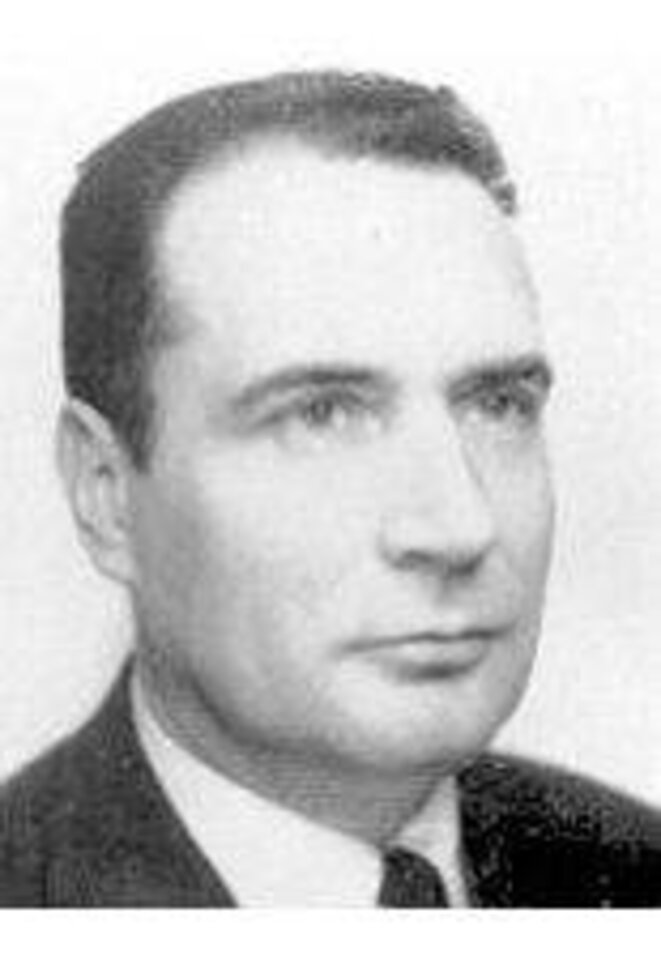 'Untamed ambition'; Mitterrand in 1959. © French Senate
The essential facts about this had already been published in several works: Jean-Luc Einaudi's '
Pour l'exemple, l'affaire Fernand Iveton
' (As an Example, the Fernand Iveton Affair) published in 1986: '
La Main Droite de Dieu: enquête sur François Mitterrand et l'extrême droite
' (God's Right Hand: an Investigation into François Mitterrand and the Far Right) by Emmanuel Faux, Thomas Legrand and Gilles Perez published in 1994, and a thesis on the role of magistrates during the Algerian war by historian Sylvie Thénault,
'Une drôle de justice. Les magistrates dans la guerre d'Algérie
' (A strange form of justice: magistrates in the Algerian war), published in 2001. But Benjamin Stora and François Malye systemize the issue, revealing its scale and scope.
Undoubtedly, the fact that François Mitterrand went on to become French president has focused attention on his particular case. The role of Mitterrand''s main rival of the time, Maurice Bourgès-Maunoury (1914-1993), who was variously defence minister and interior minister between January 1955 and May 1958, deserves a long overdue investigation. Bourges-Manoury went on to become President of the Council after the fall of the Mollet government, a post that Mitterrand was after.
.But the fact is that Mitterrand, known for speaking out in favour of the abolition of the death sentence after he became French President, compromised himself in the Algerian quagmire beyond any degree imagined by today's supporters of the Left. Importantly, the preparation of the film and the book comes as certain ageing witnesses, including Roland Dumas, André Rousselet, and Robert Badinter3, accepted, however cautiously, to re-evaluate the previous lowness of their eternal hero.
The effect of the revelations is staggering for some, haunting for others –- indeed, Mitterrand himself often used the phrase ""C''est selon"" ("'It depends"'). In the following interview, historian Benjamin Stora, co-author of 'Mitterrand and the Algerian War', tells Mediapart how and why France's longest-serving president, idealised by the Left, until now escaped scrutiny about his dark role - what Jean-Claude Périer called Mitterrand's "terrifying ambition" - during the Algerian war of independence.
Mediapart: Do you consider the repressive policy carried out by France in Algeria after 1954 an 'office crime'?4
Benjamin Stora: "That''s an expression used for the Second World War. I''m wary of expressions that are circulated from one period to another, aggravating the anachronism. We have, however, spotlighted politicians, and thus republican institutions. Hitherto, insufficient attention had been paid to the political practices peculiar to the Algerian War. Emphasis has been placed on the army, Jacques Massu, Marcel Bigeard, Raoul Salan, and even De Gaulle, after the Algiers putsch of May 13th,1958, which is logical. When torture is mentioned, military action is what first springs to mind.
But if you examine ministerial directives and analyse the composition of cabinets at the time, you''ll find that the 5th Republic''s chronic instability, which obscured our perspective of institutions, actually masks a very real power that proposed, opted for and allowed a certain way of conducting the war. The undeniable weight of the army from 1957 onwards, and the importance of the Battle of Algiers, mustn't prevent a re-evaluation of the responsibility of politicians. Our work is part of an open review –we're targeting a wide audience – of an instance of governmental behaviour and political culture. It was perhaps time to 'demilitarise' the history of the Algerian War, without diminishing the army's responsibility. Beginning a new area of work doesn't necessitate closing another."
-------------------------
1: Guy Mollet led the French Section of the Workers' International (SFIO) party from 1946 to 1969 and was French Prime Minister between 1956-1957.
2: Mendes France and Savary both resigned over the Algerian issue.
3: Roland Dumas served as Foreign Minister under President François Mitterrand from 1984 to 1986, and from 1988 to 1993. André Rousselet, a faithful follower of Mitterrand since being in his Ministry of Justice during the Algerian era, notably organised the financing of each of his presidential campaigns….Robert Badinter notably served as Minister of Justice under Mitterrand and presented a bill for the abolition of the death sentence, which was adopted in 1981.
4: A reference to Kafkas' words, ''The chains of tortured humanity are made of the official papers of ministries''.
Mediapart: The general public was already aware of the responsibility of Guy Mollet and Robert Lacoste [Minister for Algeria 1956 – 1958]1. However, you lead us to understand how François Mitterrand, in uncomfortable ministries (that of the interior and then of justice), had to prove himself that much more, being a man of the Left. He was trapped. Did being a reformist in such posts constitute an aggravating circumstance in the context of a colonial conflict?
"This is pretty much a cultural question that reflects the traditional left-wing attitude in France to the colonial project. Profoundly Jacobin, universalist and assimilationist, the Left, Gambetta, Clemenceau, and even Jaurès in a way - he attacked the inhumanity of colonialism, not its roots - wanted to 'emancipate the natives' at the height of the 3rd Republic.
This history is perpetuated, right to the end. When men such as Mollet or Mitterrand come to power, their ambition is to rectify the colonial project, to really put it into practice so as to realise the equality, integration and assimilation initially promised. But the reality of colonialism clashed with the colonialist dream to bring happiness to whole populations, albeit against their will. The colonialists, whose interests were defended by the parties in power at the time, refused all implementation of a left-wing policy in the matter, from the failure of the Blum-Viollette proposal in 1936 onwards.2 Mitterrand, like Mendès-France, bore the brunt of this, and was accused of trying to sell the empire short.
They neither saw nor understood the competition of a national project on the other side. 'Indigenous' nationalism didn''t exist in their eyes."
Mediapart: Wasn''t this nationalism considered a religious threat?
B.S.: "There was both the old stereotype, linked to the implantation of Christianity on Islamic territory in the 19th century, and the contemporary issue of international communism, which came to overlap with the former. Nationalist Algerians were seen as Moscow's pawns."
Mediapart: The documentary presents Guy Moquet''s 1956 declaration3, where he clearly denies the right to equality. The Muslim majority was to respect the European minority. How could he reconcile such a position with the democratic banner he was brandishing?
B.S.: "The French socialists, in the name of their emancipating project, failed to distinguish colonial logic, which, by definition, manufactured inequality. This colonial system remained a blind spot because, in their eyes, the French Republic couldn''t but bring equality. That any inequality could stem from France was unthinkable."
Mediapart: Added to this blindness of principle, was the blind eye Mitterrand deliberately turned in order to preserve his political career.

B.S.: "Contrary to Pierre Mendès France, Alain Savary and Gaston Defferre, who behaved like real social democrats."
-------------------------
1: Robert Lacoste, Minister of Algeria 1956 -1958. A proponent of forceful action, he played a principal role in the Algerian War.
2: The Blum-Viollette proposal takes its name from Maurice Viollette, who acted as the French premier and governor-general of Algeria, which was the subject of the proposed legislation, and Leon Blum, who held office as president of France on three occasions. The proposal was introduced to the Popular Front government of France in 1936, suggested that a minority of Algerians obtain full French citizenship, while still allowing them to be subject to Muslim law on some social issues (including marriage/divorce, custody, inheritance). It proposed to offer these benefits to the highly educated, as well as to those Algerian men that served in the French military, with the plan to widen the benefits to other groups at a later date.
3: Guy Moquet is an emblematic hero of the French resistance, executed by firing squad aged 17. French President Nicolas Sarkozy controversially insisted his final letter should be read in every lycée in France on the anniversary of his death. Some commentators disliked what they saw as an example of political dogma, and a number of lycées refused the demand.
Mediapart: So how could Mitterrand have, as early as 1965, positioned himself as a champion of the same Left he had betrayed with such blind cynicism nine years earlier?
B.S.: "François Mitterrand pulled off the political coup of toppling from the Left all the moral figures of a camp that he had appropriated with the publication in 1964 of Coup d'État Permanent [Permanent Coup d''Etat]. Staunch humanists, and Pierre Mendès France first and foremost, lost their credibility in this torrential pamphlet calling for the abolition of the Bonapartist 5th Republic. No enemies on the Left, Mitterrand managed to impose himself thanks to his anti-Gaullist radicalism.
Moreover, François Mitterrand had previously tried to join the PSU [Parti Socialiste Unifié – The Unified Socialist Party].10 But this move was blocked by Michel Rocard, who led the party from 1967 to 1973, or rather, he claims, it was blocked by his friends. As the PSU had played an untainted role in the Algerian conflict, Mitterrand was trying to regain his virginity by joining them. As early as 1962, he had launched manoeuvres calculated to whitewash his past in French Algeria.
Then, when he gained control of the Socialist Party in 1971, he joined forces with the Marxist wing of Ceres [Le Centre d'Etudes de Recherches et d'Education Socialiste, meaning –Socialist Study, Research and Education Centre] run by Jean-Pierre Chevènement and Didier Motchane, before signing the common programme with the Communist Party the following year, once again raking in all members of the Left. The Communists were in no position to draw attention to Mitterrand''s Algerian past, as their own hands were far from clean. In ten years [1962-1972] Mitterrand had managed to efface his colonial past from the collective memory."
Mediapart: Earlier on you said you don''t like to mix periods. Nonetheless, it has to be said that François Mitterrand offers a formidable recap of them: the Occupation, the Algerian War, May '68….
B.S.: "He belongs to an idea of France and its history that is connected to state culture. Hence the fact that he aligned himself with the Gaullist concept that the Vichy episode was a parenthesis, something that had nothing to do with the Republic, which Jacques Chirac put an end to in 199513. Mitterrand didn't have any grassroots political culture. He knew nothing of social movements, the politics of mobilisation and dissent.
When he arrived at the Elysée in 1981, he prevented political activists, unionists and organisers from acceding to power. Most of his ministers were senior civil servants, who formed the framework of Mitterrand''s trademark policy. None of the former Trotskyist activists who had joined the Socialist Party was named minister. And it wasn''t for lack of wishing to. They weren''t products of the state mould, with its [elitist] grandes écoles, its major institutions, and the appropriate reflexes, codes, methods and practices."
-------------------------
1: President Jacques Chirac acknowledged France's responsibility in the Holocaust of French Jews on July 16th, 1995, in a historic speech for the commemoration of the massive and brutal French police round-up of (according to official records) more than 13,000 Parisian Jews for deportation to German death camps, July 16-17, 1942. It is commonly known as the "rafle du vel' d'hiv", because the detained were first taken to the Vélodrome d'Hiver cycle sport stadium in Paris, from where they were transported to intermediary camps.
English version: Chloé Baker