French Senate president Gérard Larcher entered office on a high-profile campaign to cut spending and impose budgetary discipline within the French parliament's notoriously lavish upper house. Mediapart this month obtained access to the payroll of the president's private staff, and it reveals anything but austerity. The average monthly salary is 8,500 euros while his principal private secretary earns more than 19,000 euros, just a few hundred euros short of the pay of French Prime Minister François Fillon. Mathilde Mathieu and Michaël Hajdenberg report.
-------------------------
Housed in the luxurious, sprawling buildings and grounds of the 17th-century Luxembourg Palace, in the capital's Latin Quarter, the French Senate is the upper house of French parliament1. Its 343 senators are assisted by more than 1,000 civil servants and personal aides, and the institution has a total staff of 2,000.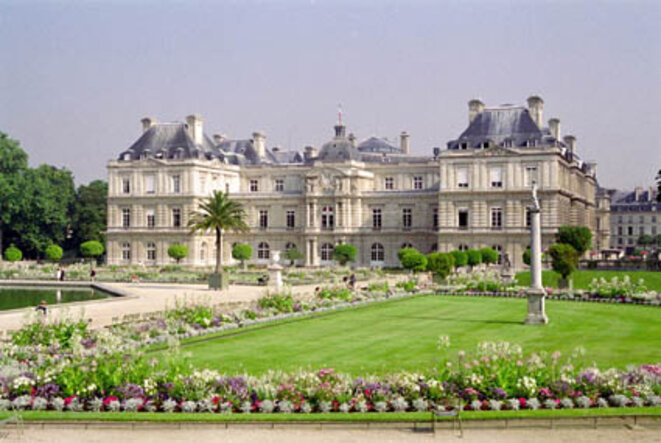 The senate from the Luxembourg Gardens. © d.r.
In October 2008, Gérard Larcher, a senator with the ruling conservative right UMP party, was elected president of the Senate, replacing Christian Poncelet. He rapidly announced a series of reforms during his three-year mandate to reduce
the lavish spending and grace-and-favour regime of the senate
, which had shocked public opinion after a series of media revelations.
These ranged from the right for life for senators to travel first class and for free on the country's railway system, to the right for life of the institution's president to one of the Senate's dozens of rent-free apartments - something that Poncelet astonishingly at first denied before being forced to agree to leave it, a 200 square-metre penthouse in the plush 6th arrondissement, by 2014.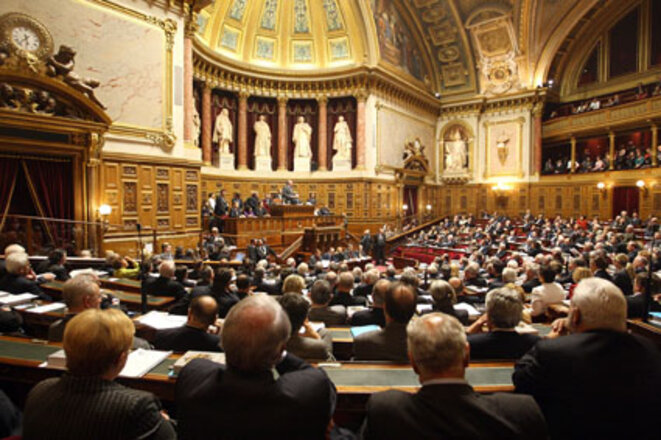 Senate chamber © d.r.
Larcher's reforms included an immediate reduction of 4.3 million euros in in annual spending, the transformation into offices of two thirds of its 54 private apartments, a reduction in bonuses and restrictions on the use of chauffeur-driven cars. "At a difficult moment for the French population, I understand their demands," he said in a press conference shortly after his election. "It seemed to us essential that the republic's institutions react, not in a populist manner but simply by making a certain number of efforts [...] A number of things that have been said or read are no doubt due to the fact that we don't communicate enough about a certain number of subjects, which is why I have made transparency a requirement."
But an investigation this month by Mediapart has discovered that the yearly cost of Larcher's cabinet - the offices and staff which work directly for the administration of his presidency - had risen by 26% in 2010 on that of Poncelet in 2007. In 2010, the payroll for Larcher's personnel totaled 2, 826, 610 euros. Interviewed by Mediapart, Larcher, 61, confirmed the 26% increase and defended the hike as one destined "less on petits fours [pastries], more on grey matter".
Below: monthly pay details for Senate president's principal private secretary and one of his consultants (click screen to enlarge).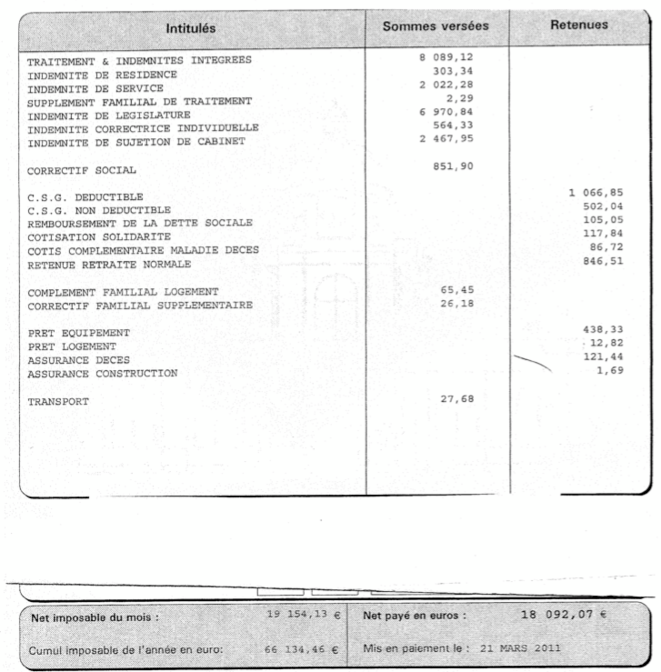 © Mediapart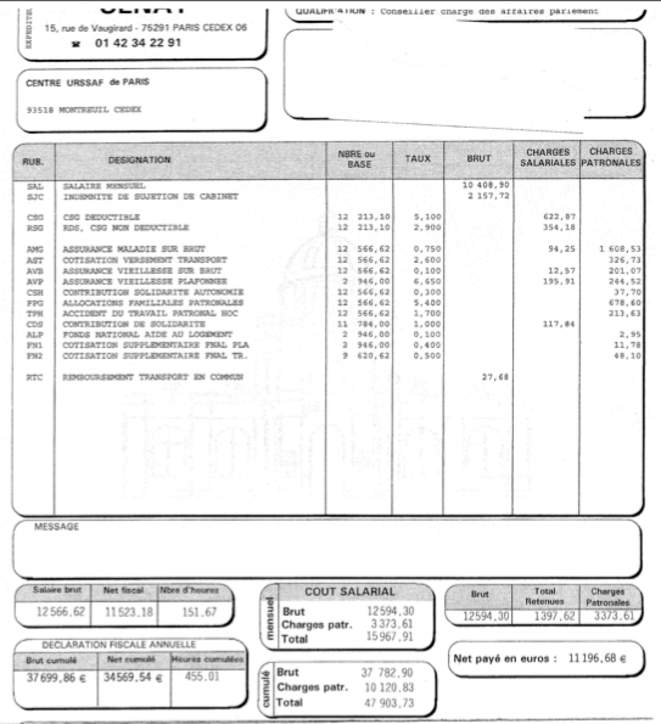 © Mediapart
-------------------------
1: The French parliament is made up of the Senate (upper house) and the National Assemlbly (lower house). The latter is where Members of Parliament, directly elected by the public, sit. Senators are elected, region by region, by local mayors and councilors. Both houses are involved in lawmaking, although the National Assembly is the prioncipal arena of national political debate and policy making. For more detail about the Senate, click here for the institution's own website and here for the Wikipedia overview.