It was in the winter of 1982 that the newly-qualified Jean-Jacques Triquet started out as a social worker in the run-down area of Fort-Nieulay in the north-western town of Calais. And it was in that district of 7,000 inhabitants that the young man had his "first shock", as he puts it. Here, right on the edge of the town where he was born, he discovered an "underclass"; large numbers of families living in terribly overcrowded conditions surrounded by rubbish. Bare-footed children gnawed on bones, often their only meal, while their jobless parents were incapacitated by alcoholism.
After 30 years of various social programmes and town initiatives, Fort-Nieulay, a concrete-grey monstrosity to the west of Calais, still contains the same litany of urban, culture and social disadvantages. "Daily life has improved, the area was done up, the RMI [social security payments aimed at the poorest, introduced in 1988 and now known as RSA] was created, but pockets of poverty still remain," says Jean-Jacques Triquet. "A social cop sitting on the lid of the cooker to stop it exploding," is how he describes himself, saying that he has stayed on to "fight collectively".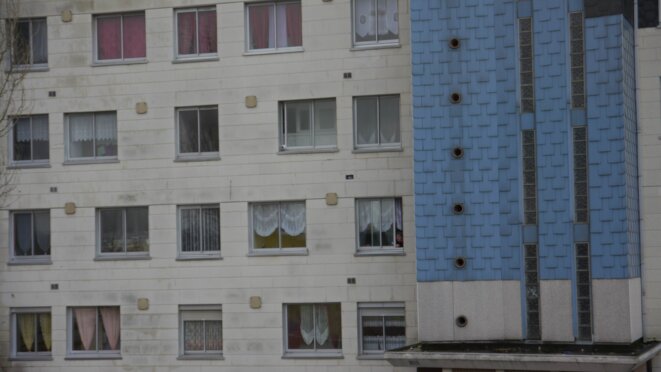 © La cité Constantine au Fort-Nieulay
In 1991, ten years after he arrived, the social worker and a handful of volunteers created the Espace Fort, a health advice and social centre for the area in Rue d'Ajaccio, close to the schools and the Constantine social housing estate. The centre has become just as indispensable to the community as the neighbouring Restos du Coeur charity that provides meals for the needy. Today Espace Fort employs 44 staff (many of them on state or municipal-assisted contracts) and tries to set the young people of the area on the path towards finding work, opening six days out of seven, 12 hours a day. It "bears the brunt" of supporting more than a thousand families, most of them single and/or multiple-parented, with the help of grants from the town hall and from the family benefits agency, the caisse d'allocations familiales (CAF). It has an annual budget of 1.5 million euros.
Triquet, who is now director of the centre, recites some striking statistics. "The majority of our members pay the minimum [membership fee] or even benefit from some activities for free. Ninety-six percent of them live on less than 1,100 euros a month. Thirty percent of them have monthly incomes of between 618 euros and 1,100 euros. Half of them are eligible for another form of aid from the CAF, free holidays, for those who are on less than 617 euros a month and who are significantly below the poverty threshold," says Triquet. "In coming here people find a little ray of hope in a bleak landscape with little on the horizon. There are events, advice, someone to listen to you, and individual and collective support. We are there to give them a little cheerfulness, through occupational help."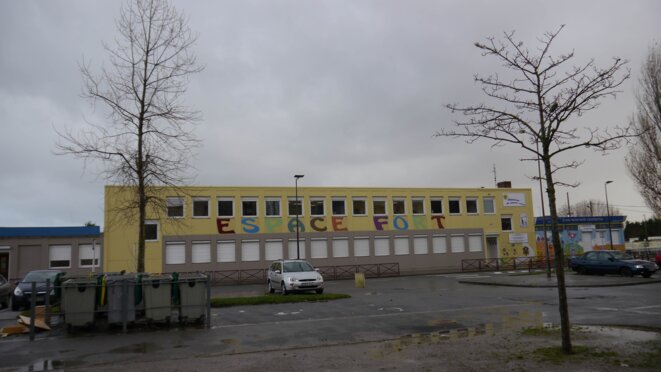 L'espace Fort, le poumon de la cité © RA
However, the malaise that has gnawed away at this district for decades and against which Espace Fort can do nothing is unemployment. In a town that is suffering economically – the average jobless rate is 16.8% - nearly half of the population of Fort-Nieulay are without work, the young and the elderly, three-quarters of whom lack any qualifications. The result is that from generation to generation a legacy of unemployment, subsistence income and poverty is handed down to youngsters, making their chances of getting into normal working life even harder.
"There are children who have never seen their parents work or get up in the morning, who get out of the school system from the [fourth year of secondary school, aged 14-15] and who repeat the same pattern as their family," says Jean-Jacques Triquet. "There are women who have children very young because being a mother gives status, a source of income, state help. The men scrape along dealing in scrap metal, working on the black and in trafficking of all kinds, or they simply do nothing all day. They think it's the norm, that the state, social work professionals, officials and teachers will in any case provide for their needs."