Re-discovering the lost work of Émile Savitry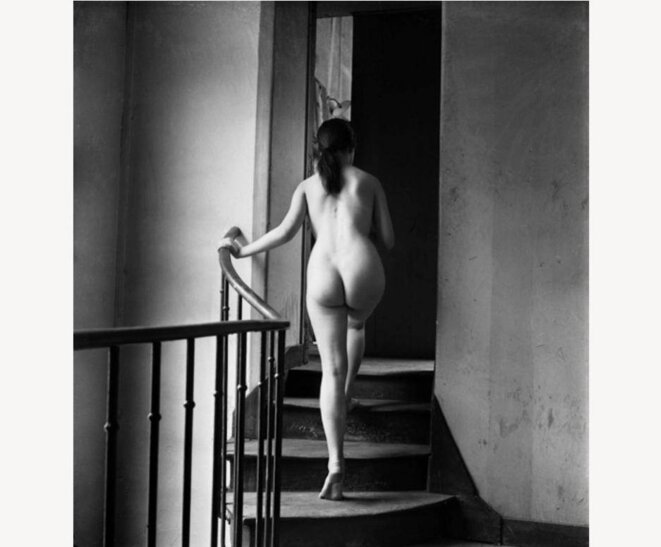 © Émile Savitry, courtesy Sophie Malexis.
The work of French photographer
Emile Savitry
(1903-1967), one of the founders, with Robert Doisneau, of the Rapho photographic agency, remains largely unknown to the general public, despite a prolific career beginning in the 1930s. Over a period of some 20 years, he captured the vibrant Paris artistic and cultural scene of which he was part, beginning as a surrealist painter, but also the daily lives of Parisians and the capital's neighbourhoods, notably Pigalle and Montparnasse. For Rapho, he covered the massive arrival in France of refugees from the Spanish Civil War, and was later a regular contributor to fashion magazines Vogue and Harper's Bazaar. While his portraits were showcased alongside those of his celebrated contemporaries Willy Ronis, Edouard Boubat, Brassaï and Doisneau in a 1948 exhibition organised by the Photo League, Savitry's photos have, since his death 45 years ago, only recently been properly researched and archived for public show in France thanks to Sophie Malexis. His work is now the subject of an exhibition, of which Malexis is curator, at the
Maison de la Photographie Robert Doisneau, in Gentilly, south of Paris (details in the article page), a selection of which Mediapart presents here.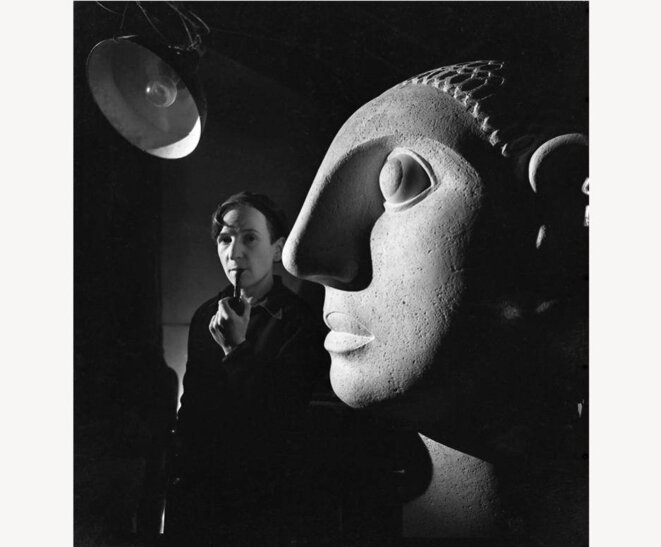 © Émile Savitry, courtesy Sophie Malexis.
01:
Portrait of the enigmatic Hungarian-born artist Anton Prinner, in her studio on the rue Pernety, close to Montparnasse, standing beside her sclupture ,
La Femme aux grandes oreilles (The Woman with Big Ears)
, 1946. Prinner, one of the earliest artists of the school of 'Constructivist abstraction', posed as a man from her arrival in Paris in 1927 at the age of 25 until her death in 1983.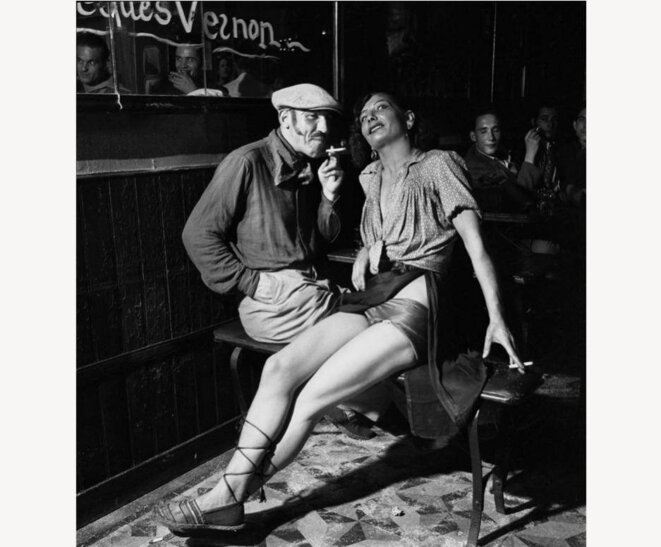 © Émile Savitry, courtesy Sophie Malexis.
02:
Portrait of a woman and her protector in a bar in the Paris red-light district of Pigalle, 1938. The man is dressed in the manner of the savage underworld 'Apache' gang members who, especially in the early 20th century, roamed the streets of northern Paris robbing and terrorizing local populations.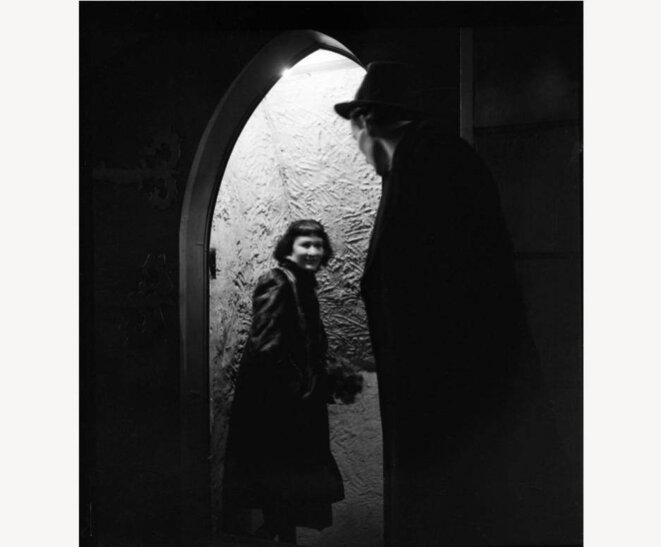 © Émile Savitry, courtesy Sophie Malexis.
03:
Entrance to a Pigalle night club, 1938.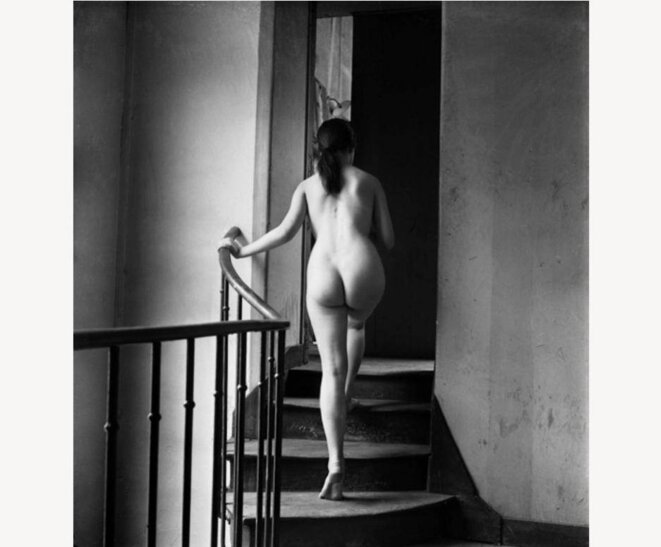 © Émile Savitry, courtesy Sophie Malexis.
04: A model poses nude on stairs inside the celebrated Paris art school, the Académie de la Grande Chaumière, 1950-1951. The school lies close to Montparnasse, and its roll of famous teachers and students made it an essential part of the Left Bank arts scene.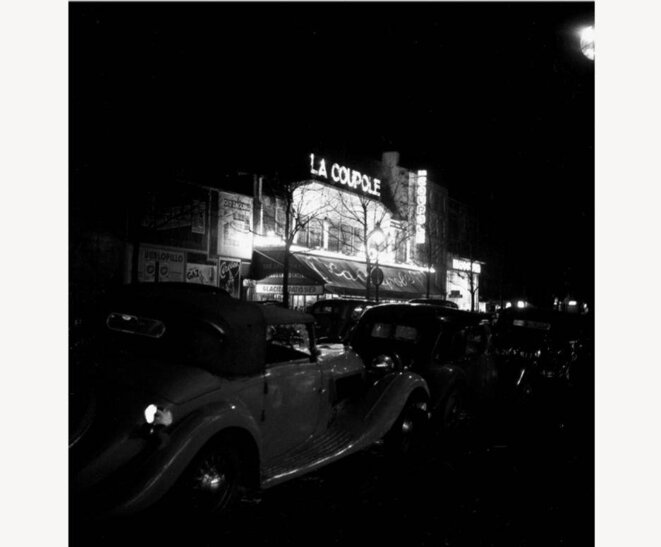 © Émile Savitry, courtesy Sophie Malexis.
05:
The legendary Montparnasse restaurant and bar
La Coupole
, circa 1935-1939. Between the two world wars,
La Coupole
became a buzzing night-time venue for artists, writers and singers, including Picasso, Jean Cocteau, Man Ray, Edith Piaf and Josephine Baker, and was later adopted by Jean-Paul Sartre, Simone de Beauvoir and Ernest Hemingway. Its interior was decorated by several dozen Montparnasse artists.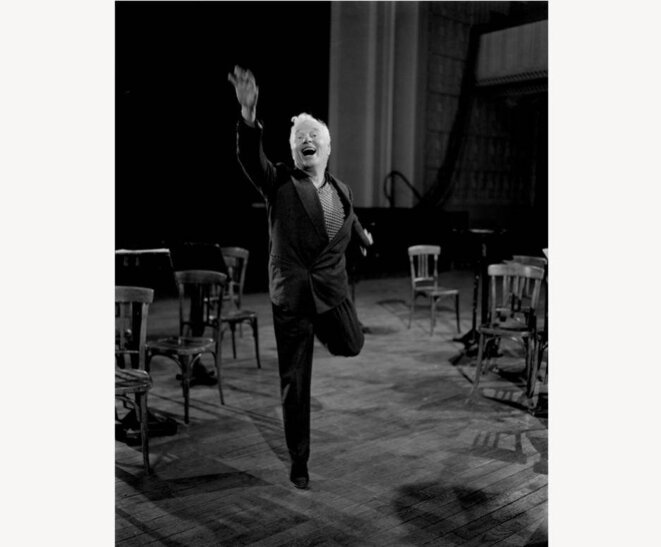 © Émile Savitry, courtesy Sophie Malexis.
06:
Charlie Chaplin at the
Palais de la Mutualité
events hall in the Latin Quarter, 1949. Chaplin, who had recently made
Monsieur Verdoux
and who would next begin
Limelight,
was being photographed on stage for a poster for a British television film.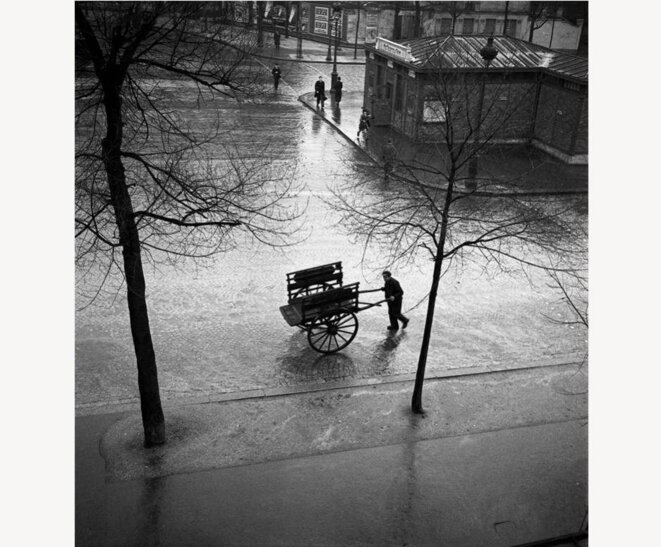 © Émile Savitry, courtesy Sophie Malexis.
07:
A coal merchant pushing his cart on the boulevard Saint-Jacques, Paris, during the 1940s.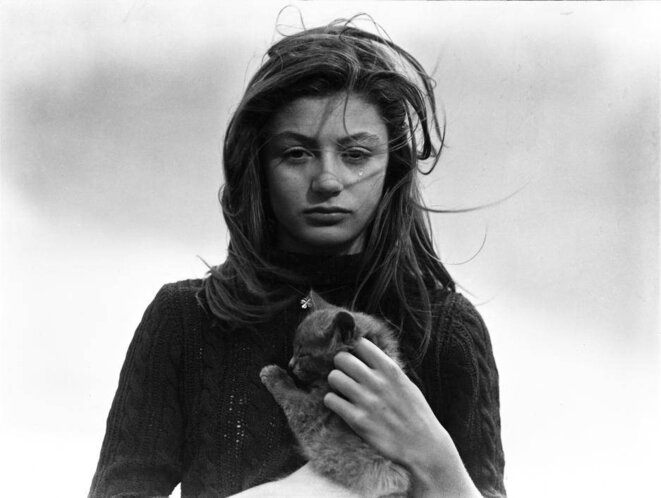 © Émile Savitry, courtesy Sophie Malexis.
08:
French actress Anouk Aimée, in 1947 and aged 15, during the shooting on the island of Belle-Île, in Brittany, of what would remain the unfinished film of Marcel Carné and Jacques Prévert,
La Fleur de l'âge
. It was during the shoot that Aimée,
née
Françoise Judith Sorya Dreyfus, was given her adopted name by Prévert, who said it suited her because "everyone loved her".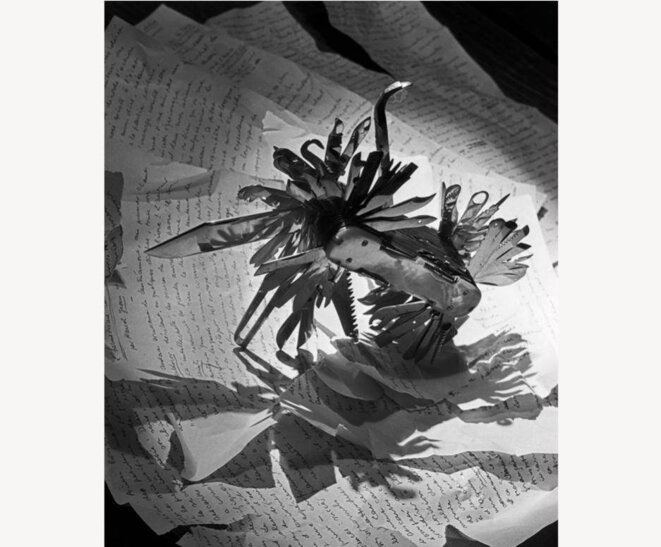 © Émile Savitry, courtesy Sophie Malexis.
09:
This photo, called
Couteau surréaliste
(Surrealist knife), was for the cover of a book by Marcel Jean and Arpad Mezei entitled
Les Chants de Maldoror. Essai sur Lautréamont et son œuvre
, published in 1947.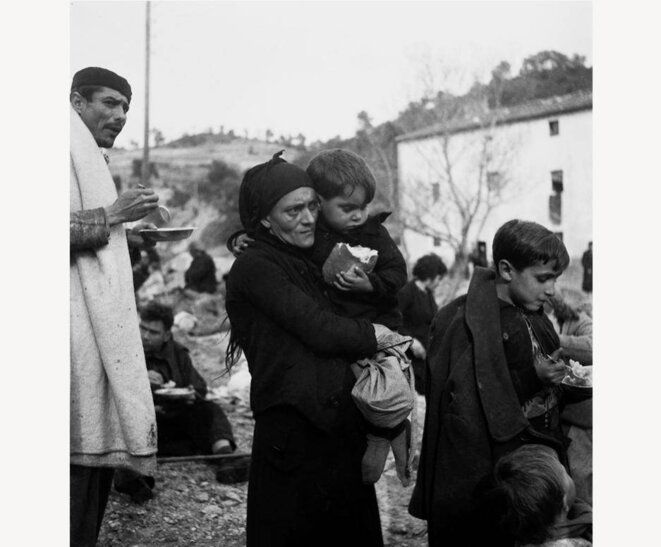 © Émile Savitry, courtesy Sophie Malexis.
10:
Refugees from the fighting in the last stages of the Spanish Civil War arrive in Perpignan, southern France. The date is thought to be probably early 1939, after the Republican forces were defeated in Barcelona.
The exhibition is on at the Maison de la Photographie Robert Doisneau, 1, rue de la division du Général Leclerc 94250 Gentilly, from October 25th until January 27th 2013. Phone: 01 55 01 04 86. Open Wednesday, Friday and Saturday from noon to 7 p.m. and Sundays from 2 p.m. to 7 p.m. Entrance fee: 2 euros, free entrance every first Sunday of the month. Guided visits in English available for groups for a minimum fee of 30 euros. Nearest metro is via the RER line B, descending at station Gentilly. Or by bus numbers 57, 125 and 184.