In London in 1972, when Harold Wilson's Labour Government was in power, the maker of the best-possible television in the world, the BBC, was broadcasting two revolutionary programmes. One was the crazily subversive Monty Python's Flying Circus, the other an incredible approach to appreciating paintings that led to a fresh way of looking at things: the programme Ways of Seeing. Produced by Mike Dibb, this four-part series gave free rein to a genius who has just died in Paris at the age of 90: John Berger.
With his roughly sculptured face that reminded one of the playwright Samuel Beckett, John Berger was a multimedia writer before his time with the body and soul of an actor, someone who tirelessly questioned the notion of reality and its representation with the energy of a battering ram smashing down the doors of our prejudices. How can you speak of cultural heritage with regard to the crude accumulation of aristocratic wealth, he asked. Why can one not finally admit that the Western creation of perspective transforms appearance into reality?
John Berger / Ways of Seeing, Episode 1 (1972). © tw19751
Berger did not want to lead the herd but instead be an interpreter of dreams and of revolutions in thinking. At the end of his iconic programmes he invited viewers to question things, creating a striking viewer participation that was unheard of on British screens at the time. All his life he wanted to create a collective intelligence: to face up to the world as it is ("A Load of Shit") with an impertinence worthy of an orphan. For though he had "loving" parents he said he always felt like an orphan – and said he treated everyone he met like one, too, going so far as to propose a "conspiracy of orphans".
But orphans of what? Of ways of looking at things. Following in the wake of Walter Benjamin (the German author of The Work of Art in the Age of Mechanical Reproduction" published in 1936) John Berger was a visionary and a poet, and thus a Marxist. Not in the sense of dogmatically reducing Karl Marx to the application of the idea of a class struggle to all and everything. No, like the artist portrayed by French actor Robert Le Vigan in the 1938 film 'Port of Shadows' ('Le Quai des brumes' in French) who wanted to "paint things hidden behind things", Berger flushed out the Marxist 'ghosts' that haunt us, beyond the "chill waters of selfish calculation". He liberated Marxist from behind its bars to play with the subtle and rebellious revelations of imagination and memory. He was also a feminist at a time when others saw this merely as a superficial cause.
At the start of the magnificent documentary made by Cordelia Dvorák to mark his 90th birthday last November (see video below), what John Berger says about his cataract operation - "once this portcullis was removed" - turns out to be a metaphor for his Marxism of redemption. It is a question of looking and not wearing blinkers.

John Berger or The Art of Looking (2016). © shihlun
Observation bias was an issue in his early life. So in the early 1960s Berger took himself off to live in a village in the Haute-Savoie region of the French Alps, finding there the fertile anxiety appropriate to his own first novel, A Painter of Our Time, which had been published in 1958. This was intended to be a "portrait of the artist as an émigré". It contains these words that still resonate nearly 60 years later, as the rule that guided a life that has now just come to an end: "There is no guile to grief. I work because I can do nothing else."
Berger was dismayed by a section of the authoritarian and fossilised Left that sacrificed the issue of racism against the socialism that was to come; as it would all disappear in a society without classes. While awaiting such a Marxist parousia – based on the Christian concept of the Second Coming – who can be allowed to be blinded by the present when a dazzling future awaits? It was in this gap that this immense, liberating writer sought to open our eyes by lending us his.
In a speech given when he won the Booker Prize for his novel 'G' in November 1972 Berger said: "The historical destiny of our time is becoming clear. The oppressed are breaking through the wall of silence which was built into their minds by their oppressor." The novel was translated into French in 1978 with the latest edition in 2015. Its French publisher Olivier Cohen described the work as "a sort of literary Cubism, which is to fiction what historical materialism is to philosophy".
In that 1972 speech Berger said that he wanted to use his £5,000 prize wisely, and to help the London-based Black Panther movement to resist "further exploitation". His object was to turn the prize against its own sponsors, Booker McConnell. "Booker McConnell have had extensive trading interests in the Caribbean for more than 180 years," Berger said. His comments caused something of a controversy in literary and political circles.
Having given half of his prize money to the London-based Black Panther movement, Berger used the rest to fulfil a joint ambition he had with Swiss photographer Jean Mohr. This was a resolute and determined move – two adjectives he liked, even though he cultivated a spirit of finesse – to bring to light the forgotten plight of immigrant workers in Europe. The result was their 1975 book 'A Seventh Man: Migrant Workers in Europe'.
In Cordelia Dvorák's documentary Jean Mohr recalls how John Berger was wary of photographs that were too beautiful. Rather than the perfect image he preferred the unexpected, to capture a look that was capable of revealing something.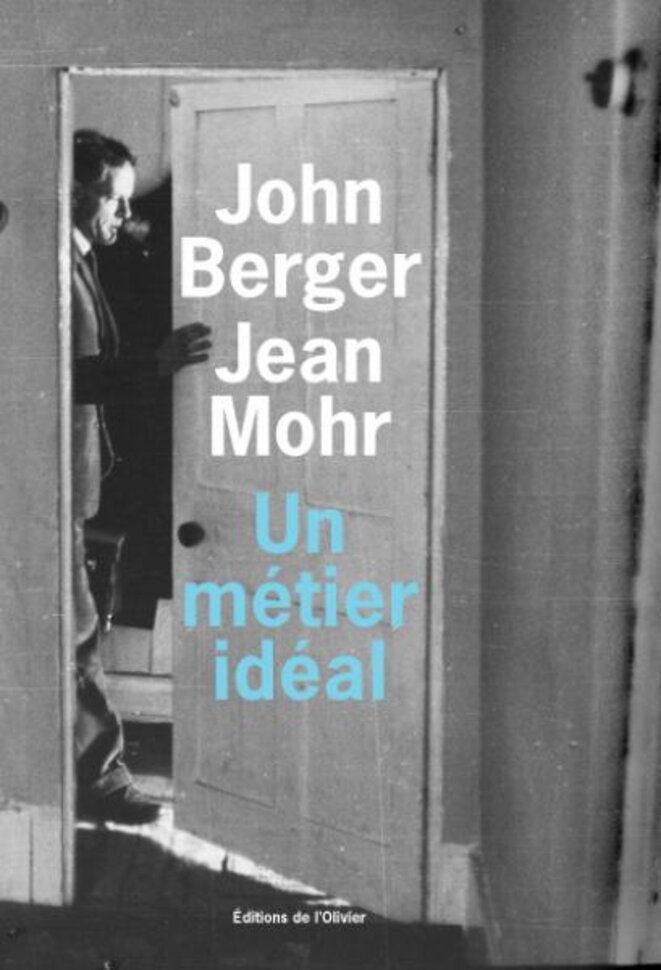 The French version of Berger's 'A Fortunate Man'.
In their first joint work, '
A Fortunate Man: The Story of a Country Doctor
', John Berger, in his role as a sociological narrator, wrote: "Is humanity as a reality and as an idea a point of departure or a point of arrival? I do not claim to know what a human life is worth – the question cannot be answered by word but only by action, by the creation of a more human society.
"All that I do know is that our present society wastes and, by the slow draining process of enforced hypocrisy, empties most of the lives which it does not destroy..."
Nothing is more contemporary and inspiring than this 50-year-old text. In the same way that Walter Benjamin knew how to see and convey his era before World War II, so John Berger detected what heralds the next catastrophe. He is one of the rocks that allows us to reconstruct a world that is endlessly dissolving before our eyes.
This artist has already warned us of what lies ahead. In his 2008 poetic essay 'Meanwhile', a reflection on what he called the "economic fascism" of global financial capitalism, Berger writes: "Have you noticed how small commodities are increasingly difficult to remove from their packaging? Something similar has happened with the lives of the gainfully employed. Those who have legal employment and who are not poor are living in a very reduced space that allows the fewer and fewer choices – except the continual binary choice between obedience and disobedience.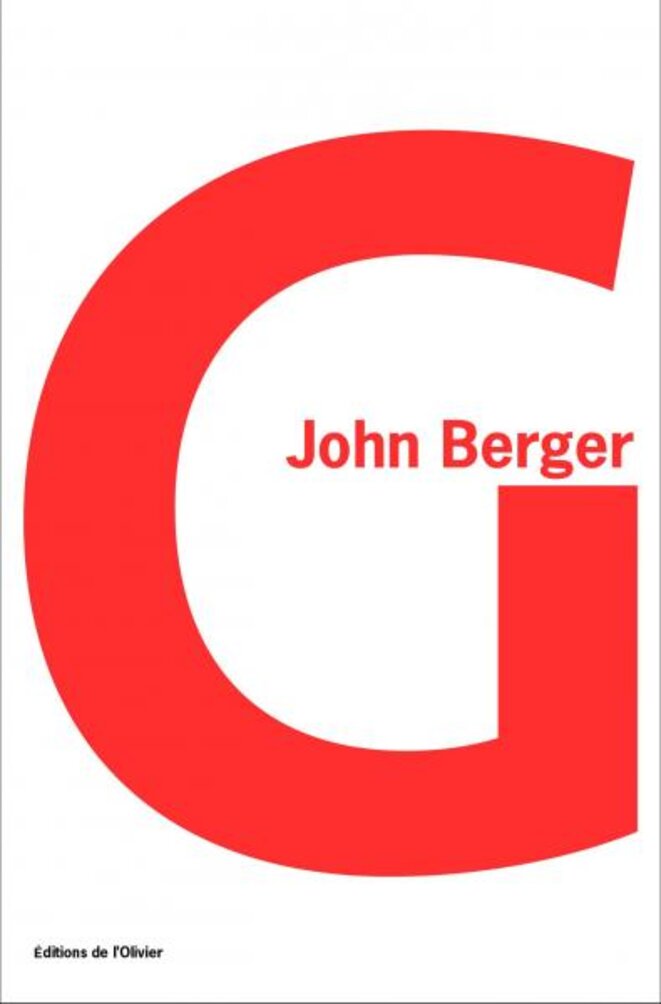 Berger's novel 'G'.
"Their working hours, their place of residence, their past skills and experience, their health, the future of their children, everything outside their function as employees has to take a very small second place beside the unforeseeable and vast demands of liquid profit."
It was in that most liquid of elements, the sea, that this Englishman finishes his novel 'G', in which the eponymous hero ends up being slid to his death into the salty water. "Its granular surface is in continual agitation. The further away the ricochetting grains, of which the mass become silver and the visibly distinct minority a dark leaden colour, the greater is their apparent speed. Uninterruptedly receding towards the sun, the transmission of its reflexions becoming ever faster, the sea neither requires nor recognizes any limit. The horizon is the straight bottom edge of a curtain arbitrarily and suddenly lowered upon a performance."
Could one dream of a more beautiful evocation of an end of a life that announces the end of the world, unless that is we act quickly and intelligently to avoid it? John Berger, loyal to his faithful work on the human condition, reproached us from the beginning of his life to its end. Now, finally, we must open our eyes. Without him, but thanks to him.
------------------------------------------------------------------------
The French version of this article can be found here.
English version by Michael Streeter