With 100 days to go before the first round of the French presidential elections, Socialist Party candidate François Hollande is still baffling observers and rivals alike. In the wings for over a year now, Hollande has pulled off a tour de force by imposing his strategic slow tempo on the political debate, displaying a singular virtuosity in the art of fuzziness.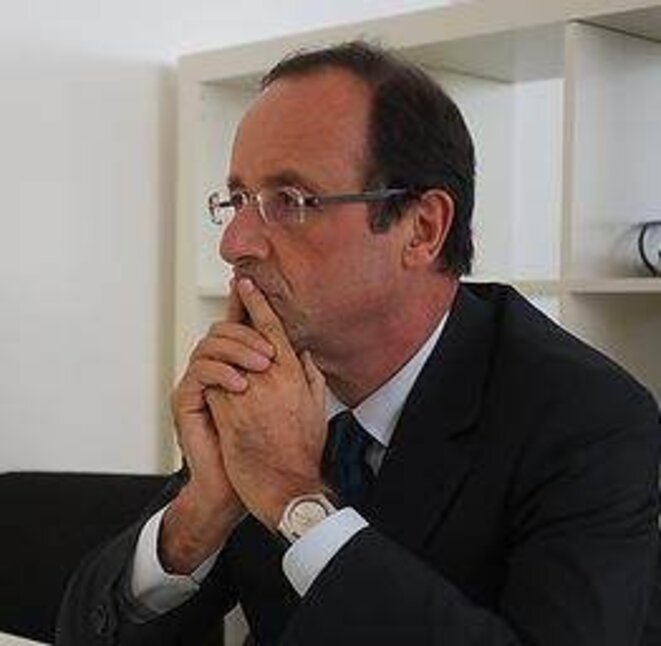 © TC/MP
Hollande, 57, a Member of Parliament and President of the General Council of the Corrèze
département
, has adopted a very presidential posture, travelling the land surrounded by journalists as he meets and greets the French. But he has yet to outline even a semblance of a policy programme. His "presidential platform", as he christened it at the inauguration of his campaign headquarters on the Avenue Ségur in the very chic 7th arrondissement of Paris, won't be divulged till "late January".
In an interview on January 13th with French daily freesheet 20 Minutes, regarding a mooted reform of the dependants' allowance system under the French tax code (quotient familial), he said: "You must always wait until I've settled the matter. The whole plan will be [made] known at the end of the month. In the meantime, only what I say counts." In the same interview, he claimed: "Credibility is on my side. I note attentively that, even if the French have their doubts about politicians, they trust me more than the president to reduce unemployment. And the 2nd-round transfer of votes still looks to come out in my favour. Sarkozy's unpopularity is deep-seated."
Here you have Hollande's strategy in a nutshell, and he frankly owns up to it. Like recently-elected Spanish Prime Minister Mariano Rajoy, he's simply waiting to be crowned with success. And in the meantime, so as not to lay himself open to attack by his opponents, he is playing it safe, making sure not to take the risk of injecting too many ideas into the debate, let alone any hint of a vision of future society. So the prospect is set out as a change of party in power, not of policy: an alternation, not an alternative.