ThisThis month, Mediapart set out to discover 'middle France', in the form of a series of interview portraits of men and women of different ages and professional and personal situations and who receive a monthly income of 1,500 euros.
For that is the median individual monthly income in France, after tax and social contribution deductions. Not to be confused with average monthly income, the median is that which statistics show half of all wage-earners fall below, and half sit above. The figure is calculated by the French Research Centre for the Study and Monitoring of Living Standards, the Credoc, and is based on research from the French National Institute of Statistics and Economic Studies, INSEE.
The Credoc reports that 38% of this 1,500 euro-income goes on essential costs such as rent or home-loan repayments and utilities bills, (against 21% in 1979). Once all other necessary outlay has been paid, including food, transport, health and education, there remains 300 euros per month for spending on leisure, clothing, holidays and home furnishings. Half of all people on an income of 1,500 euros per month never take holidays, have no internet access at home, and 40% have no savings account.
They represent a crucial electoral group, a 'middle class' that has become increasingly affected by job insecurity and inflation, and who find it difficult to maintain - and in some cases achieve - a standard of living perceived to be acceptable.
Mediapart's Michaël Hajdenberg travelled to Dijon, in Burgundy, in east-central France, a city of just more than 150,000 inhabitants (238,000 counting its suburbs), to interview a diverse group of median income earners about their lifestyles and their political views. The interviews were carried out shortly before the nationwide local elections that ended March 27th.
Daniel, 70, retired: 'It's the first time in my life that I'm this scared'.
Daniel joined the French Communist Party (PC) on May 10th, 1968. He left it two years ago because, he said, he "couldn't stomach" the PC's alliance in Dijon with the Socialist Party (PS) and the centre-right wing Modem party to ensure the re-election of the PS mayor, François Rebsamen. So, at 68, Daniel handed in his party card.
Leaving school at the age of 14, Daniel worked in construction for 15 years before becoming a school janitor for the next 30 years. He's been retired for ten years and receives a pension of 1,200 euros per month, as does his wife. To occupy his free time, Daniel is the chair of an association of clients of the municipal credit union, the Crédit Municipal, and he finds worrying the stories he is hearing from the members.
"People don't know where to turn," he said. "Our leaders don't know what's it's like to have only 1,000 euros per month, to not have the means to go out, and to have the television as sole entertainment. Have you ever come across a politician standing in the queue at the Restos du cœur [Editor's note: charity-run canteens]? People on humble means can't take any more. And the day that they feel that they can take their revenge, even with a totalitarian regime, they will take it. Poverty doesn't engender rebellion."
Daniel's sympathies lie with Jean-Luc Mélenchon, a maverick who quit the Socialist Party in 2008 to found the radical Parti de Gauche (Party of the Left). During the March local elections, it formed an alliance with the Communist Party and the Trotskyist NPA party. "At least he has the courage to talk straight. That's a change. People over 40 have been hearing the same speech for decades," Daniel added.
But, while close to the Confederation Générale du Travail, the CGT, a trade union confederation long associated with the Communist Party, Daniel is even tougher on the unions than on the politicians. "During the pension reform1 people had the impression that the unions were not fighting. Did you hear any union leaders get outraged? That used to happen in the days of [Editor's Note: former CGT head, 1982-92] Henri Krasucki .You could like it or not but at least there was some rebellion, not the academic comments we hear from [Editor's note: current CGT leader] Bernard Thibault today. The CGT is unable to explain the suffering in the workplace. It's not a question of demagoguery. But, the outrage, people only find it in the comments of the FN [Editor's note: far-right Front National party]. I would never vote for the FN, but in terms of analysis, [Editor's note: FN leader] Marine Le Pen hits the target better than any party on the left. She's better at explaining social problems," he said.
Like the political parties, the unions are today out of step with society. "Look at union leaders at the départemental [Editor's note: county] level. All you find are railworkers, and EDFs [Editor's note: public service employees]. And only occasionally someone from the private sector. That doesn't reflect the workforce," he said. According to Daniel, "people aren't getting any more out of groups and associations. I went to a meeting of [Editor's note: radical-left, anti-free trade group] ATTAC. They talk about inequality, which is good, but they are intellectuals. You can only understand one word out of three. They don't know how to talk to regular people. And there is nothing more dangerous than turning away people who are trying to understand. The FN is diving into the void, benefiting from the bitterness of 58 year-olds who look aged, who, at that age, are fed up with working in the building trades and who can't see any end to it. When you study history and you see what, during the Occupation, people became - good people, nice people2 I'm not saying this because of some opinion poll. I've felt this way for two years. It's the first time in my life that I'm this scared," he concluded.
-------------------------
1: A six-month conflict in 2010 between the unions and the government over a pension reform bill, now law, that raised the retirment age. The bill met with widespread popular opposition, demonstrated in a series of mass street rallies, but the unions failed to force any significant government compromise.
2: During the German occupation of France (1940-44).
Céline, 29, supervisor of a branch of the frozen-food store chain Picard: 'There is too much welfare, we suffer the most from it'.
Céline earns 1,300 euros per month, as does her partner who works for the city's sports department. They have an 18-month old baby and are "having trouble making it. Everything is going up, electricity, food, petrol. Things are getting tight between the car credits and the child-care fees. We are very careful. We eat red meat once a week. Before it was twice a week," she said.
Céline's last holiday dates from 2004. "Since then we have taken vacation time, but we haven't left Dijon. Each year, I look at the prices, I do the calculations. But we can't. Especially since we plan to buy a house 20 or 30 kilometres from Dijon. That costs 250,000 to 300,000 euros," she explained.
This change in housing would be linked to a more profound upheaval. "I don't want to live life without benefiting from it. I want to become a child-minder. Right now, I never see my son. With my partner there are also tensions. We each work every other weekend, for the extra pay. But then we don't see each other very often. Even if for my job I have no complaints," she added.
According to Céline, in France, "there is too much welfare. It's we, the category in the middle, that suffer the most from it. We don't earn much compared to someone on [welfare benefits support]. They benefit from preferential tariffs on internet connections, gas, water," she complained.
Recently, she hired an employee for 20 hours per week. He earned 700 euros per month but before that, she explained, he earned 1,000 euros in unemployment benefits. She swears that with the Revenu de solidarité active or RSA, a government-subsidised income supplement for very low-wage earners, he earns 1,200 euros per month. "Barely less than me, and only working 20 hours. I find that disgusting. If you add to that the preferential tariffs, housing allowance, he's earning more than me." she said. Unemployment, as far as she's concerned is not a real problem. "I've always worked. Here, I get few CVs. And as soon as I mention the week-end work, nobody's interested anymore," she said.
Ever since she's been of age to cast a ballot, Céline has voted FN, because "there is a big problem in France with immigration. In Dijon, things are still alright. But that's one category of people I can't stand. They don't work, they profit from the system. The news items [Editor's note: about criminal activities], are never about people with French surnames. They don't want to adapt. France must remain France. I don't see why we need as many mosques as we have churches," she continued.
She doesn't have only good things to say about the new look of the FN since Marine Le Pen took over from her father Jean-Marie, with its toned down rhetoric. "It's a plan for the elections, to be elected. If that allows them to win the [Editor's note: 2012] presidential election, and I think it is possible, then so much the better. But I'm afraid that it will just be another campaign like the others," she said. "I never believed in Sarko [Editor's note: French President Nicolas Sarkozy]. I found him fake. And it was too much. You can't change everything just like that. Work more to earn more?1 I never saw any of that. If I could work 50 hours a week and be paid in consequence, I would do it," she added.
Her disarray is the same over issues of justice. "When you watch the news, when you see the sentences, there is no blatant change," she said. Celine admitted her "ideas are set". She complains about Europe, factory relocations, factory closings, jobs in the public sector and, in between each subject, immigration pops back up. "With what's happening in Tunisia, I'm thinking that more people will end up here," she said. Asked about figures that show the contrary, she replied: "You shouldn't look at them. They're rigged."
Dalila, 51, bus driver: 'There's no room for treats on Sunday'.
Dalila lives alone with her three children. She earns a salary of 1,500 euros per month to drive a bus 30 hours each week. This isn't enough and she has two additional jobs. She delivers mail for the post office 14 hours per week for 500 euros per month and she delivers a local newspaper, Le Bien public (The Public Good), two nights a week between 2-6 am for 200 euros monthly.
One day, in 2003, her husband "left for work". He never returned. "Without a word of explanation," she said, neither to her nor to her three children then aged 8 months, 7 and 11. "It's the biggest failure of my life," she added.
Since then, Dalila drives her bus every weekend, every public holiday. But that's not enough. She pays 795 euros per month for her house. "I don't want to live in publically-owned subsidised housing. The ruffians already bother me when I deliver the paper at night. I don't want to have to deal with them all the time," she explained. Since her eldest son became 20, three months ago, she receives 177 euros less in government subsidies. "He hasn't finished his studies. It doesn't make sense to stop paying the aid," she argued. They no longer enjoy cake and cider on Sunday. "There's no room for treats on Sunday. We never go to MacDonald's or Quick anymore," she said.
She decided to find herself a job for the only slot of time left to her, Sunday morning -other than Wednesday, her day off. Her children tried to talk her out of it. "They told me that it'll be the end of me, but we need it. I tell them: 'Kids, I'm on the road for you'. And I will find something else, be it salesclerk, ironing, whatever. I need four more hours. My eldest son will start working on July 1st. I've just got to keep up the pace for a few more months," she said. Dalila has put aside 1,200 euros so her eldest can buy a car to go to work in Dijon, 60 kilometres away. "Soon, we've made a deal, he'll be giving me a bit of money," she added.
They continue to go, all together, to the shopping sales in the town of Troyes before stopping off at the Nigoland attraction park, 90 minutes by road from Dijon. "The weekend costs 450 euros. But once a year, it's a great luxury. Air conditioning, jacuzzi and everything. It's brilliant," she said.
In between jobs, Dalila thinks about politics. She's dissatisfied with the mayor's decision to push back school opening times by a half hour. "Seeing the time at which I have to be at the depot, I had to get a nanny for the morning to take one child to school. It's infuriating," she added. She can't stand the Socialist Party mayor, in any case. Her father, an Algerian who fought in Free French Forces General Leclerc's Second Division during World War II, was an activist in the 1960's for populist politician Robert Poujade, mayor of Dijon from 1971 to 2001.
She's following her father's cue. "The mayor, he's just caviar socialism. I don't see where his social fibre is. He's only interested in the Olympic-sized swimming pool, the tram," she said.
Although she votes on the right, Dalila is a union representative for the CGT [Editor's note: trade union confederation long affiliated with the Communist Party] at the post office where she "defends the employees. We are exploited and underpaid. There are 80 people behind me," she explained. But, unlike her colleagues, she "did not demonstrate for the pensions,"2 she added. She didn't quite see what the 'Work more to earn more' slogan had changed in her life but she's not, for all that, disappointed in Sarkozy. "His problem is that he's got the wrong people around him. MAM [Editor's Note: recently sacked foreign minister Michelle Alliot-Marie] that was madness," she argued. Alliot-Marie was forced to resign over revelations about her personal ties with members of the ousted Ben Ali regime in Tunisia.
With a Muslim father, Dalila says she cannot vote for the far-right, anti-immigration Front National Front. "But being of Algerian origin, I can say that there are way too many foreigners in France. And the city of Dijon is paying the bus fare for Roma. While I , who works for the bus company, who leaves the house at 6.15 a.m. to get home at 9 p.m. every night, I have to pay 48 euros for my kids' bus passes," she noted. Dalila firmly defends the French president. "He's no worse than the others and let's not exaggerate, it's not the FN," she said, adding, "he doesn't want to send three generations of immigrants back to their countries."
-------------------------
1: 'Work more to earn more' was conservative right Nicolas Sarkozy's campaign slogan and pledge in the 2007 presidential election, symbolising his argument that France needed to reward hard work, free-up labour conditions and reduce welfare dependency.
2: A six-month conflict in 2010 between the unions and the government over a pension reform bill, now law, that raised the retirment age. The bill met with widespread popular opposition, demonstrated in a series of mass street rallies, but the unions failed to force any significant government compromise.
Catherine, 35, freelance stage act producer: 'I have totally lost hope'.
Catherine earns 1,500 euros a month come rain, come shine. In France, entertainment business workers like Catherine have a special statute allowing them to work under temporary contracts and receive unemployment benefit as of right whenever they are not working. Her partner, a supervisor at the FNAC, a French leisure and entertainment store chain, earns around the same, with a salary of 1,400 euros a month plus a bonus. "He doesn't have much chance of improving his salary. If we want to earn more money, it's up to me to make the effort."
They have one child and rent a flat in Dijon, in Burgundy, for 750 euros a month. They would like to buy somewhere, "not so much for the sake of owning but because we are thinking of when we are old. It's pathetic to have to think of retirement at 35. But with our pension system and my temporary status, we have to."
Between them they manage to put aside 150 euros a month."Until I was 30 I worked for peanuts. But after a while enough is enough. It's not because you like your work that it has no value," she said.
Catherine does not have to go without the basics. On the other hand, for the extras, "it's whatever we can wangle". Her connections in the arts world mean she can get free tickets for concerts and the cinema. They go away once a year, as long as they economise.
With that income Catherine certainly could not live in Paris. In any case, her dream is to go to Lyon, Brussels or Berlin. Somewhere else.
Politics, however, donot inspire her. "I was very politicised until 2002," she explained. That was when, during presidential elections, Socialist Party candidate Lionel Jospin failed to get enough votes to go through to the second round of voting in the 2002 presidential election, leaving a knock-out contest between conservative right Jacques Chirac and far-right candidate Jean-Marie Le Pen.
"When Jospin lost I began to lose hope. Now I have totally lost hope. In my work I am appalled by how some local authority departments operate. They have no idea what we do." In France public authorities routinely deal with applications for subsidies for arts projects.
"Politicians don't really look at what voters need. Relationships have broken down all over the place. I just see people doing the dirty on each other, not people who care about basic ethics to get us out of the shit," she said.
Catherine says she does not understand the government's policy on unemployment and why it put an end to subsidies for hiring young people. In the last presidential election in 2007 she voted for the Greens in the first round and the Socialist Party candidate Ségolène Royal in the second round. Now she feels even more drawn to ecology. "I think they can have a political approach to things globally. Like re-thinking the economy through ecology."
She herself is weary of political battles. "These struggles don't get anywhere. Not for the teachers, not on pensions," Catherine said, adding she does not pay enough attention to politics: "I've got my head down. Mostly I'm just trying to cope." She subscribes to a cultural magazine and listens to the news on the radio, but says she does not see the sort of figure who would embody her aspirations."There is one young woman, I can't remember her name." Did she mean Cécile Duflot, the leader of the Greens? "That's her," Catherine agreed. "But she's too young, she doesn't get enough coverage to have a chance. But she speaks sincerely, truthfully.
Catherine has heard that Marine Le Pen, leader of the far-right Front National, is gaining ground. It is a bit early, she says, but she has already begun to reflect on how she will vote. "I would like to vote in a way that reflects what I believe in but I will really think hard about whether it is worth the risk," she said, referring to splitting the left-wing vote1. "It all depends on who the Socialist candidate is. I would like there to be an agreement before the elections. It's through compromise that we can achieve things. I miss Jospin. He knew how to bring people together. He had sincerity. People said he was austere. But you don't need politicians who dance on tables."
Meryl, 34, fruit and vegetables manager at an Intermarché supermarket: 'They come with no money and get a flat and residence permits'.
Meryl is not happy with his situation at work. At the Intermarché supermarket where he works, the butcher is much better paid than him. So are the people in charge of fruit and vegetables at other supermarket chains like Auchan and Carrefour. Meryl manages stocks and negotiates prices. "It's pretty physical work. You are always having to carry heavy things."
His regret is being "in a category where you've got nothing." He manages to save 75 euros out of the 1,400 euros he earns every month. "It's just as well I don't smoke. But I have got a dog." Once he has paid for everything he has 350 euros left. Most of that goes on petrol, for going to and from the town of Auxerre, in northern Burgundy, where he comes from. "And there's 16.20 euros on motorway tolls."
Meryl has not taken a holiday for eight years "in the sense of going far away, to another town." He manages well enough in his daily life. But he would like to move into management. He would earn more. "And you don't have to clock in." He is fed up of working from 6 a.m. to 9.45 a.m. and then from midday to 4 p.m.
He voted for Nicolas Sarkozy in 2007. "I had a lot of hopes. I liked what he did at the interior ministry on road safety. I'm glad he did more or less what he said he would do about the Romanians [sic]." He was referring to the Roms, gypsies from East-Central Europe; many of them without legal residency status were targeted by the French government for repatriation during 2010. "I'm fed up of them being everywhere," Meryl continued. "They come here with no money and they have to have a flat and residence permits. I'm not against some of them being here. But enough is enough. And in Dijon they are everywhere."
He points out someone begging in front of the Carrefour supermarket. "Sometimes they are better dressed than you are."
He is unhappy about the way the legal system is working at the moment. "Up to when they are arrested it's okay. But the follow-up care afterwards, that doesn't work. They rape and kill and then it starts all over again. They don't see doctors, there isn't any follow-up care." So, does Sarkozy really criticise the legal system? "I don't know, but he isn't opening new prisons. And if the legal system hasn't got the resources to do its work, it isn't easy either."
So now he is looking to far-right Front national leader Marine Le Pen. "When you listen to her at the moment, you think she would really do what has to be done. From the right, not from the left. I'm not sure she would do much for employment, but she is less crude than Jean-Marie [Editor's note: previous leader, her father Jean-Marie Le Pen]. With him it would have been hard. I'm no extremist. He scared me. When he talked about the Second World War he was sometimes a bit too rough," he argued.
"She has understood her father's mistakes. Basically it's the same thing. But she is much cleverer. The fact that she's a woman makes people feel less guilty about it. Before I wouldn't have said this out loud. Now, I don't mind telling you in a café. It's all the same to me," he added
Meryl keeps on quoting things he hears on a news radio station. He had thought Sarkozy would lean more towards the middle classes. And Sarkozy isn't going to win Meryl back with his current campaign of questioning the place of Islam in French society.2 "I don't believe it any more. He would already have done it, he's had four years. The ones that pray in the street, that's intolerable.
"In Auxerre the town hall gives lots of money for building a mosque," Meryl alleged. "And in Dijon they open kebab shops and sell ten kebabs a day and they can have brand new cars. You come across some that have lived in France for 40 years and don't speak a word of French. Well, it's too late as far as they are concerned, but we should stop giving residence permits to the new ones."
Philippe, 29, pastry cook: 'When candidates make promises they should sign a contract'.
Philippe left his home town, Le Creusot, when he was 24. "There are fewer and fewer jobs there. The factories are closing. It became hard to find temporary work." Philippe left technical college with a baccalauréat diploma in mechanics and then tried to get a technical and commercial professional qualification, but failed because of his English. "The oral stuff wasn't my thing." Nor was mechanics. "When I had to choose what to do after middle school, I was told, "There's a place here." So I went."
After an assessment of his skills at the national employment agency, the ANPE, he decided to learn to be a pastry cook at a training centre for apprentices. He is now earning 1,300 euros a month. "I live on my own and I don't spend much. I only buy things if I've got the money, I don't like borrowing." He dreams of owning a 1980s Ford Mustang - "That costs about 13,000 euros" - and of travelling." And owning my own place. That would be nice."
For the moment he is renting. He does not go without on a daily basis. "I don't eat a lot in any case." He starts work at 5 a.m. and finishes at 1 p.m., then he hangs out a bit "because there's nothing to do at my place except watch television. When I go home I'm tired, I don't want to do anything." He goes to bed at about 10 p.m. and takes his days off on Tuesdays and Wednesdays, time he uses to do housework and repairs if necessary.
Philippe doesn't talk about politics because he doesn't talk about anything much. He has lived in Dijon for five years and hardly knows anyone, partly because he is a bit shy, he says, and partly because of the hours he works. He doesn't talk seriously, he has a permanent smile. "In an office you meet people," he said. "Apart from my boss I don't see anyone. I find it hard to make contact. Discos aren't my thing."
He only follows the news sketchily. To keep up with things he watches a late afternoon television talk show with debates on current affairs. In the 2007 presidential elections he voted for "what's her name again?" He agreed that it was Socilaist Party candidate Ségolène Royal? "Both times."
"When candidates make promises they should have to sign a contract that would oblige them to do what they said," he continued. Then, without any prompting, he said of next year's presidential elections: "I don't know him but I could see voting for Strauss-Kahn. [Editor's note: Dominique Strauss-Kahn, head of the International Monetary Fund and a potential Socialist Party candidate in 2012] In fact I don't even know which party he belongs to. But I don't worry too much about those things. I live through my work and I don't think much about other people. I just notice that politicians never use their own money."
He is of Portuguese origin and is worried about the rise of the far-right Front National. "When we came to work in the factories the French were happy enough to have us." His brother still works in a factory. "It's not bad because he gets Christmas and New Year's Day off. I would like to spend Christmas with my family. But I have to work on those days."
He has not really thought about what politicians could bring to his personal situation, but offers: "Oh yes, I would like to get subsidies for mobile phones. And for the price of gas, petrol, electricity too. And force people to rent out their flats if they stay empty for more than 18 months."
In the meantime Philippe is trying to build up some savings. He puts aside 150 euros a month. "When you spend all your money, what's the point of working?"So he doesn't put the heating on at home. "I don't feel the cold. But for the moment I'm okay because I live alone. But what if I lived with someone? That would be harder financially. And it might be someone who feels the cold, for example."
-------------------------
1: During the 2002 presidential elections in France, the left-wing vote was split between the Socialists, the Communist Party, the Greens and two Trotskyist groups, which allowed National Front leader Jean-Marie Le Pen to take the second-highest score behind conservative right Jacques Chirac and to go through to the final run-off against conservative Chirac.
2: Nicolas Sarkozy and his ruling UMP party began to call for a national debate on secularism and the place of Islam in France in February 2011. Sarkozy fired his advisor on diversity, Abderahmane Dahmane, on March 11th, the day after he harshly criticised the idea.
Nathalie, 40, estate agent assistant accountant: 'This summer we spent a week at Center Parc'.
At 40, Nathalie can't remember casting anything other than a blank vote in presidential elections. "I don't feel involved. I vote because it's a right that people fought hard to get. But it's a lot of hot air. I can't see anything changing in daily life, and I don't understand anything anyway. It's like at school when you don't like a subject. Happily not everyone is like me."
She thinks the stakes are higher at a local level, where "it's more a question of individuals". In the past she has voted both for the Socialist Party and for the right. "There are good ideas everywhere," she said, citing an example of schools that subsidise learning materials, so parents don't have to pay for the books.
She won't be turning out for the local, cantonal elections in March, (roughly equivalent to county council elections). She's not interested. In 2007 it was another story. "Sarkozy's speeches inspired me," she recalled."I thought, finally here's someone with a firm hand. He went into the [Editor's note: public housing] estates with a strong-arm. But today buses are still being vandalised. Whether it's him or someone else, they won't achieve a miracle. I liked the fact that he stood firm on retirement, but he wasn't able to explain it to the young."
What has disappointed her is "his lifestyle, which hasn't changed, this 'Do what I say, not what I do'. How many chauffeurs drive Madame la ministre'1 around? And private jets, red carpets. How much money do we need to spend on a banquet for heads of state? I want prestige, but shouldn't this come second place to keeping schools and hospitals staffed? All these banquets, that's how many teachers' jobs that could have been saved? While the rest of us are in security mode."
By which she means economising. "It's years that we've been living like that. The children grumble. They complain that one of their friends is going to Euro Disney, another goes to the cinema every week. I say, 'That's all very well, but we can't afford it.' But we have taken the children out to a restaurant. And this summer we spent a week at Center Parc. On top of a week here, in Dijon."
Nathalie could be earning more, as she did a few years ago when she was an accountant in Vaujours, a suburb in the "93" department, roughly a county, north-east of Paris. "I made a choice," she says. "I wanted to move the children away from the Paris suburbs. Rather than pay for private education we decided to leave. I don't regret it. The suburbs, it's always worry and stress. You can't show what you have on you, you always have to hide your bag under the seat, and you can't go out at night without being afraid. Here we live 17 kilometres from Dijon. We've got our house, our garden. We're at peace."
Abdel, 35, nurse: 'I'll vote to block the financial lobby'
Abdel earns almost 2,000 euros a month. He sees himself as middle-class. Like him, his wife is a nurse in a Dijon hospital. They live in the residential suburb of Talant with their 11-month-old daughter. When asked about their lifestyle he answers "we live", echoing the "we survive" heard from those who claim basic social assistance and the very poor. He said he comes from a "very modest" background. Abdel says he "is careful". His one luxury is hunting, between October and February.
He regrets not having the time to spend on politics. When he does, it's mainly to follow the reforms in health care. He describes himself as "left leaning", though he doesn't believe in the divisions in French politics. "Left and right have the same objectives" according to him. In the past he has voted for far-left Trotskyist candidate Olivier Besancenot2, "never for the right or the far-right [...] The only side that respects social issues is considered to be the extreme left. But as the extreme left has never produced anything good," he trails off without completing his phrase.
He says that above all he espouses "anti-capitalism". He doesn't know who he will vote for in the cantonal local elections, and "it's still too early" for the presidential election "People with North African roots are expected to vote for the left," he said. "But if the right offered something good I wouldn't be against it." Without being pressed to talk about the extreme right, he volunteered: "I even agree with the Front National when they talk about bringing back the franc. You can find something good in all parties' policies."
He ends by citing Alain Soral, who went from the far-left to the far-right3 "He played a large part in forming my opinions. He swept across the whole political field. Like me, he rejects the ultra-liberals. In any case, my vote will be so that the financial lobby don't come out on top. And if that's not possible in the second round, I won't vote. My vote must reflect my vision of the future.
Ludovic, 36, webmaster: 'People have the impression that they're being made a mockery of'.
Ludovic lives with a permanent bank overdraft "even", he says, "when being careful". He and his girlfriend manage to get by swapping the overdraft from one bank account to the other. They live together in a 70 square-metre, four-room flat, which costs 790 euros per month in rent. Both are passionate about culture, but they are careful not to overspend in enjoying it. Every now and then they manage a romantic weekend trip to Paris.
All the same, Ludovic says he feels almost like he lived better when he set out in professional life, and had a government-sponsored youth employment contract which was exempt from taxes.
A few years back he almost became an activist with the Socialist Party (PS), which he joined. But he was caught up by personal problems and said he became disillusioned with the PS machine that makes it difficult to express a view and be heard. He never renewed his membership. "There are so many levels in the party," he said, "you're crushed by the pyramid of power. Even in Dijon, you can't express a discordant point of view."
However, he said he would like to defend a political policy that was "without concession", and he quotes the 20th-century French socialist politician Pierre Mendès France (1907-1982) as a reference. He expresses surprise that one could be surprised by this reference for a man from a bygone era. When he talks of the Socilaist party, for which he has always voted, he speaks of a lack of credibility, the absence of any alternative offer. "It is always in reaction to the government," he complained. "There is no imagination. Mitterrand4, at least, had appeal."
The attitude of elected politicians, Ludovic said, shocked him above all. Those he sees close up are above all local. He is critical of the increasistill widespread practice under which French politicians manage to cumulate several simultaneous mandates, such as being Member of Parliament and the mayor of a town. "They use their mandates for their own purpose," he said. "It's the grouping of mandates or general functions. How can they manage everything? People say to themselves it's not credible, that their objective is not really to be 'at the service of'. It's all for a political career." He said that, until now, he would choose a party candidate regardless of this, but that could change.
"People have the impression that they're being made a mockery of. So, resultingly, there are those who go for Marine. It's Le Pen with sequins."5
Ludovic became interested in the Green party Europe Ecologie, but he complained that a friend of his who had joined them was unjustly removed from their list of candidates in the last regional elections. "Even with them you find practices that favour the old chiefs." He is decided that he won't vote for a party candidate he is not convinced in. "Rather a blank vote", he said.
------------------------
1: Referring to Michelle Alliot-Marie, the former foreign affairs minister who retained her right to a chauffeur-driven car after she resigned her post in February 2011.
2: Olivier Besancenot, a far-Left politician who founded the Nouveau Parti anticapitaliste (NPA) in 2009 after twice running for president with the Trotskyist Ligue Communiste révolutionnaire (LCR) in 2002 and 2007.
3: Alain Soral, essayist and film director who was a Communist militant in the 90s then joined the Front National's central committee in 1997, created the Egalité et Réconciliation party in 1997 professing "Left in terms of work, Right in terms of values", and in 2009 stood in the European elections on the "anti-Zionist" list led by the controversial Afro-French comic and actor Dieudonné.
4: François Mitterrand, former socialist leader and twice-elected French President, in office from 1981 - 1995.
5: 'Marine' refers to Marine Le Pen, the newly-elected leader of the far-right Front National, and who took over from her father, Jean-Marie Le Pen, referred to as 'Le Pen'.
Ahmed, 43, night receptionist in a hotel: 'Our biological clock is not set for it'.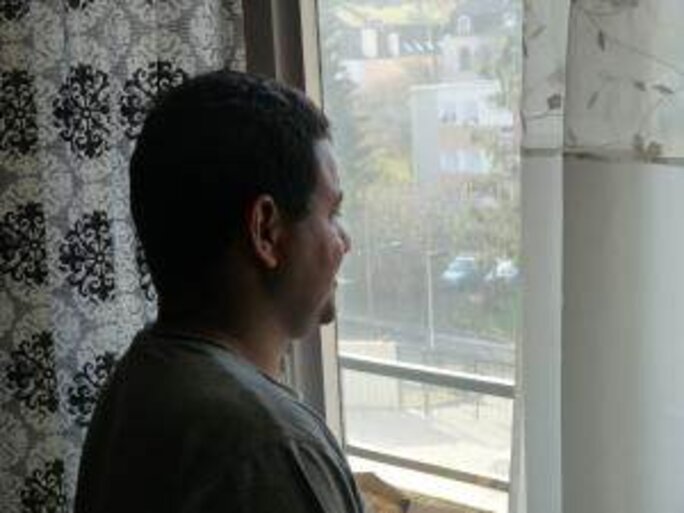 Ahmed doesn't consider himself to be part of the middle class. "For me, the middle class is to be owner of your home," he argued. He lives with his partner and their two children in publicly-subsidized housing (HLM), in a four-room flat in Chenove, on the periphery of Dijon, for a monthly rent of 550 euros.
He sees little of his family, his working hours being from 11 p.m. to 7 a.m. "I live upside down," he said. He has worked ten years with the Accor hotel group, the last four at the same hotel. Before that, he worked at "a bit of everything".
His partner now also works, as an infant care assistant. "We manage to pay ourselves a week every two years in a gite in Brittany," Ahmed said. He finds things better, but hardly perfect. "We are less now chasing after every centime," he explained, "but it's complicated for the childcare, the canteen. Especially because we have just one car. Okay, she wanted to work. But otherwise, it's not really that worth it, given what you gain against what you lose, plus the bother. Mind you, maybe it's my macho culture that's showing itself."
Ahmed sleeps during the day, and sees few people. "I am so missing out socially that, when you called, I said yes straight away." Which meant skipping his afternoon nap for this interview. He's so used to this solitary life that now he cannot imagine climbing the professional ladder. "You need to move about, be mobile," he explained.
He came to France in 1990, and voted for the first time in 2007, the year of the last presidential and legislative elections. When he speaks of a political cause, it is above all that of the retirement pension reforms, and the non-classification of night work as a physically punishing occupation - described as pénible in French - which in some professions allows for early retirement. "Night work is not considered as being pénible," he said, "whereas our biological clock is not set for it. And pressure should be put on [Editor's note: French business confederation, Medef, president] Madame Parisot. To raise salaries."
Ahmed says he has a soft-spot for Jean-Luc Mélenchon, a maverick former leading Socialist Party (PS) militant, minister and senator, who left the party in 2008 to found the radical Parti de Gauche (Party of the Left), situated to the clear left of the PS. "He spoke better on the pension reforms than the PS," said Ahmed. "I am anchored well to the left. When you see that [Editor's note: former PS presidential candidate] Ségolène Royal was ready to take [Editor's note: centre-right party leader François] Bayrou as prime minister."
He said that, in next year's presidential elections first-round vote, he will not vote "utile". In 2002, far-right leader Jean-Marie Le Pen reached the two-candidate, second-round play-off after narrowly beating socialist candidate, and then outgoing prime minister, Lionel Jospin, who lost out to a protest vote placed in fringe left party candidates. The term 'voter utile' means 'to vote usefully', by pragmatically choosing the mainstream party candidate who has the best overall chance of succeeding - PS to the left, UMP to the right - rather than a minor party.
Asked if Ahmed would now no longer 'voter utile' even if the far-right appeared, once again as in 2002, capable of reaching the second round, he replied: "She arouses curiosity. Myself, I ask what she would do if she came to power."
"If she's really dangerous, then maybe she needs to be blocked out. I'll decide at the last moment."
Aurélie, 29, sales department assistant: 'I am afraid of a civil war in the end'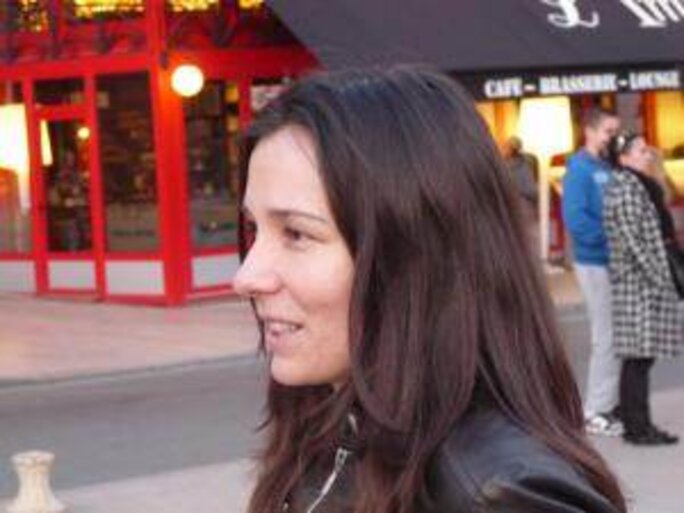 Aurélie has worked since the age of 21, and for the last four years in Dijon, in the perfume trade. When she began work, she earned 1,800 euros per month, but when she moved to Dijon she had to accept a drop in salary. Now she is on 1, 375 euros per month, a few euros more than the minimum wage.

She lives with her sociology student partner in a rent-free a flat belonging to one of their families, which represents a saving of 460 euros - the rent they previously paid. "It was tough", recalled Aurélie, "especially the months when we had to pay the [Editor's note: electricity company] EDF."
Aurélie treats herself to private archery lessons - something her partner doesn't allow himself - but she decided to forgo her dream of learning the violin.
When she thinks of politics, she said it was about "how to improve daily life".
"Prices are soaring," she said. "And the pension law, I took that as a punishment. There were other ways. I don't understand the logic of asking us to work longer when there is so much unemployment. There's something that escapes me. I don't want to work up until 70 years-old. At a certain age, you diminish."
Aurélie said she sees this in her father, who was a night watchman, and her mother, once a dentist's assistant. "When you walk beside them, all of a sudden you realize they are behind you. And they remember things less."
For the presidential elections in 2012, she is already decided that she will not vote for far-left Trotskyist candidate Olivier Besancenot, the 36 year-old leader of the NPA party (New Anti-capitalist Party). "Besancenot criticises and criticises, but he doesn't propose much," she commented. However, she doesn't know who she will vote for; "I must have a look at Mélenchon's manifesto," she said, referring to Jean-Luc Mélenchon, a veteran Socialist Party (PS) figure who split away in 2008 to found the radical Parti de Gauche (Party of the Left).
Aurélie spoke of her "fear" on the subject of Marine Le Pen, leader and future presidential candidate of the far-right Front National party, who has recently attracted strong gains in opinion poll surveys. "I am afraid of a civil war in the end. I don't mix with sad people in my daily life. It's when I see the opinion polls that I realise the situation. Between now and six years [Editor's note: the presidential mandate is five years] I think she could become president. People say to themselves 'why not try Le Pen?' As if it were nothing. So, to avoid reliving 2002, maybe I'll vote PS in the first round1. Except if it's DSK, for me, he's not socialist."
-------------------------
1: See interview with Ahmed, above.
English versions: Patricia Brett, Sue Landau, Alison Culliford and Graham Tearse

(Editing by Graham Tearse)