Each December for the past twelve years the word would go around the corridors of France's Senate that Father Christmas had arrived. Senators would then queue up in the office of the UMP Senate group accountant to collect an envelope. These envelopes contained 'étrennes', a term equivalent to 'Christmas box' and usually employed for the modest end-of-year payments that members of the public in France give to public sector workers in France such as postmen and women, refuse collectors and fire officers. For most public workers in France the total amount of this Christmas 'box' might be just a few hundred euros at most. But in the envelopes of each of the UMP senators was a cheque for around 8,000 euros.
This meant that every Christmas more than a million euros were transferred from the coffers of the UMP Senate group for the personal benefit of its members. Over the 12 years this came to a total of around 15 million euros. Indeed, as there were so many UMP senators, some 140 in all, the whole process of doling out the end-of-year tips would take two to three days.
Moreover, the successive chairmen of the UMP Senate group, Josselin de Rohan, Henri de Raincourt, Gérard Longuet and Jean-Claude Gaudin, often took the trouble to add a personal note, or a trinket such as a biro. Gaudin even wanted to grease the palms of his flock in person the first year he headed the group, but the whole circus soon tired him, so he handed the job to his assistant.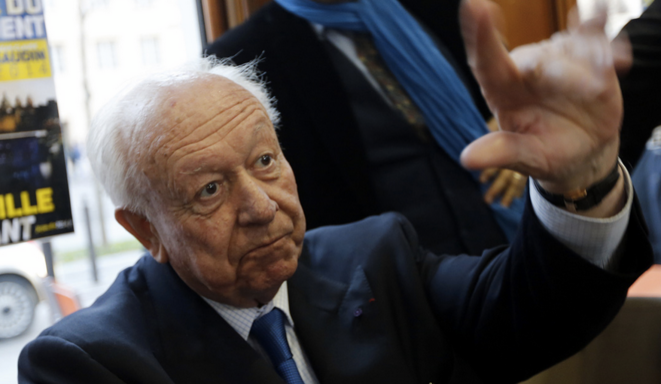 Jean-Claude Gaudin, sénateur et maire de Marseille, président du groupe UMP de 2011 à 2014 © Reuters
No one outside this Senate group knew about the practice, which began after the 2002 parliamentary elections when the Gaullist RPR party merged with four smaller centrist parties to create the Union for a Popular Movement or UMP. Unlike political parties, parliamentary groups have never published their accounts. The only inkling of the practice came after some Senate employees found an envelope that had been carelessly forgotten and swiftly returned it to its owner.
Last October Bruno Retailleau, a supporter of François Fillon, the prime minister under Sarkozy, took over the reins of the UMP Senate group and decided that in view of the various legal investigations currently under way into possible misuse of public money by the right wing in the Senate, a new potential scandal had to be avoided. As a result no Christmas box will be paid out in 2015.
Meanwhile de Rohan, who chaired the UMP Senate group from 2002 to 2008 and introduced the custom, tried to play down its importance. "It's a 13th month [payment] just like in companies," he told Mediapart. "You aren't going to tell me that isn't the practice in the corporate world," he added, referring to the common practice for companies in France to pay workers a '13th month' salary in December as a negotiated perk or bonus. Yet France's senators are hardly poor and in need of the money: each month they are paid 5,400 euros net after social security and pension deductions though before income tax, plus they receive 6,000 euros net for expenses and 7,500 euros gross, before deductions, to pay their Parliamentary teams.
The status of parliamentary groups may not be defined in law, but their role is clear, which is to organise the parliamentary work of their members, to hire staff, purchase communication services and so on. Their funds come essentially from public subsidies, which totalled 3.7 million euros for the UMP in 2012, for example. What these groups are not there to do is give senators a Christmas present.
When this was put to de Rohan, he replied that the Christmas box was roughly equivalent to the subscription senators pay to belong to the group, some 720 euros a month deducted from their basic pay. Which means in effect that the group was happy to 'repay' those subscriptions to its members for Christmas in the form of an 'étrenne'. "They paid for their 13th month themselves," de Rohan said. "It is legal."
It may be hard to see the point of such a manoeuvre, but de Rohan said: "It provided an advance cash flow for us." At the end of 2014, however, the Senate group had 5 million euros in cash reserves, so some scepticism about the need for such a cash flow is probably in order.
"At any rate, it was always presented to us in that way," said one UMP (now 'Les Républicains') senator who asked not to be named. "But it is a stupid practice. Personally, I never understood it." Another senator recalls that when he proposed ending the practice, "the group treasurer wouldn't hear of it".
One veteran senator jokingly suggested another explanation for the annual 'bonuses': "It gave certain gentlemen, whose wives did not know anything about the payments they received, some room for manoeuvre." More seriously, another senator, who used to receive 7,700 euros, suggested that "perhaps not everyone received the same amount... that could be the advantage of the system for a chairman and his treasurer". Privately greasing the palms of particular individuals creates a system like a Royal court or a feudal arrangement, a system of patronage. After all, if there was nothing to hide why not simply set up a bank transfer?
Mediapart was unable to reach the former treasurer of the UMP Senate group, Jean-Claude Carle, who did not return calls. Carle was relieved of his functions in 2014 following the initial revelations of suspicion of misuse of public funds. In any case, by ending the practice of 'étrennes', Retailleau, the new Senate group chairman, has implicitly recognised that it posed a problem. He has also now reduced subscriptions to the right-wing group to around 100 euros a month.
This obscure custom probably still masks some secrets. Several parliamentarians said there was clearly one advantage to the system of paying a monthly fee then getting money back later – it gave the impression they were contributing their own money to the working of the group. This argument has repeatedly been put forward to the press to justify the lack of transparency over the accounts, in particular when the scandal of misuse of public funds embroiled the UMP group last year. All the UMP officials Mediapart questioned at the time said that the group's funds were not just public money, they also contained private money. A misleading argument, many might think, if not completely specious.
-------------------------------------------------------------------------
The French version of this article can be found here.

English version by Sue Landau
Editing by Michael Streeter
Si vous avez des informations à nous communiquer, vous pouvez nous contacter à l'adresse enquete@mediapart.fr. Si vous souhaitez adresser des documents en passant par une plateforme hautement sécurisée, vous pouvez vous connecter au site frenchleaks.fr.