Shortly after a visit to Spain in December 2013 by the FBI's second chairman James Comey Jr., the US embassy in Madrid issued a fact sheet entitled 'U.S. and Spain Law Enforcement Cooperation'. "U.S. and Spanish information sharing has led to the disruption of multiple terrorist operations planned on U.S. and Spanish soil," it read. "For example, for six months in 2012, Spanish and FBI officials partnered on the investigation and eventual arrests of Muhammad Adamov, Eldar Magomedov, and Cengiz Yalcin in connection with an Al Qaeda plot. Critical information flow between the U.S. and Spainish [sic] governments led to their arrests and thwarted Al Qaeda's plan to use remote-controlled aircraft to deliver explosives in Spain and Europe."
But the report omitted to mention that the case against Chechen nationals Adamov and Magomedov, and Turkish national Yalcin, had been dropped in March 2013 by a Spanish judge because of lack of evidence against the men. They were arrested in a Spanish police operation codenamed 'Operation Lead', named after the heavy metal, which was launched after Magomedov had been denounced as being involved in terrorist activity by a prisoner held in a secret US detention centre situated outside of mainland America.
Spanish investigating magistrate Pablo Ruz, in charge of the case, had on three occasions requested a video of the testimony from the US Defence Department and also to be able to question the witness either in Spain or via videoconference. Having never received a positive reply to his requests, Judge Ruz closed the Spanish investigation file on March 21st 2013, and withdrew the charges against Adamov, Magomedov and Yalcin.
They were then freed after serving nine months of preventive detention in a Spanish prison where they had been kept in solitary confinement. Adamov and Magomedov were subsequently deported to Russia. Yalcin has since remained in Spain, where he has now launched a lawsuit against the police for unlawful arrest, torture, falsification of evidence and sequestration.
In the ten years following the March 11th 2004 terrorist bomb attacks against four commuter trains in Madrid, which left 191 people dead and 1,841 injured, more than 500 people have been arrested in Spain on suspicion of involvement in Islamic terrorism. Just 50 of these were sent for trial and found guilty of terrorist-related charges – most of them for belonging to a terrorist organization - according to research by Spain's Elcano Royal Institute, an independent body for the study of international affairs.
As for the hundreds of others who spent months and even years behind bars before finally being freed, the majority were deported.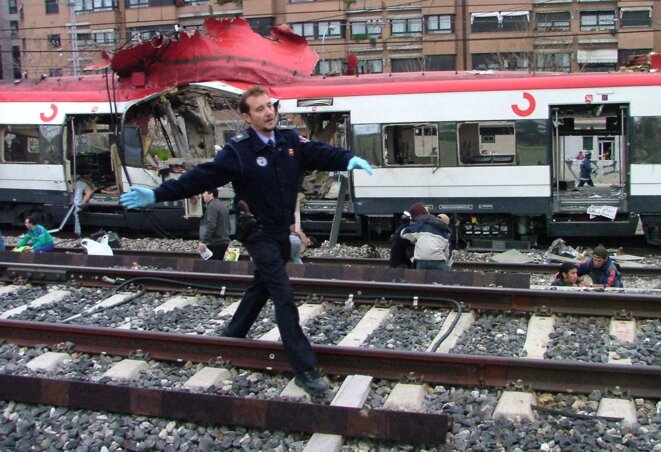 Gare d'Atocha, à Madrid. © Reuters
"It's quite simple, the option for early intervention was taken," commented Judge Javier Gómez Bermúdez of the Audiencia Nacional, Spain's top criminal court, and who led the trials of those charged for the March 2004 train bombings in Madrid. "Faced with the risk of a terrorist attack, the police, I believe in a wise manner, decide to make a rapid arrest. As a result, the elements of proof obtained are very weak, almost inexistent. Which explains why there are few convictions. On the other hand, we haven't had any attacks for ten years."
For Judge Ramón Sáez, also from the Audiencia Nacional court, preventive arrests were made "not as a result of concretely identifiable facts, as demanded by criminal law, but because of the danger that the suspects represented, according to the state's criminal procedure system." He argued that the fact that a large number of police investigations were eventually closed for lack of proof of criminal activity "appears salutary for the functioning of a state of law".
Manuel Cancio, a professor of law with the Autonomous University of Madrid, underlined that modern criminal law in Spain has changed over the past 30 years. "We have moved from a retrospective judicial system, which was aimed at judging past events, to a system that must not only continue to punish those who are guilty but also to prevent the carrying out of other crimes."
Judge Sáez described such preventive arrests as a method "borrowed" from wartime actions and espionage services, and said they are "in contradiction with the rules of criminal law" which require a fact as proof of a crime. "There you have the problem that is raised with crimes of belonging to, and collaborating with, a terrorist organization or group," he added.
On January 18th 2008, 11 people, mostly of Pakistani nationality, were arrested in Spain on charges of preparing a terrorist attack on the Barcelona subway system. The arrests were carried out in a police operation codenamed 'Operation Cantata'. Despite the gravity of the charges, no convincing evidence against them was produced at their subsequent trial, save for 18 grammes of explosive powder for use in fireworks that were found in their possession. However, they were denounced as terrorists by a witness presented to the court as a former member of the alleged terrorist cell they belonged to, and all 11 were subsequently convicted of the charges and handed jail sentences. Nine were released in January after completing six-year jail sentences, while another two are still serving time.
Even the special anti-terrorist public prosecutor assigned to the case, Vicente González-Mota, agreed that the evidence against them was poor, according to a report by The New York Times. A conversation between him and US diplomats was detailed in a confidential cable addressed to the CIA and FBI by the US embassy in Madrid on December 2nd 2008, and which has now been revealed by the whistleblowing site Wikileaks. "Although he stated his unequivocal belief that those arrested in Operation Cantata are guilty," the cable report reads, "Gonzalez Mota predicted that they will go to trial in 2009, will have an appellate hearing in 2010, and some may be released in 2011, which he argued "is not bad" because it will have served to keep those radicals off the Spanish streets for three years or more."
A 2010 report by the Spanish public prosecutor's office noted that "The importance of the criminal law and prevention policies aimed at avoiding terrorist acts is under no doubt". It underlined the importance also of two criminal charges "which form the backbone of the early response against terrorism: that of integration within a terrorist organization, and that of collaborating with these same groups".
In private, the public prosecutor's office admits that there was a huge number of arrests made following the 2004 Madrid train bombings, but that since these have become fewer over recent years they have also become more effective, with a higher ratio of convictions. In 2004, 138 people were arrested on terrorist charges, falling to 131 in 2005 and just nine in 2012.
A later yearly report by the public prosecutor's office noted "the high number of acquittals" since 2011, "clearly indicating the enormous legal difficulties raised in these trials regarding the proof of certain crimes, particularly in the framework of the preventive response of criminal law against terrorist cells. In numerous cases, convictions are made not for terrorist crimes but for common crimes."
One of the first building blocks of the edifice of 'preventive justice' was laid in France in 1986, with the passing of a law that made it a crime for a person to be in 'association with criminals with the aim of committing terrorist acts'. In her 2002 book recounting her experiences as head of an anti-terrorist department of the Paris public prosecutor's office (Procureur à la 14e section, published in France by Michel Lafon), Irène Stoller wrote: "Our judicial system is based on the presumption of guilt and not the presumption of innocence." Stoller argued that the 1986 law was a crucial tool. "That allowed us, with the help of the police and intelligence services, to intervene before terrorist acts, even before groups had put their logistics into plac,." she wrote, adding: "The most important thing is not to punish terrorist crimes, but to avoid them."
Rogelio Alonso, a political sciences professor with King Juan Carlos University and a former advisor to the Spanish interior ministry, wrote an opinion article published in Spanish daily ABC in which he called for a debate over whether those arrested on terrorist charges should be presumed guilty until they can prove their innocence, rather than innocent until proven guilty. Judge Bermúdez dismissed this suggestion as "absurd" from a point of view of criminal law. "Every person is innocent until it is proven that they are guilty," he said. "Otherwise, I would accuse you of being a terrorist, I'd put you in jail and you would have no means to prove that you're not. It's diabolical. The rights and guarantees protect the honest man, not the delinquent. It shelters him from two things, judicial errors and arbitrary [justice]."