A former controller-general of the French armed forces told a parliamentary mission he was informed that former French Prime Minister Edouard Balladur financed his presidential election campaign with illegal kick-backs on the sale of submarines to Pakistan.
Jean-Louis Porchier spoke of the discovery in testimony - until now kept secret - before a French parliamentary committee, and which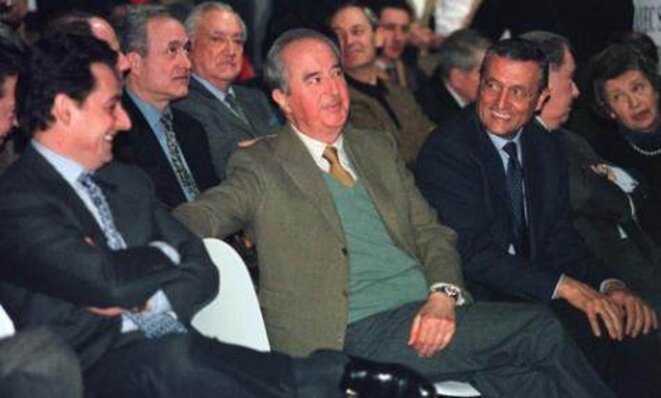 Edouard Balladur (c) with Nicolas Sarkozy (l) and François Léotard (r). © Reuters
Mediapart reveals here. He said he was told about the scam by Michel Ferrier, responsible for the service controlling French defence exports, who also told him that other kickbacks went into the coffers of the centre-Right Republican Party
1
, led by Balladur's then defence minister and close political ally, François Léotard.
Porchier's evidence is of major importance to an ongoing investigation into the murders of 11 French naval engineers in the Pakistani port of Karachi, where they were helping to build one of the three submarines.
Porchier's claim raises further questions over the role of French President Nicolas Sarkozy who was, at the time of the deal and kickback payments in 1994, Balladur's budget minister and in 1995 became his election campaign spokesman.
The relatives of the murdered engineers have accused Sarkozy of covering up evidence from the Paris-based independent judicial investigation into their deaths in a bomb blast in Karachi in 2002. This complex affair, which now threatens President Sarkozy's political future, is explained in a simple Q and A guide published on Mediapart English here, and in a sub-titled video report by Mediapart here.
The anti-terrorist magistrate leading the investigation into their deaths, in a suicide bomb attack in 2002, believes a dispute over the kickbacks motivated the attack. Until recently, the officially-supported theory in both France and Pakistan was that al-Quaeda was responsible.
-------------------------
1: The Parti républicain was created in 1977 and disolved in 1997. It was led by François Léotard from 1982-1988 and again from 1995-1997. It was an ally of, and to a degree a rival on the Right to, the Gaullist RPR party which was led over this period by Jacques Chirac.