Investigating magistrates Renaud Van Ruymbeke and Roger Le Loire on Thursday sent six men for trial on charges related to a vast illegal funding scam that saw millions of euros siphoned off in kickbacks paid from official French weapons contracts with Pakistan and Saudi Arabia. The cash, which the judicial investigation has established was mostly carried in suitcases to France from Swiss banking centre Geneva, was allegedly used to fund the presidential election campaign of conservative politician Édouard Balladur, who mounted his bid while prime minister.
The decision by judges Van Ruymbeke and Le Loire comes one month after the public prosecution services also recommended the six should stand trial. Under French law, the magistrates in charge of a judicial investigation make the final decision on who should stand trial.
The case, involving events that took place almost 20 years ago and which is likely to be heard in 2015, has included investigations in several countries, including the United States, Switzerland, Luxembourg, Liechtenstein and Colombia. It is part of what has become known in France as the 'Karachi Affair', so-called after the murders, in 2002, in the Pakistani port of 11 French engineers involved in one of the weapons contracts (see more here).
Three of the accused are all former government staff who served under Prime Minister Balladur's 1993-1995 conservative government: Nicolas Bazire, 56, who was Balladur's chief-of-staff and who is now managing director of French luxury goods firm LVMH; Renaud Donnedieu de Vabres, 60, who served as a special advisor to Balladur's defence minister François Léotard and who later became culture minister between 2004-2007, and Thierry Gaubert, 63, who served as joint chief-of-staff for Balladur's budget minister, Nicolas Sarkozy.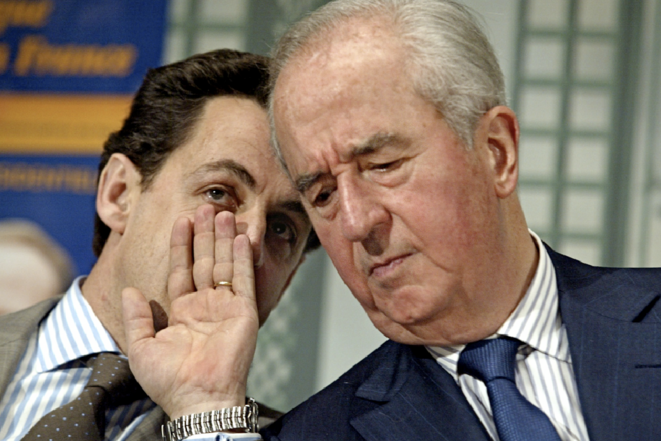 En 1995. © Reuters
All three are charged with organizing a network for the misappropriation of a significant part of the proceeds of four arms and weapons servicing deals sold by France to Pakistan and Saudi Arabia. Bazire, (who was best man at Nicolas Sarkozy's marriage during his presidency to Carla Bruni, in 2008), and Donnedieu de Vabres are both charged with "aiding and abetting the misappropriation of assets" and "handling" of the misappropriated assets. The judicial investigation concluded that after setting up stooge intermediaries in the arms sales specifically to be paid large sums in commissions, they then used part of those payments for the secret funding of Balladur's campaign.
Gaubert, who the investigation established had handled and transported at least 6.2 million French francs (then the national currency - the euro became France's official currency on January 1st 2002) in cash from the secret commissions, is charged with "aggravated receiving of misappropriated of assets".
The magistrates have advised the Cour de justice de la République (CJR), the only judicial body that can investigate suspected malpractice by government members during their posts, and also to judge them if charges are brought, that Balladur and Léotard should be placed under formal investigation, a status in French law that is one step short of being charged. They have also suggested that Nicolas Sarkozy be placed under the status of "assisted witness", which designates someone judged to be a witness closely connected with the facts of the case and who could potentially face prosecution themselves.
The three other men also charged and sent for trial on Thursday are: Paris-based arms dealer and businessman Ziad Takieddine, arms dealer Abdul Rahman El Assir and Dominique Castellan, the former head of the international sales division of the French state-owned naval contractor Direction des Constructions Navales (DCN – now renamed as the DCNS).
Takieddine and El Assir were interposed by the Balladur government at the last minute to act as commission-paid intermediaries in the arms deals, despite the fact that the contracts were already certain to be signed. They are accused of secretly transferring large sums from their commissions to fund Balladur's campaign, a service for which Takieddine told the investigation he made "a lot of money".
The background to the affair was a fierce rivalry that split the French Right in 1995. Balladur was until then a leading member of the Gaullist RPR party, the conservative movement that later became what is today the UMP. His appointment as prime minister in 1993 came after the RPR won legislative elections, although socialist president François Mitterrand's still had two years of his seven-year term of office to serve. The RPR's figurehead, Jacques Chirac, was designated to run as the party's presidential election candidate in 1995, and he and Balladur had entered into a tacit agreement that only Chirac would stand.
However, Balladur had began secretly preparing his own bid, which he would declare just months before official campaigning began, and which led to a bitter and never-buried feud with Chirac who went on to win the election. Without the financial backing of the RPR for his own campaign, for which Sarkozy served as spokesman, Balladur while prime minister needed to find alternative sources of funds. It was during this period, between January and November 1994, that his government signed a number of defence deals; four contracts were rapidly concluded with Pakistan and Saudi Arabia.
These were the sale of three Agosta submarines to Pakistan concluded on September 21st 1994; the sale of two frigates to Saudi Arabia, a deal codenamed 'Sawari 2' and signed on November 19th 1994; the supply of the armaments for the Saudi frigates, codenamed 'Shola/Slbs' signed on January 30th 1994, and a contract to re-service frigates sold by France to Saudi Arabia during the 1980s', codenamed 'Mouette' (which also carries the codename of 'R.O.H.') and which was also signed on January 30th 1994.