Report by Graham Tearse.
-------------------------
The French political scene was thrown into turmoil this weekend after International Monetary Fund (IMF) chief Dominique Strauss-Kahn, widely tipped in opinion polls as favourite to win next year's French presidential elections, was arrested in New York on Saturday on charges of sexually assaulting a 32 year-old chambermaid in a suite at a Manhattan hotel.
The IMF managing director was removed from a Paris-bound Air France plane by New York Port Authority agents at about 4.40 p.m. local time on Saturday, minutes before it was due to take off from Kennedy International Airport. The agents were acting upon a request from the New York Police Department (NYPD).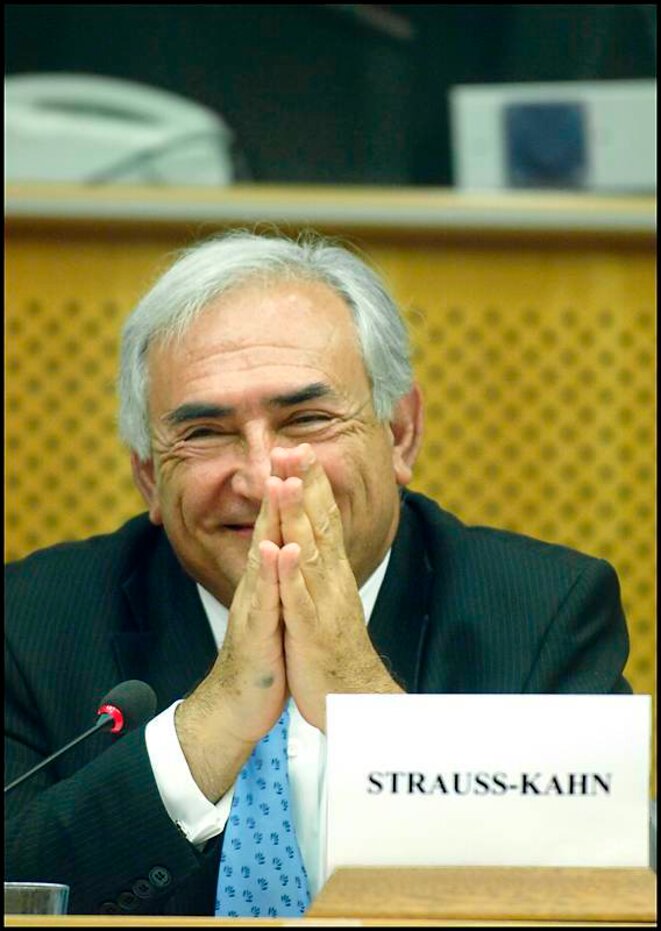 DSK © EU.
He was formally charged by NYPD detectives at 2.15 a.m. local time on Sunday on two counts of sexual assault and one of sequestration upon the chambermaid in his luxury suite at the Sofitel hotel on West 44th Street, near Times Square, on Saturday morning.
"Earlier this morning our detectives charged him with a criminal sexual act, attempted rape and unlawful imprisonment in connection with the incident at the hotel earlier with a 32 year-old chambermaid there in Midtown Manhattan," said NYPD spokesman and Deputy Commissioner Paul J. Browne in an interview with the BBC Sunday. "We received a call at about one o'clock yesterday afternoon by hotel staff asking us to respond to an incident there. When we arrived we found that the woman there who had been assaulted [sic]. We brought her to the hospital for treatment and then began looking for Mr. Strauss-Kahn." He said the plaintiff was treated for minor injuries at the city's Roosevelt Hospital.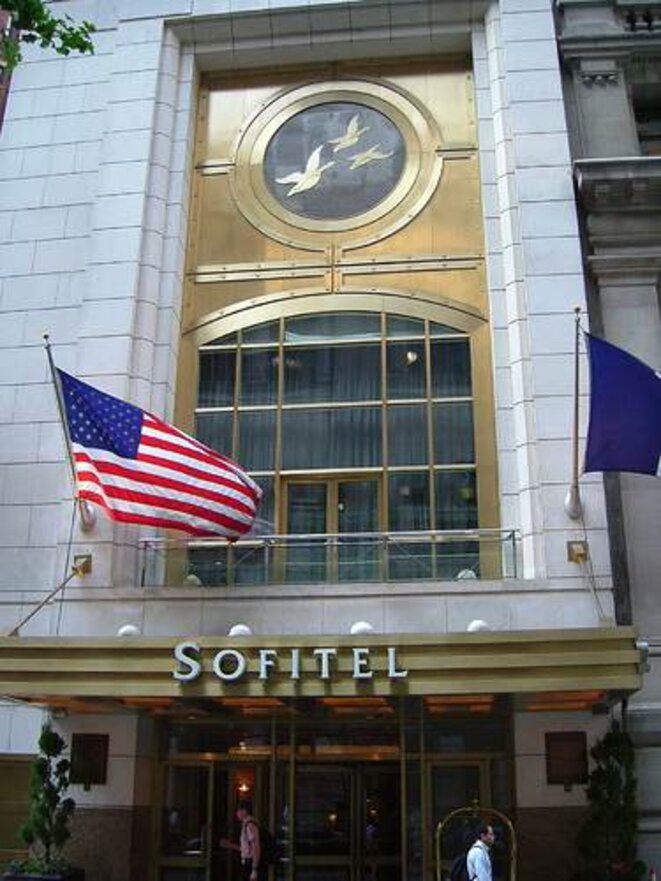 The New York Sofitel. © dr
Strauss-Kahn was due to appear before a judge at New York State Court late Sunday. One of his two lawyers, Benjamin Brafman, said Strauss-Kahn would pleadd not guilty of the charges. French foreign ministry spokesman Bernard Valero said he had been visited during his detention by a consular official as part of regular "consular protection" procedure.
In a separate interview with Reuters news agency, Browne described the chambermaid's account of the alleged assault on Saturday. "She told detectives he came out of the bathroom naked, ran down a hallway to the [suite] foyer where she was, pulled her into a bedroom and began to sexually assault her, according to her account."
"She pulled away from him and he dragged her down a hallway into the bathroom where he engaged in a criminal sexual act, according to her account to detectives. He tried to lock her into the hotel room."
Browne said Strauss-Kahn had left a mobile phone and other personal items behind him at the hotel, adding: "It looked like he got out of there in a hurry."
The New York Times reported that "one law enforcement official said that the investigation uncovered evidence that could contain DNA" during its investigation of events in the suite, which the paper said was rented $3,000 per night.
'A man who wallows himself in sex'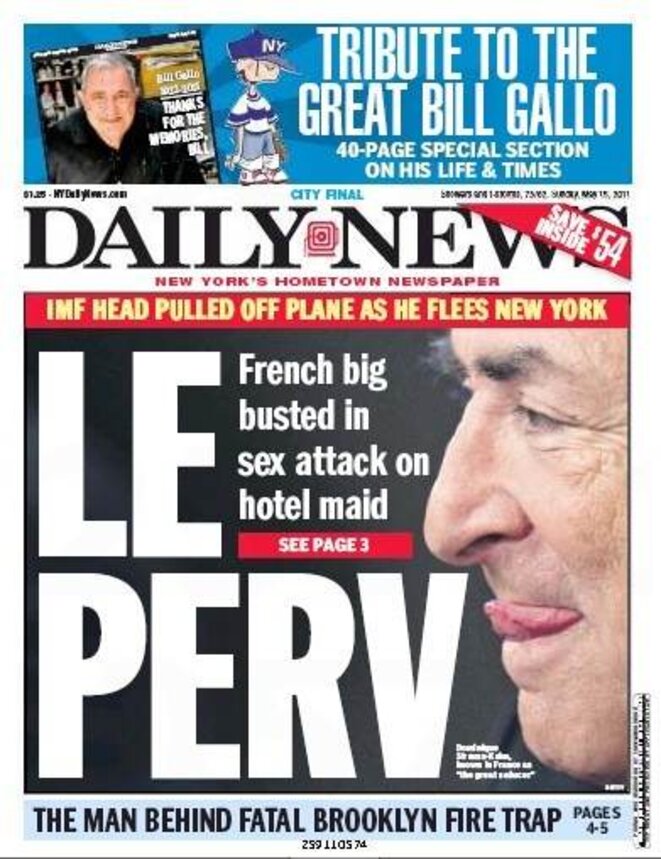 New York Daily News cover Sunday.
In a statement released to AFP on Sunday, Strauss-Kahn's wife, US-born French journalist Anne Sinclair, said she "doesn't for one second believe in the accusations" leveled against her husband, nor did she doubt "that his innocence would be established".
Former French finance minister Strauss-Kahn, 62, a leading member of France's Socialist Party, was regarded as the party's likely candidate for the May 2012 elections, although he had not yet officially declared himself a runner in its primaries due later this year. Over the past six months, regular opinion poll studies in France have predicted that Strauss-Kahn, if he ran as expected and was chosen as Socialist candidate for the presidency, would comfortably beat conservative-right incumbent Nicolas Sarkozy.
But Strauss-Kahn's arrest, whatever the outcome of the case, has now overnight changed the political landscape in France, plunged the Socialist Party into disarray and destabalised the international financial scene. The IMF managing director had been due to meet with German Chancellor Angela Merkel on Sunday to discuss the worsening Greek debt crisis, and was on Monday due to attend a meeting in Brussels of European Union finance ministers to discuss further debt crisis bailouts for both Greece and Portugal. Strauss-Kahn had been instrumental in securing an earlier bail out deal accorded to Greece.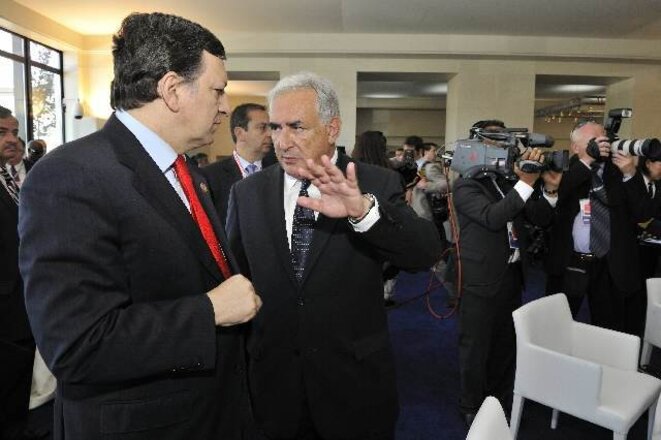 DSK with EC President José Manuel Barroso. © EU.
In a statement published Sunday on the IMF website, its director of external relations Caroline Atkinson wrote: "IMF Managing Director Strauss-Kahn was arrested in New York City. Mr. Strauss-Kahn has retained legal counsel, and the IMF has no comment on the case; all inquiries will be referred to his personal lawyer and to the local authorities. The IMF remains fully functioning and operational."
Later Sunday, the IMF announced that its second highest-ranked offical, John Lipsky, had been appointed acting Managing Director while Strauss-Kahn was in custody.
Greece was due to announce new measures to tackle its critical debt problem at the EU meeting on Monday. French news agency Agence France-Presse (AFP) quoted a Greek government official, speaking on the basis of anonymity, as saying Strauss-Kahn's arrest "will certainly be a source of delays in the short term."
In 2008, Strauss-Kahn was at the centre of scandal over his affair with a Hungarian woman economist, Piroska Nagy, employed by the IMF. A board investigation into the suspected abuse of his position over the subordinate concluded that he had shown "a serious error of judgment" but that the sexual relationship was consensual. Strauss-Kahn later publicly apologised to IMF staff and to his wife.
The arrest Saturday of Strauss-Kahn, popularly referred to as 'DSK' in France, prompted a rush of heated political reaction in France from all sides. Socialist Party First Secretary (leader) Martine Aubry said she was "stupefied" by events, which she described as "a thunder bolt". She appealed for everyone "to respect the presumption of innocence and to maintain necessary decency", adding: "I call on the Socialists to stay united and responsible".
Meanwhile, ruling UMP conservative-right party Member of Parliament Bernard Debré launched a fiercely critical attack on the IMF chief: "It is a humiliation for France to have a man who wallows himself in sex, and that's something known about for quite some time."
DSK 'finished both as IMF chief and presidential hopeful'
In a blog post published Sunday, former French Prime Minister Jean-Pierre Raffarin, also a member of President Sarkozy's UMP party wrote: "Reputation is a thing that one can lean on when the house is on fire. In the case of DSK, the prognostic of probability could fight against the presumption of innocence."
Former Socialist Party leader François Hollande, a declared, front-runner rival for Strauss-Kahn in the party's presidential primaries, warned against any hasty judgment. "We must react with emotion but also with restraint, reserve, with a concern for justice [...] One must avoid making any premature conclusions," he told French TV channel Canal Plus. "To commit, if this is proven, an act of such gravity, does not resemble the man I know," he added, referring to Strauss-Kahn.
Socialist Party vice-president of the Greater Paris regional council Michelle Sabban , one of Strauss-Kahn's supporters for his presidential candidature, said she believed "an international plot" was behind the events in New York in an attempt "to decapitate" the IMF. "He is the most powerful man after Obama," she said. "It is a new form of political assassination."
Socialist Party Euro MP and vice-president of the Gironde general council Gilles Savary agreed that Strauss-Kahn could have been victim of a plot, while also alluding to his alleged reputation for scandal. "Everyone knows that Dominique Strauss-Kahn is a libertine who distinguishes himself from others by not hiding it," he commented in a blog post Sunday. "As a result, it's easy to trap a personality such as Strauss-Kahn, so little resistant to the attractions of the fairer sex."
"To be frank, among DSK's entourage, dirty tricks were expected. If this is one, it's really quite crazy," he added.
Centre-right Modem party leader François Bayrou said: "All this is astounding, regrettable and infinitely disturbing."
Several politicians and political observers in France believe Strauss-Kahn has now become removed from the presidential race, whatever the outcome of the case in New York. Jacques Attali, former advisor to socialist President François Mitterrand and a political commentator, said the IMF chief could neither now remain at the IMF nor run in the Socialist Party primaries for the presidential candidature. "We're going to now have a candidature of Martine Aubry against François Hollande," he said.
French TV news channel i-Télé on Sunday reported that the Accor hotel group, owner of the New York Sofitel, said that the chambermaid was a longstanding employee of the hotel chain and had not previously been involved in any incident with its clients.
'He tried to take off my jeans'
Dominique Straus-Kahn had already attempted to become Socialist Party candidate for the French presidency in 2006, but the party majority voted for Ségolène Royal as their candidate, who went on to lose to Nicolas Sarkozy in the two-round election held in May and June 2007. Subsequently Strauss-Kahn became IMF Managing Director in September 2007, after his candidature was backed by the EU and firmly promoted by Sarkozy, whose critics accused him of exiling his biggest opposition threat.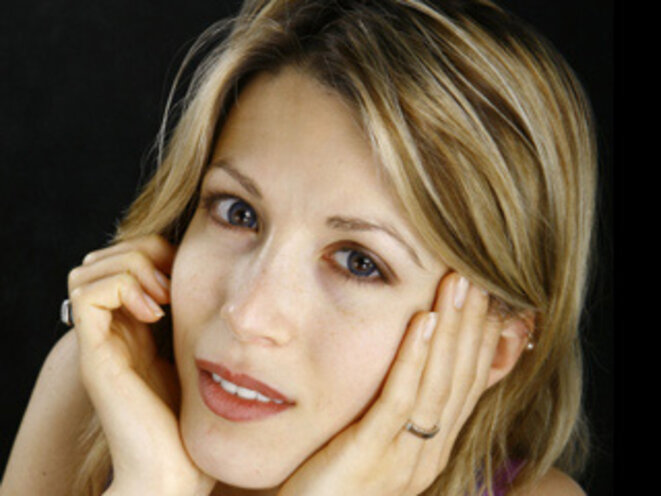 Floor fight: Tristane Banon. © dr
Thrice married and father of four daughters, Strauss-Kahn is no stranger to controversy. The high-profile affair with Hungarian IMF Africa Department economist Piroska Nagy, revealed in 2008, followed an earlier allegation of sexual abuse in France against a journalist and writer, Tristane Banon, now aged 31. French news website
Rue 89 on Sunday re-published a television interview
she gave in 2007 in which she recounted an alleged sexual assault by a political figure whose name was concealed by an audio 'blip' , and which she said occurred in 2002.
Banon's mother, Anne Mansouret, a Socialist Party councilor for the Normandy regional council, said Sunday that her daughter was referring to Dominique Strauss-Kahn. In an interview published on the website of regional newspaper Paris-Normandie, Mansouret said Strauss-Kahn had sexually assaulted her then 22 year-old daughter, who is also a goddaughter of Strauss-Kahn's second wife, but that she had persuaded the young woman not to lodge a complaint. "Today I regret having dissuaded my daughter from filing a complaint against DSK," she told Paris-Normandie. "I have a heavy responsibility. After the events, we discussed [things], talked lots. And finally she decided, we decided, not to launch [legal] proceedings. You know, my daughter was in bad shape, but Tristane is the goddaughter of Dominque's second wife. It was difficult for family and amicable reasons."
In the TV programme broadcast in 2007, called "93, faubourg Saint-Honoré" and hosted by French TV celebrity Thierry Ardisson, Banon recounted how she was assaulted by "a chimpanzee in the rut". Banon said she contacted the man her mother has identified as Strauss-Kahn for an interview for her book, published later, entitled 'Erreurs avouées... au masculine' (Confessed mistakes...of the masculine kind'). Banon said that she was surprised to have been given an appointment in an apartment empty save for "a video-recorder, a TV, a bed beyond, and bare wooden beams". She told the progamme that "to reply, he wanted me to hold his hand, then his arm" and said the situation then degenerated. "We finished up in a fight, we fought on the ground, I gave out kicks, he undid my bra, he tried to take off my jeans. When we fought, I mentioned the word 'rape' to scare him. It didn't frighten him."
Anne Mansouret, Banon's mother, told Paris-Normandie Sunday that "for me, Dominique Strauss-Kahn is sick." She said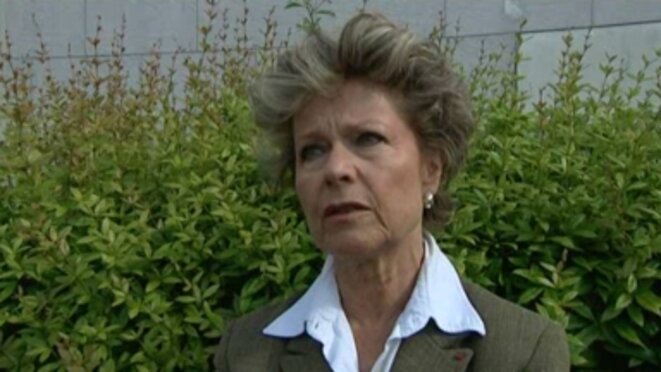 'DSK is sick': Anne Mansouret. © France 3
: "It is not an offence to say that, he has a real problem. An addiction to sex, like others have with alcohol, drugs or gaming. He's sick. "
Also on Sunday, French website Rue 89 referred to an article published in November 2008 by Swiss daily Le Temps in which Socialist Party MP and the party's parliamentary group spokeswoman, Aurélie Filippetti, complained of Strauss-Kahn's alleged sexually aggressive behaviour. The article, centered on the publication in France of a book about politics and sexual morals, Sexus politicus1, cited an account Filippetti gave to the book's author Christophe Deloire of Strauss-Kahn's "very heavy, very insistent" flirting with her. "I went about things so that I never found myself alone with him in a closed place," she said.
--------------------------
1: Published in 2008 by J'ai lu.
Report and editing by Graham Tearse