Streets of Paris become a dead end for homeless Roma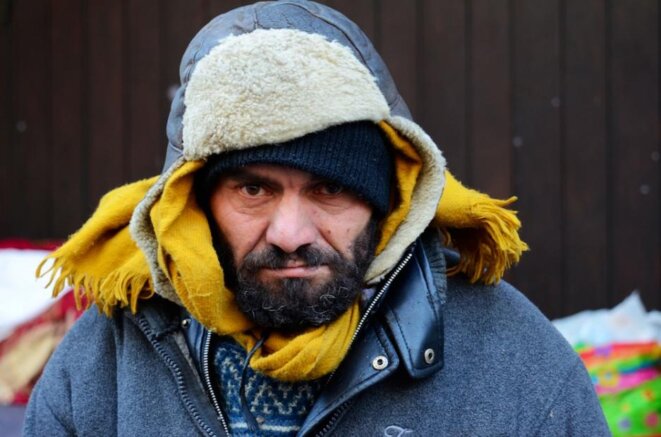 © Sara Prestianni
Increasing numbers of Roma, many with families of young children, are sleeping rough on the streets of Paris. Unlike those who group together in makeshift camps around the country, these several hundred mostly Romanian and Bulgarian nationals have chosen to survive in isolated groups, living in public phone boxes, sprawled on mattresses dumped on boulevard pavements or huddled in building entrances. As the winter draws on, the authorities are unable to meet the demand for shelter, and the capital is re-witnessing, for the first time in decades, the shocking and intolerable sight of small children exposed to the cruelty and danger of a homeless existence in dire poverty. Marginalised by their culture and language difficulties, and with no realistic means of integrating society and often hounded as illegal immigrants by police, these vagrant Roma families have reached a dead-end situation.
Carine Fouteau
and
Sara Prestianni
present a photo reportage of the everyday misery on the city's streets.
-------------------------
Between 15,000 and 20,000 Roma Gypsies are estimated to be living in France, the majority of whom have arrived in the country from Romania and Bulgaria, and largely over the past five years.
Thousands live within makeshift camps, mostly on the edges of France's major cities and towns, in insalubrious and often dangerous conditions, in conflict with both the authorities and, as highlighted in sometimes dramatic events , with local residents.
Beginning under the government of former French President Nicolas Sarkozy and continuing under the present socialist government, police have regularly forcibly evicted Roma from the camps without offering alternative housing, leading to a cat-and-mouse situation that has provided no solution to the marginalisation of the Roma community. In a vicious circle, they have only equally precarious conditions to return to in their native countries, where they also meet with stigmatisation.
In a new development, increasing numbers of Roma are now sleeping rough on the streets of Paris, and while their numbers among the capital's total homeless are currently comparatively small – several hundred among an estimated 4,000-5,000 homeless – they are often composed of families with children. "Families in the street, we haven't seen that for some 30 or 40 years," said Dominique Bordin, in charge of the mission of help for the homeless with the Paris city hall.
The Roma sleeping on the capital's streets are a particularly isolated group, often speaking little or no French and regularly targeted by police; while their native countries await full integration into the European union, Romanian and Bulgarian nationals who have been in France for more than three months but who cannot demonstrate they have sufficient resources to live with are considered to be illegal immigrants.
The emergency shelters run by charitable organizations and local authorities are ill-equipped to admit families with small children, and the French national federation of associations dedicated to providing help for the socially-excluded, the FNARS, estimated that, in December 2012, some 64% of homeless families who have asked for shelter are turned away.
Between November 2012 and January 2013, Mediapart reporter Carine Fouteau and Sara Prestianni, a photographer and member of the Migreurope network of associations active in defending the rights of migrants and refugees, criss-crossed the French capital to meet with the Roma on the streets, and with local officials and volunteer associations dedicated to providing support to the homeless. Below is a selection of photos from their reportages illustrating the dire and seemingly inextricable situation into which rising numbers of Roma families are slipping.
-------------------------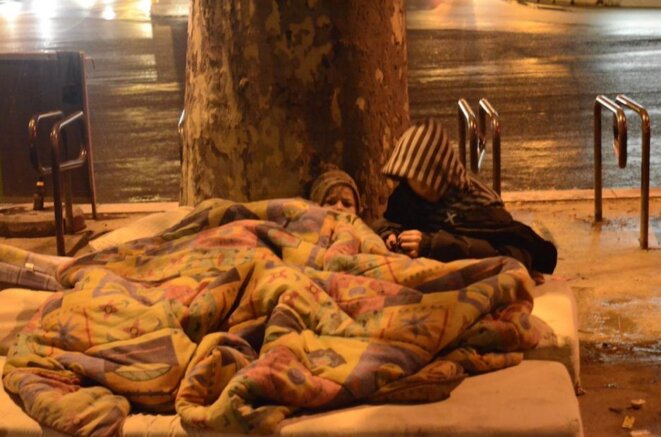 © Sara Prestianni
01: Paris, Place de la République, January 2013.
Two Roma children sleeping rough beside the sprawling square in north-central Paris. A Paris City Hall official described the recent arrivals of whole families living in the streets as a phenomenon hitherto unseen in the capital for some three decades.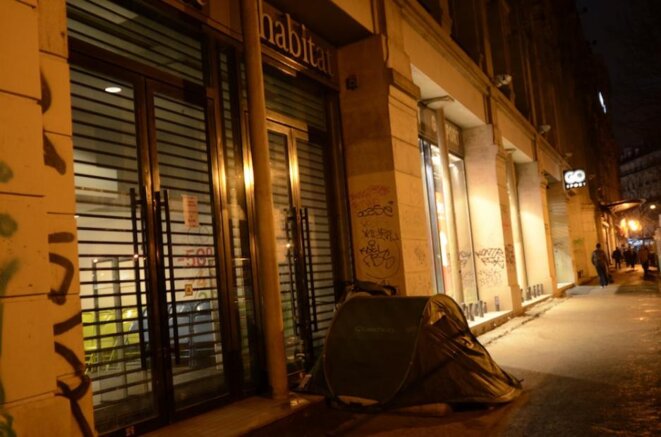 © Sara Prestianni
02: Paris, Place de la République, January 2013.
Under this tent, pitched outside a Habitat store, a family shelter from temperatures that this month regularly descended below zero degrees Celsius. Very few Roma are equipped with tents, which provide better (although still insufficient) protection than the usual mattresses laid out on the pavement.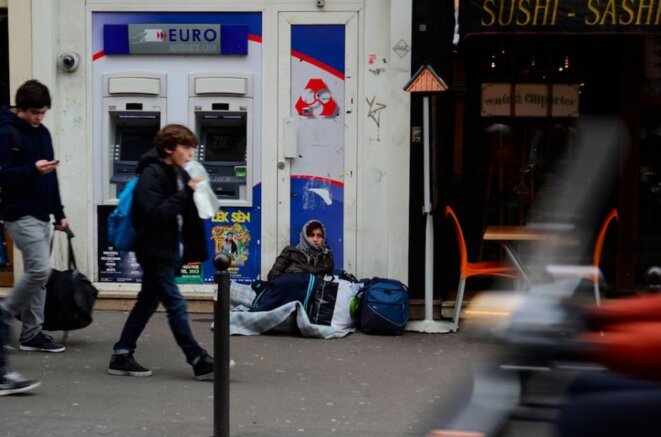 © Sara Prestianni
03: Paris, close to the Place de la Bastille, December 2012.
A young woman on the street with her meager belongings. She lies between ATM machines and a takeaway food outlet, a strategic spot more likely than others to provide some charity in the run-up to Christmas.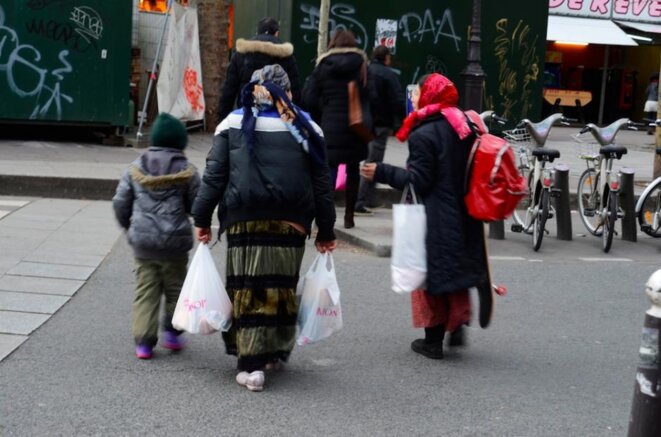 © Sara Prestianni
04: Paris, close to the Place de la Bastille, December 2012.
These two women and a child walk away from where they had been begging, beside a Monoprix food and clothing store, heading for public phone boxes on the boulevard Richard Lenoir where they will rest from the cold.
© Sara Prestianni
05 : Paris, Boulevard Richard Lenoir, December 2012.
Close to the Bastille square, encircled by fairground material, these two public phone boxes are home to two Roma. In the background, above the fairground entrance, a sign reads 'A moment of dreams'. A young couple nearby told the photographer that they had just spent two hours trying, in vain, to reach the Paris emergency aid service offered to the homeless. They were seeking an official shelter for themselves for the night, but said that often they discharge their phone credit attempting to reach the emergency number (115), and end up having to rough the night again.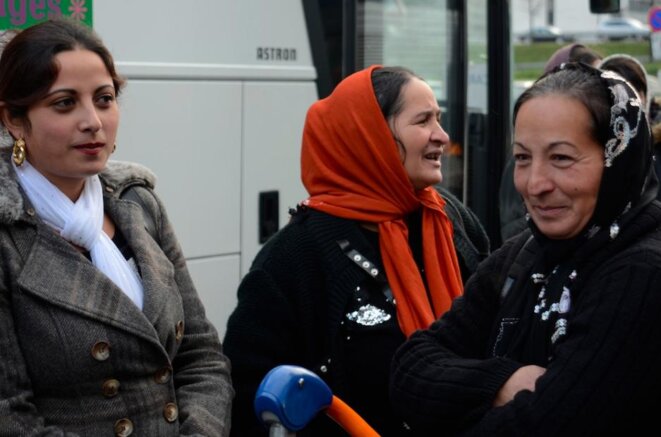 © Sara Prestianni
06: Roissy-Charles-de-Gaulle airport, December18th 2012.
These women are part of a large group of Roma who have accepted the terms of an official scheme that offers 300 euros and free passage home, to Romania or Bulgaria, for those who accept not to return to France. They had just arrived at the airport in one of a specially-chartered coach. Last month, interior minister Manuel Vals announced the end of the scheme, set up under the previous conservative government, although he has so far offered no final date for the repatriations, which he described as having "perverse" effects. There have been numerous incidents of repatriated Roma subsequently returning to France.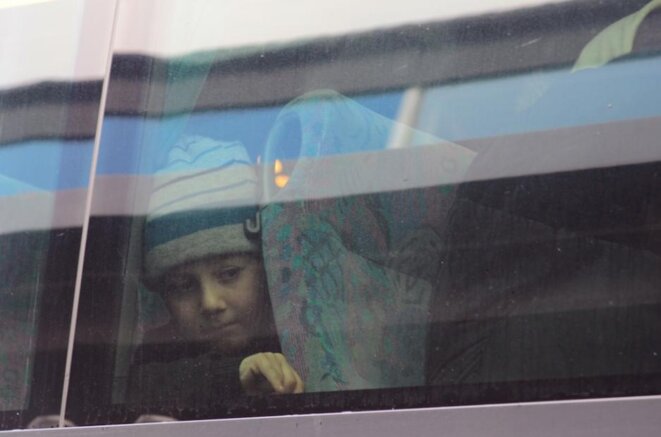 © Sara Prestianni
07: Roissy-Charles-de-Gaulle airport, December 18th 2012.
A Roma child on one of the four chartered coaches that brought 146 adults and 23 children to Terminal 3, from where they will shortly board the flight home, in this instance to the Romanian capital Bucharest. Along with the 300-euro payment per adult, families receive 100 euros per child accompanying them.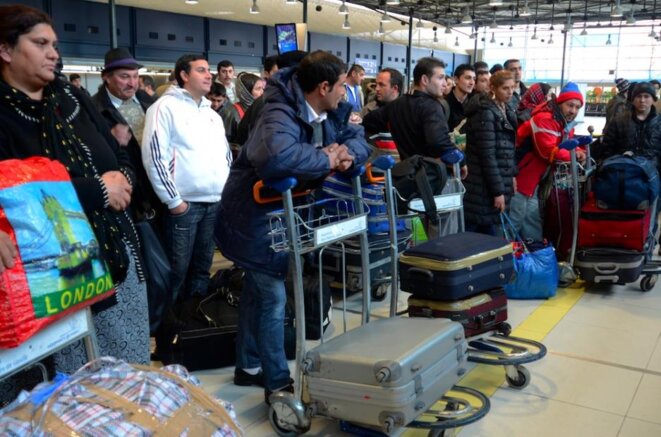 © Sara Prestianni
08: Roissy-Charles-de-Gaulle airport, December 18th 2012.
After waiting two hours, during which time they handed over signed papers that they had accepted the terms of the voluntary repatriation, the group of Roma are grouped together by an agent of the French Office of Immigration and Integration (OFFI) for check-in.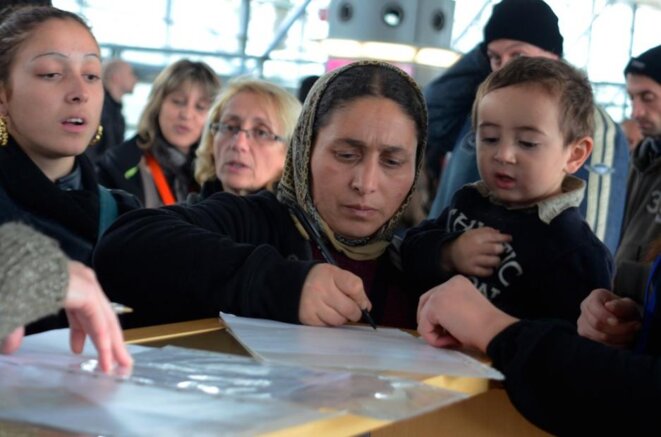 © Sara Prestianni
09: Roissy-Charles-de-Gaulle airport, December 18th 2012.
The Roma pass through the final border police control.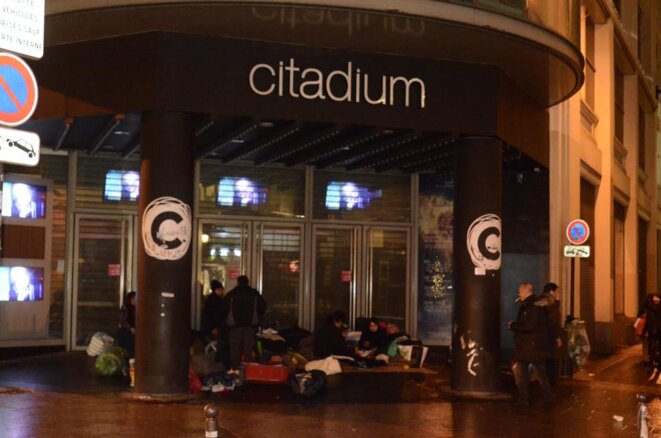 © Sara Prestianni
10: Paris, in the Opéra district, December 2012.
A life of sorts continues for those who remain behind.This quarter in central Paris, where the Opera Garnier building stands amid upmarket restaurants, offices and stores, is another area of the capital that has become adopted by Roma sleeping rough. Here, a group gather at the entrance of the Citadium shopping mall, ready to camp for the night. During the day there is no trace of their passage, for, come the morning, they store all their belongings in a nearby cellar until bringing them out again the following evening.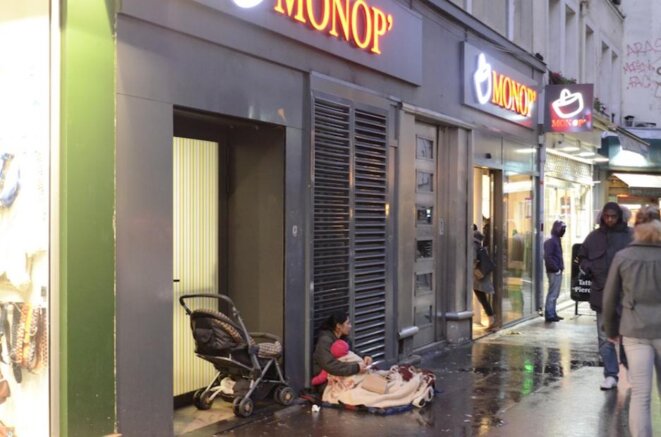 © Sara Prestianni
11: Paris, near the Place de la Bastille, Decembre 2012.
This Roma woman sits a discreet distance from a Monop' food outlet, but close enough to attract the attention of customers walking in.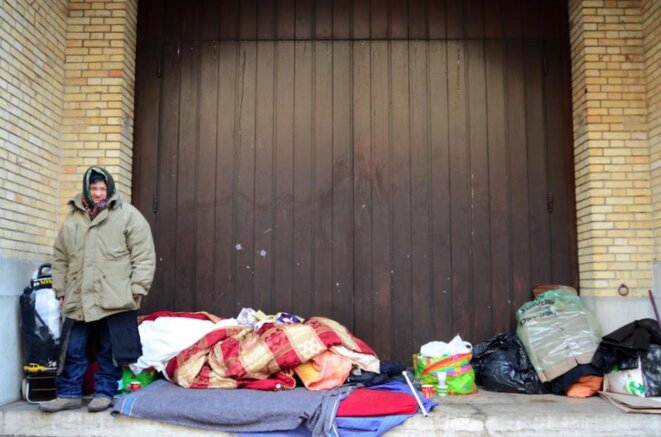 © Sara Prestianni
12: Paris, Porte de Vanves, December 2012.
On the morning this photo was taken, at a large crossroads separating Paris from the southern suburb of Vanves, temperatures were below freezing point. Delia, pictured here, has set up a rough camp with her husband Trepiçut at the entrance to the Notre-Dame de Rosaire church. Their possessions include a ragged collection of old travel cases, a shopping trolley, blankets and cardboard boxes.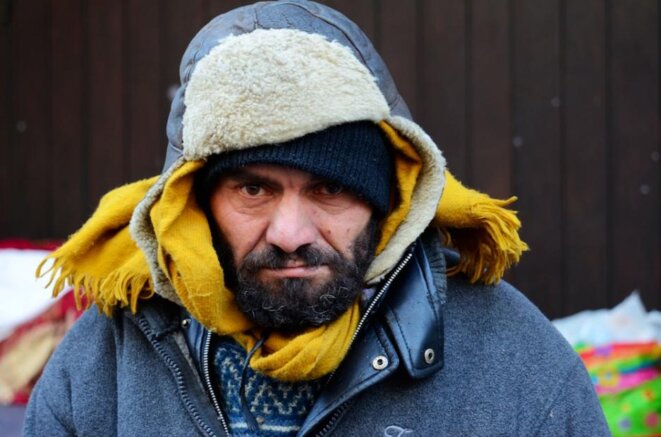 © Sara Prestianni
13: Paris, Porte de Vanves, December 2012.
Trepiçut, pictured here, and Delia have just been given a coffee each by a local resident. The pair are known to locals and passers-by, who they greet and thank donations from with smiles. Their faces show a haunting sadness and hopelessness. They explained that their only aim is to return to Romania as fast as possible.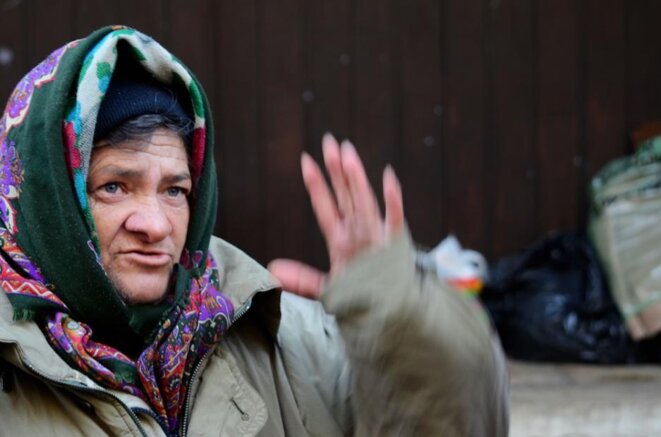 © Sara Prestianni
14: Paris, Porte de Vanves, December 2012.
While the pictures were being taken, Delia rummaged in a bag looking for medication that helps relieve a pain she suffers in her legs. She couldn't find it, and ends up sitting on a fold-up chair at the bottom of the church steps. She and her husband puff on a cigarette butt they pass between each other. Delia had no gloves, and tried to keep her fingers warm inside her coat sleeve. They explained that their only aim is to return to Romania as fast as possible. But they have already once accepted voluntary repatriation, and returned to France illegally, which disqualifies them from any second offer of aid to travel home.
-------------------------
For more of Mediapart's coverage of issues concerning the Roma community in France click here, here, here, and here (further links to more reports can be found in the article pages).
See also Sara Prestianni's photo reportage of Tunisian mothers campaigning for news of their children lost after fleeing to Italy during the 'Arab Spring' uprising in Tunisia in 2011.
------------------------
English version: Graham Tearse