A collection of articles by the late French novelist, crime writer and screenwriter Jean Meckert, recently published in book form under the title Chez les anarchistes, paint a picture of the sometimes sombre state of France society following Liberation in 1945. Many of the articles, which were initially published in the weekly publication Essor, date from the first half of 1946, just months after the end of World War II and the long years of German Occupation.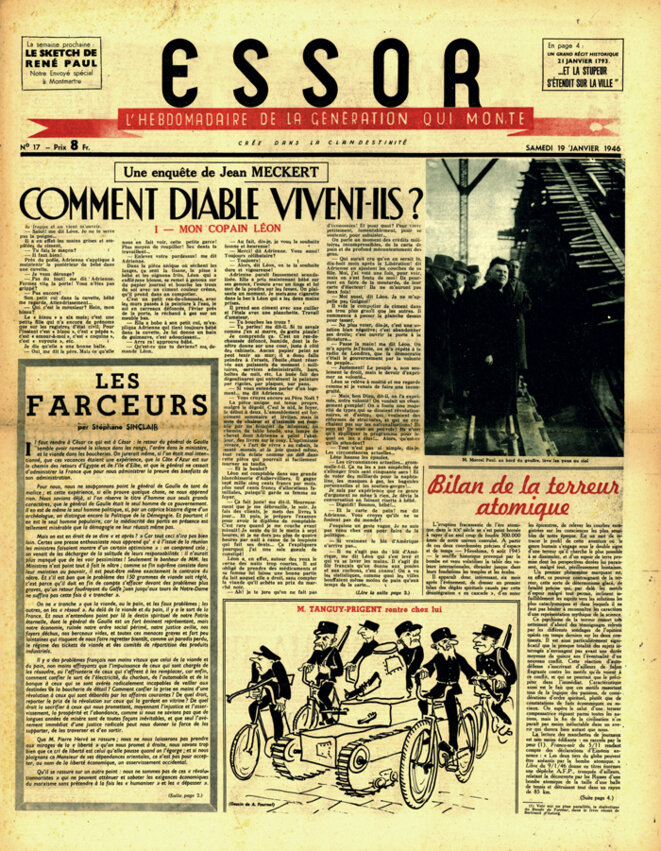 'Mon copain Léon' is the report by Jean Meckert that appeared in 'Essor' on January 19th 1946.
Meckert - who sometimes wrote under the name Jean Amila - depicts a France in which living conditions were tough, with many wartime restrictions still in place. Telling the stories of the people he met, the author highlights the disillusionment that had soon set in after the heady optimism of the first few months of freedom in 1945.
For example, he describes his visit to the home of Léon who, despite his accountant's salary, is living with his wife and baby in a "run-down, damp ground floor" single room where the "condensation causes residue marks that take away the paint in streams, in blotches, in whole sections". The walls in the home of another local resident, Monique, also display "large blotches of grime and damp". As for the Hauspied family, while they own a brand new detached home in the Paris suburbs, the six of them are crammed into three poor-quality rooms. "As you get a little closer you notice that it's painted fibre cement, which is turning a washed-out yellow," Meckert observes.
All the people the author encounters have jobs, and yet they all struggle to make ends meet. Madame Hauspied, who commutes to the centre of Paris each day to work, sums it up: "It's just like living like animals. We leave when it's dark and come home when it's dark," she tells the writer. She regrets that she has neither the time nor the money to buy books or go to the cinema.
Jean Meckert also meets Madame Duval, a shop assistant in a large store, who points out that salaries are markedly lower in absolute terms than they had been before the war. Meanwhile Louisette, who work in the store's confectionery department, is being sacked after eight years because as she has now turned 22 the law requires that she has to be paid more. Both women criticise the extent to which the store oversees their lives. "Is this not the triumph of capitalism, subjecting work to draconian conditions and leaving capital and goods almost entirely untouched?" queries the author. It is almost as if Amazon already existed back then. In 1946 the so-called 'Trente Glorieuses' – a 30-year-long and supposedly golden post-war period in France – had not yet materialised for the working and lower middle classes.
The articles also make constant references to how people at the time made money on the black market. One is reminded of the recent book by French journalist Florence Aubenas about life as a cleaner. To write it, she became a cleaner herself. But she discovered that the main business activity of her fellow cleaners was in fact in the black market. Right across society, Jean Meckert finds, there was a "mad scramble for profit, each according to their means". In such circumstances how could one not be tempted to feel disgust, as in Léon's case, or repugnance in Monique's case, and in Yvonne's case, bitterness?
In these lively portraits Meckert describes with an evident warmth people whose level of disenchantment is equally matched by their hopes and energy. Of Léon and his wife he writes: "Perennial optimism, a cut-price 'way of life', moral health, and happiness in spite of everything, all that looms as a challenge in this room that could so easily become a hovel." In particular the writer gives centre stage to women, whose lives seem doubly oppressed; to Madame Duval and Louisette, to Madame Hauspied, to the joyous Odette, a fresh-faced 18-year-old, and to Yvonne, who everyone takes advantage of because she is discreet and dedicated, and whose suffering are heralded with the ominous tidings: "There's trouble brewing!".
There is no differentiation in the author's writings between real people and fictional characters; they are all brimming with life. As Monique feels threatened by the monotony and tedium of her insular existence, Jean Meckert takes her to a meeting of anarchists. But hearing empty words there she remarks: "We're making those who are pure revolutionaries feel disgusted." This comment contains more than an echo of Hélène, the intransigent character in Meckert's 1947 novel 'Nous Avons les Mains Rouges' about a family that purges its local area of wartime collaborators.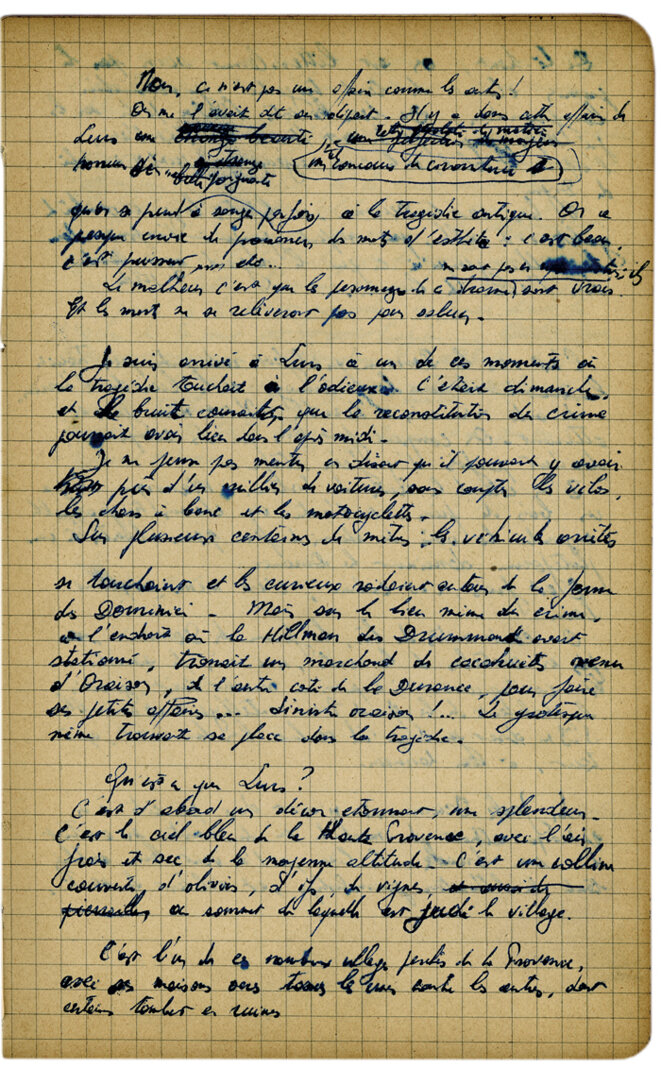 A page from the notebook in which Jean Meckert wrote his article on the Dominici family '15 mois sous la loi du silence, à la Grand-Terre'.
For Meckert social, political and economic critique goes hand in hand with moral criticism. Given the disappointment and frustration caused by the actions of parties and organisations, this approach heads down something of a dead end. The main culprit here is the French Communist Party, the target of the author's article headlined 'Phantoms'. The characters in this article think that the "abolition of profit, of frontiers and dominance" has been betrayed by "parties which call themselves revolutionary", something which has led to them feeling driven towards the "magnificent folly of direct action". In just a few lines Meckert shows how a dead end of this kind can lead to a shift from idealism to terrorism. He developed this theme more fully in 'Nous Avons les Mains Rouges'.

The antidote to these frustrations is perhaps to be found in Meckert's article entitled 'A modest proposal'. This is a humorous analysis of camping, based on the premise of the superiority of nomadic camping over staying in the same spot, and of the superiority of the rambler who travels light rather than the over-equipped sedentary camper. An example of the former states in the article: "You no longer think, you don't put on airs, you relax, you become like an animal, in other words you become in-tune." The author himself adds: "If writers sometimes went (itinerant) camping we'd have a more direct, more real and fresher literature."
This is the point at which lifestyle choice and poetic art meet, as they do in Meckert's response to his own question in another article: 'Do we still read Zola?'. He applies to the famous French novelist the words that Émile Zola himself used about the work of another writer, Honoré de Balzac: "It's a hard read. It's not good for people who are scared of life. It has a human feel that makes you love man's active energy. It's a shady and terrifying world, but it's a world." These words could also be seen as a declaration of faith as a writer by Jean Meckert himself.
This collection of articles concludes with one on the 'Dominici affair', the French name for the case of the murder of three Britons – scientist Sir Jack Drummond, 61, his 44-year-old wife Lady Anne Drummond and their 10-year-old daughter Elizabeth – at a lay-by near the small village of Lurs in south-east France in August 1952. A farmer called Gaston Dominici, from a nearby farm called La Grand-Terre, was convicted of the murders. Meckert later wrote a book, La Tragédie de Lurs, about the case. In the article published here he makes no comment about the case itself. Instead, he reflects upon the situation of this farming family – the Dominicis – who were thrust into the media spotlight for more than a year, and emphasises their humanity. "I found them to be mistrustful people, certainly: they've seen so much! But people who are neither primitive nor simple minded. I apologise for going back over this, but it needs to be said: the Dominici farm is not a zoo." He concludes: "As for La Grand-Terre, it will again be home to children and grandchildren who need to live and who have to be allowed to live. That's the moral of all tragedy."
In Meckert's writings tragedy does not put an end to life. The nature of society leans towards the former, but the latter counterbalances it; and it is this life that emerges on each page, at the meeting point between the author's own Parisian banter and that of the characters to whom he often gives a voice. We owe a debt of gratitude to publishers Joseph K. and literature historian Franck Lhomeau, who wrote the preface, for providing us with Chez les anarchistes and the opportunity to read these intense articles that are so generous of spirit. These reports from 1946 give us an insight into the late 20th century and the start of the 21st century; at the same time their empathy, compassion and humour express a deep belief in the power of life, a belief that Jean Meckert also applied to his own writing, with its radiant simplicity and energy.
***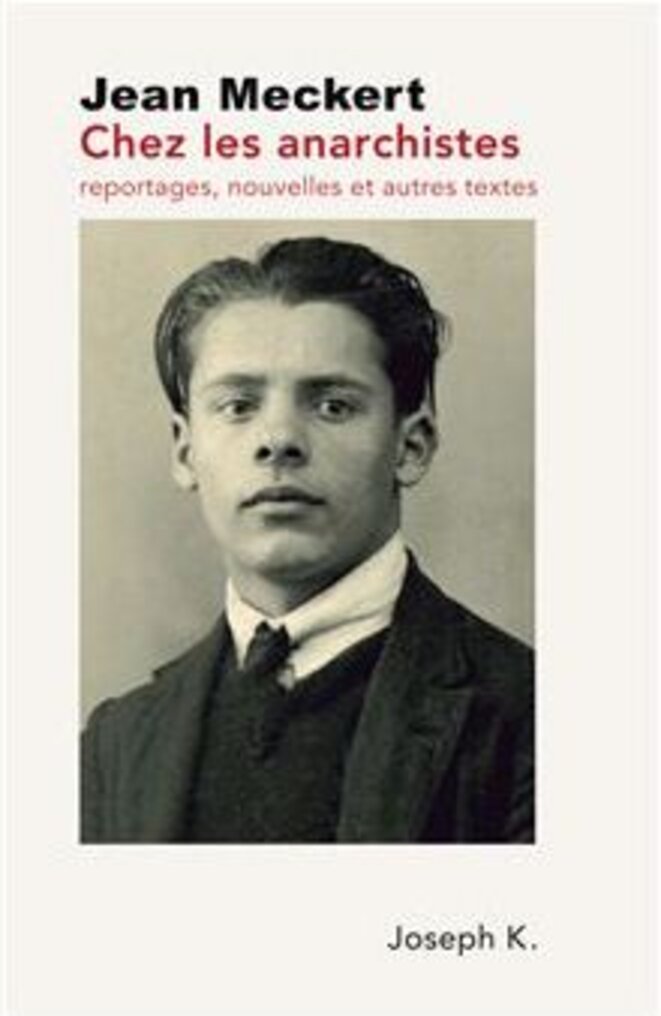 Jean Meckert,
Chez les anarchistes. Reportages, nouvelles et autres textes,
Texts selected by Franck Lhomeau, who also wrote the preface.
Published by Joseph K., 128 pages, €12.
-------------------------------------------------
This article by Sébastien Omont was published simultaneously by Mediapart and the independent online French review of literature and art, En attendant Nadeau, as part of an editorial partnership between the two. The original French version can be found here.

English version by Michael Streeter