Mediapart has obtained access to secret notes belonging to a now-retired senior French intelligence officer which establish how for years the French secret services collaborated with suspected war criminals, military officers from the former Yugoslavia, while they were wanted by the International Criminal Tribunal for the Former Yugoslavia (ICTY) based in The Hague. Among them was Croatian General Ante Gotovina, finally captured in the Canary Islands in 2005, as revealed in this investigation by Jean-Arnault Dérens and Laurent Gesli.
-------------------------
This story begins amid the scores of notebooks belonging to General Philippe Rondot, a now-retired senior French secret service officer. They were seized by French judicial investigators during enquiries by investigating magistrates into a major corruption scandal that broke in 2004 and which became known as 'The Clearstream Affair'.
'Clearstream', which was anything but, centred on what later proved to be falsified records of cash payments for senior French politicians, including current French President Nicolas Sarkozy, into a Luxembourg-based clearing house called Clearstream. These were initially suspected as being kickback payments for the sale of six French frigates to Taiwan in 1991. The affair developed into a blatant political mud-slinging campaign, finally pitting Sarkozy against former French Prime Minister Dominique de Villepin.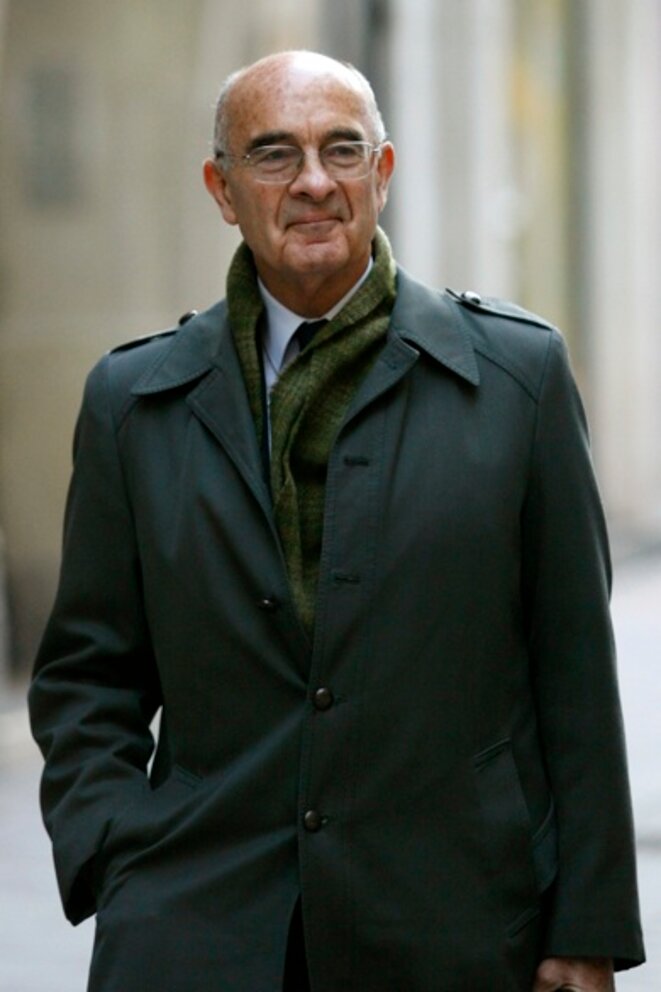 General Philppe Rondot. © Reuters
But amid the notes written by Rondot that were seized as evidence by the French judicial investigation into the Clearstream case was one, dated March 17th 2005, addressed to General Jean-Louis Georgelin, then personal chief of staff for defence to President Jacques Chirac, which Mediapart has gained access to and which openes up a quite different affair.
It was copied to the then-French Minister of Defence, Michèle Alliot-Marie (who was last month forced to resign as foreign minister). This document formally attests to the links between France's foreign intelligence services, the DGSE (Direction Générale de la Sécurité Extérieure) and Croatian independence war criminals on the run from the ICTY.
In his notes, General Rondot reveals in particular how the DGSE kept in touch with Croatian General Ante Gotovina between 2001 and 2005, when he went underground while he was indicted and sought by the ICTY.
On a wider scale, the general reveals how the French intelligence services kept a close watch on all war criminal dossiers. They only delivered information to international justice drip by drip, protecting collaborators and partners despite their indictments.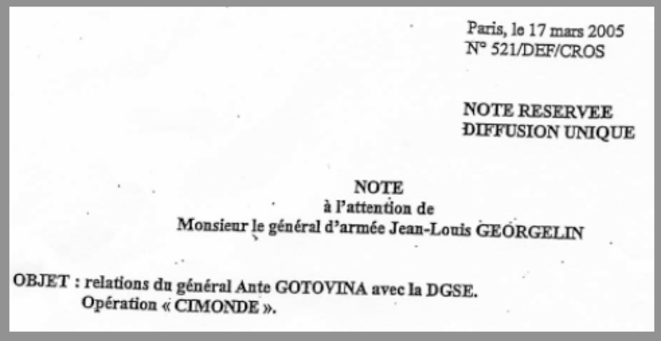 Note adressée le 17 mars 2005 au général Georgelin.
To see the memo in full (in French only): clikc here for page one, and here for page two.

As a consequence of such limited collaboration with the international justice system by countries such as France, General Mladić is still on the run, more than 15 years after his first indictment.
The ICTY-indicted war criminals are mentioned virtually every day in the Rondot notebooks: Mladić Karadzic, arrested in Belgrade in July 2008; Goran Hadžić (former President of the Serb Republic of Krajina, accused in 2004 of war crimes and crimes against humanity), also still on the run. They describe regular communication between defence minister Michèle Alliot-Marie, President Jacques Chirac, and directors of the French secret services.
Over a long period, the ICTY's priority was Ante Gotovina, a former member of the French Foreign Legion. He was finally arrested in the Canary Islands on December 7th, 2005. A few months earlier Rondot had noted, "Stop covering Gotovina". Before being abandoned by the DGSE, the man currently being tried at the Hague for 'violating the laws and customs of war and crimes against humanity' benefited from a long period of protection, which can be explained by numerous services he rendered to France.