On August 9th this year, at the age of 23, France international midfielder Paul Pogba became the world's most expensive player ever. That was when English club Manchester United agreed to pay a record 105 million euros to Italian side Juventus to buy back Pogba, who had left the Mancunians for Turin four years earlier.
Meanwhile, a no less extravagent commission of 27 million euros was paid to Pogba's agent, Mino Raiola, 47, who had demonstrated his own talent by pushing up the bidding for the promising youngster.
But the world-record transfer fee and the massive media coverage over the deal were manifestly intimidating for the young player. Pogba got off to a poor start with Manchester United at the beginning of the season, and inevitably the huge price tag of his transfer was questioned by fans and the media. In mid-September, United's manager José Mourinho was forced onto the defensive over the sum paid by the club. "I just want Paul to forget that and to play his football," said Mourinho.
Pogba became one of the scapegoats for the club's disappointing results in the English Premier League, with some fans even taking to Twitter to debate his performances under the hashtags "#Pogfraud" and "#Pogshit". The jibes have since receded as the midfielder's form has improved through the autumn and he has at last begun hitting the net again, both for Manchester United and the France international team.
But importantly, Paul Pogba's ups and downs on the field are set against a background of business dealings off it, marked by greed, dubious deals and tax havens. It is a story that features a ferocious battle between Oualid Tanazefti, a Frenchman who first discovered Pogba's talent when the latter was aged just 13, and one of football's heavyweight agents, Mino Raiola.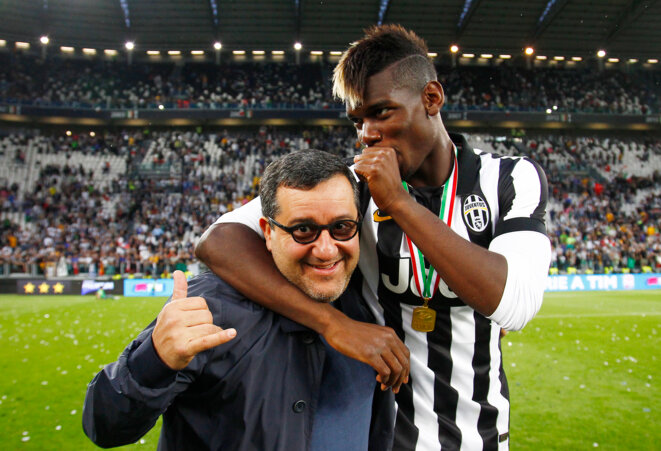 Mino Raiola with Paul Pogba on the pitch of the Juventus Stadium, June 23rd 2015. © LaPresse - Spada
The rivalry between Tanazefti and Raiola has already been detailed in the media, notably in reports by French sports daily L'Equipe and the investigative programme Enquêtes de Foot produced by French TV channel Canal+. But now new documents obtained by Mediapart and German weekly magazine Der Spiegel, analysed with fellow partners in the journalistic collective European Investigative Collaborations (EIC), demonstrate the vast lengths the two men were ready to go to in order to obtain rich returns from the talent of Pogba, whose own earnings have in part fructified in places where taxes are either lenient or non-existent.
Our documents also show how Paul Pogba was convinced by Tanazefti to sign a one-sided contract in 2014, which gave the agent the revenue from the player's image rights over a period of 15 years, via a Luxembourg-based company.
Subsequently, Mino Raiola organised a buyout of the rights, when he also transferred the "Paul Pogba" brand to an offshore shell company registered in Jersey, another tax haven. That operation came shortly after Pogba had signed a major deal with sportswear company Adidas, which press reports estimate to be worth between 25-40 million euros.
The EIC investigation also shows how Mino Raiola was paid 10 million euros by Juventus during Pogba's four years with the club, the justification for which is unclear. By adding the agent's commission for the player's move back to Manchester United this summer, Raiola was remunerated a total of 37 million euros by Juventus between 2012 and 2016.
Paul Pogba declined to answer the EIC's request for an interview. His two successive agents, Tanazefti and Raiola, declined to answer our specific questions and warned that they would consider taking legal action over the publication of our investigation (see their written replies in full on page 3). Raiola said he refused to answer our questions on the basis that "amongst the information you supposedly have, some is imaginary, inexact or at any rate deformed". Tanazefti, meanwhile, indicated that "among your questions I was able to notice that out of 34 assertions and/or interpretations, 31 assertions are totally or partially false, and/or lead from erroneous interpretations and things taken out of context".
Oualid Tanazefi is the son of Moroccan parents who settled in France. He was born in Mantes-la-Jolie, a town with a large population of immigrant origin, about 50 kilometres west of Paris. In his teens Tanazefi had hoped to become a professional footballer. After humble beginnings playing for small clubs in Normandy, an injury he suffered at the age of 18 ended his hopes of a career on the field. He soon after became a scout for French team Le Havre, who assigned him to seek out budding young talent in small teams playing in the Paris region.
In 2006, during his scouting work, Tanazefti, then 21, came across Paul Pogba, a promising youth player aged 13. The two had similar backgrounds: Pogba, born in France to Guinean parents, grew up, like Tanazefti, in a difficult social environment, on a housing estate in the eastern Paris suburbs, the 'Cité de la Renardière' in Roissy-en-Brie.
Tanazefti was instrumental in Pogba's admission to the youth training centre of Le Havre. Two years later, Pogba was called up to play in France's national under-16 team.
In the summer of 2009, Pogba, by then aged 16 and therefore old enough to sign his first contract with a club, agreed to an exclusive youth contract deal with Le Havre. Manchester United subsequently approached the young player and Tanazefti, who was still a scout for Le Havre but had also become a self-styled advisor to Pogba, convinced Pogba to join the prestigious English club's youth academy. Le Havre denounced the move by United, accusing it of violating an exclusivity agreement between it and Pogba, and alleging it had offered Pogba's parents "very large sums of money" to ensure one of its "best youngsters" accepted the move. The dispute was eventually resolved in a financial deal between the two clubs which has never been detailed in public.
Tanazefti resigned from his job with Le Havre and moved with Pogba to England. "I spent three years with him in Manchester," Tanazefti would later recall. "It was sometimes difficult because we didn't have much money." It was during those three years that a special relationship developed between the young Pogba, distanced from his family at the age of 16, and his "advisor" who took on a role somewhere between that of an elder brother and a substitute father. "I educated him like my son, in the same way that my father educated me," Tanazefti told French journalists Antoine Grynbaum and Stéphane Bitton in an interview published in their book Les secrets du mercato (In English, 'The secrets of the transfer market').
During the summer of 2011, after Pogba had turned 18, the young Frenchman signed his first professional contract with Manchester United, which was for a 12-month period. Along with two partners, Tanazefi then set up a football agent's business called Sporteam, based in the southern French town of Aix-en-Provence. But without an agent's licence, and with only one football player under his wings, Tanazefi knew that he carried little weight in face of Manchester United, one of the world's wealthiest clubs whose manager, Sir Alex Ferguson, was one of English football's most experienced and successful. Tanazefi turned for help from Mino Raiola, already one of the world's most influential football agents, whose list of clients included Swedish striker Zlatan Ibrahimovic and Italian striker Mario Ballotelli.
After just one year with Manchester United, and following strained relations with Ferguson, Pogba left the club for Juventus. Pogba complained that Ferguson had included him in just seven matches during the season. Ferguson, who tried to dissuade him from the move, would later, in his book of memoirs, criticise Raiola, accusing the agent of manoeuvring behind the manager's back and seeking too much financial reward. "I did what was best for my client," Raiola said of the events.