Extensive surveillance by the French security services of Saïd and Chérif Kouachi, the two brothers who carried out the shooting massacre at the Paris offices of Charlie Hebdo magazine last Wednesday, was halted last summer because no clear evidence was found of their involvement with a terrorist group or plot, Mediapart has learnt.
Meanwhile, Amedy Coulibaly, the third terrorist who took part in the attacks in and around Paris last week in which 17 victims died, was the object of no surveillance after he left prison in March last year despite having served time for his involvment in an Islamist jail-break plot. Coulibaly last week shot and killed a policewoman before taking shoppers and staff hostage on Friday in a kosher supermarket in the south-east of Paris, shooting dead four of his captives.
Both Coulibaly and the Kouachi brothers were killed when police and gendarmerie commandos stormed their separate sieges in and close to Paris late Friday afternoon. The attacks between January 7th and 9th were the deadliest in France since 50 years.
In all, betweeen 2011 and 2014, the movements of Saïd Kouachi, 34, were monitored for a total of four months, while phone conversations of Chérif Kouachi, 32, were tapped for a total of two years during the same period.
The two brothers were well-known to French intelligence, police and justice services for their involvement with Islamist extremists. In 2008, Chérif Kouachi was given a three-year prison sentence, with 18 months suspended, for his involvement in a jihadist recruitment network which, between 2003 and 2005, sent volunteers to join al-Qaeda in Iraq. Two years later, both men were implicated in the plot to spring from jail Smaïn Aït Ali Belkacem, former member of the Algerian Armed Islamic Group (GIA), for which Coulibaly was jailed.
Belkacem was serving a life sentence for his bomb-making role in a series of attacks in Paris in 1995 which left eight people dead. The case against the Kouachi brothers in the jail-break plot was eventually dropped for lack of evidence.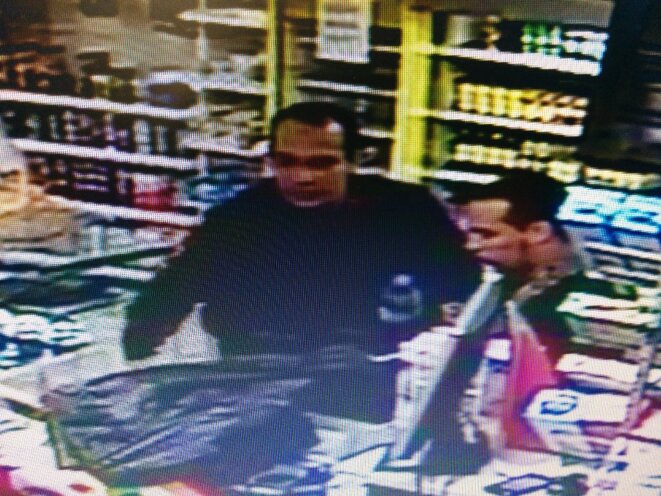 Les frères Kouachi, lors du braquage d'une station-service dans l'Aisne, le 8 janvier 2015. © Vidéo-surveillance
In October 2011, US intelligence services informed their French counterparts that a member of the terrorist organisation Al Qaeda in the Arabian Peninsula, which had been based in the Yemen since 2006, had been in contact via the internet with a person situated in a cybercafé in Gennevilliers, a Paris suburb situated west of the capital. At the time, Chérif Kouachi lived in Gennevilliers, at number 17 rue Basly. However, there has never been conclusive evidence that Kouachi was the person contacted by the terrorist group.
Then, one month later, in November 2011, US intelligence passed on information to the French of a journey made by Saïd Kouachi and another person, between July 25th and August 15th 2011, when they were recorded as definitely having stayed in Oman and were suspected of having made a clandestine trip to neighbouring Yemen. "This information was neither confirmed by physical nor technical sources," said a French source, whose name is withheld, and who was close to the investigations into the Kouachi's Yemeni connections.
However, the US tip-off prompted the French domestic intelligence organisation, the Direction centrale du renseignement intérieur (DCRI) – since enlarged and re-named the DGSI –to launch an surveillance operation. Because of the nature of the DCRI, this did not require the involvement of a magistrate, as it would in the case of a police operation. Beginning in December 2011, and up until December 2013, Chérif Kouachi's movements and phone conversations were monitored by the DCRI.
The surveillance found that Kouachi appeared to be gradually distancing himself from terrorist-linked contacts, although maintaining his relations with a number of figures known to be members of radical Islamic movements. It also found that he had become involved in a relatively less dangerous criminal activity, which was that of importing from China counterfeit clothing and footwear. The phone taps recorded him speaking about the racket.
Meanwhile, Chérif's elder brother Saïd also interested the DCRI. According to information obtained by Mediapart, his phone conversations were monitored over a period of eight months during 2012, when he was also the object of four months of physical surveillance. In 2013, his phone was again monitored for a total of two months. The surveillance was temporarily ended after it failed to offer clear evidence of him representing a terrorist threat.
However, in February 2014 French intelligence services obtained confirmation from a credible witness that Saïd Kouachi had, as US intelligence first revealed three years earlier, travelled to Oman in 2011, although there remained uncertainty about his possible trip to Yemen. Subsequently, he was again the target of phone surveillance, lasting five months until June 2014, during which time no evidence was found of him involved in terrorist activity or plots.
From that point, the Kouachi brothers disappeared off the radar of the French anti-terrorist services who concluded there were no grounds to open a full-blown judicial investigation into the pair. That conclusion was echoed last week by interior minister Bernard Cazeneuve who, speaking on January 9th, the day the brothers were killed by gendarmerie forces, said "nothing signified the fact that they could be engaged in action of this type," underlining that "their situation" had not been judged to warrant a judicial probe.
Numerous questions remain. Were the brothers a sleeper cell, clever enough to have deliberately fooled French intelligence services into believing they no longer represented an active threat, perhaps using a secure communications method such as by internet? Or did they temporarily turn their back on terror movements?