Up until now Vincent Bolloré had seemed untouchable. But on April 25th, 2018, the Frenchman whose business empire has strong roots in Africa was placed under formal investigation by French judges Serge Tournaire and Aude Buresi over allegations of corruption of foreign officials, complicity in breach of trust and forgery and the use of false instruments. The tycoon and several of his group's executives had been questioned in custody the previous day as part of the investigation, which relates to how the concessions to run the West African ports of Lomé in Togo and Conakry in Guinea were awarded in 2009 and 2010 respectively.
In a statement the Bolloré Group strongly denied that its former subsidiary involved in the allegations, SDV Africa, had done anything wrong or that its communications arm had acted improperly. "SDV Africa did not engage in any illegal actions and the Bolloré Group reaffirms that these communication services were conducted in full transparency,' it said.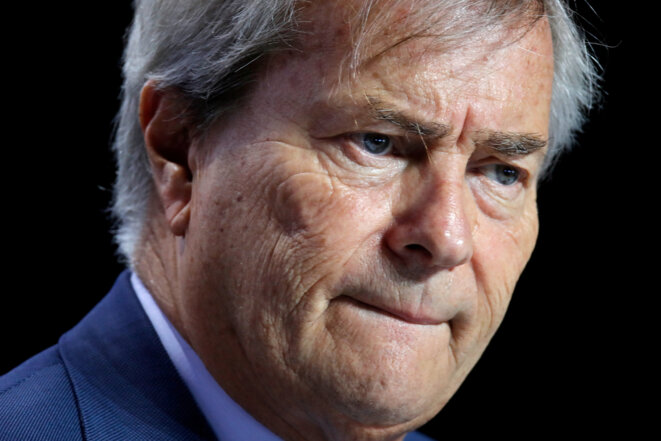 Under investigation: Vincent Bolloré. © Reuters
However, the affair seems to have been taken seriously enough to have hastened a mini change of leadership at the group, which took place before the judicial questioning occurred. Although Vincent Bolloré has insisted for years that he would give up the helm of the group in 2022, when he will be 70, the businessman decided last week to relinquish positions in the most emblematic parts of his group: satellite channel Canal+ and mass media conglomerate Vivendi. At his communications group's annual general meeting on April 19th Vincent Bolloré confirmed that he was standing down as chairman of Canal+ and handing over to Maxime Saada, and announced that his son Yannick Bolloré would take over as chairman of Vivendi. According to the group there is no link between the events and Vincent Bolloré had simply achieved all his aims at Vivendi.
But it is not just Vincent Bolloré who is taking this judicial affair seriously. Behind this businessman lies a significant section of what is known as 'Françafrique', that network of political, economic and military ties between France and her former Africa colonies of which Bolloré has been a part and which could now see its practices shaken up. It is a system which, while never abandoned by any French president, was practised in its most extreme form under the 2007 to 2012 presidency of Nicolas Sarkozy. "It was open season at the time," to use the expression of an investigator who has worked on the Bolloré case.
The placing of Bolloré under formal investigation – which is one step short of charges being brought – stems from a probe sparked by two formal complaints. The first was made by the French group Necotrans in March 2011 after it was evicted from the port at Conakry by the military and summarily replaced there by the Bolloré group. The second complaint was deposed by Jacques Dupuydauby. He is a former business partner of Vincent Bolloré – in particular during the aborted raid on the Bouygues group in 1998 – who became his partner in the Progasa group before becoming a sworn enemy. Jacques Dupuydauby blames Vincent Bolloré for having deprived him of the concessionary rights at Lomé's port in 2009, which he had held since 2001.
Following the complaints there was an investigation, which included a search of the Bolloré group's office's in April 2016. The examining magistrates, led by Judge Serge Tournaire, suspect the group's executives of using its communications subsidiary, Havas, to help African leaders to get elected by providing them with advice that was under-billed or in some cases not billed at all. In Guinea's case the politician concerned was Alpha Condé.
The claim is that in return these leaders then ripped up their countries' existing agreements on port concessions and handed them to the Bolloré group. That was the suspicion raised by Necotrans's lawyer Pierre-Olivier Sur after the expulsion of his client from Conakry. "We hope that the justice system investigates the fact that Bolloré supported Alpha Condé through the communications agency Euro RSCG [editor's note, part of Havas], that it controls, and obtained the concession for Conakry port," he said.
Other leading figures in the Bolloré group were also questioned by judges this week. Gilles Alix, one of the directors at Vinvendi, who for years has dealt with transport and logistics for the Bolloré group, mostly in Africa, was placed under investigation for corruption of foreign officials, complicity in breach of trust and forgery and use of false instruments. Jean-Philippe Dorent, in charge of the international department at Havas, and another who has spent a great deal of time in Africa, was placed under the status of 'assisted witness' in relation to the corruption of foreign officials, and placed under investigation in relation to complicity in breach of trust and forgery and use of false instruments. However, Francis Perez, an executive at the a leisure and gaming company Pefaco group, who is close to Jean-Philip Dorent, and who was also questioned, left custody facing no investigation.
In his virtually annual interview in the publication Jeune Afrique, Vincent Bolloré never misses a chance to remind people of his attachment to the continent. "I love Africa," he says. Indeed, it is to Africa that he owes his fortune. In the mid-1980s, at a time when the French business world turned away from Africa, Bolloré started buying up the last business vestiges of colonialism that still survived. These companies included SCAC, involved in logistics and distribution, in 1986; Delmas-Vieljeux, a maritime transport company, in 1992; logistics firm Saga in 1998 and in particular Rivaud, which was involved in plantations, banks and finance, in 1996. With the help of President Jacques Chirac's former key aide Michel Roussin, and Jacques Rossi, formerly of Clinvest, Crédit Lyonnais's investment bank, Bolloré was building an empire in Africa, while scarcely changing the old colonial practices. African heads of state, and also a number of French presidents and sections of French diplomacy, were in his debt.
For Vincent Bolloré knew how to make himself indispensable. From the end of the 1990s the businessman decided to abandon maritime transport on the grounds that it was too expensive and too risky. Instead he concentrated his African activities in better paying and more fundamental sectors: logistics, transport infrastructure and in particular ports. To have concessions in the ports meant having having some control of a country's economy and thus its government.