The political crisis in IvoryCoast appeared close to an end Tuesday as its besieged former president Laurent Gbabgo, beaten in elections last November but refusing to hand over power, was reportedto be negotiating his surrender.
Sheltering with his familyin a basement stronghold of his presidential palace in the country's econmic capital and largetst city Abidjan, surrounded by forces supporting president-elect Alassane Ouattara,Gbagbo's sudden defeat after a five-month stand-off was largely sealed by theintervention of French and UN attack helicopters that began on Monday. Ludovic Lamant reports on the background to a decisive 48 hours (see 'Boîte Noire' bottom of page for key dates running up to the Ivory Coast crisis).
-------------------------
Following presidentialelections last November, Ivory Coast's defeated incumbent Laurent Gbagbo refusedto hand over power to Alassane Ouattara, who is recognised by both the Ivorianelectoral commission and the international community, led by the UnitedNations, as the new president-elect.
Despite repeated calls bythe UN and world leaders for Gbagbo to go, he has since remained entrenched inhis presidential headquarters in the economic capital Abidjan, protected by anelite and heavily-armed military force.
The worsening crisis in thecountry became acute in March, when civil war loomed close and civilian massacresperpetrated by both the Gbagbo and Ouattara camps were discovered.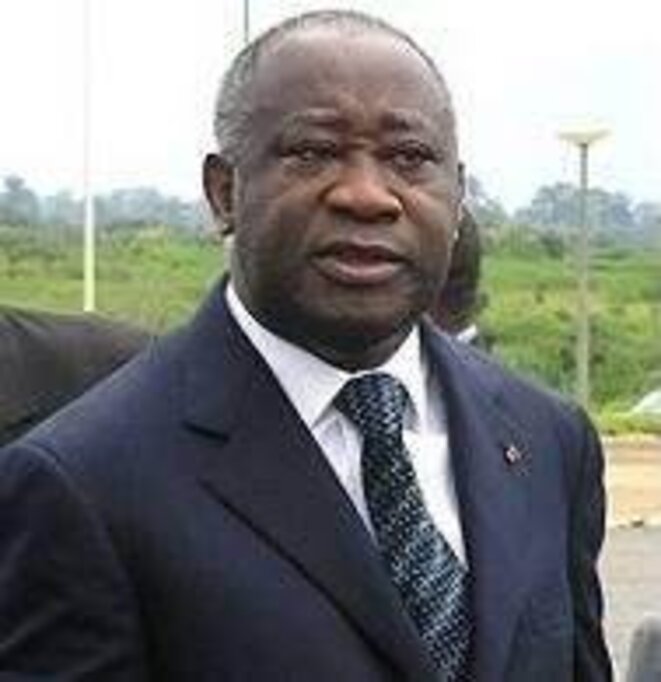 Ready for a fight: Laurent Gbagbo. © DR.
The African Union (AU) andthe West African regional body Ecowas, who since last December joined inefforts to force Gbagbo out, had given him an ultimatum to leave power by March24th, which he ignored. It was after this that the Ouattara camp's armed forcesbegan moving south from their northern bases towards Abidjan, the country's economic capital, meeting withlittle resistance until arriving in the city.
Since March 31st, while fightinghas concentrated around Gbagbo's presidential palace, Abidjan's streets have becomethe scene of constant fighting, with bodies lying unclaimed and most civilianstrapped inside their homes. Gbagbo's heavily-armed forces appeared able tocontinue to resist the siege, at least for the near future. Meanwhile, the UNreported that an estimated 500 had been killed across the country since thepro-Ouattara offensive began, and a million others had fled their homes.
The turning point came onApril 4th, when four French helicopters launchedan attack on the pro-Gbagbo Agban military compound, one of the main military basesin Abidjan, situated to the city's north. France has maintained a permanentmilitary force in its former colony, codenamed Licorne, officially to provide protectionto the some 13,000 French expatriates living in Ivory Coast.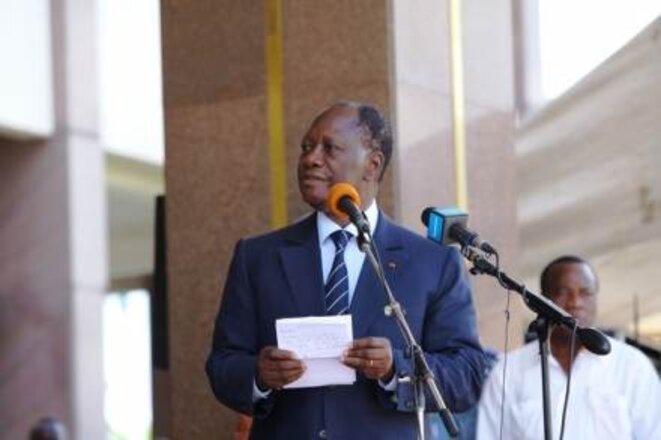 Alassane Ouattara © D.R.
Also on Monday, another pro-Gbagbocompound, at Akouédo, on the eastern outskirts of Abidjan, was targeted by attackhelicopters from the United Nations forces in Ivory Coast (UNOCI). Other, unidentifiedhelicopters targeted the presidential palace in the Plateau district, and aprivate residence belonging to Laurent Gbagbo in the nearby Cocodyneighbourhood.
The raids were carried outunder the terms of UN Security Council resolution unanimously adopted by its 15members March 30th, and which gave the UNOCI its support "while impartiallyimplementing its mandate, to use all necessary means to carry out its mandateto protect civilians under imminent threat of physical violence, within itscapabilities and its areas of deployment, including to prevent the use of heavyweapons against the civilian population and requests the Secretary-General tokeep it urgently informed of measures taken and efforts made in this regard".The attacks are therefore officially aimed at protecting civilians rather than atoverthrowing Gbagbo.
On April 3rd, UN SecretaryGeneral Ban Ki-moon wrote to French President Nicolas Sarkozy asking him to authorize,"as a matter of urgency", the French armed forces mission in Ivory Coast toproceed in conjoint operations with the ONUCI as mandated by the SecurityCouncil. Sarkozy gave his immediate agreement, opening up a third field of offensiveFrench military operations worldwide, after Afghanistan and Libya. The latter,part of an international campaign under NATO command, is authorized by UNSecurity Council resolution 1973, adopted on March 17th. It sanctioned thetaking of "all necessary measures, notwithstanding paragraph 9 of resolution1970 (2011), to protect civilians and civilian populated areas under threat ofattack in the Libyan Arab Jamahiriya, including Benghazi, while excluding aforeign occupation force of any form on any part of Libyan territory".