Confidential US diplomatic cables obtained by WikiLeaks, and published here by Mediapart, shed a revealing light upon France's current high-profile involvement in the international military offensive against the regime of Libyan leader Muammar Gaddafi. Fabrice Arfi reports.
-------------------------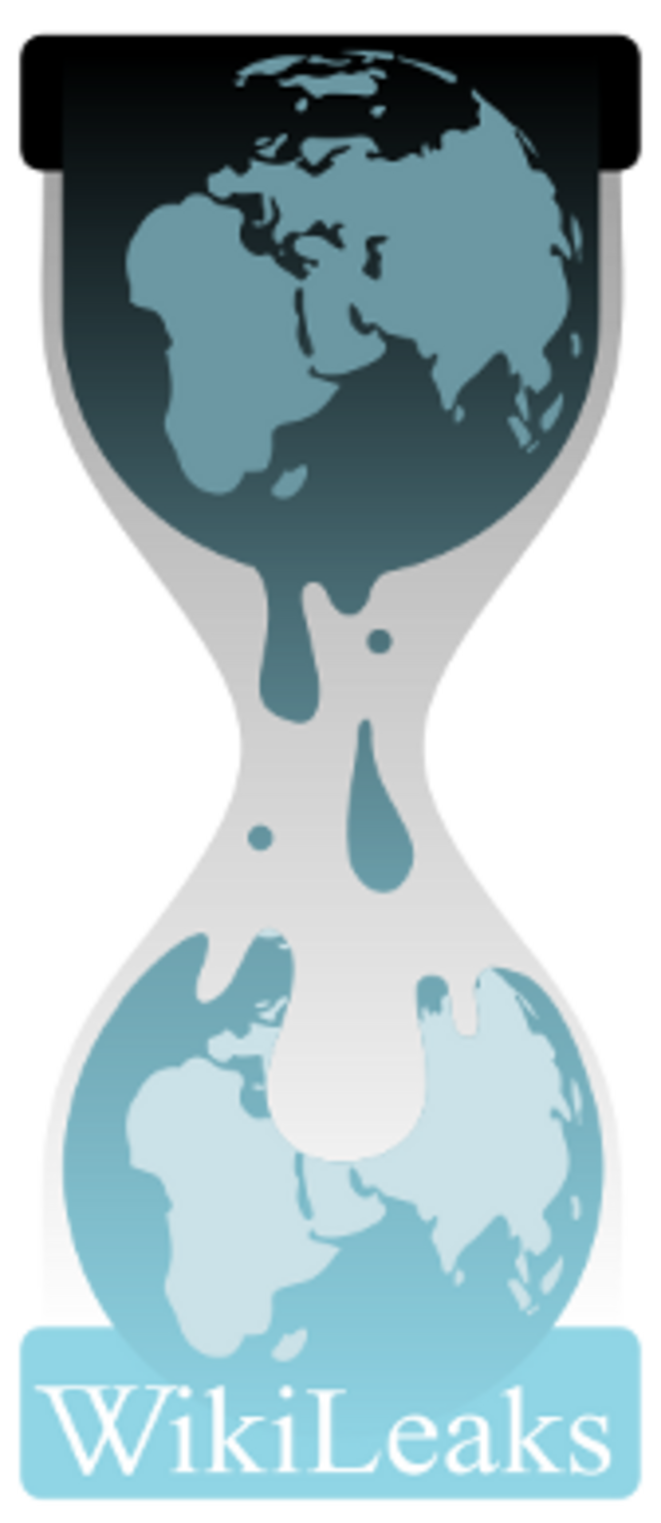 The US cables studied by Mediapart, issued for the most part from the US embassy in Paris, focus on Franco-Libyan relations since Nicolas Sarkozy was elected President of France in 2007. They highlight how Gaddafi was so recently, unambiguously and largely unsuccessfully courted for his wealth before suddenly becoming a despot worthy of odium against whom Paris has led what interior minister and Sarkozy insider, Claude Guéant, controversially called a "crusade" - the outcome of which appears increasingly uncertain.
The about-turn in relations between the two countries can be summed up in three symbolic dates, representing the milestones of a realpolitik that is now closing in like a trap on Libya as much as on France.
2007, a Sarkozy-Gaddafi "honeymoon" period, as a US ambassador put it.
2010, the moment of lost illusions has arrived, as demonstrated by the unvarnished comment of a French diplomat: "The Libyans, they talk, they talk but they don't buy anything (from us)"
2011, war - at France's initiative.
One of the main US diplomatic cables dedicated to Franco-Libyan relations is dated July 26th 2007 (cable n°116777) - two days after the liberation of the Bulgarian health personnel framed by the Libyan regime in an HIV-related health scandal. France was very involved in the liberation process, in which it used the services of Franco-Lebanese businessman Ziad Takieddine, one of the key middlemen cited in the high-profile political scandal known as the Karachi affair.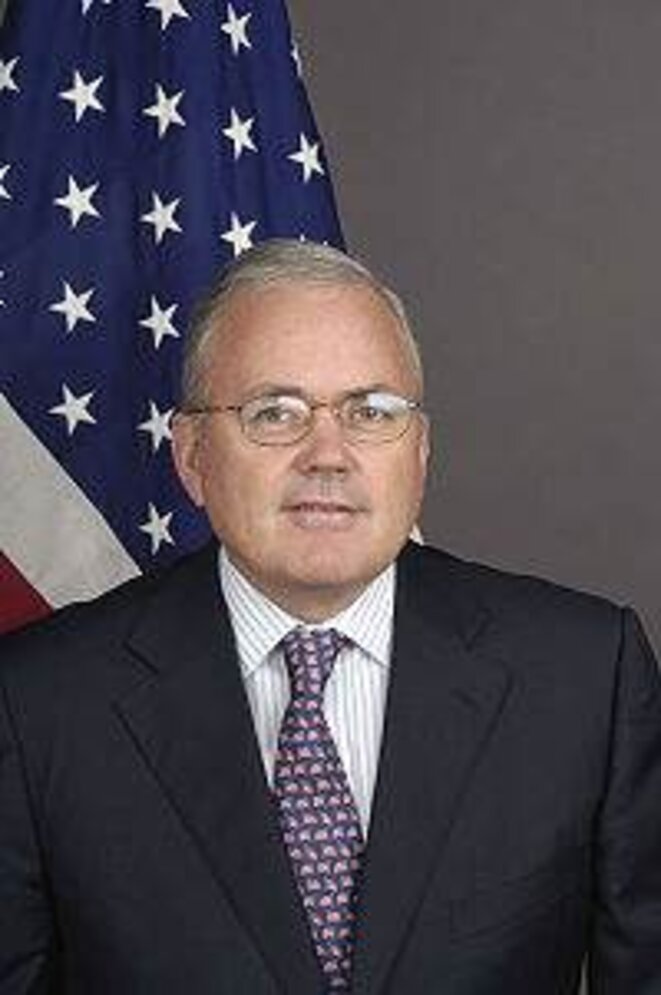 Craig Stapleton © DR
Non-classified, but presented as "sensitive", the cable was written by Ambassador Craig R. Stapleton who was posted to Paris from 2005 to 2009. The ambassador describes, not without irony, the "honeymoon" Nicolas Sarkozy enjoyed with the Libyan leader during a visit by the French president to Tripoli on July 25th 2007. The title of the cable is unambiguous: President Sarkozy's Trip to Libya Sets High Hopes for Lucrative Contracts.
Stapleton's pen is, to say the least, scathing: "Having achieved the desired political effect of burnishing his image as a man who can help resolve intractable issues, French President Nicolas Sarkozy used his July 25 visit to Libya following the release of five Bulgarian nurses and a Palestinian doctor to boost economic and trade relations with that country".
The ambassador continued: "Sarkozy's effort to derive real commercial gain from his newfound relationship with Libyan leader Qadhafi is partly intended to make up ground believed lost to the United States and others since Libya's rehabilitation in late 2003."1
-------------------------
1: The spelling of the Libyan leader's name differs in American and British English. The US cables are quoted here, as in every text published by Mediapart English,true to the original text. This is why it is quoted with the spelling 'Qadhafi', while the text of the article written by by Mediapart journalist Fabrice Arfi adopts the spelling 'Gaddafi'.
A 'political signal' to French businesses
The cable mentioned the signing of an agreement between the Libyan regime and Serge Dassault, head of Dassault Group, the French civil and military aeronautics firm, for the renovation of 12 Dassault Mirage-F1 fighter planes.The very same Dassault whose jets are today bombing Libya.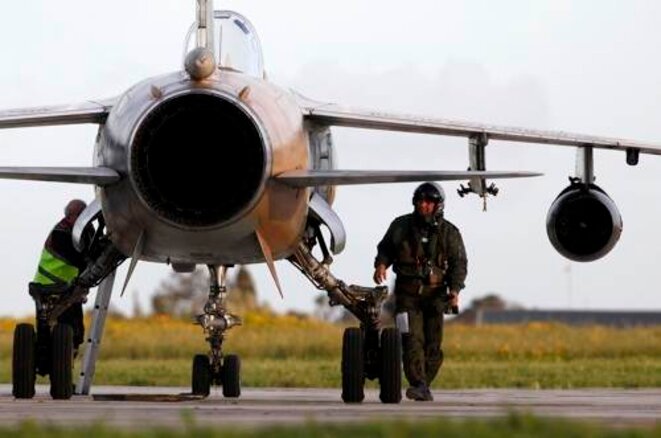 Mirage-F1 libyen © Reuters
That diplomatic cable also mentioned several other framework trade agreements signed during the French president's visit. For example, with French nuclear conglomerate Areva, which "expects to benefit from the warmer relations" between France and Libya, as do groups such as petrol company Total and engineering manufacturer Alstom in the transport sector, the cable noted.
Franco-Libyan commitments to build a "nuclear reactor"for water desalination and to cooperate in the civilian nuclear field were clearly closely monitored and were the subject of several US State Department reports in 2007 and 2008.
Regarding the banking sector, Ambassador Stapleton further noted that BNP-Paribas group "won a tender for the privatization of 19 percent of the capital of the Sahara Bank at a cost of 145 million euros".
© Reuters
According to Stapleton, Sarkozy, because of his pro-Gaddafi activism,"likely expects that his efforts will yield more benefits than former President Chirac obtained following his 2004 visit to Tripoli".
He added that "French companies have the political signal they were waiting for to move aggressively in seeking out opportunities in Libya. Sarkozy,who has publicly eschewed the notion that he intends to link France's bilateral relationships to his personal relationships with foreign leaders, probably hopes nevertheless to derive some gain from his current honeymoon with Qadhafi."
Another non-classified diplomatic cable, dated the same day, July 26th 2007, but this time written by the US embassy in Tripoli by diplomat Chris Stevens, showed that Sarkozy went to lengths to please the Libyan leader (cable n°116764). Thus, noted the cable, Gaddafi "met for several hours with Sarkozy and his delegation (which included FM Kouchner and diplomatic adviser Levitte, but not Mrs. Sarkozy) at Qadhafi's Bab Azziziya compound in Tripoli". The reference to FM Kouchner is to then-French foreign affairs minister, Bernard Kouchner.
'Libyans talk and talk but don't buy'
Bab Azziziya is the site that was bombed by US planes in April 1986, at a time when Libya topped the list of Rogue States. Ever since the bombing, Gaddafi has displayed it as a kind of revolutionary trophy. The bomb impacts remain visible on the walls of the compound. A huge sculpture of an arm and steel fist crushing a US fighter jet towers over the front of the house, which the cable reported was a symbol of what Gaddafi proclaimed as "the failed U.S.-Atlantic aggression" on Libya.
Although known for his strong pro-US approach, it was in this compound that, in 2007, Sarkozy made a number of trade agreements with Libya, posing for photographs with Gaddafi in front of the shell-ridden walls.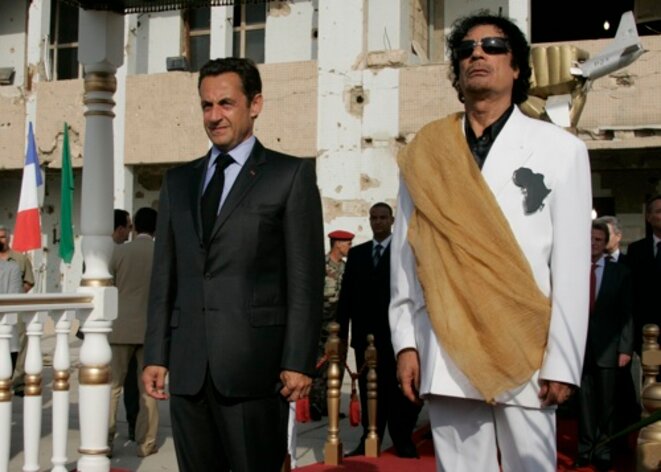 25 juillet 2007, Tripoli © Reuters
Sarkozy's predecessor had taken less pleasure from a similar exercise three years earlier. A US embassy cable, dated December 16th 2004, reports how then-French President Jacques Chirac, during a Tripoli visit, was "irritated" by a "surprise welcome ceremony" in front of the bombed out Bab Azziziya site (cable n°24174). "Chirac felt ambushed, and made his displeasure felt by his icy demeanor during the ceremony and his subsequent refusal to put an inscription in the guest book, where other heads of state, mostly African, have gone on for pages about the injustice done to the Libyans in 1986," reported the cable, written by Chief of Mission in Tripoli, Gregory L. Berry.
Nicolas Sarkozy was less shy. He left a short note (see below), found by French website
Owni.fr
after research on the French presidential website. It read: "I am happy to be in your country to talk about the future!"

La photo du petit mot de Sarkozy dans le Livre d'or de Kadhafi, retrouvé par Owni.fr dans les profondeurs du site de l'Elysée © DR
But all the kowtowing in 2007 held no guaranty of a pay-off, the US ambassador in Paris, Craig Stapleton, warned in his July 26th 2007 cable: "As French businessmen found after Chirac's visit, however, a good relationship at the highest level is no guarantor of commercial success" adding: "French businesses may still find Libya a daunting place to do business."
Stapleton was right. Despite Sarkozy's visit to Tripoli and, subsequent to it, that of Gaddafi to Paris in December 2007 amid great pomp and circumstance (much to the outspoken consternation of French opposition parties and a number of ruling conservatives), the promised millions in business contracts failed to materialise. According to a "confidential" US Paris embassy cable dated February 8th 2010 (cable n°247804), a French diplomat at the foreign affairs ministry bluntly summed up the situation for his US counterpart.
Written by Political Minister-Counsellor Kathy Allegrone, the cable reports a meeting she held with a deputy assistant secretary for North Africa at the French foreign ministry, Cyrille Rogeau. The French diplomat did not hide his irritation and France's "frustration". The cable reported Rogeau's remarks: "'We (and the Libyans) speak a lot, but we've begun to see that actions do not follow words in Libya,' Rogeau lamented. 'The Libyans talk and talk but don't buy anything' (from us)."
According to the same cable, Rogeau told the Americans that France will move forward "with less enthusiasm than before". One year later, that lack of enthusiasm gave way to war.
-------------------------
English version: Patricia Brett
(Editing by Graham Tearse)