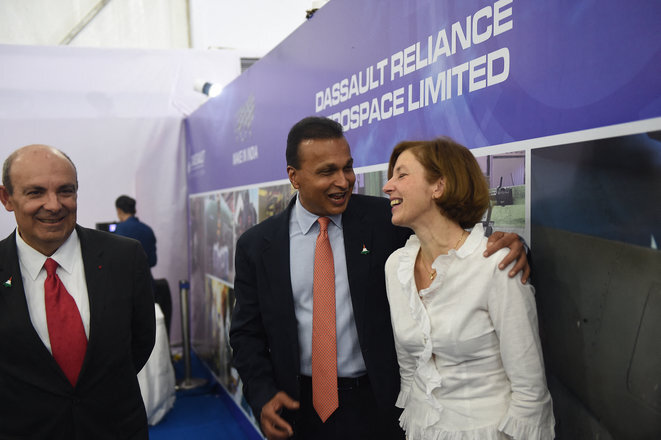 French armed forces minister Florence Parly with Reliance Group owner and chairman Anil Ambani (centre) and Éric Trappier (left), during the inauguration of the joint venture plant in Nagpur, October 27th 2017. © Money Sharma / AFP
A judicial probe into suspected corruption has been opened in France over the 7.8-billion-euro sale to India in 2016 of 36 Dassault-built Rafale fighter aircraft. In this latest of a series of investigations about the secret dealings behind the contract, Mediapart reveals how Dassault provided a remarkably generous financial gift to its local industrial partner Reliance Group, owned by Anil Ambani, a close friend of Indian Prime Minister Narendra Modi.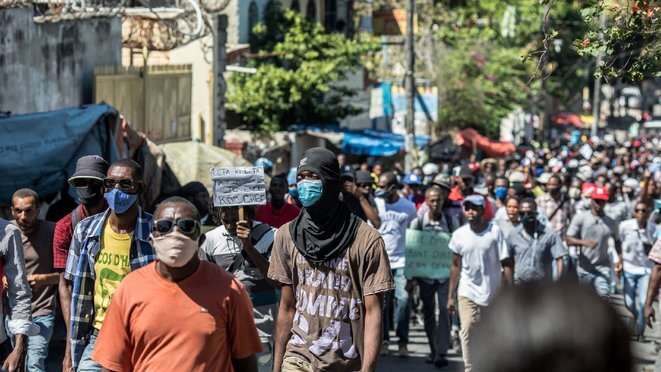 A protest march in Port-au-Prince against President Jovenel Moïse, February 10th 2021. © AFP/Valerie Baeriswyl
In Port-au-Prince, the capital of Haiti, a succession of massacres since 2018 by criminal gangs of inhabitants in several neighbourhoods is denounced by rights organisations as a strategy by the country's deeply unpopular president, Jovenel Moïse, to terrorise the population into submission. François Bonnet reports on the horrific events, and interviews one of Haiti's leading young writers, Jean D'Amérique, whose recently published novel, Soleil à coudre, centres on one such neighbourhood.
French anti-corruption NGO Sherpa has filed a legal complaint against Lebanon's central bank governor Riad Salemeh for allegedly diverting for his personal gain public funds worth hundreds of millions of euros to France and elsewhere in Europe.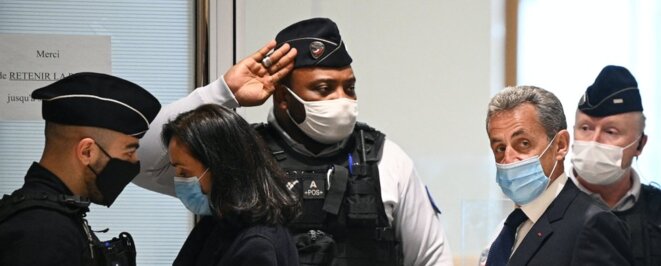 Nicolas Sarkozy arriving at the court in Paris on Monday 1st March 2021.
The former French president Nicolas Sarkozy was found guilty by a Paris court on Monday March 1st 2021 of corruption and influence peddling in the case known as the 'Paul Bismuth affair'. The ex-head of state was handed a three-year prison sentence with two of them suspended, though it appears unlikely he will serve time in jail and his lawyer said he will appeal against the conviction. It is the first time in French legal history that a former president of the Republic has been convicted of such serious crimes. The case stemmed from judicially-approved telephone taps of conversations between Nicolas Sarkozy and his friend and lawyer Thierry Herzog, who has also been convicted in the case. Mediapart's legal affairs correspondent Michel Deléan reports, with additional reporting by Ilyes Ramdani.
The ex-head of state was  found guilty of seeking to bribe a judge and handed a three-year sentence, two of them suspended.
The trial in Paris of former French president Nicolas Sarkozy for allegedly trying to bribe a magistrate in return for information about an investigation into his party finances was suspended shortly after it opened on Wednesday to allow a medical examination of one of the two other defendants.
Bernard Laporte, head of the French rugby federation, was questioned in police custody for a second day on Wednesday over allegations that he and two others placed pressure on the appeals committee of the French league to reduce a disciplinary punishment against rugby club Montpellier.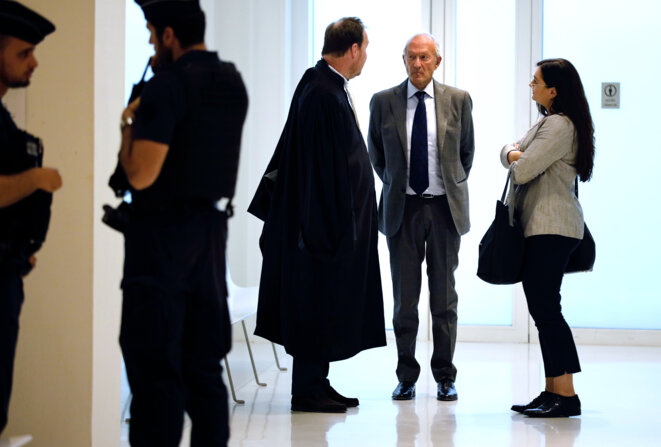 Thierry Gaubert, second from right, one of those found guilty in the Karachi Affair, pictured June 15th 2020. © AFP
On Monday June 15th 2020 a Paris court handed prison sentences to six men found guilty of organising a vast political funding scam involving kickbacks on French weapons sales to Saudi Arabia and Pakistan in what has become known as the 'Karachi Affair'. It was the first time in France that a criminal court has established that a presidential election campaign – in this case involving Édouard Balladur in 1995 – was funded by kickbacks from state arms deals. It is, says Mediapart's Fabrice Arfi, an object lesson in the weaknesses of a democracy in the face of corruption.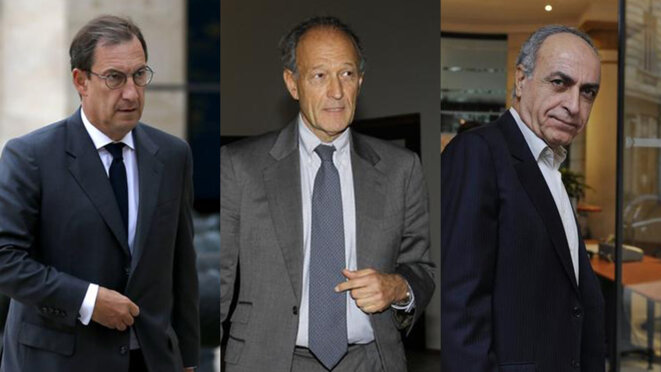 Three of the defendants (l-r): Nicolas Bazire, Thierry Gaubert and Ziad Takieddine. © Reuters
A Paris court has handed prison sentences to six men found guilty of organising a vast political funding scam involving kickbacks on French weapons sales to Saudi Arabia and Pakistan. The kickbacks, secretly transferred in cash sums, were to finance former French prime minister Édouard Balladur's 1995 presidential election campaign. The men, who were on Monday given jail terms of between three and five years, include former minister Renaud Donnedieu de Vabres and Nicolas Bazire, a senior executive at luxury goods group LVMH. The verdicts end the financial chapter of what has become known as the "Karachi Affair", an ongoing judicial saga that centres on the murders of 11 French naval engineers in Pakistan in 2002. Karl Laske and Fabrice Arfi report on the conclusions of the sentencing magistrates.
The European aerospace group is likely to pay large fines to end inquiries by Britain's SFO fraud investigation unit and other authorities.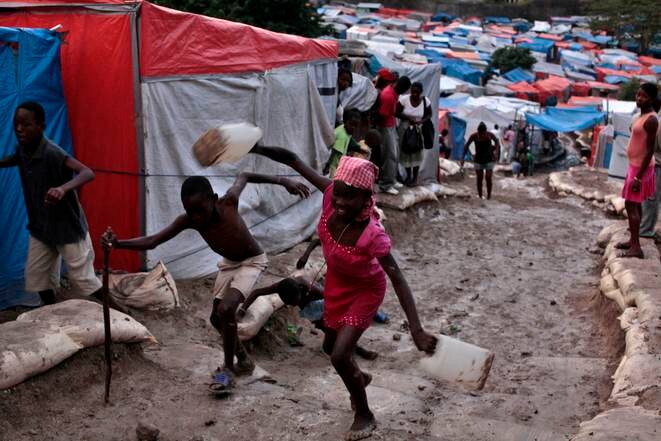 A camp for Haitians made homeless by the 2010 quake. © Reuters
This week marked ten years since a devastating earthquake hit the impoverished Caribbean state of Haiti, when up to 300,000 people were killed and 1.5 million others were left homeless. The ensuing reconstruction programme drew billions of dollars in aid, but also led to massive corruption. Mediapart co-founder and former editor François Bonnet, who has regularly reported on the tragedy in Haiti, details the fiasco and argues here why a thorough investigation into the gigantic scams must be led under the auspices of the UN, and those found responsible must be prosecuted. Nothing less can restore confidence in international institutions – beginning with the UN itself.
The trial in Paris of Lamine Diack, the 86-year-old Senegalese former head of the International Association of Athletics Federations, and five other defendants on charges of corruption and money laundering in connection with the doping scandal surrounding Russian athletes, has been postponed until June after new documents were provided to the court.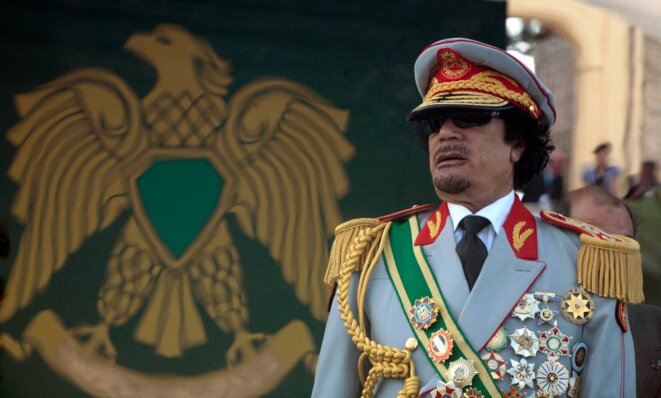 The SocGen operation involved officials of the regime of late Libyan dictator Muammar Gaddafi. © Reuters.
Giant French banking group Société Générale has admitted corrupting Libyan officials under the regime of late dictator Muammar Gaddafi to gain contracts worth more than 2 billion dollars. The scam involved paying vast secret commissions to a businessman intermediary via his offshore company based in Panama. In a 2017 statement recognising its role, the bank said that it "wishes to place on record its regret about the lack of caution of some of its employees", but documents now obtained by Mediapart suggest the operation may have been validated at the highest level of the group's management. Fabrice Arfi reports.
The trial of six former high-ranking French government officials accused of taking part in the secret siphoning off of funds from arms sales to Pakistan and Saudi Arabia to finance the presidential election campaign of former prime minister Edouard Balladur has opened in Paris.