Related keywords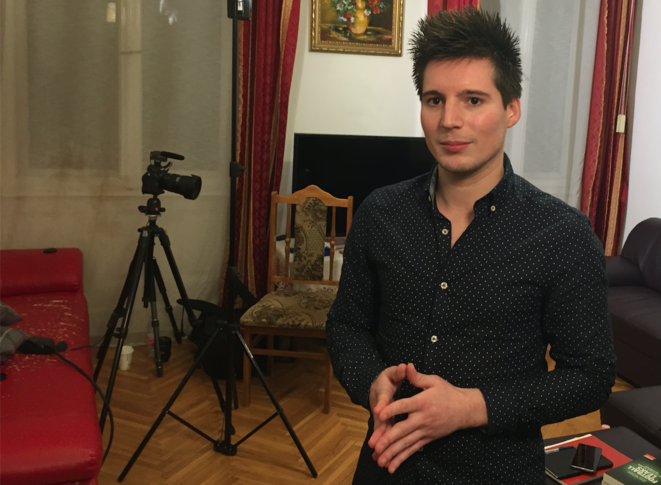 Rui Pinto shortly before his March 2019 extradition to Portugal from Hungary. © YP
Rui Pinto, the Portuguese whistleblower behind the Football Leaks revelations of widespread criminality in the world of professional football, ranging from fraud and tax evasion to match-fixing and political corruption, has been held for more than six months in preventive detention in conditions of solitary confinement in a Lisbon jail. Accused of illegal hacking of documents and attempted extorsion, the 30-year-old faces trial for 147 alleged offences relating to his disclosures of illegal practices in the football business in Portugal. But in a defiant statement, Pinto has slammed the Portuguese prosecution services for ignoring the evidence of corruption he gave them, of protecting those behind it, and of transforming him into "a sort of political prisoner".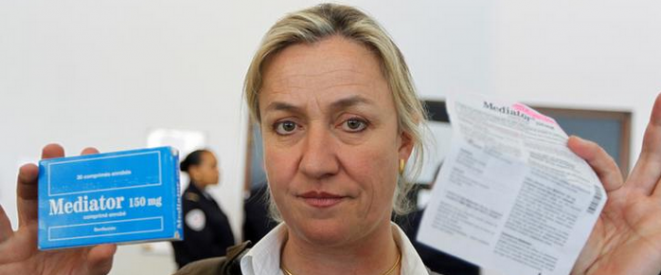 Pulmonologist Irène Frachon who exposed the devastating effects of the drug Mediator. © Charles Platiau/Reuters
A trial opened in Paris on Monday centred on one of France's biggest-ever pharmaceutical scandals, so vast and involving so many people that it is expected to last up to seven months. French pharmaceutical firm Servier is accused of hiding the killer side effects of its drug Mediator, a treatment for type-2 diabetes patients, but which was widely prescribed as an appetite suppressant. Up to 2,000 patients are estimated to have died from pulmonary and heart disease caused by Mediator, the dangers of which the drug safety authorities, several of whose members are also standing trial, turned a blind eye to. The scandal was revealed ten years ago by pulmonologist Irène Frachon, whose dogged investigations have seen her ostracised by many in the medical establishment. She talks about her campaign and its aftermath in this interview with Rozenn Le Saint.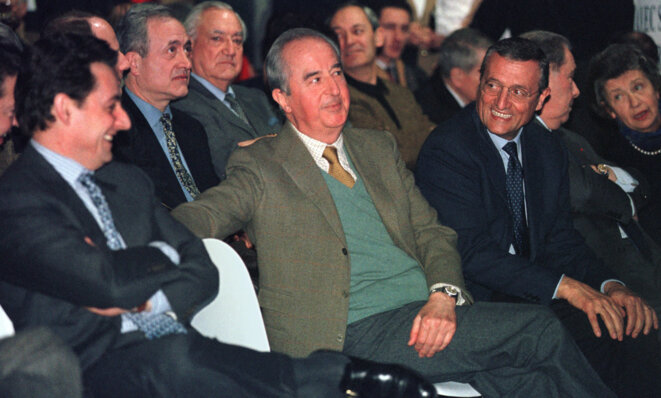 Édouard Balladur (centre) in 1995 with François Léotard (right) and Nicolas Sarkozy. © Reuters
Senior public prosecutor François Molins has concluded that former French prime minister Édouard Balladur and the defence minister who served under him, François Léotard, should be sent for trial for siphoning payments from public weapons contracts with Saudi Arabia and Pakistan to fund Balladur's presidential election campaign. Molins's formal recommendations follow a lengthy judicial investigation into what has become known in France as "the Karachi affair", a complex and far-reaching alleged corruption scam which surfaced after the murders of 11 French naval engineers in the Pakistani port city in 2002.
Richard Ferrand, president of the French lower house, the National Assembly and who is a close ally of President Emmanuel Macron has been placed under investigation over allegations he benefited improperly from the property deals of a health insurance fund he managed.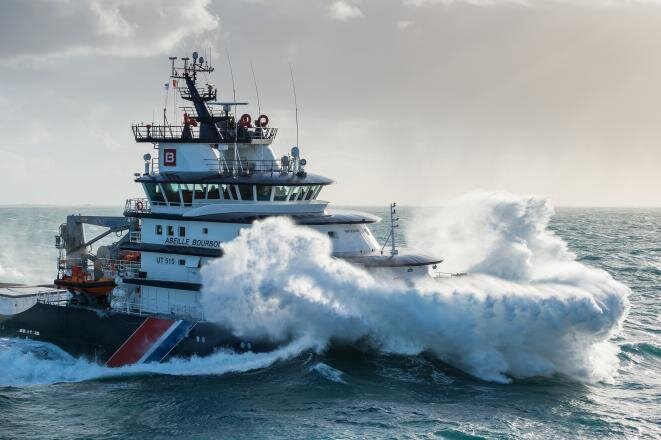 Rough times ahead: a vessel from Bourbon's almost 500-strong fleet serving the oil and gas industry. © Bourbon Offshore
French group Bourbon, a leading player in the field of maritime services and engineering support for the offshore oil and gas extraction industry which employs more than 8,000 people worldwide, is facing dire straits. Weighed down by heavy debts, its holding company was this month placed into receivership, while the group and members of its senior management have been sent for trial on charges of corrupting tax officials in Africa. Meanwhile, French junior minister Agnès Pannier-Runacher, who until joining government last October sat on the Bourbon board and presided over its audit committee, denies any responsibility in the group's current woes. Antton Rouget reports.
Concerns have been raised privately within the French justice system about the involvement of the government and in particular the Élysée in picking the successor to Éliane Houlette as head of the country's national financial crimes prosecution unit, the Parquet National Financier (PNF). This is because the PNF is currently handling two investigations which are particularly sensitive for the presidency. One is into the Russian security contracts involving former Élysée security aide Alexandre Benalla. The other probe is into President Emmanuel Macron's chief of staff Alexis Kohler over an alleged conflict of interest. Fabrice Arfi, Michel Deléan and Antton Rouget report.
An appeal by former French president Nicolas Sarkozy against a decision to prosecute him on charges of corrupting a senior magistrate to obtain information in a legal case concerning him has been rejected, and he is now expected to stand trial within months.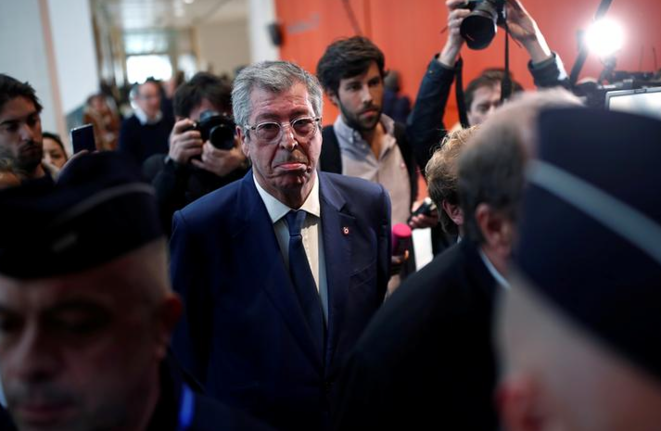 Patrick Balkany at the Paris courthouse on May 14th. © Reuters
Public prosecutors have ended their summing up in the trial on corruption, tax evasion and money laundering charges of Patrick Balkany, a veteran figure of the French conservative movement, mayor of Paris suburb Levallois-Perret, whose more than 40-year political career has been largely tainted by scandal. Unlike the leniency often displayed in political corruption cases in France, the prosecutors called for the 70-year-old to be sentenced to seven years in jail and barred from holding public office for ten years, prompting outrage from Balkany and his lawyer. Mediapart's legal affairs correspondent Michel Deléan reports on the hearing at the central Paris law courts.
Nasser al-Khelaifi, president of Paris Saint-Germain football club and chairman of the beIN Media Group has been placed under investigation for "active corruption" over payments a company of his made to officials from the International Association of Athletics Federations during Qatar's bid to host the  world athletics championships.
The French prosecution services have advised that Lamine Diack, the Senegalese former head of the International Association of Athletics Federations between 1999-2015, stand trial with his son for alleged corruption and money laundering.
Jean-Luc Mélenchon, leader of the France Insoumise (France Unbowed) party, who has led opposition to President Emmanuel Macron's economic policies, was questioned for several hours at the headquarters of anti-corruption police investigating allegations he used EU funds for European Parliament assistants to pay staff for work carried out in France and irregularities in his 2017 presidential campaign accounts.
French police raided the home and offices of radical-left La France Insoumise (France unbowed) party leader Jean-Luc Mélenchon on Tuesday as part of an investigation into suspected misuse of European Parliament funds and funding irregularities in Mélenchon's 2017 presidential campaign, prompting the 67-year-old to denounce an 'enormous operation by a politicised police force'.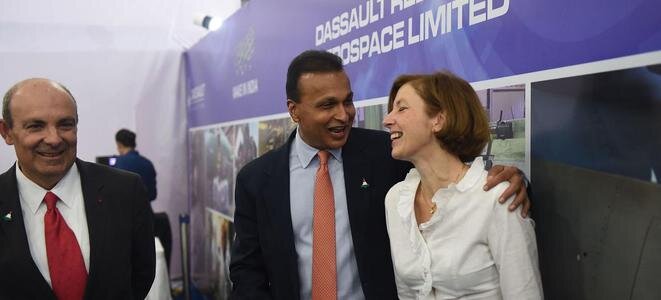 French defence minister Florence Parly with Reliance Group chairman Anil Ambani (centre) and Dassault CEO Éric Trappier (left), inaugurating the Nagpur joint venture plant, October 27th 2017. © Reliance Group
The 8 billion-euro sale to India by France of 36 Dassault Rafale jet fighters has become the centre of corruption allegations levelled against Indian Prime Minister Narendra Modi and his close friend, Indian businessman Anil Ambani, chairman of the Reliance Group which was handed the role of local industrial partner of Dassault to build parts for the jets despite no aeronautical expertise. The claim that Ambani was given the joint venture contract as a favour by Modi to save his struggling business is the subject of a complaint lodged this month with India's Central Bureau of Investigation. Now Mediapart has obtained a Dassault company document in which a senior executive is quoted as saying the group accepted to work with Reliance as an "imperative and obligatory" condition for securing the fighter contract. Karl Laske and Antton Rouget report.
The French public prosecution services have opened an investigation into corruption allegations against President Emmanuel Macron's chief of staff, Alexis Kohler, which centre on suspected conflict of interest and influence peddling over his close connections with a major shipping company while serving as a senior civil servant.