Related keywords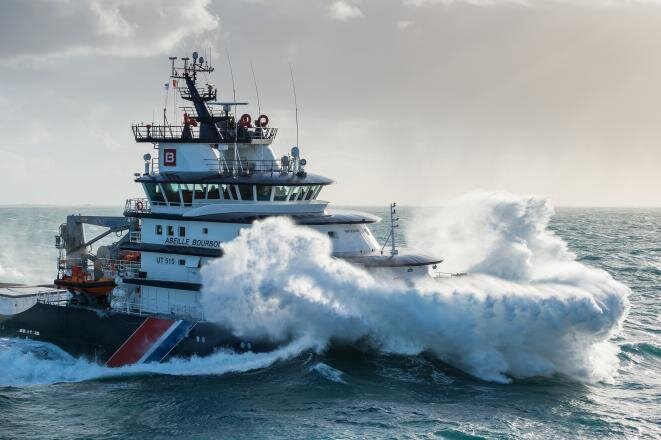 Rough times ahead: a vessel from Bourbon's almost 500-strong fleet serving the oil and gas industry. © Bourbon Offshore
French group Bourbon, a leading player in the field of maritime services and engineering support for the offshore oil and gas extraction industry which employs more than 8,000 people worldwide, is facing dire straits. Weighed down by heavy debts, its holding company was this month placed into receivership, while the group and members of its senior management have been sent for trial on charges of corrupting tax officials in Africa. Meanwhile, French junior minister Agnès Pannier-Runacher, who until joining government last October sat on the Bourbon board and presided over its audit committee, denies any responsibility in the group's current woes. Antton Rouget reports.
Concerns have been raised privately within the French justice system about the involvement of the government and in particular the Élysée in picking the successor to Éliane Houlette as head of the country's national financial crimes prosecution unit, the Parquet National Financier (PNF). This is because the PNF is currently handling two investigations which are particularly sensitive for the presidency. One is into the Russian security contracts involving former Élysée security aide Alexandre Benalla. The other probe is into President Emmanuel Macron's chief of staff Alexis Kohler over an alleged conflict of interest. Fabrice Arfi, Michel Deléan and Antton Rouget report.
An appeal by former French president Nicolas Sarkozy against a decision to prosecute him on charges of corrupting a senior magistrate to obtain information in a legal case concerning him has been rejected, and he is now expected to stand trial within months.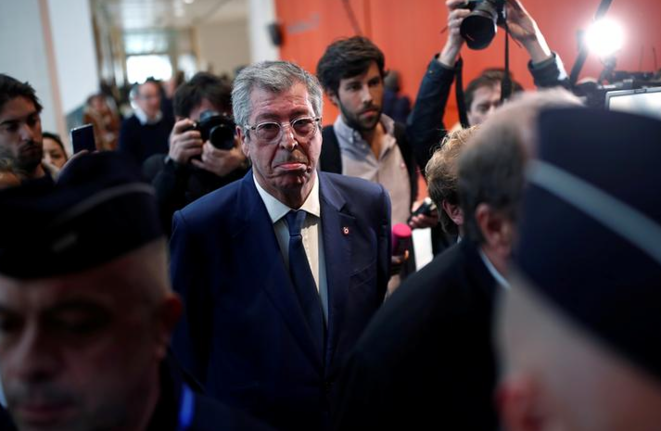 Patrick Balkany at the Paris courthouse on May 14th. © Reuters
Public prosecutors have ended their summing up in the trial on corruption, tax evasion and money laundering charges of Patrick Balkany, a veteran figure of the French conservative movement, mayor of Paris suburb Levallois-Perret, whose more than 40-year political career has been largely tainted by scandal. Unlike the leniency often displayed in political corruption cases in France, the prosecutors called for the 70-year-old to be sentenced to seven years in jail and barred from holding public office for ten years, prompting outrage from Balkany and his lawyer. Mediapart's legal affairs correspondent Michel Deléan reports on the hearing at the central Paris law courts.
Nasser al-Khelaifi, president of Paris Saint-Germain football club and chairman of the beIN Media Group has been placed under investigation for "active corruption" over payments a company of his made to officials from the International Association of Athletics Federations during Qatar's bid to host the  world athletics championships.
The French prosecution services have advised that Lamine Diack, the Senegalese former head of the International Association of Athletics Federations between 1999-2015, stand trial with his son for alleged corruption and money laundering.
Jean-Luc Mélenchon, leader of the France Insoumise (France Unbowed) party, who has led opposition to President Emmanuel Macron's economic policies, was questioned for several hours at the headquarters of anti-corruption police investigating allegations he used EU funds for European Parliament assistants to pay staff for work carried out in France and irregularities in his 2017 presidential campaign accounts.
French police raided the home and offices of radical-left La France Insoumise (France unbowed) party leader Jean-Luc Mélenchon on Tuesday as part of an investigation into suspected misuse of European Parliament funds and funding irregularities in Mélenchon's 2017 presidential campaign, prompting the 67-year-old to denounce an 'enormous operation by a politicised police force'.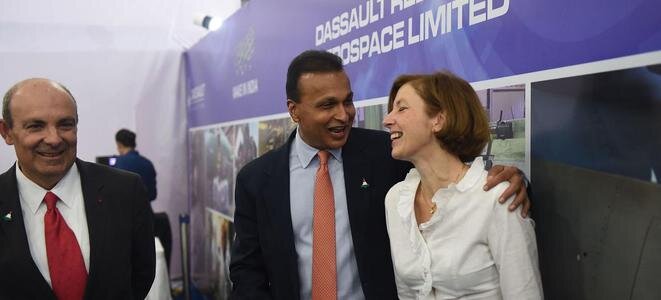 French defence minister Florence Parly with Reliance Group chairman Anil Ambani (centre) and Dassault CEO Éric Trappier (left), inaugurating the Nagpur joint venture plant, October 27th 2017. © Reliance Group
The 8 billion-euro sale to India by France of 36 Dassault Rafale jet fighters has become the centre of corruption allegations levelled against Indian Prime Minister Narendra Modi and his close friend, Indian businessman Anil Ambani, chairman of the Reliance Group which was handed the role of local industrial partner of Dassault to build parts for the jets despite no aeronautical expertise. The claim that Ambani was given the joint venture contract as a favour by Modi to save his struggling business is the subject of a complaint lodged this month with India's Central Bureau of Investigation. Now Mediapart has obtained a Dassault company document in which a senior executive is quoted as saying the group accepted to work with Reliance as an "imperative and obligatory" condition for securing the fighter contract. Karl Laske and Antton Rouget report.
The French public prosecution services have opened an investigation into corruption allegations against President Emmanuel Macron's chief of staff, Alexis Kohler, which centre on suspected conflict of interest and influence peddling over his close connections with a major shipping company while serving as a senior civil servant.  
A French court on Friday handed Teodorin Obiang, vice-president of Equatorial Guinea and son of the country's president, a three-year suspended prison sentence and a suspended fine of 30 million euros after he was found guilty in absentia of money laundering wealth embezzled from the African state's public funds. The presiding magistrates, who in their ruling underlined the initial reticence of French prosecutors to bring Obiang to trial,  also ordered the confiscation of his assets in France, estimated to be worth 150 million euros, including a vast Paris townhouse and a fleet of luxurious cars. Michel Deléan reports.
Prosecutors in the north-west town of Brest have wound down their investigation into former Socialist Party member Richard Ferrand, a key figure behind Emmanuel Macron's succesful bid for the French presidency, who was forced to stand down from government in June after the probe was opened into allegations he used his position as head of a local public health trust to hand his partner a lucrative property deal.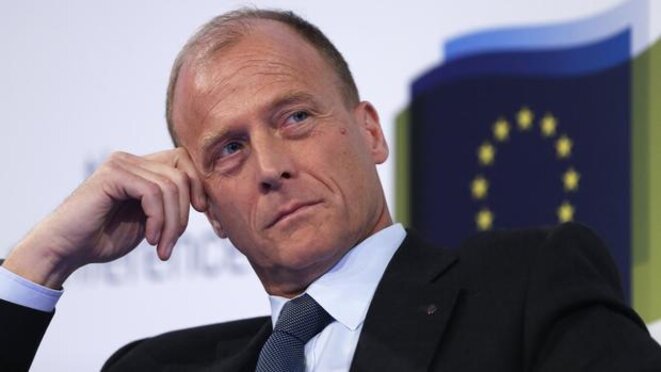 Airbus Group CEO Thomas Enders. © Reuters
A joint investigation by Mediapart and German weekly Der Spiegel reveals here how Airbus Group chief executive Thomas Enders has become personally implicated in allegations that the aerospace giant created a slush fund to pay intermediaries secret commissions, and "sweeteners" to politicians, in order to obtain a contract for the sale of 18 Eurofighter Typhoon jets to Austria. Martine Orange, Yann Philippin and Lea Fauth report.
Justice minister François Bayrou presented a cabinet meeting on Wednesday with his bill of law to introduce greater probity in political life, just as he and his centrist party is caught up in an allegations of fraud over the misuse of European Parliament funds, and another minister battles accusations of favouritism in past business activities.