On December 2nd, Mediapart and its 11 partner news organisations in the journalistic consortium European Investigative Collaborations (EIC) began publishing what would become an almost month-long series of revelations that have rocked the world of football, exposing corruption, tax evasion, money-laundering and more.
The revelations followed the EIC's access to a wealth of documents from the whistle-blowing platform Football Leaks, amounting to the largest leak of data in the history of football. While it remains uncertain whether this catalogue of exposures of the dark side of the game will result in a proper clean-up, it nevertheless prompted the opening, on December 12th, of a preliminary investigation by the financial crime department of the French public prosecutor's office into "moneylaundering of the proceeds of aggravated tax evasion".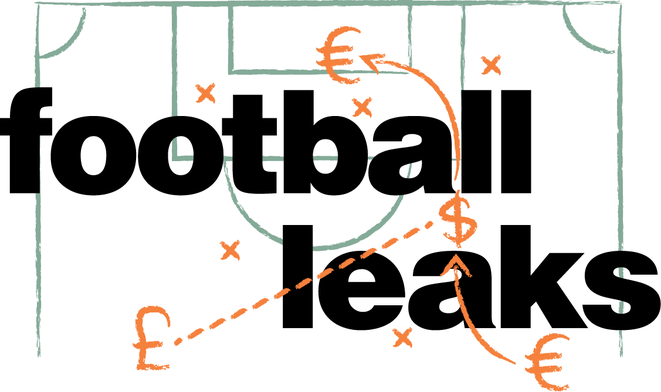 During the first revelations this month, Mediapart and its partners detailed how Portuguese star player Cristiano Ronaldo had placed just less than150 million euros of earnings into tax havens (see here). Among the reactions to the disclosure, some suggested he may have done so unknowingly, while others questioned why he was hounded. But Mediapart and its partners in the EIC never took a decision to go out and target in particular Ronaldo, the world's wealthiest and best-known player, and also the most talented, according to France Football's jury who awarded him the Ballon d'Or title just days after the EIC revelations.
An estimated 80 billion euros is hidden from the French tax authorities every year through deliberate tax evasion. That fact has been reported many times, and often provokes little more public emotion than a shrug of the shoulders. But when, in 2013, French budget minister Jérôme Cahuzac was revealed by Mediapart to have held over two decades a secret bank account abroad, there followed a wide public debate, a parliamentary enquiry, new measures of control of probity in public office and finally his sentence to three years in prison, a ruling which, by coincidence, was announced during the publication of the Football Leaks revelations.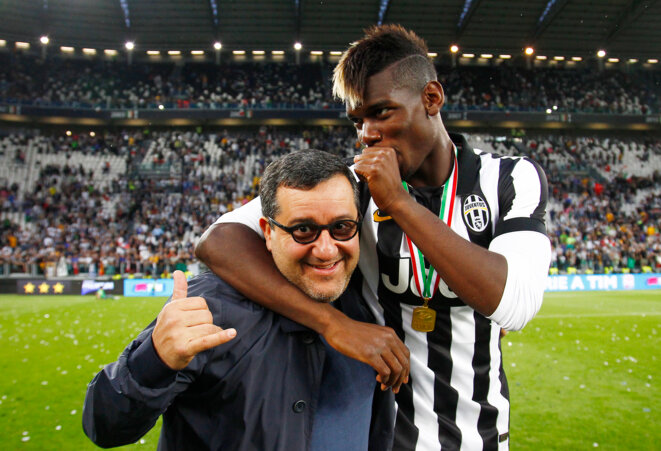 Paul Pogba with his agent Mino Raiola on the pitch of the Juventus Stadium, June 23rd 2015. © LaPresse - Spada
The same rules apply to all, including those in football. The case of Ronaldo, like that of French midfielder Paul Pogba and others revealed by the EIC, demonstrate that in the world of football, tax evasion has become systemic and frequent.
Every weekend, millions of fans enthusiastically follow the on-pitch exploits of the stars of football, the most popular sport of any, while they appear before us in adverts of all sorts, and generally provide a rare positive element in what has lately become a largely depressing news agenda. But football now also provides a big-screen explanation of the huge issues at stake with tax evasion. In a small but pertinent anecdote, the six-year-old nephew of a member of our editorial team asked his father, after listening to radio reports of the Football Leaks revelations, why his favourite player did not want to be part of the general process of public funding, like building schools and motorways.
What might appear a naïve question nevertheless demonstrates the public interest of our revelations, whatever the objections of those implicated in the disclosures. Days after publication of the first Football Leaks disclosures, lawyers acting on behalf of Spanish club Real Madrid, its players and its massive financial interests, succeeded in convincing a Spanish magistrate to request Europe-wide judicial cooperation to impose a gagging order on all of the EIC members. The EIC naturally refused to comply with any attempt at censorship.
Footballers themselves are often naïve, uprooted and distanced from their families in their early teens, taken under the wings of agents of whom some are more interested in their own future than that of their young charges. It might just be that after the EIC's revelations, a promising young player might question the contracts he is given to sign.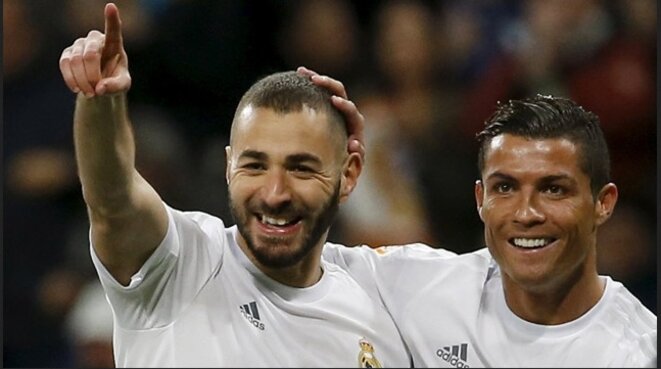 Karim Benzema and Cristiano Ronaldo playing for Real Madrid. © Reuters
There are of course footballers such as Real Madrid's French striker Karim Benzema, who, as the EIC reported, pays taxes on his image rights in France, forgoing his legal right to a more lenient taxation in Spain. But there are many others who, less talented and less wealthy than Ronaldo, follow the same strategy towards taxation as the Portuguese. Should Ronaldo have been made an example of and deprived of the Ballon D'or award? If so, the runner up, Lionel Messi, would have also had to be removed from the list of candidates following his conviction in Spain earlier this summer for tax fraud. It is a similar situation to the doping scandals on the Tour de France cycle race; when those found guilty of doping are removed of their titles it becomes difficult to know where – or rather, with who – to stop, or even whether the new title winner will not one day be exposed in turn.
It should not be forgotten that the Football Leaks documents shine a light on but a small part of the opaque activities of the football business. The EIC's source, who, to protect his identity, goes by the name of "John", said his motivation was to help "clean up football", a sport blighted by what he called "an extremely corrupt system". He passed on 18 million documents in data files, but it should be remembered that these concern only some of the networks and financial structures that operate within the system he denounces.
The documents obtained by the EIC include many concerning the business of 'super agent' Jorge Mendes, who manages seven players who, reveal the documents, altogether hid away from the tax authorities 188 million euros. There is also the clan of Argentine football agents who do business together under the umbrella of an Argentine company, moving money from transfer deals and image rights sales to countries where taxes are virtually non-existent.
Among the footballers exposed by the Football Leaks documents is Paris Saint-Germain star Angel Di Maria. During an image rights deal for which the player would be handsomely paid, his agent, as we revealed, wrote an email to the company hiring him making clear that Di Maria did not want to be seen to be associated with a tax haven. But he would be paid in one via his front company. Which illustrates that football players are not all as naive as some would like to pretend. During a press conference one week after the first Football Leaks revelations, Real Madrid coach Zinedine Zidane was questioned about the disclosures of tax evasion among some of his team members. "Players are intelligent people, they know perfectly well what they do or what they've done," he said.
But football agents and other player advisors have shown no lack of imagination in setting up elaborate tax-dodging schemes which place their clients at considerable risk. Beyond legal and ethical considerations, how can one justify setting up an offshore structure for Ronaldo to receive payments for the use of his image when the Spanish tax system offered the player a highly advantageous tax rate of 5% on his image rights earnings between 2009 and 2014? On top of which, just a few hours work on an advert would have sufficed to pay the five years of taxes which the player would have paid (so much for fiscal policies which apply low tax rates on the wealthy in order to discourage tax evasion).