The business of buying a share of a football player, known as Third Party Ownership, or TPO, centred on the purchase of a player's economic rights. These could be made by individuals, companies or funds, who were then subsequently entitled to a proportionate part of the player's future transfer fee. The system was eventually banned by world football governing body Fifa in May 2015.
TPO deals were the speciality of Doyen Sports Investment, one of the biggest investment funds in European football.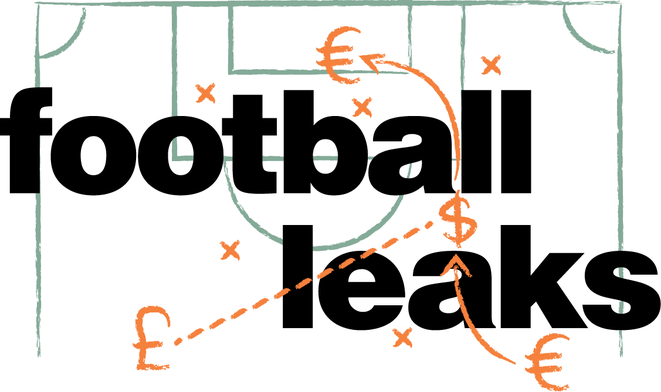 On August 6th 2013, Nelio Lucas, co-director of Doyen Sports, landed in Miami. He was due to watch a football match the following day between Real Madrid and Chelsea, followed by another, between A.C. Milan and LA Galaxy. There was no particular interest in these off-season friendlies, except for the millions of dollars paid out by the tournament's sponsor, the beer producer Guiness, to draw top clubs and their stars and managers to the damp, hot Florida summer.
Lucas had not made the trip to watch the teams play, but rather to earn money on the sidelines. Doyen Sports, which had been created barely two years earlier, had that June sealed its first major deal with the transfer of Colombian striker Radamel Falcao from Atlético Madrid to Monaco. The cost of the transfer was 43 million euros, and Doyen Sport owned 33% of Falcao's economic rights. In Miami, Lucas was eyeing a new moneyspinner in the form of French midfielder Geoffrey Kondogbia.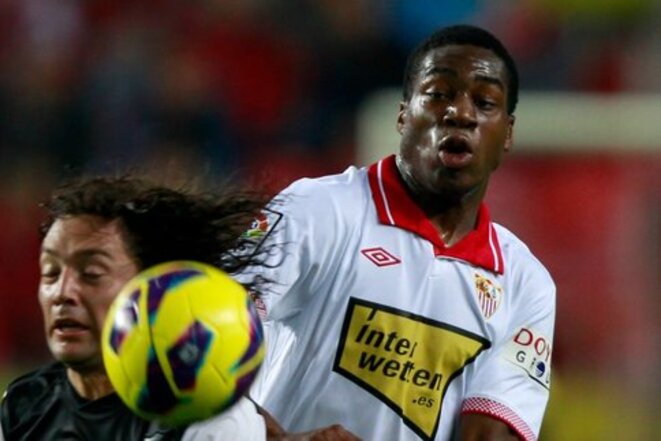 Geoffrey Kondogbia playing for Spanish club Sevilla. © Reuters
The year before, Doyen Sports had provided 3 million euros to Spanish club Sevilla for the purchase of Kondogbia from French side Lens. Half of the sum was handed over as a loan, while the other half was in exchange for a 50% stake in the player. After one season in Spain, and after winning the under-20-year-olds World Cup alongside team mate Paul Pogba, Kondogbia's value had soared. It was the moment to strike rich on the investment with a new transfer. The problem was that Sevilla had no wish to sell the Frenchman, and Fifa rules strictly prohibited investment funds from influencing transfer deals.
But that was not enough to stop Doyen Sports. The player's contract with Sevilla included a 20-million-euro release clause, and the only way to overcome Sevilla's refusal to sell Kondogbia was to find a club willing to pay the 20 million euros.
Lucas's trip to Miami, according to documents accessed by the EIC, was primarily to convince Real Madrid president Florentino Perez to agree just such a deal. Now aged 69, Perez is one of the most powerful individuals in Spain. Beyond the prestige bestowed on him as head of the richest club in world football, Perez is also the chairman and CEO of Spanish construction group ACS, the second-largest civil engineering company in the world. His personal wealth is estimated by Forbes magazine at 1.65 billion euros.
To help strike a deal with Perez, Lucas planned to organize a party. The family of Kazakh-Turkish oligarchs who own the Doyen Group possesses a 650-square-metre residence on Fisher Island, a site reserved for the super-rich, lying a short distance from Miami Beach. Nelio Lucas was present at the sprawling property when, at 5.08 p.m. on August 6th 2013, he sent a message from his mobile phone via WhatsApp to Arif Arif, the 27-year-old son of one the four Kazakh brothers who own the Doyen Group, and who runs their Doyen Sports subsidiary alongside Lucas. "I'm in Miami," wrote Lucas. "Yesterday was amazing. I took few presidents out and even Florentino came with us. Very funny. He removed his tie and danced." He added that the partying went on at the Mokai club.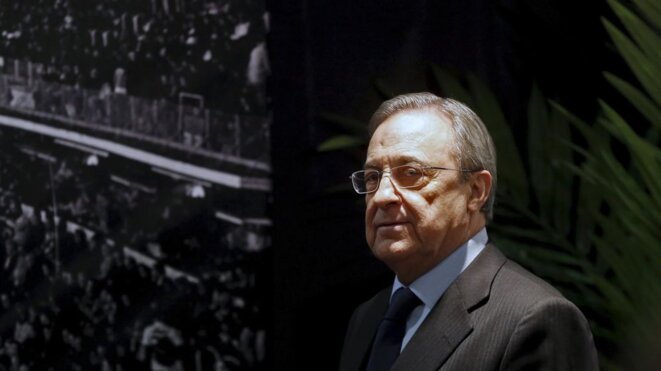 Real Madrid president Florentino Perez who denies taking part in any of sex parties referred to by Nelio Lucas. © Reuters
Lucas wrote of upping the tempo that evening in the Arif family's Fisher Island residence. "Bro… very important," he wrote to Arif. "I want to bring some girls to be with us, Florentino, Galliani [editor's note, Adriano Galliani, vice-president of A.C. Milan) and some directors. It's ok?" Lucas also asked Arif if he can trust a women whose first name is Violet for the procurement of female company. "Never met her bro," answers Arif Arif. "Do what you have to."
Arif Arif, 27, set out two conditions, which were "remove the pictures" and "lock the room" of his father, Tevfik, who he nick-named "Skip". Their exchange of messages continued:
Arif: "Use my room. A Lot of girls have been fucked in that room. The spirit is there! […]
Lucas: "It's where I am !!! I'm staying there"
Arif: "There you go. The spirit of sex attracted you"
Lucas: "I will give Skip room to Florentino then!!
Arif: "For € 20 millions :) For kondogbia"
Nelio: "Thats why we need to look after him"
The next day Lucas texted Arif again. "Took Real Madrid directors and Florentino to the house last night," he wrote. "Probably also today." Lucas added that after the party at the Arif residence some moved on to a club. "Only me to take Florentino to disco club," wrote Lucas, who sent Arif photos of the evening. "You legends !!! » replied Arif.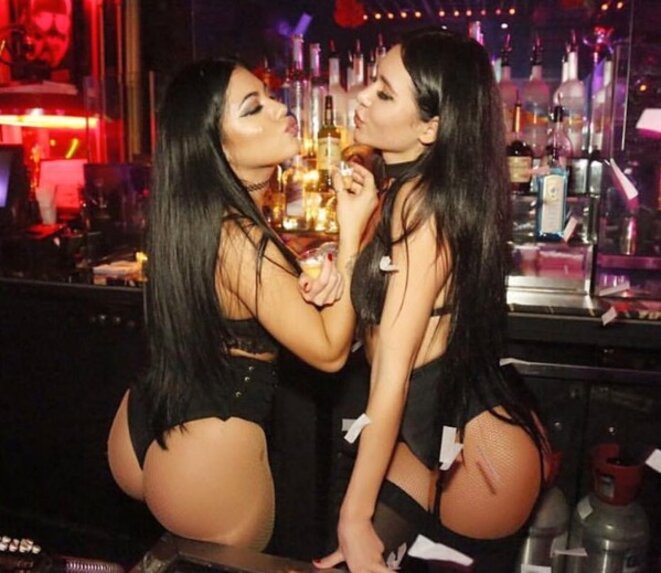 A photo of a scene inside the Mokaï club, as posted on its Instagram account. © Mokaï
Contacted by Der Spiegel magazine on behalf of the EIC, Nelio Lucas refused to answer our questions. Instead, the EIC was contacted by Harbottle & Lewis, the London law firm that represents the interests of Doyen Sports, which said its clients took issue with all of the matters raised by the EIC. The legal practice warned that its clients would consider taking legal action if we were to publish the information in question. Harbottle & Lewis said this was obtained through an illegal cyber attack followed by a blackmail attempt which was being investigated in Spain and Portugal.
Also contacted by the EIC, both Real Madrid president Florentino Perez and A.C. Milan vice-president Adriano Galliani strenuously denied ever being present at the Arif residence in Miami. Galliani added that he did not know the Arif family.
Florentino Perez, expressing himself in Spanish, told us of his "indignation" regarding the contents of our questions which, he said, "I consider gravely attack my honour and my reputation". Perez said he remembered having gone to a Miami night club with his wife, together with his friend Adriano Galliani and Galliani's wife, joined by members of the management of Real Madrid and "other individuals linked to the world of football". Perez insisted that he never set foot in the Arif property, and did not attend "any type of party in any other place in Miami". Perez added that "to my knowledge, during this trip by Real Madrid, no-one tried to convince me to hire the player Kondogbia".
Did Nelio Lucas make up the events he described in his phone text messages in order to impress Arif Arif? Two days after the last text message cited above here, Lucas, as he readied to leave Miami, wrote another to Arif Arif to inform him that his hopes of reaching a deal with Real Madrid to pay the 20-million-euro release clause for Kondogbia had fallen through. "Real pays only 15," Lucas wrote.
Meanwhile, Lucas valued his relationship with Real Madrid president Perez, a powerful figure in the football business. "My relation there is more solid than titanium," wrote Lucas, several months later, about his dealings with Perez.
Perez, meanwhile, was quoted on the Doyen Sports website (see below) extolling the "professionalism" of the company, and recognising "it was and is important for Spanish football". While he said Real Madrid received no TPO investment from Doyen Sports, "our experience with them in other subjects is immaculate" Perez is quoted as saying.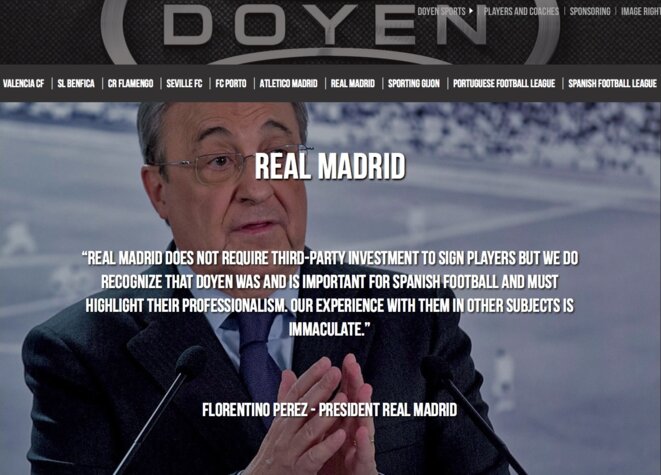 © Site web de Doyen Sports
Questioned by the EIC about his praise for Doyen Sports, Perez replied: "I cannot answer you about why on their website I am attributed with [having said] such a phrase, which I do not remember saying." Perez added that Real Madrid "has never carried out any operation whatever through the intermediary of the agent Nelio Lucas or the intermediary of Doyen Sports".