The long-awaited Bettencourt trial got under way in Bordeaux in south-west France last week, though not before some last-minute delays. Lawyers for some of the ten men accused of profiting from the frailty of L'Oréal heiress and billionaire Liliane Bettencourt sought, unsuccessfully, to postpone the hearing on procedural grounds. Then the prosecution announced that one of the defendants, Bettencourt's former nurse Alain Thurin, 64, would not be appearing as he had tried to hang himself from a tree, news that sent a collective shudder around the packed courtroom. Finally it was revealed that another of the accused, Carlos Vejarano, who managed a Seychelles island owned by Bettencourt, would also not be attending the court on medical grounds, and had produced a certificate for the judges.
It was thus eight defendants who stood trial when proceedings finally began on Wednesday, charged with a variety of offences ranging from abuse of weakness, money laundering and breach of trust to being in receipt of the proceeds of abuse of weakness, money laundering or breach of trust, or of being an accomplice to those offences. All men with privileged positions in society, all finding it hard to hide their humiliation, fear and anger at being in the dock.

The first to give evidence was François-Marie Banier, 67, a photographer, writer and close friend of Liliane Bettencourt who is said to have received 414 million euros from the elderly heiress. Banier, born in 1947 into a "bourgeois" family, painted a portrait of someone who cared only for art and culture but who also worked for a living through his writings – a first novel was published when he was 22 – and his photography. "I have led the life of a worker not a dandy or a little lord," he insisted. Even if, as one of the judges pointed out, he had lived with his parents on avenue Victor-Hugo in the very chic XVIth arrondissement or district of Paris.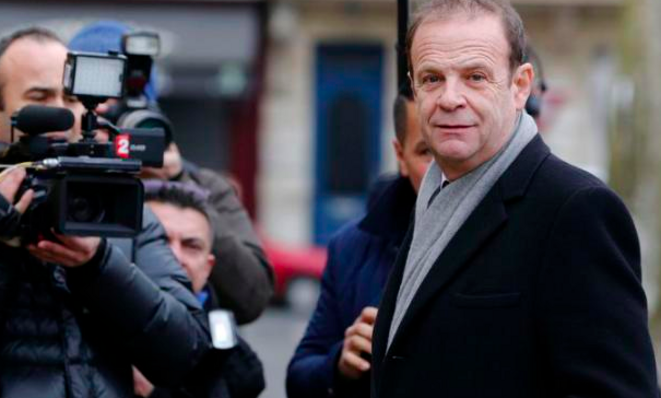 Defendant François-Marie Banier at court for the Bettencourt trial. © Reuters
Banier described how he had met or worked for various well-heeled people, and knew the founder of
Elle
magazine
Hélène Gordon-Lazareff
and her husband Pierre who owned
France-Soir
newspaper, fashion designer Yves Saint-Laurent, Yves Saint-Laurent's partner and businessman
Pierre Bergé
and the Bettencourts, Liliane and her husband André. "I invented the names of perfumes which gave me royalties and I was able to buy a house. But I never stopped writing or taking photographs," he said.
However, it was only in 1987 that his career and fortune took off, thanks to the Bettencourts. "I had 50 exhibitions throughout the world," said Banier, whose personal company had a contract with L'Oréal until the Bettencourt affair broke. "I don't know if this company still exists, I don't understand that kind of thing at all," he told the court. However, this company had earned Banier nearly 400,000 euros a year, the court heard.
This artist, who at one point said "My head is in the clouds when it comes to figures", appeared unclear as to exactly how much he was worth. The judges read out his tax declaration for 2011 which cited a 11-million-euro property in the
Odéon
area of the 6th
arrondissement
in Paris, a 5-million-euro property held jointly with friends, a business premises in Paris, two
riads
– Moroccan houses – in Marrakesh and a property in the Gard in southern France. Then there were hundreds of works of art and three hundred paintings kept in safes. "You can have 300 works and show just one," said Banier.

The photographer was adamant that the L'Oréal heiress was in full possession of her faculties and so could not have been exploited. "You know very well that Madame Bettencourt is of sound mind, and that she was not this risible figure she has been made out to be for inheritance reasons," said Banier, who has been accused by Bettencourt's daughter Françoise Meyers-Bettencourt of having a "hold" over the elderly woman. "She enjoyed giving money, she said so," said the photographer, who insisted he, personally, had no need of the money. "She told me 'I have the means. You just take photos and write, don't worry about selling'." In other words he had simply obeyed Liliane Bettencourt, not abused her.

When Banier was questioned about his curious attraction to ageing billionaires such as the Bettencourts, he replied: "They insinuated themselves in my life as much as I did in theirs." The judges then pointed to the witness statement given in 2009 by Frédéric Castaing, grandson of celebrated interior designer Madeleine Castaing, who accused the photographer of having mistreated his own grandmother.

Banier is said to have wormed his way into the interior designer's affections, visiting her home every day with his partner Martin d'Orgeval, and then begun to mistreat her, having on one occasion reportedly ripped off her wig, and on another urinated in her cups. He was even alleged to have pushed her on the stairs, leading to hospital treatment for a broken bone.