It is the epilogue to a judicial battle which started nearly seven years ago in the spring of 2012 and which has ended in Mediapart's favour. Having investigated since July 2011 the links forged by Nicolas Sarkozy and his close entourage with the Libyan dictatorship and its leader Muammar Gaddafi, on April 28th 2012 Fabrice Arfi and Karl Laske revealed the existence of an official Libyan document that had been saved from the archives after the regime's downfall in 2011.
Dated December 10th 2006, this document shows there was an agreement "concerning the approval of support for the electoral campaign of the candidate Monsieur Nicolas Sarkozy for the presidential elections, to the sum of fifty million euros". This "agreement in principle", continues the document signed by Moussa Imuhamad Koussa, head of Libya's foreign intelligence service, stemmed from the "minutes" of a meeting held on October 6th 2006 in the presence of, on the French side, close Sarkozy ally Brice Hortefeux and middleman Ziad Takieddine. During this meeting "an agreement was concluded to determine the amount and method of payment". Having been elected president on May 6th 2007, Nicolas Sarkozy hosted a five-day official visit to Paris by Gaddafi amid great pomp and ceremony in December of that same year.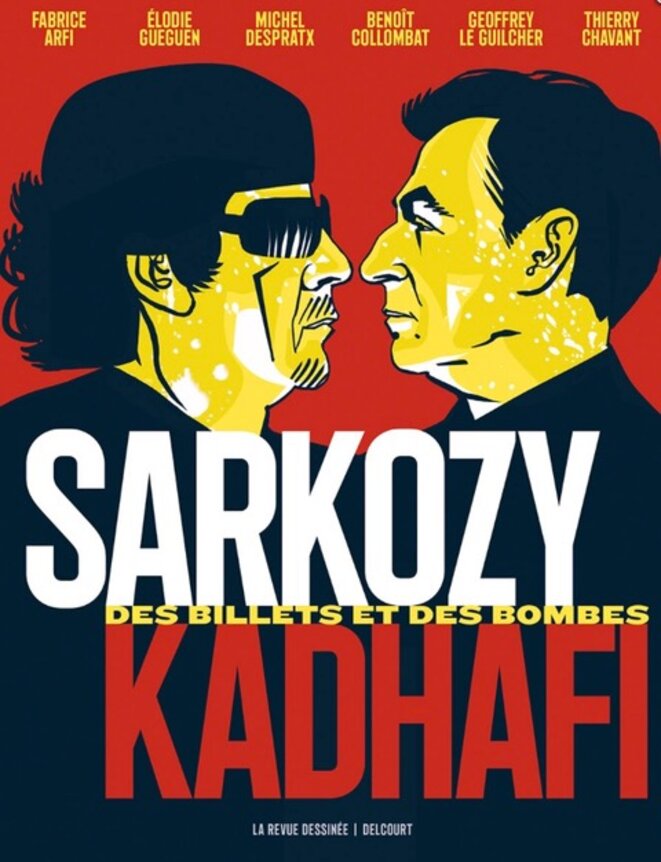 The graphic novel Sarkozy-Gaddafi, published by Delcourt.
Along with other documents and information revealed by our investigation (
see list of key stories
here
), this revelation by Mediapart led, a year later in 2013, to the opening of a judicial investigation into suspicions that a democracy had been corrupted by a dictatorship. On March 21st 2018 this investigation in turn led to Nicolas Sarkozy being placed under formal investigation for "illicit funding of an electoral campaign", "receiving and embezzling Libyan public funds" and "passive corruption". Being placed under formal investigation – one step short of charges being brought – comes on top of the two criminal trials that the former president faces; for "illegal" funding of an election campaign in what is known as the
Bygmalion affair
, relating to the 2012 presidential campaign, and for "active corruption" and "influence peddling" in what is called the
Bismuth affair
which arose from recorded phone conversations.
The battle waged against our website by Nicolas Sarkozy and his faithful lieutenant Brice Hortefeux – at one time Sarkozy's interior minister – was obviously aimed at delaying or hindering the judicial investigation into the Libyan scandal, by discrediting our initial revelations. With the help of some pliant and partisan media outlets, the former head of state led a campaign accusing us of "forgery and use of false instruments" without risking taking defamation proceedings. Laws relating to the press in such proceedings would have forced him to confront our "offer of evidence", in other words the documented, cross-checked and detailed information revealed by our investigation.
Having unsuccessfully made a formal complaint to the state prosecutor on April 30th 2012, Nicolas Sarkozy lodged a second complaint as a civil party on July 12th 2013 for "forgery and use of false instruments", the "receipt" of those same documents and "publication of false information", a complaint which solely targeted the Libyan document. After three years of very extensive investigations, the two judges in charge of investigating this complaint concluded, in a ruling delivered on May 30th 2016 dismissing the proceedings, that there was a lack of objective elements that could cast doubt on the authenticity of the document revealed by Mediapart.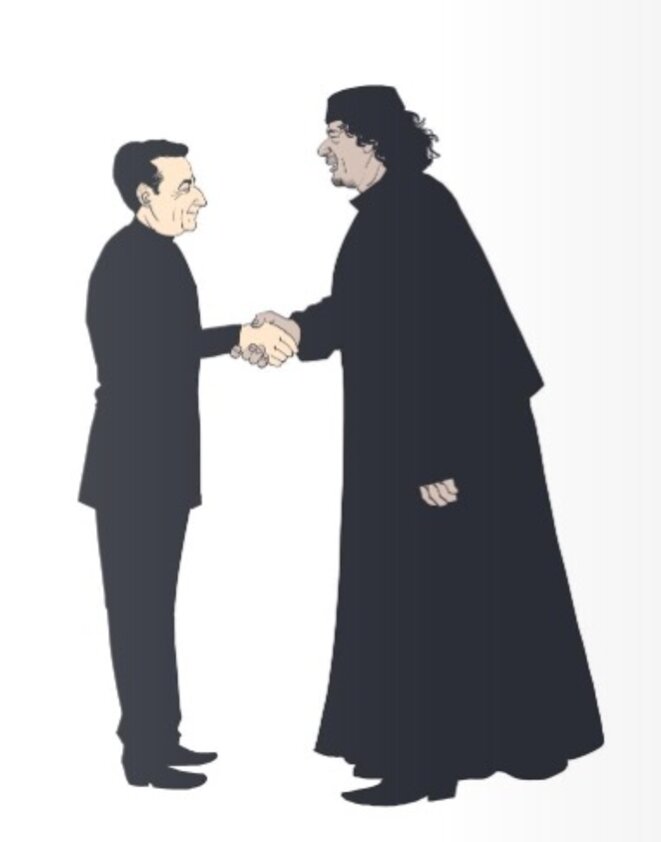 The opening of the Sarkozy-Gaddafi graphic novel. ©Delcourt
Nicolas Sarkozy then decided to appeal against this decision to the investigations division of the court of appeal in Paris. This led to a second defeat: on
November 20th 2017
that court handed down a unyielding judgement which, confirming the original judges' dismissal of proceedings, stated that the Libyan document revealed by Mediapart was neither a "material forgery" nor an "intellectual falsehood". It was this decision that the former president and Brice Hortefeux sought in vain to contest before the criminal division of the Cour de Cassation. The judgement delivered on January 30th by court president Christophe Soulard and colleagues Patrick Wyon and Élisabeth de la Lance is therefore their third and definitive defeat.
Upholding the court of appeal's judgement and therefore the investigating judges' dismissal of proceedings in favour of Mediapart, the judges' findings leave no room for ambiguity. The Cour de Cassation underlines first of all that "neither the conclusions of the expert analysis carried out on the document claimed to be false, which militate in favour of a physical document having really existed, or the examination of the witnesses, in particular of former members of the French Embassy in Libya, and the conclusions of the handwriting expert who authenticated Mr Koussa's signature on this document, allow for the conclusion that this document is a material forgery". The court then adds that "at the end of the investigations carried out, in particular into the protagonists' schedules, it is not possible to conclude that the meeting on October 6th 2006, about which there is nothing which allows one to know its form or location, could not have taken place".
Ruling there was nothing in the court of appeal's reasoning that was "deficient" or "inconsistent", the Cour de Cassation rejected the appeals of Nicolas Sarkozy and Brice Hortefeux. Moreover, it ordered them to pay Mediapart the overall sum of 2,500 euros by way of legal costs (under Article 618-1 of the criminal law procedure code). Once this money has been received we will inform our readers of how it will be used.
Until then, and while awaiting the next stage of the judicial investigation into the Libyan affair headed by judge Serge Tournaire, we warmly recommend to our readers a graphic novel whose publication on January 30th 2019 in some ways hailed the Cour de Cassation judgement. Mediapart's Fabrice Arfi teamed up with four other investigators - Benoît Collombat, Michel Despratx, Élodie Guéguen, Geoffrey Le Guilcher – and the illustrator Thierry Chavant for this great book, published by the review La Revue dessinée and publishers Delcourt. The warning to readers in the book – called Sarkozy-Kadhafi. Des billets et des bombes ('Sarkozy-Gaddafi. Of Banknotes and Bombs') is not without relevance. It says: 'Any resemblance to any person who exists or has existed will not be by chance. For the reason that everything you read here is real."
It is a reality that would never have been known without Mediapart.
---------------------------------------------------------------------------------
The French version of this article can be found here.


English version by Michael Streeter