Mediapart has obtained a graph prepared by French Football Federation (FFF) officials earlier this year that identified in yellow the players in its national youth and senior teams who, because of their family origins, were "susceptible at any time to play for another sporting nation" by obtaining dual nationality.
On April 28th, Mediapart exclusively revealed how senior FFF officials were hatching a secret ethnic quota selection plan for young players entering national training academies. The revelations were based on evidence obtained of discussions among FFF National Technical Board (DCN) staff, notably a meeting in Paris on November 8th 2010, when the plan was discussed in detail with France team coach Laurent Blanc.
Following publication of Mediapart's verbatim account of that meeting, National Technical Director François Blaquart was suspended from his duties pending the results of two separate ongoing official enquiries launched by the FFF and the French Ministry of Youth and Sport on May 2nd.
On April 27th, one day before Mediapart published its first report on the scandal, we interviewed Blaquart about the quota plan and the graph that he himself drew up and which we publish below.
Blaquart, Blanc and other officials expressed concern at the number of players trained in FFF academies who become eligible to play for a foreign team because they hold dual citizenship. The plan to impose a 30% cap on young players of African and North African Arab origins entering training academies was justified as a means of filtering those who might eventually play for national teams abroad.
The argument is flawed, as pointed out by others within the DTN who opposed it, because the vast majority of those players who do later choose to play for a foreign national team make the decision after failing to be selected for the France team from among the pool of talent that emerges from the training academies.
The graph, reproduced exclusively here, concerns all those selected for the national team squads, from the Under-16s up to the Under-21s. It uses a questionable choice of colour - yellow, associated with betrayal - to indicate players who might choose dual nationality.
Importantly, these include players, as young as 15 years-old, who hold French - and no other - citizenship. This raises the question over how the DTN estimated their "susceptibility" to opt for a second nationality.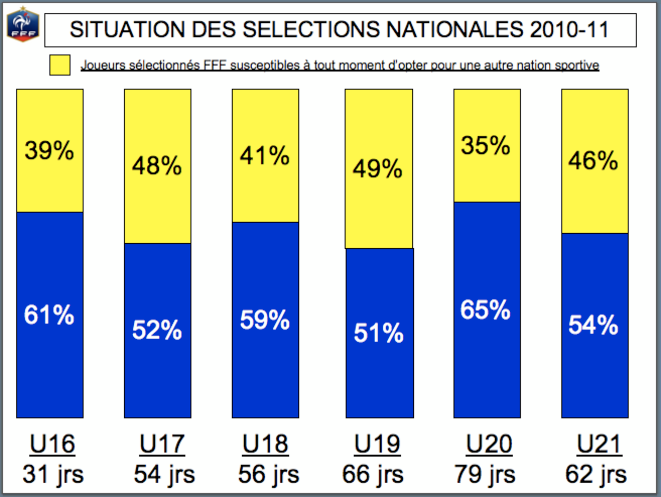 © FFF
Editor's note: their dual nationality or potential to opt for it] given the media coverage of players."