It is written in black and white in article 3 of the École Polytechnique's own code. "Outside, Comrade, the people you speak to will form their view of the École from your comments. Be discerning and avoid flaunting our customs because they are idiosyncratic, even impenetrable, and sometimes shocking for those who don't practice them." For a long time the students at this prestigious school of engineering south-west of Paris, where military training is still compulsory, have felt bound by a duty of confidentiality, which has stopped them from reporting potentially criminal acts.
Times are changing. The management at the École Polytechnique has confirmed to Mediapart that in March of this year it informed the state prosecution services of an incident dating from the end of 2014 that could amount to rape. It is, however, impossible to give any more information; the student who was reportedly attacked by a fellow student does not want to talk and would prefer to forget about it. The École itself does not want to say any more on the matter.
However, it is hard not to make a link between this allegation and the stifling atmosphere of an institution where daily life is punctuated by incidents, even assaults, which a number of young women there are now starting to talk about.
It was not, however, the Harvey Weinstein scandal that began to change things at the École. In February 2017, eight months before the American producer's very public fall from grace, this prestigious establishment was already facing unprecedented revelations. In a special edition of the in-college student publication IK, ten current and former students revealed they had been victims of sexual violence or had been on the receiving end of sexist comments.
In this special edition, which was called L'IK au Féminin, the authors of the articles tried to analyse what it was like to be a "female" in what remains a predominantly masculine world. The 2015 intake had 522 students of whom 75 were women; in 2016 there were 536 students in total including 80 women.
All those cited in the publication describe an "overbearing, sexist" atmosphere where they feel like "bits of meat" or "prey". During their first evenings at the École several of them recall male students trying to kiss them "without even asking my name". Others say they they constantly had men putting hands on their backsides. It was so bad for some that they felt obliged to go to social events with a male friend as a kind of chaperone to guard against inappropriate behaviour. Others got into the habit of leaving parties early to avoid excessive behaviour, which was made worse by alcohol.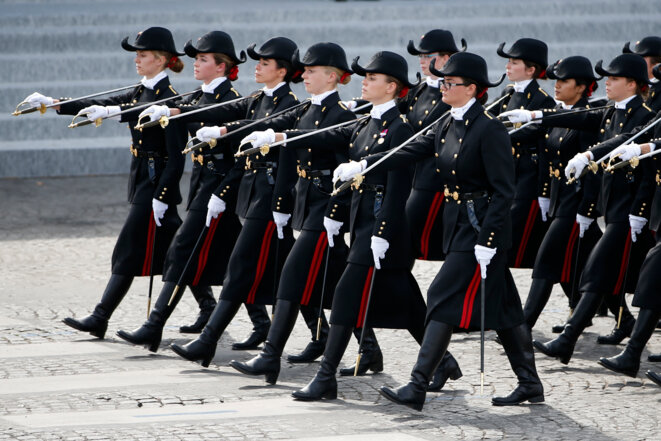 Students from the École Polytechnique during a Bastille Day parade. © Reuters
Nor were the military personnel who work at the school spared in the students' assessment. One woman recalled her initial military training, which included three weeks at La Coutine camp in the
département
or county of Creuse in central France. A female instructor called together all the female students in their year to tell them that they had to stop going to the bathroom in their pyjamas because it "disturbed the men in the unit". She added, without any irony: "If you heat them up you have to cool them down again." On another occasion a male examiner told one of the students he could not concentrate on her comments because he was too disturbed by her outfit.
One former student, Lola Guillot, recalls presenting her dissertation in which she tackled the division of tasks between couples. The instructor in charge replied to her: "If women do more of the household chores, isn't it because they find satisfaction in it?"
Other students describe being whistled at when they went to the front of the class, remarks about their outfits and young men watching pornographic films in communal areas, in full view and knowledge of everyone. There are also stories of male students walking around naked in the evenings. Meanwhile sexist posters featuring scantily-clad young women were everywhere, including one with a "sexy nurse" to publicise a blood donation campaign, and others to promote evening events.
The school also has what is called the "last-chance evening" where male students who do not have a partner are supposed finally to find a girlfriend. Some female students have become so surrounded by sexism that they put up with being on the receiving end of remarks against their sex. An example of the kind of comments is this maxim which does the rounds of the École, which is sometimes just referred to as 'X': "A girl who's not in a couple at X is either a dog or a whore."
In some cases the incidents went much further than words. One of the women students who has spoken out, Juliette Buet, in unlikely to forget in a hurry the induction weekend she spent in the spring of 2014. The students got on a bus one night and headed for a location in the Ain département in central eastern France. It was a happy atmosphere and Juliette got on the bus with no concerns, keen to have a good time and relax. While on the bus she reclined in her seat and put her arms on the armrests. She did not know the young man behind her who suddenly pressed her against the backrest, immobilising her and grabbing her chest. "Let me go, I told him, you're touching my breasts. He replied 'I know'," she recalls. "It lasted 30 seconds but it seemed a very long time to me." Juliette gave a despairing glance at the man sitting next to her who shrugged his shoulders, not knowing what to do. In the hubbub she thought there was little point in crying out.
Later, after the attack, she took part in some of the games organised on the bus, something she says the police reproached her for when she lodged a formal complaint for sexual assault in September 2016 at a police station in Palaiseau, south west of Paris. The young man concerned denies the allegations. She meanwhile is sure of his identity and says she recognised his voice.
During that same induction weekend in 2014 Juliette Buet was subjected to similar incidents. On the Sunday evening two male students tried at the same time to touch her genital area. Their hands crossed just over her pubis. She says she fled to the other side of the room, giving them both an angry look as she went. "I don't know if it was coordinated or not but they followed me and put their hands on my backside. They congratulated themselves and put their thumbs in the air." Because it was dark Juliette says she was not able to recognise the two men involved. She left the event in tears.