Opinion polls unanimously predict International Monetary Fund chief Dominique Strauss-Kahn would become France's next president - if he chose to run. But are his huge popularity scores in the surveys a true reflection of voting intentions? Lénaig Bredoux reports.
-------------------------
Not a day passes, or so it seems, without an article, an interview or an opinion poll in France touting International Monetary Fund Managing Director Dominique Strauss-Kahn as the favourite - albeit still undeclared - candidate for the French presidency in elections due in May 2012. Since late November, he's been designated by the French media as the one who will "flatten", "crush" or even "totally crush", incumbent Nicolas Sarkozy - as well as his Socialist Party (PS) rivals in the party primary.
Each time, the argument is based on an opinion poll, a flutter of which appeared at the end of 2010, when DSK, as Washington-based Strauss-Kahn is popularly called in France, made his last public appearance in the country. Since the November 23rd publication of two surveys (by
TNS Sofres
and
Ifop
) of voter intent in the next presidential election, no less than
six opinion polls were commissioned by the media
about Strauss-Kahn's chances of becoming the Socialist Party's candidate. Questions included: who is best candidate, DSK or PS First Secretary Martine Aubry? Is the PS timetable, with a primary to select the party's candidate in the autumn of 2011, relevant? Are you going to vote in the PS primary and for whom? Will DSK leave his position at the head of the International Monetary Fund and return to France? He walked over them all.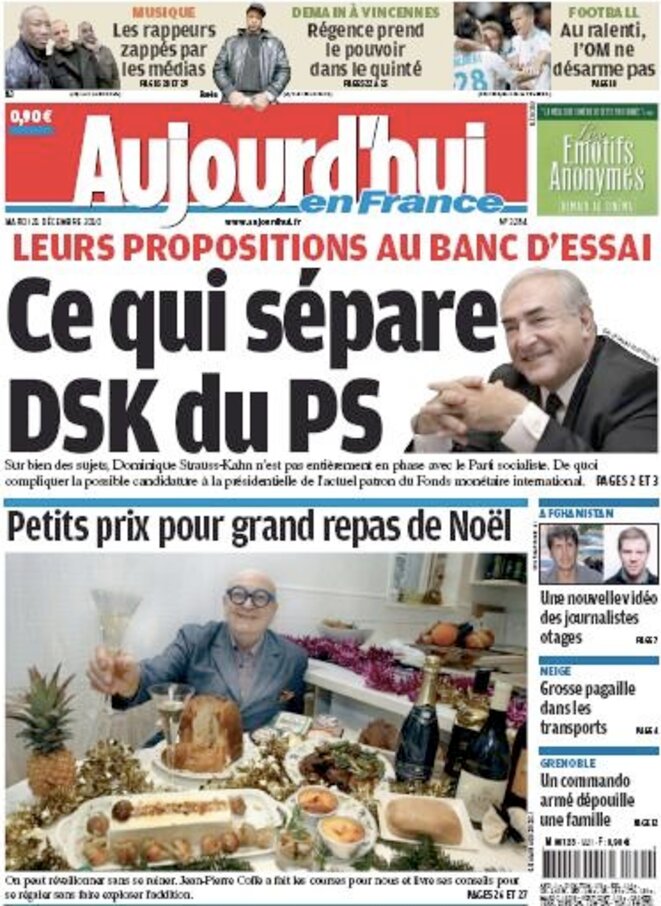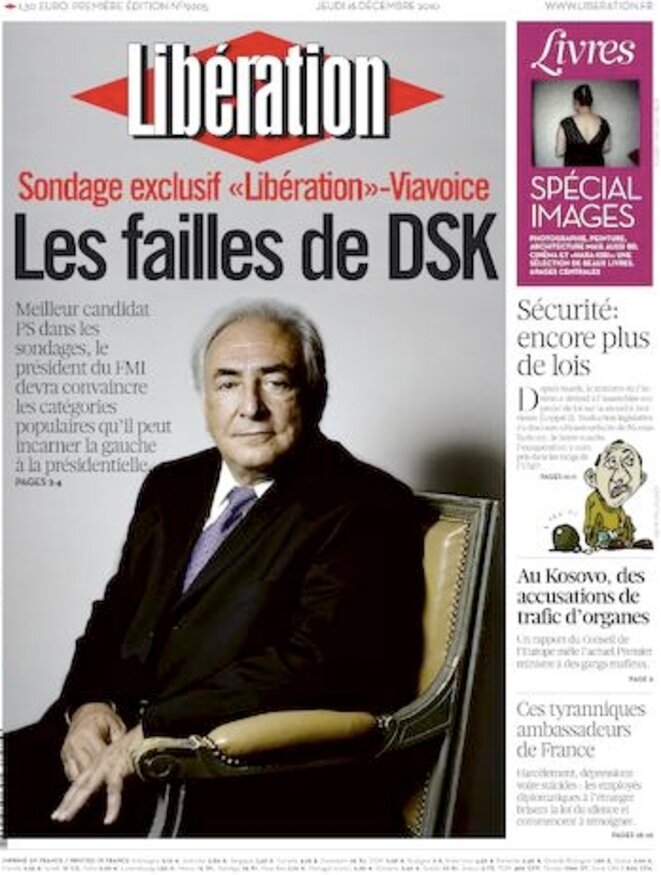 All of this is in addition to the monthly popularity surveys (Bva-Orange-L'Express-France Inter; Paris Match-Ifop; Viavoice-Libération;Ipsos/Le Point; Figaro Magazine; and OpinionWay for Metro/Krief Group) regularly published in the press.
The trend remains solidly the same: DSK is far ahead, not only in surveys of voter intent for 2012 but he is also the Socialists' preferred candidate in the primary. As a result the IMF managing director is regularly on the front page of daily newspapers from Le Parisien to Libération. In asingle week, he appeared on the covers of the three major French weeklies Le Point, Le Nouvel Observateur and L'Express.
The editorials or columns by the most often-quoted political observers all provide essentially the same analysis . The enigmatic "sphinx" residing atop "Mount Olympus" is also, according to US weekly Newsweek, "The Top Guy" who "has never experienced quite so much adulation, nor, indeed, affirmation of his centrist political and economic views".