Farmers and their families who in some cases have lived for generations on farmland earmarked for the planned new airport near Nantes in western France face legal action to get them evicted from the site. Lawyers acting on behalf of Vinci, the giant construction firm building the controversial airport at Notre-Dame-des-Landes, sought an emergency court ruling at the end of December to get the inhabitants of four farms and three houses expelled from the expropriated land. In addition the group is seeking financial penalties of 200 euros per case for each day of non-compliance. A full hearing before judges at Nantes is scheduled for January 13th.
For the long-standing inhabitants of this future development zone - zone d'aménagement différé or ZAD in French – the latest development comes as a bitter blow. "Our moral's through the floor," says Dominique Fesneau, co-president of ACIPA, the association that has opposed the airport project for many years. The construction firm had in fact withdrawn their legal action at the start of December, on the eve of the second round of voting in France's regional elections, at which the socialists had made an alliance with the Greens, who are strongly opposed to the airport. But once the elections were over, Vinci did not even wait until 2016 before resuming the procedure. Vinci declined to comment to Mediapart. But at the end of December its spokesperson Jean-François Bernard told Ouest-France newspaper that "we are resuming what the state has announced. We are acting on behalf of the state."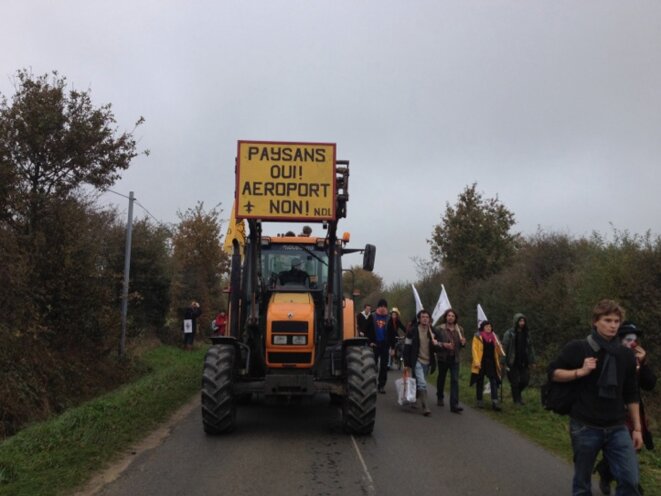 A demonstration to re-occupy the airport development area at Notre-Dames-des-Landes in 2012. (JL)
Including spouses, children and acquaintances who have a stake in joint ownership of the land, there are around 30 people who face expulsion from the ZAD in all. These are families who owned or rented the land before the airport site was declared a public utility in 2008 and thus subject to expropriation. All have refused to sell their properties to Vinci under the expropriation process that has been continuing over the years in a bid to clear the area so work can begin.
"I don't want to leave, my roots are here, I belong to the fifth generation of Fresneaus who have lived on this farm," says Sylvain Fresneau, himself a farmer since 1984 who, with three business partners, farms around a hundred dairy cows on the affected zone. A long-standing opponent of the airport scheme, Fresneau says that "my ancestors started their farm when tenant farmers bought their land from the local lord. Today there is another lord: Vinci. To take their money would be like saying 'I'm cashing in and I'm off'."».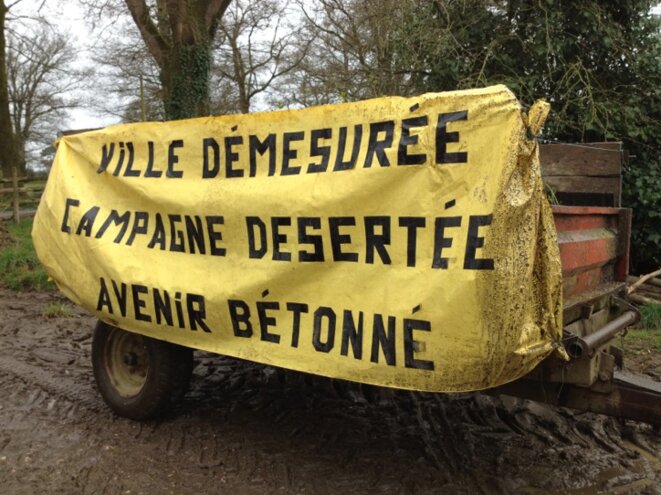 A protest at Notre-Dame-des-Landes in 2013 warning that the future is a concrete one. (JL)
Marcel Thébault and his wife have lived and worked on a farm in the area since 1999. They come from an area of Brittany just to the north, but could not find a farm in that region to take on. "We visited 22 farms, 19 of which were in the Loire-Atlantique [
editor's note, the
département
or county where Notre-Dame-des-Landes is based
]. This one is the 22nd that we visited. We were tired of searching and we liked the surroundings: the hedged farmland, the neighbourhood, the farming conditions. The only downside was this airport project which was languishing in a drawer." The Thébaults are also dairy farmers and have a herd of 35 cows. And, like the Fresneau family, they do not want to leave. "As farmers we dispute the public usefulness of an airport at Notre-Dame-des-Landes. Here there's farmland, hedged farmland, wet zones and areas that are very interesting from an environmental point of view. The airport project has been put together amid political lies and a disdain for democracy."
Erwan Lemoigne, a lawyer acting for one of the families threatened with expulsion, disputes the need for urgency from the airport builders, given that they have not adhered to the initial timetable for the project. Initially the new airport was supposed to open at the end of 2018. But the reality is that the formal planning application has still not been filed. Vincent Delabouglise, a local farmer and member of the collective COPAINS, which brings together the local farmers and the environmental protesters against the airport known as 'Zadists', has also pointed out another inconsistency from Vinci. According to him the construction firm is currently renewing the annual agreement it has with farmers who have agreed to the expropriation, under which the latter will be able to continue to cultivate their land this year. These agreements will, logically, run until the end of 2016. "Acting in the name of the government, the group behind the project is starting emergency expulsion procedure, while at the same time it is authorising other farmers to work their lands for a year," says Delabouglise. "That's certainly a sign that they're not thinking of building straight away."