His name has dominated political discussions and gossip in recent weeks. Would environment and energy minister Jean-Louis Borloo fulfil a dream, and be made the next prime minister of France in President Sarkozy's reshuffle, which was finally announced this weekend? In the event, François Fillon was re-appointed prime minister, leaving Borloo's political future uncertain.Was it all political bluff, or was there something that always made Borloo a prime-minsiterial candidate who never could be chosen?
The qualities claimed by Borloo's supporters were that he is strong on "social" issues, that his instincts as a centrist politician are inclusive, to bring together different sections of society, including trade unions.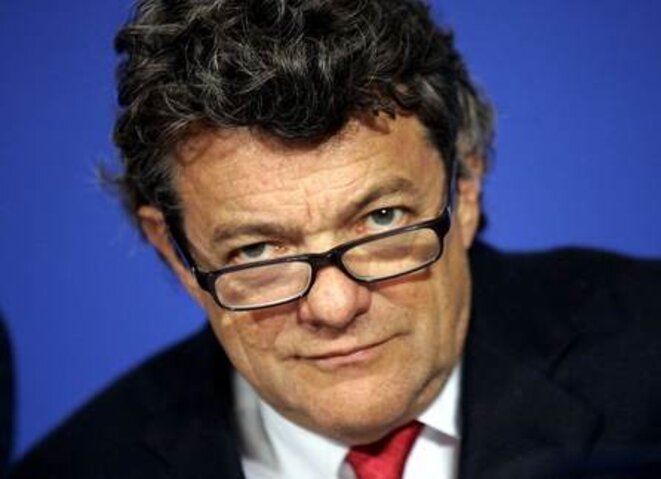 Going up or out? Jean-Louis Borloo. © dr
But none of those opinions are shared by François Chérèque, general secretary of the CFDT and one of the most powerful trade union leaders in France. ""I can see absolutely no 'social' side in someone who has not said a word about the blocking of social dialogue in the last six months," commented Chérèque, referring to the anger among French trade union anger at the way they feel the government's controversial pensions reforms were bulldozed through without proper consultation.
Chérèque also recalled that Borloo, 59, was the employment minister in 2006 when the government, under then prime minister Dominique de Villepin, tried to introduce a controversial and largely unpopular new work contract for young people called the CPE(Contrat de première embauche). It was eventually withdrawn after huge protests. "So we're used to Monsieur Borloo, who uses doublespeak, who says nothing when he has responsibilities," added Chérèque.

© dr
The minister has a rare ability to dodge bullets and questions about his life, to hide embarrassing facts. There is just one biography of him - '
L'Impossible Monsieur Borloo
' by Vincent Quivy -– despite the fact that he has occupied an important place in politics for more than 20 years.
Borloo does not engage in re-writing history, or telling lies - he simply has a selective memory. Just as he loves to recall the time when he was mayor of Valenciennes, a town in the
département
of the Nord, where he discovered the real world, so too he has buried his previous existence as a wealthy commercial lawyer. Yes, he admits he was the lawyer for the controversial politician and shamed businessman
Bernard Tapie
for ten years. But that is all in the past; "I was thirty and I was a little twat," Borloo told
L'Expansion
magazine a decade ago in an attempt to draw a line under the period.
But that period has relevance today. Some of France's current billionaires started to make their fortune in the 1980s with the help of Borloo's legal firm. The current number two in the government was one of the important cogs in a financial system associated at the time with the Crédit Lyonnais the bank that nearly went bust in 1993. It was at this time, too, that Borloo amassed his own personal fortune, developed friendships and networks, and built the foundations of his political career, adopting the style and image of a dabbler, one that has served him so well.