Crammed into one of the little basements you reach via the central paved area in Paris's business district La Défense, they observe each other stony faced. On one side of the barriers last Friday, March 9th, were the small shareholders of the SoLocal Group, which owns both the Pages Jaunes ('Yellow Pages') business directory service and the mapping service Mappy. They were hurrying to the group's annual general assembly where, among other things, they were about to approve the executive pay policy.
That policy included a salary of 520,000 euros a year for Éric Boustouller, the former corporate vice president for Western Europe at Miscrosoft, who joined the group last autumn as its new director general. Boustouller also has the right to a bonus that could triple that salary depending on how well the group performs on the Bourse, the French stock exchange, its overall profitability and its reduction of costs. He was also given a golden 'hello' of one million shares, worth around 1.1 million euros today, awarded in "exchange for the interested party relinquishing significant rights to long-term pay through his former employment", according to documents presented to the assembly general.
Among other issues, SoLocal's general assembly in Paris on March 9th, 2018, approved a policy on executive pay.
On the other side of the barrier stood a few dozen employees, most of them union activists, who were hoping to give voice to their anger. They have repeatedly criticised the drastic restructuring plan that the SoLocal management team announced on February 13th this year: it involves shedding 1,000 jobs within two years in a group which employs a total of 4,400 people. But the job losses will be concentrated on and felt most keenly at Pages Jaunes, where 3,600 of those staff work. Some 40% to 50% of the axed jobs will involve salespeople there, while the marketing and managerial teams will each lose 15% of their workforce.
The group currently operates from 23 sites in France but is now planning to base its activities around seven hubs: its headquarters at Boulogne-Billancourt in the western suburbs of Paris, plus four sales sites and two production sites. On March 1st, 600 employees from across France gathered in front of the group's HQ to protest. Represented by a large inter-union body, they were staunchly opposed to the job cuts.
Aged 55 and having worked at the group for 28 years, Erik was representative of the workers present. Based at Nancy in north-east France where the local Pages Jaunes base currently has 150 staff, he has good reason to be worried: that site is to be closed entirely and the staff encouraged to go to Lille, some 250 miles to the north west. That is unthinkable for Eric who has children in school and a mortgage to pay off.
The situation is made worse for the family by the fact that his wife also works at the group, in her case for 18 years. "I got my wife to join, we all did that, encouraged members of our family to join what was, and still is, a great company," says Erik. The couple learnt the bad news via the radio, before the news was confirmed by an internal company email. It was, he says, a shock. "It was like being hit head on by a car on the way to your holiday," he says. Erik says his mood has now changed. "After the shock came the anger," he says, and he is now getting ready to "go into battle".
At La Défense on March 9th, the tone was the same. The mood had not been helped by the fact that details of the 240 posts to go out of the 1,200 jobs at the group's headquarters were starting to be known. "The employees are sickened, disgusted, we've very angry," said Hélène Ganchou and Clarisse Bénard, representatives of the CGT trade union at the group's HQ. "Management is treating us with contempt. They have started to inform the employees at headquarters who are involved, department by department. Some [departments] are being merged, others disappearing, it's a sop, everyone is going to be hit. Some learnt in the middle of a meeting that they were affected, and that will continue until mid-March," they said. Not far aware a distraught employee says: "It's hellish, we can't do anything."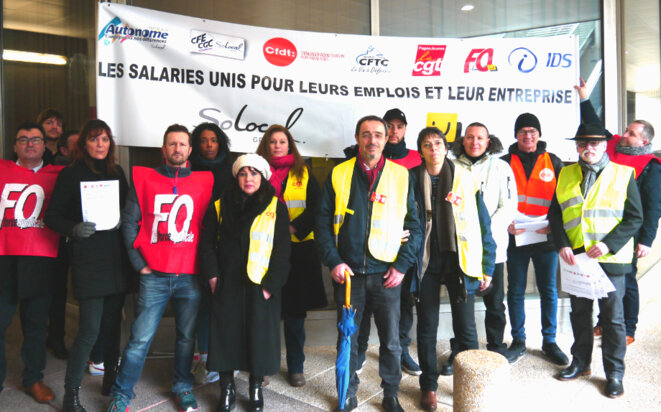 Members of the inter-union group representing staff at SoLocal, owners of France's 'Yellow Pages', at La Défense in Paris, March 9th, 2018.
The unions hope to put an end to such fatalism even if, for the time being, they have little solid on which to base their hopes. On Friday March 2nd, they tried to present an alternative plan to management, demanding genuine visibility as to the company's strategy for the next three years and calling for a commitment to reinvest 90% of profits back in the company and to maintain both jobs and the group's current sites. They got a very clear refusal. The next planned meeting is on Tuesday March 13th, but there is no sign that the company is going to change its plans. The unions speak of "violence", "cynicism" and "contempt for the workforce" on the part of management.
The company itself points to financial problems to justify its planned redundancies; turnover was down by 6% to 756 million euros in 2016 and profits were also down 6% to 51 million euros in the same year. It is an argument that stuns employees: for after the redundancy plan was announced SoLocal posted net profits of 336 million euros for 2017, an increase of more than 500% on the previous year. This excellent figure was largely down to the restructuring of its debt, which went down from an astronomical 1.2 billion euros to 400 million euros.