A court hearing in Normandy on June 16th provided a revealing insight into official secrecy over the dangers to which are exposed many of the 125,000 people employed in the nuclear industry in France, one of the world's leading operators and exporters of civil nuclear power technology. It centres on the case of a welder exposed to nuclear contamination at a local power plant, but whose employer refuses, like others in the industry, to consider the incident as a workplace accident. Mediapart has obtained exclusive access to an internal document from French utilities giant EDF instructing nuclear power plant directors when not to declare incidents of on-site irradiation and contamination. Jade Lindgaard reports.
-------------------------
On November 6th 2007, industrial welder Dominique Samson, 53, was working alongside a pipefitter inside the reactor containment building of the Paluel nuclear power plant in Normandy, northern France, which is run by the French utilities company EDF.
EDF operates most of the 20 nuclear power plants spread across France, amounting to a total of 59 nuclear reactors, and which provide more than 75% of the country's electric power production.
An employee of Endel, an industrial maintenance company owned by GDF-Suez and sub-contracted by EDF, Samson has 30 years' professional experience as a welder and earns a monthly take-home pay of 1,300 euros.
That day he was carrying out welding work to replace the tap on a pipe, under the protection of a neutralizing filter, a machine that removes radioactive particles from the air and which was plugged into a power socket two floors below him.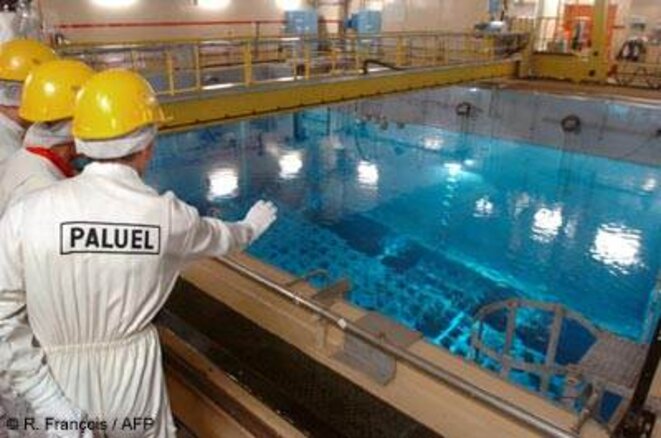 Suddenly, the machine stopped working - someone removed its plug from the socket - exposing him immediately to the radioactivity emitted during the welding operation.
"In the time it took for me to get out, in a few seconds, I was contaminated," recalled Samson, who continues to work for Endel. "As incredible as it may sound, there are not enough electric sockets in nuclear power plants. The buildings are labyrinthine, with people everywhere who don't see what one or the other is doing." Samson plugged the air neutralizer back in a socket and completed his welding task.
When Samson left the 'controlled zone' that represents the radioactive area of the plant, he went through the routine of passing through a security gate, called the C1, which sounded the alarm that he was carrying radioactivity. When this happens, the person is prevented from passing through the gate. Following procedure, Samson undressed and presented himself at a second control gate, the C2. There the detectors found external contamination of his body, with radioactive particles on his face and in his hair. He was taken to the infirmary where he was de-contaminated using a hose and shampoo.
By then, however, it was too late to avoid the internal body contamination he had suffered, which an examination found had left in his organism traces of cobalt 58 and 60, a radioactive isotope, and antimony, a metalloid. The pipefitter with whom he was working was similarly contaminated.
"I was told that what I had been hit with wasn't very much, that it was under the quarantine level, but that didn't really reassure me," said Samson. "I have a colleague who today suffers from lung cancer even though he has never smoked," he added, referring to a workmate other than the pipefitter.
During the 48 hours that followed the incident, Endel failed to notify the social security authorities of the contamination of the two workers. With the help of staff representatives, Samson contacted the public work inspection department to lodge a complaint. As a result, the work inspectorate brought a suit against Endel, which was given a 135-euro fine in October 2009 for not having declared the accident. The company appealed the decision.
"It is unacceptable," commented Samson's lawyer Camille Lasoudris. "Normally, when the work inspectorate demands that an employer declares a workplace accident, he does so." The case finally came before a Rouen petty crimes court (1) this week, where magistrates on Thursday deferred a decision until September 29th. During the June 16th hearing, Samson said he thought of the eventual consequences of the 2007 as being "a sword of Damocles above my head".
-------------------------
1: Tribunal de police, a court headed by a magistrate and which judges mostly petty offences.