President Nicolas Sarkozy's electoral campaign pledge to create an "irreproachable" government has been lost to a series of scandals involving ministers and acolytes serving their personal interests through public office. As his presidency approaches the four-year mark, Sophie Dufau returns to some notable examples of the clannishness and cronyism that have marked the Sarkozy administration almost from day one.
-------------------------
Far from the lofty rhetoric of his presidential election campaign, Nicolas Sarkozy was quick to establish a regime of clannishness, favour-mongering and cronyism that did nothing to distance him from his predecessors. The process began immediately after his election, when he entertained more than 50 of his wealthiest friends, mostly leading businessmen and celebrities, for a lavish dinner at Le Fouquet's, an exclusive restaurant-hotel on the Champs-Elysées.
Shortly after that he left for the Mediterranean to celebrate his success on board the luxury yacht Paloma owned by billionaire tycoon Vincent Bolloré, a French industrialist and corporate raider who controls several advertising and media companies. It was the start of what became known as the 'Bling-Bling' presidency.
The French president is of course is free to choose the friends he wants. But the court made up of the rich and the famous he so publicly surrounded himself sat awkwardly with the "exemplary democracy" he claimed to aspire to in an interview with French daily Le Figaro during his first month in power. He declared then that "the president of the republic must not be the man of one party or clan". Just like his other campaign slogan "work more to earn more", those words would swiftly return to haunt him, and here are a few reasons why.
1: Keeping it all in the family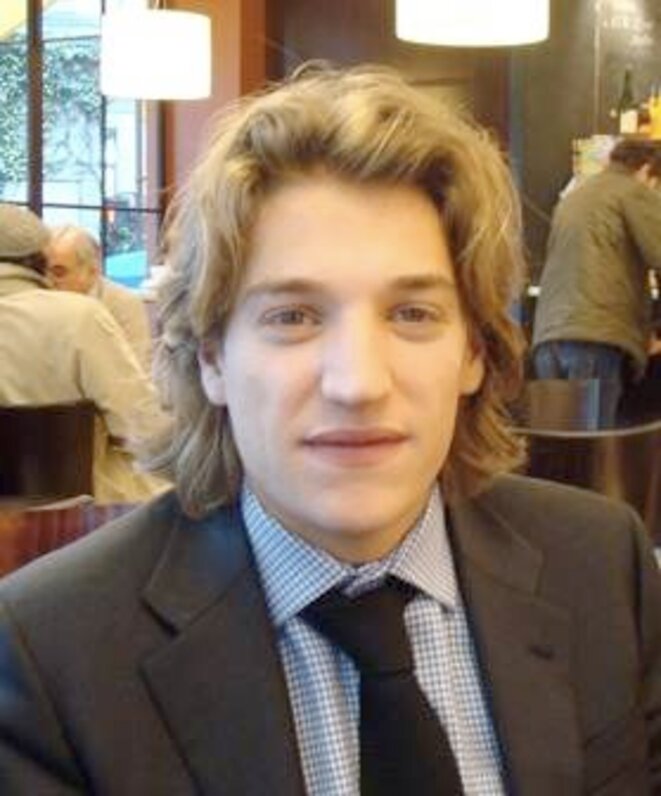 We begin with the case of Jean Sarkozy (pictured left) and the Epad, a public agency for the development of La Défense, a sprawling, high-rise business quarter - the largest in Europe - sited just outside the western flanks of Paris. The affair drew international press attention for its flagrant illustration of nepotism and 'Sarkocracy' in action.
In September 2009, the President's 23-year-old son Jean, a second-year law student, was announced as the intended successor to 65 year-old Patrick Devedjian as president of the Epad. The nomination of this inexperienced and unqualified dauphin caused scandal and protest from local mayors, both right and left. The leading Socialist Party Member of Parliament Manuel Valls, saw it as "intolerable" and denounced "the Sarkozy clan's push for power" in the Hauts-de-Seine département, the administrative region (equivalent to a county) in which the business district is located, and which Sarkozy has made his political stronghold. Valls's socialist colleague Arnaud Montebourg lambasted "the beginnings of clan and family warfare".
On October 13th, Jean Sarkozy appeared on the France 3 television channel to declare that he would "fight to the end", but faced with the wave of opposition he was finally forced to renounce from standing on October 22nd. Nicolas Sarkozy protested that his son had been "thrown to the wolves". On October 23rd, a compromise was met and Jean was nevertheless appointed as an administrator of the Epad - while waiting for better times ahead.
2: Liliane Bettencourt, L'Oréal and cosmetic justice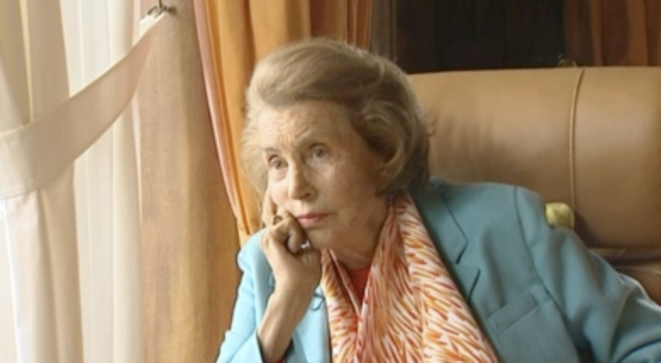 Inspirational? Liliane Bettencourt during a French TV interview. © France 3
In 2010, the affair that had began as an ugly family dispute pitching L'Oréal heiress and majority shareholder Liliane Bettencourt (pictured right) against her daughter and only child Françoise Bettencourt-Meyers, became a major political and business scandal that dominated headlines in France and around the world.
Mediapart was at the centre of a series of exclusive revelations concerning the deeper implications of the affair, involving Sarkozy himself, government ministers, and an attempt by the presidency to stifle the legal action that sparked the whole affair. This was a civil complaint lodged by Françoise against celebrity photographer, writer and society dandy François-Marie Banier, who she accused of taking advantage of her mother's mental frailty to convince her to hand him, over several years, one billion euros-worth of gifts.
The lawsuit was launched in December 2007. In November 2008, the L'Oréal heiress, who rejected her daughter's claim, and her wealth advisor, Patrice de Maistre, were received at the Elysée Palace by Nicolas Sarkozy in person. Bettencourt used aide-memoire jottings on slips of paper to recall what to say in important conversations and her former accountant, Claire Thibout, remembered that, for the Sarkozy meeting, she had added an appeal to the president "to sort out the problem of her daughter."