Two rooms for 1,800 euros per month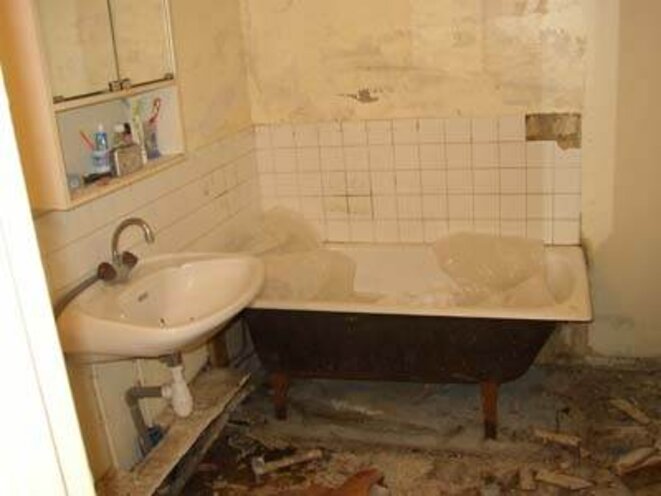 In this 'dream' collective housing estate, 60m2 four-room apartments are rented for 1,000euros, 1,200 euros and even 1,800 euros per month. For the most expensive of them, rooms are rented individually, 450 euros each, (720 euros for double living rooms), with just one bathroom. The regional health authority has published edifying reports, carrying descriptions of "imminent danger to the health and safety of inhabitants due to electricity, notably risk of electrocution and/or fire" and "absence of windows".

AUDIO REPORT: Deputy mayor Olivier Klein leads a visit of a 60 m2 flat housing 16 people (in French only):
Injunctions against the insalubrious conditions are filed, but the residents remain on the premises. At best they stop paying rent, unless, as has happened, the landlord comes knocking with threats, demanding his rent in cash. Everything is rented in Clichy-sous-Bois. The town-planning services fear that, with growing poverty and job insecurity, the phenomenon may spread beyond the tower blocks to a neighbouring area of detached houses. Anne Laure Jaurrey, who works in the housing service, is concerned to see 'converted' cellars and garages appear on the rental market. "A garage is 700 euros," she adds.
For a long time, a former medical centre composed of 13 rooms was rented to 13 families. It was located at 1, Allée Jules-Védrines. People living there were as cramped as if piled into the cockpit of the pioneering aviator the alley is named after. It took three years to re-house the inhabitants of this space. More recently a pseudo-hotel was established in Clichy. Rent: 1,800 euros a month for a tiny, two-room living space. Seven families still live there. A lawsuit has been filed.
So goes the poverty racket in this municipality (commune) that each year finds itself ranked atop the 'poorest in France' table and which, from the taxes of its 30,000 inhabitants, needs to educate the number of pupils normally associated with a population of 50,000. Close to 300 school children have no official address. They are housed by a third party, or share an apartment with several families on a single lease and are unable to provide the proof of address required for enrolment in a school. That figure of 300 children would make up a large primary school.
Indeed, it is often via the education services that the Town Hall gets word of apartments that are carved-up and rented room by room. More and more frequently it is the tenants who report their situations, as a result of a campaign led against slumlords by the local municipality. The campaign unites representatives of the town, the prefecture, social services, the regional health board, the family benefits office, the public prosecutor and the police. Its goal is to identify slumlords and check the health and safety conditions the tenants are living in.
This is the most pressing issue: protection from fire hazards, and obtaining health and safety injunctions that at least allow tenants to stop paying rent. Because, as far as re-housing is concerned, the mathematics are simple: there are 2,000 social housing requests in Clichy-sous-Bois, while people are attributed 40 to 60 homes "in a good year" regrets deputy mayor, Olivier Klein.